Due to his love of whisky, Sir Walter Millard visited Scotland in 1883 in an effort to find the best Scotch Whisky. 
His inquiry led him to the Royalty of Scotch Blenders, a mix created by James MacKinlay of the second generation of the Leith blending family.
Sir Walter's second great interest, fly fishing, is similar to the process of making whisky in that it takes time and cooperation with nature to achieve the greatest results. 
This is what led him to choose the name "Black Dog" for the blend in honor of his preferred fly.
Earlier known as Black Dog Centenary, Black Dog Black Reserve Blended Scotch Whisky 750ml - 8902967100439 is a bold, well-balanced blended whisky with remarkable flavor.
Check out Black Dog alcohol percentage, taste, and Black Dog whisky price in India below!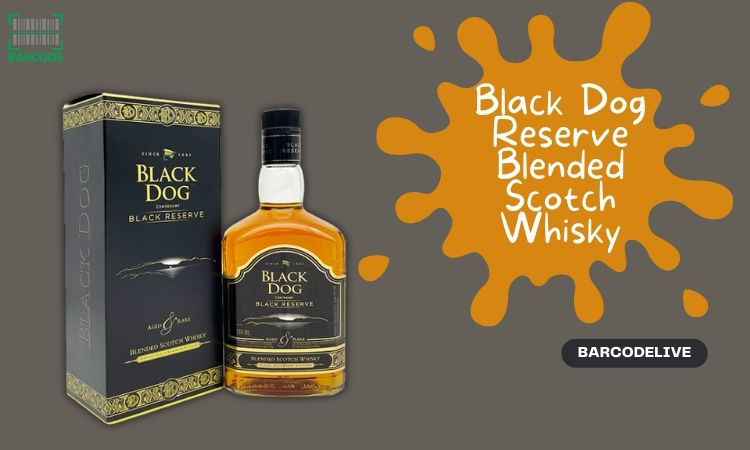 Also read: 
Brand Highlights
United Spirits Limited (USL) is the company that bottles and markets Scotch whisky under the name Black Dog. 
James MacKinlay mixed and bottled the Black Dog Scotch Whisky brand for the first time in Scotland in 1883, but until 1992, it has been bottled and sold in India.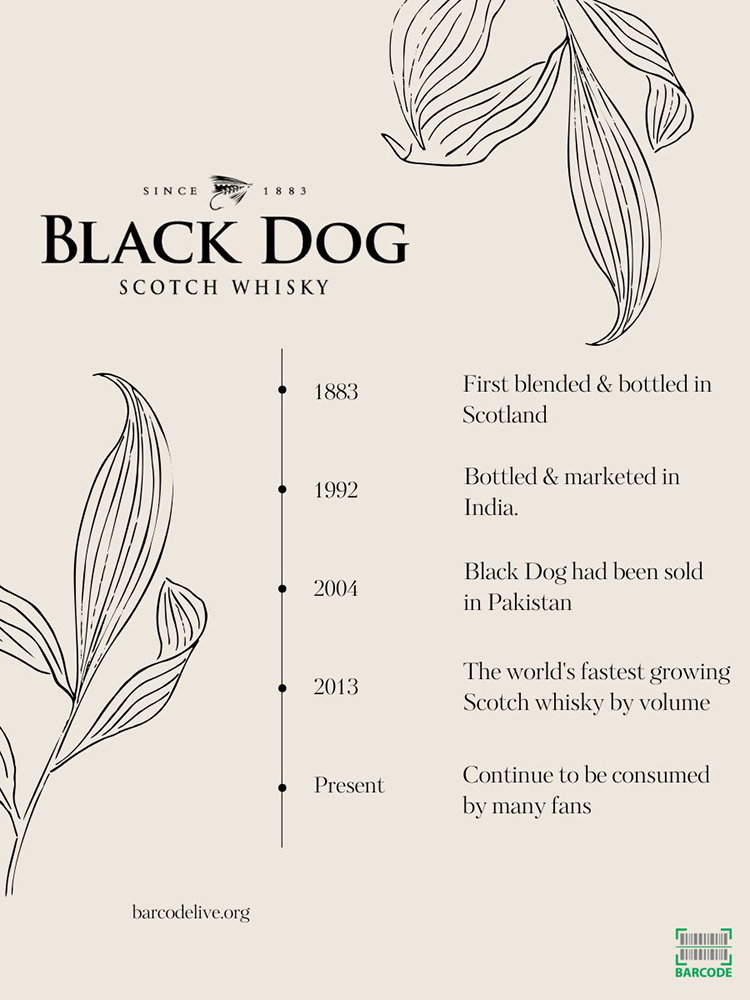 According to International Wine & Spirits Research, the Black Dog brand had the world's fastest volume growth rate for Scotch whisky in 2013.
Scotland-based whiskies are utilized in the blend.
Discover more about this great brand here:
Aroma
This drink starts off sweet with a fragrance of caramel, chocolate, honey, and dark raisins. 
This best Black Dog whisky then becomes wheat-like, malty, and creamy. 
The foreground is dominated by smoke, charred wood, and a faint sense of peat, while the fragments of orange peel and an almond-like nuttiness make much of the backdrop.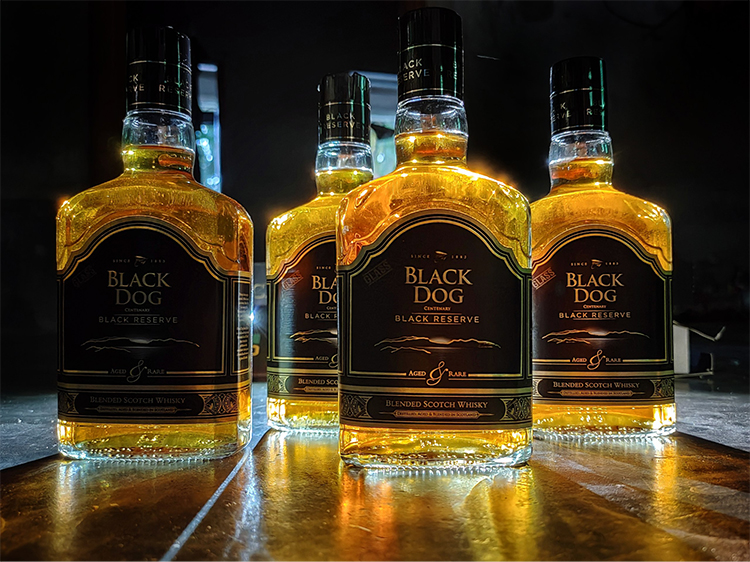 Taste
Black Dog 750 ml has a lot of vanilla and caramel flavor but is also fairly fruity, sweet, and smooth. 
Along with orange tanginess and woody black grapes with a winey flavor typical of sherry cask age, it also tastes like shards of wood that are lightly spiced.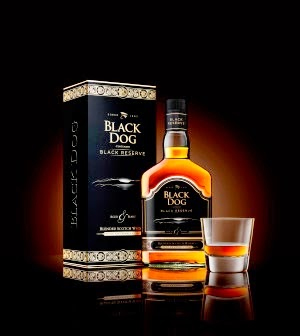 The difference Between Scotch and Irish Whiskey is that Irish whisky is typically distilled three times and can be made from any cereal grain combination.
On the other hand, Scottish whisky is made from 100 percent malted barley and is distilled twice in copper pot stills.
Thus, when drinking Black Dog or any Scotch, you will feel a malty flavor clearly.
What to mix with Scotch? To increase the taste of Black Dog Reserve, you can mix it with orange juice, coke, lemonade, or grapefruit juice...
Variants
Except for Black Dog Whisky Black Reserve, Black Dog Scotch Whisky is available in three other variations:
| | | |
| --- | --- | --- |
| Black Dog Gold Reserve Aged 12 Years | It was Black Dog's original variation, which was earlier known as Black Dog Deluxe | |
| Black Dog Quintessence Aged 21 Years | This version has 25 single malt and grain whiskies, the majority of which are from Scotland's Speyside Valley. There were only 3,540 bottles made in the limited edition | |
| Black Dog Reserve Aged 18 Years | This mixture of aged malt and grain whiskies has been maturing in oak casks for at least 18 years, which was launched in April 2011 | |
If you prefer a new strange thing, here are some suggestions on "what to mix" for enjoying your Black Dog in a different way to the traditional dram:
Black Dog Reserve Price in India
The cost of manufacturing, demand, and other market considerations can all affect the price of whiskey, just like they can for other alcoholic beverages.
The most recent Black Dog whisky price in various Indian states and cities are listed here.
Black Dog Price in Delhi
| | |
| --- | --- |
| Black Dog Centenary Black Reserve Blended Scotch Whisky Celebration Edition price 60ml | ₹130 |
| Black Dog Centenary Black Reserve Blended Scotch Whisky Celebration Edition price 180ml | ₹395 |
| Black Dog Centenary Black Reserve Blended Scotch Whisky Celebration Edition price 375ml | ₹790 |
| Black Dog Centenary Black Reserve Blended Scotch Whisky Celebration Edition price 750ml | ₹1580 |
| Black Dog Centenary Black Reserve Blended Scotch Whisky Celebration Edition price 2000ml | ₹4220 |
| Black Dog Gold Reserve price - Celebration Edition 60ml | ₹175 |
| Black Dog Gold Reserve price - Celebration Edition 180ml | ₹545 |
| Black Dog Gold Reserve price - Celebration Edition 375ml | ₹1095 |
| Black Dog Gold Reserve price - Celebration Edition 750ml | ₹2190 |
| Black Dog Gold Reserve price - Celebration Edition 2000ml | ₹5830 |
Black Dog price in UP
| | |
| --- | --- |
| Black Dog Black Reserve 180ml price | ₹360 |
| Black Dog Black Reserve 375ml price | ₹740 |
| Black Dog Black Reserve 750ml price | ₹1460 |
| Black Dog Triple Gold Reserve 180ml price | ₹540 |
| Black Dog Triple Gold Reserve 375ml price | ₹1110 |
| Black Dog Triple Gold Reserve 750ml price | ₹2170 |
Black Dog Price in Punjab
| | |
| --- | --- |
| Black Dog Gold Reserve 12 Years price 180ml | ₹450 |
| Black Dog Gold Reserve 12 Years price 375ml | ₹800 |
| Black Dog Gold Reserve 12 Years price 750ml | ₹1500 |
| Black Dog Centenary Scotch Whisky price 180ml | ₹350 |
| Black Dog Centenary Scotch Whisky price 375ml | ₹650 |
| Black Dog Centenary Scotch Whisky price 750ml | ₹1200 |