How does Scan and Go Work at Walmart: An Ultimate Guide 2023
Mar 09, 2023 - Views: 2268 Share
How does Scan and Go work at Walmart?
Scan and Go is familiar with Walmartshopper, yet many people may not understand what it is and its working principle.
This post will help answer all these questions. Let's read on!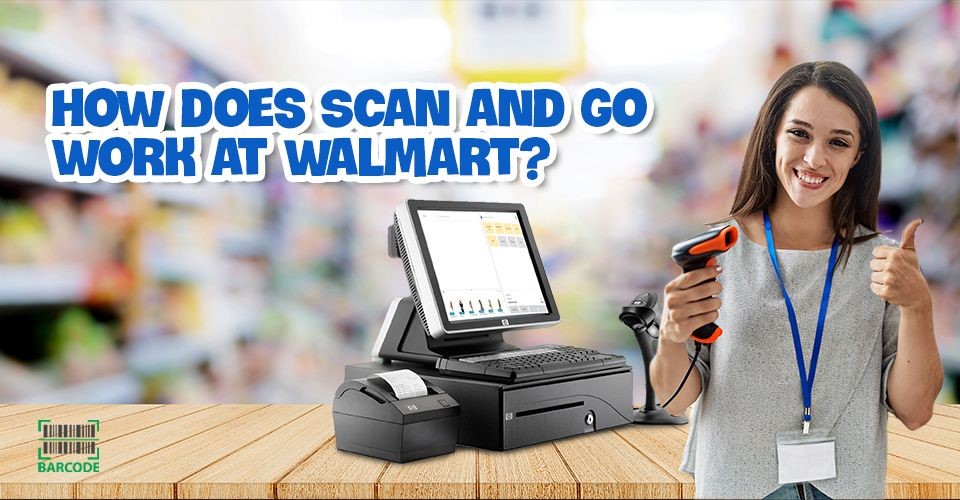 How does Scan and Go work at Walmart?
What Is Scan & Go Technology?
Scan & Go is a technology that allows you to shop for yourself. This means you can simply select, scan, and pay for your purchases with your smartphone.
It's not just for shoppers, and it's a game-changing service. 
This technology also allows them to bypass the line, but the technology's promise goes far beyond just time savings.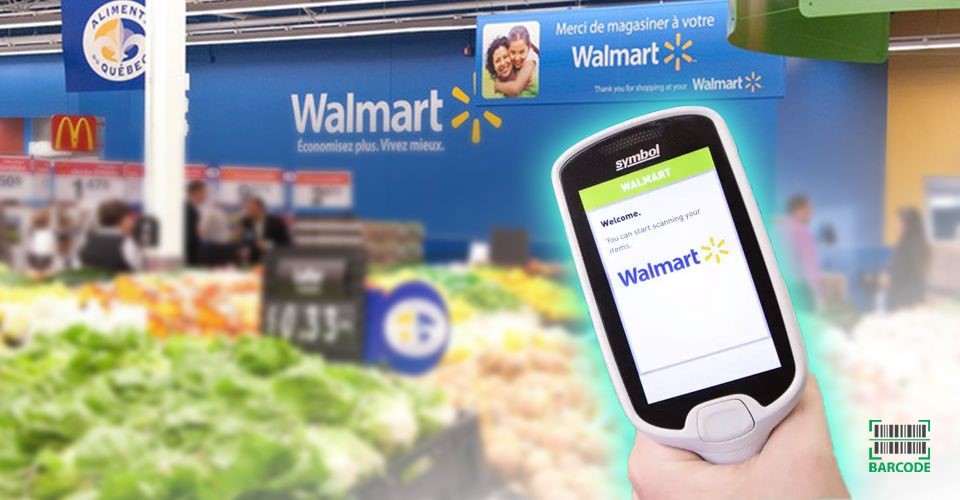 A definition of Scan & Go 
Indeed, Scan and Go is geared to become retail's next big disruptive technology, enhancing a variety of current retail practices.
It is just as barcode technology revolutionized the efficiency of retail businesses in the early 1980s.
Does Walmart Have Scan and Go?
Yes, it does. What is Walmart Scan and Go? This service is a great way to save time shopping. 
It also allows you to scan your favorite products with your smartphone while shopping.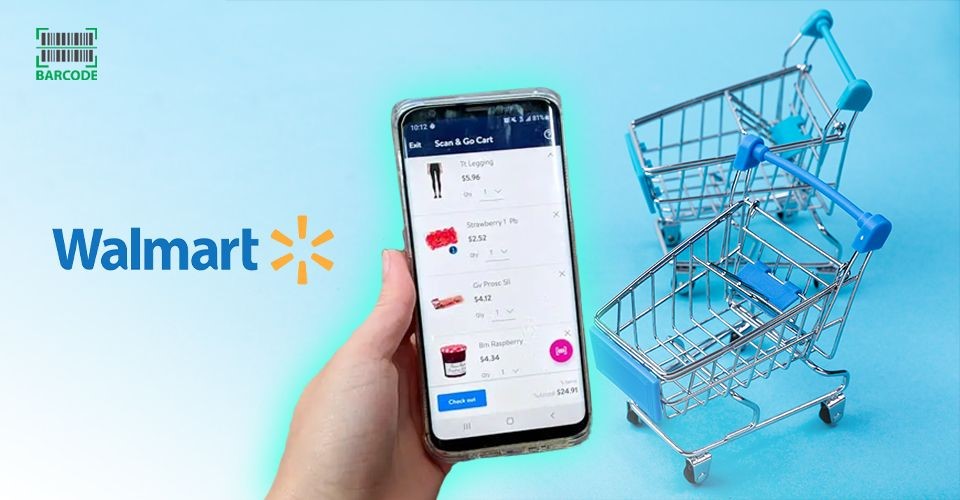 Walmart has Scan and Go system
Further, you don't need to pay when you're done shopping without waiting in line at the register!
Yet, this feature is only now available to Walmart and its members.
Besides, if you buy pre-weighed products or alcohol, the process may take a little longer as there are a few extra steps.
Find out more about Walmart Scan and Go here:
How Does Scan and Go Work At Walmart?
Walmart Scan and Go how does it work? Read on to understand more about Scan and Go's function at Walmart.
Things you need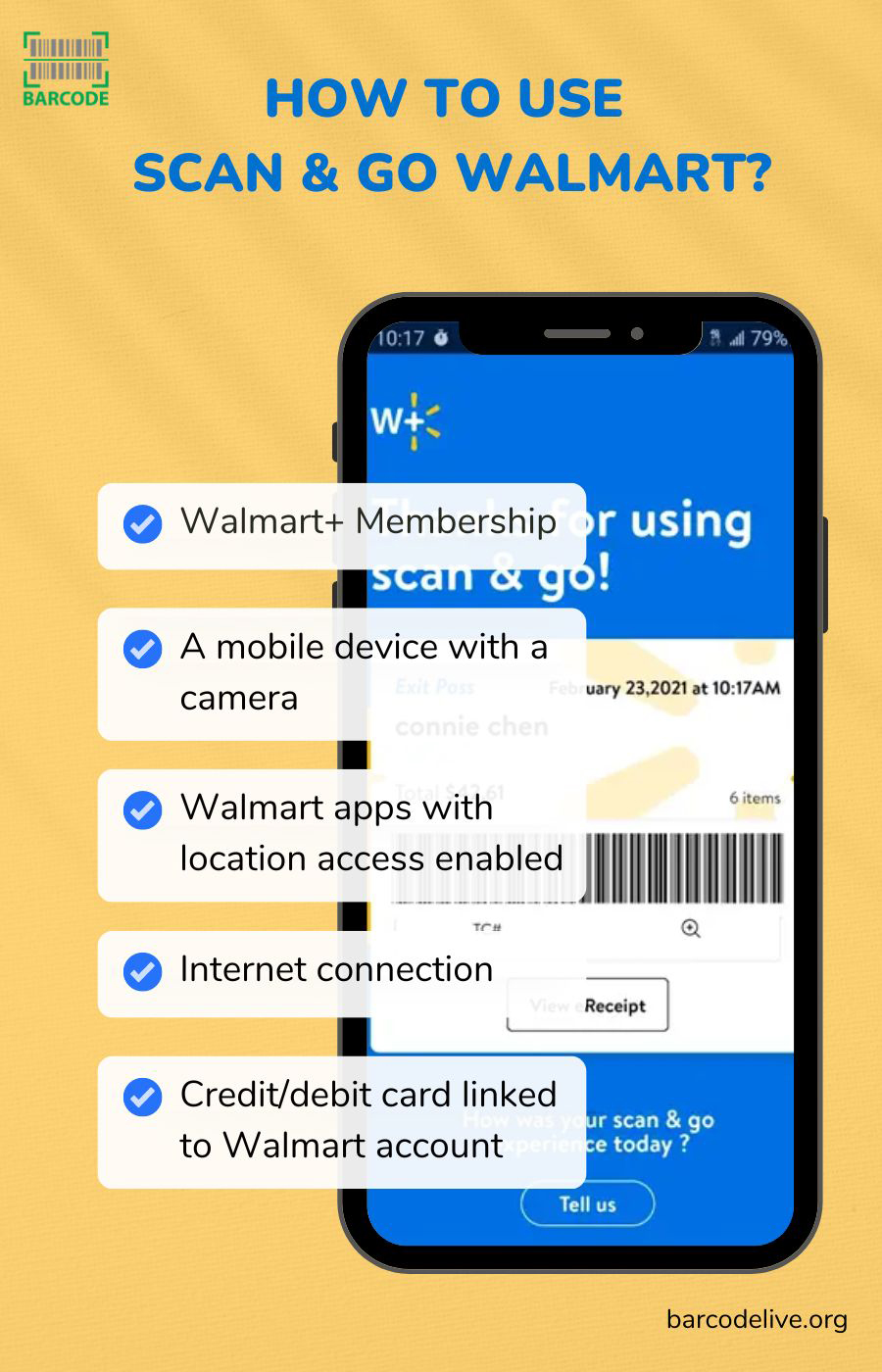 Things you need to use Scan and Go Walmart
Walmart+ Membership: Scan & Go is an exclusive feature for Walmart+ members. 

A mobile device with a camera: Use your device's camera to scan the item's barcode. 

Walmart apps with location access enabled: Does Walmart have a Scan and Go app? Scan & Go is in the Walmart mobile app. Make sure your app has permission to access your location, so it knows which store you are in. 

Internet connection: Ensure the Internet connection to store WiFi or mobile data. 

Credit or debit card linked to your Walmart account: Ensure you have a credit or debit card linked to your Walmart Pay account, as you will pay through the app.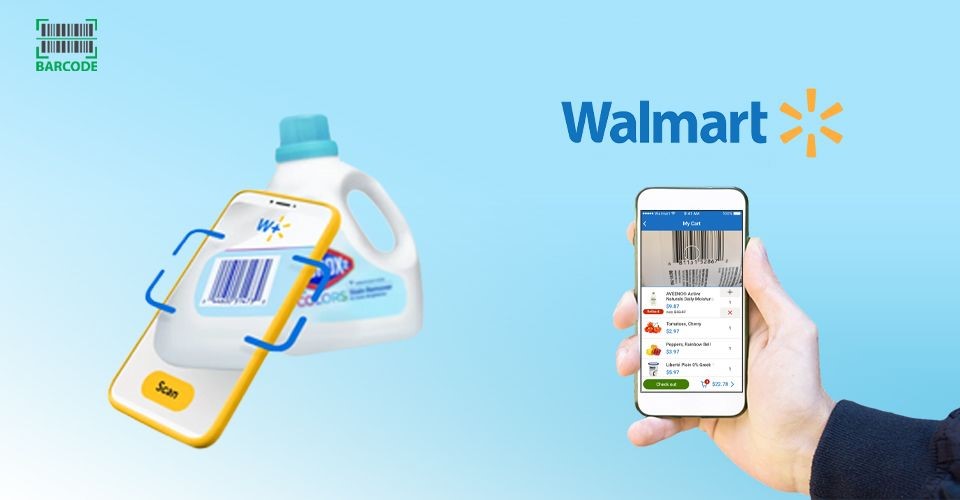 Using Scan and Go at Walmart is easy
How Scan and Go Walmart works
First, you must download the Walmart Shopping App. You may search the Scan & Go in the Services menu at the app bottom. 
Then, you must be nearby or at the store to activate the Scan & Go feature. 
Next, follow these steps:
Choose Scan & Go from the home screen after opening the Walmart app. If, for some reason, you don't see it on your home screen, go to the Accounts tab.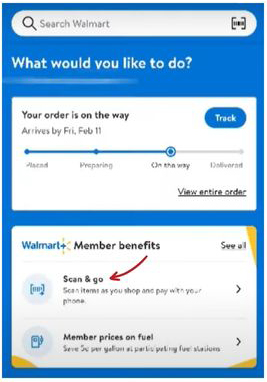 Select Scan and Go
Tap Walmart+. Click the Benefits tab, click the blue Use Scan & Go button, and start scanning items. If you want to add multiple items of the same type, you may change the quantity instead of scanning each item. 

Once everything is scanned, click View Cart to ensure everything is correct. If something wasn't scanned correctly or the quantity was wrong, fix it now.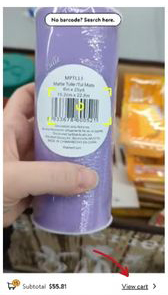 Choose View Cart if you have finished scanning
Then click the blue Check Out button in the app to go to the self-checkout kiosk. 

Keep scanning the QR code on the machine screen for self-checkout. 

Confirm payment method after finishing scanning the QR code on the self-checkout machine screen.
The process is easy, right? You only need to utilize the Walmart barcode lookup with your phone's camera for every item you want to add to your shopping cart.
How Does Walmart Scan and Go Compare To A Regular Shopping and Checkout Experience?
Scan & Go is well designed to make buying the items on your list as easy as possible and get in and out of the store quickly. 
Despite that, this feature still has drawbacks compared to regular shopping. 
An experiment has been conducted to compare these two ways of shopping. Look at this info for further details!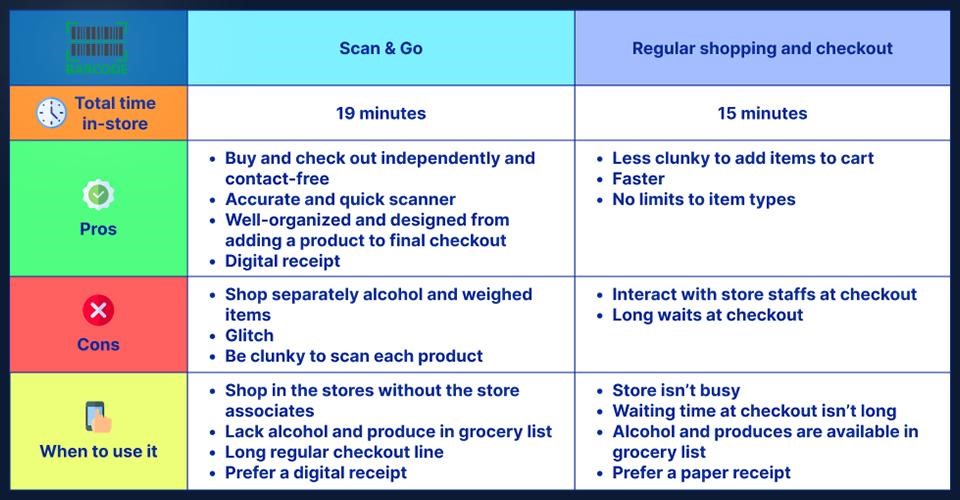 Scan and Go versus regular shopping
If you want a quick way to scan barcodes anywhere, refer to our suggestions of the 5 best barcode scanner app for Android!
Frequently Asked Questions (FAQs)
Do you have to wait in line with Scan and Go Walmart?
You don't have to wait in line when using Walmart Scan and Go at checkout.
It's a service that scans products with a smartphone while shopping and settles the payment after shopping.
Is Walmart Scan and Go the same as self-checkout?
The Scan & Go app was developed as a controlled self-service alternative and secure to self-checkout.
This allows customers to scan items directly with their device as they walk down the aisle and pay in the app or in-store checkout.
Why did Walmart stop Scan and Go?
In 2018, Walmart announced it was ending its Scan & Go initiative due to low customer engagement and poor feedback.
This has been a long and costly experiment for the world's largest retailer.
The Bottom Line
In summary, Walmart's Scan and Go at Walmart feature is a great option to save time when you want to shop at Walmart. Yet, you should consider some important things before using it. Most importantly, you need a Walmart membership to apply for this app.
Besides, knowing how does Scan and Go work at Walmart is essential to utilize this great feature for your shopping at Walmart.