How to Change AirPod Settings on Android: An Ultimate Tutorial
Sep 26, 2023 - Views: 778 Share
Changing or customizing the AirPods' settings to access different features on the connected Android device is not a difficult process.
However, a lot of beginners might not know how to change AirPod settings on Android.
We'll go through every step in detail as a way to help you find your way out of the confusing maze.
Check it out now!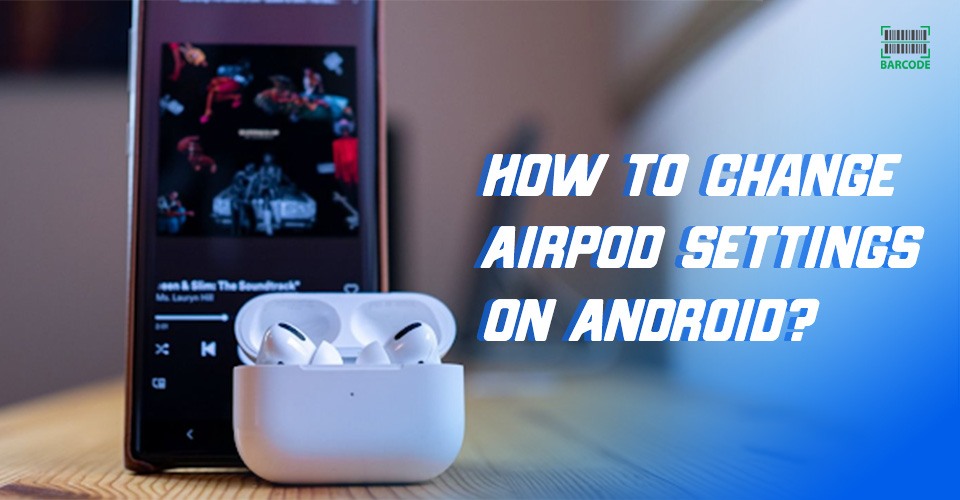 How to change AirPods settings Android?
Can You Change AirPods Settings from Android?
You may connect AirPods to any Bluetooth-enabled device, including Android, as they are not Apple-only accessories.
As long as the Bluetooth connection is strong and there are no technical issues, they will function flawlessly on your Android device.
Read more on "how to connect AirPods" to find out steps to pair the Apple earbuds to different devices!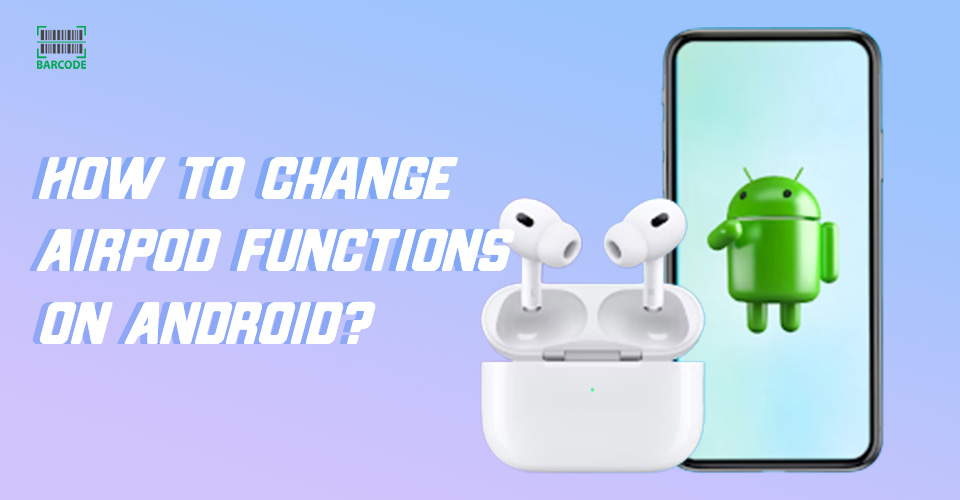 How to change AirPod functions on Android?
However, aside from the iOS iPhone itself, no other linked device allows you to change or customize the AirPods' settings. 
Because of this, even if you utilize the AirPods' customized features on Android, you cannot modify the settings.
Due to security concerns, Apple does not let Android do so. 
But don't worry! 
Read on to find out the solution…
How to Change AirPod Settings on Android?
If this is your first time using AirPods, configuring the settings could appear challenging, but it's a pretty simple and quick process.
To modify the AirPod settings on an Android phone, follow the instructions below: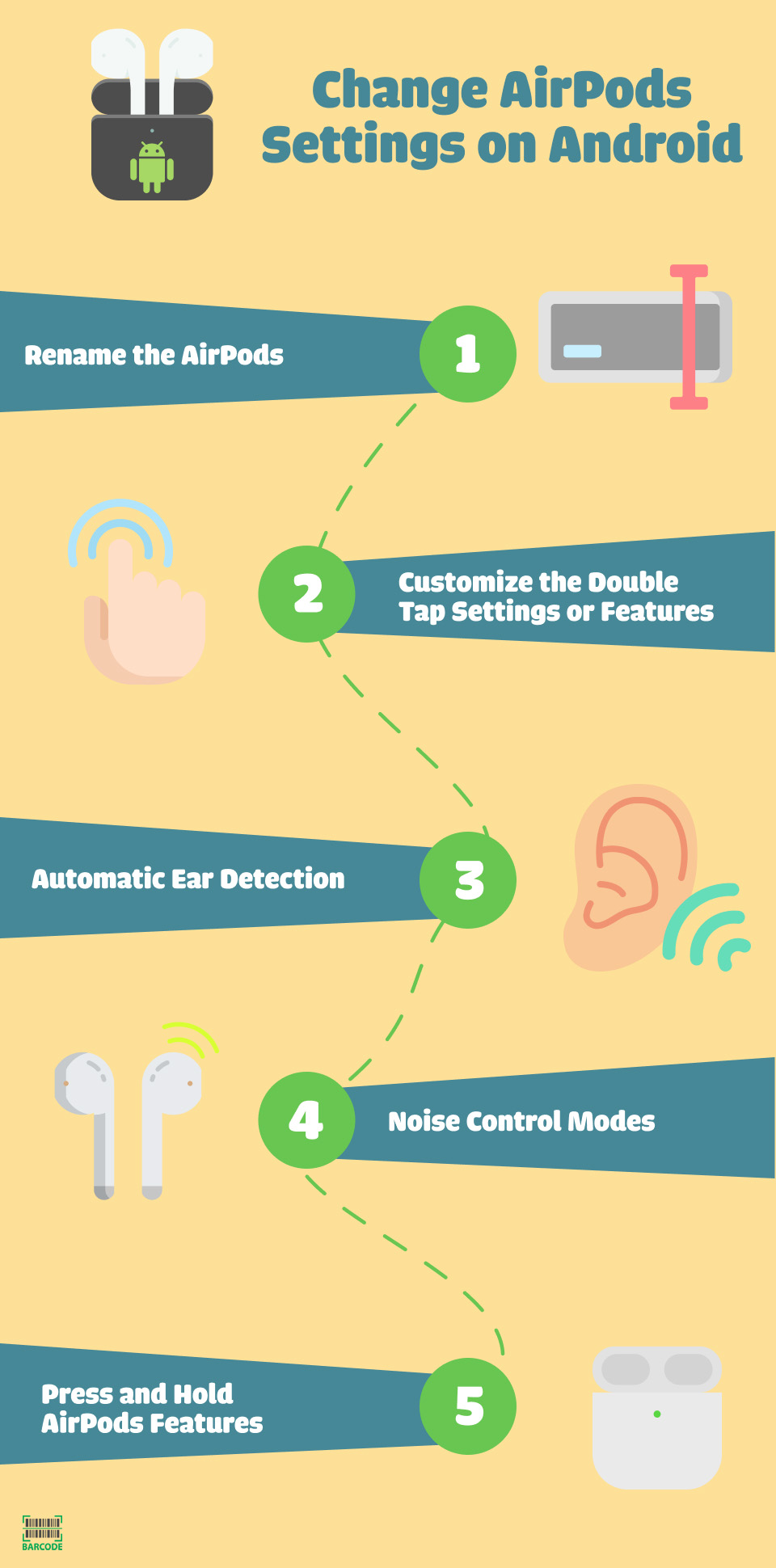 Android features to change on AirPod settings
Rename the AirPods
You'll see that the name of your AirPods is determined by your name. Apple prefixes them with your name by default. 
However, you are free to modify the name if you so want. 
Read our blog on "how to rename AirPods on Android" for a detailed guide!
Automatic Ear Detection
The Ear Detection option is ideal if you want your AirPods to play or pause music even if you take one out of your ear. 
To activate or deactivate it, adhere to the instructions below:
Step 1: Select the AirPods from the "Connected devices" list and scroll down to find the Automatic Ear Detection option.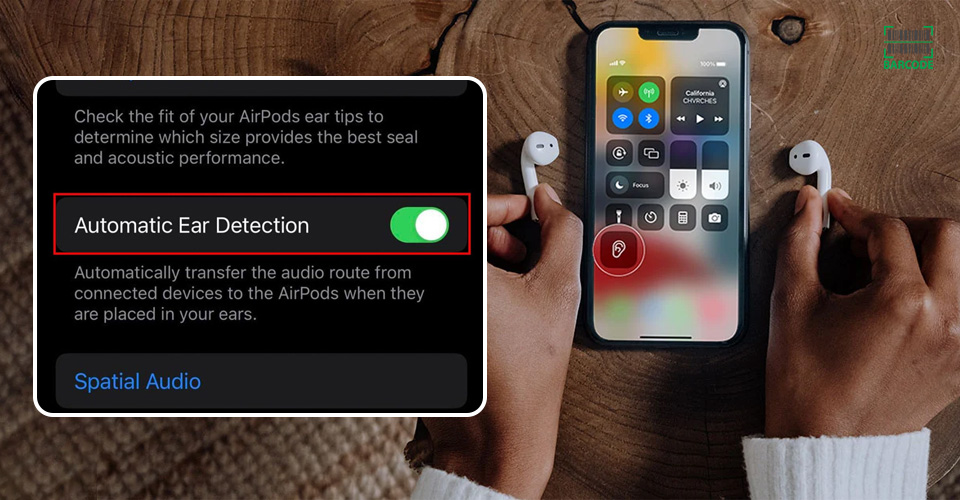 Navigate Automatic Ear Detection on Android
Step 2: After removing one AirPod, make sure to check the Ear Detection Slider on both AirPods if you wish to halt the music you are now listening to.

Step 3: You may disable the Ear Detection slider to let the music or audio in the AirPods continue to play even after you take one or both AirPods out of your ears. 
You should continue to use the Ear Detection feature. It will prolong the life of your AirPods' battery, especially if you don't manually halt the music after putting the device in the case.

Keep in mind that the AirPods must be connected to both the iPhone and the Android in order for this feature to function. The Android version of this settings change might not function with prior versions of AirPods. 
Noise Control Modes
Three different noise cancellation settings are included in the AirPods Pro and AirPods Max to enhance your listening experience. 
And you may change their settings to use those features on your connected Android smartphone as well. 
Step 1: Go to the Noise Control section of the iPhone AirPods settings when the AirPods are paired with both your Android phone and iPhone.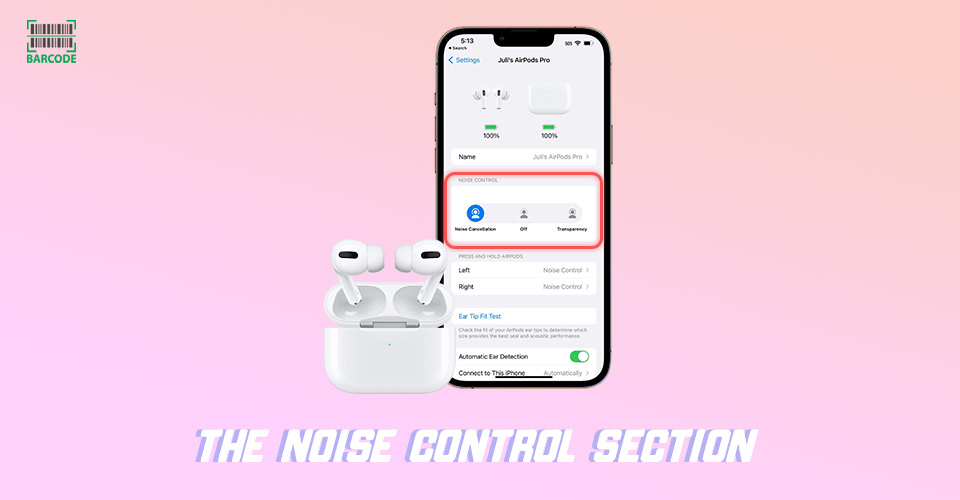 The Noise Control section
Step 2: Move the slider from the iPhone screen to the "Off" option if you prefer a more standard listening experience on your Android device. Additionally, it will disable any extra audio modes for the AirPods.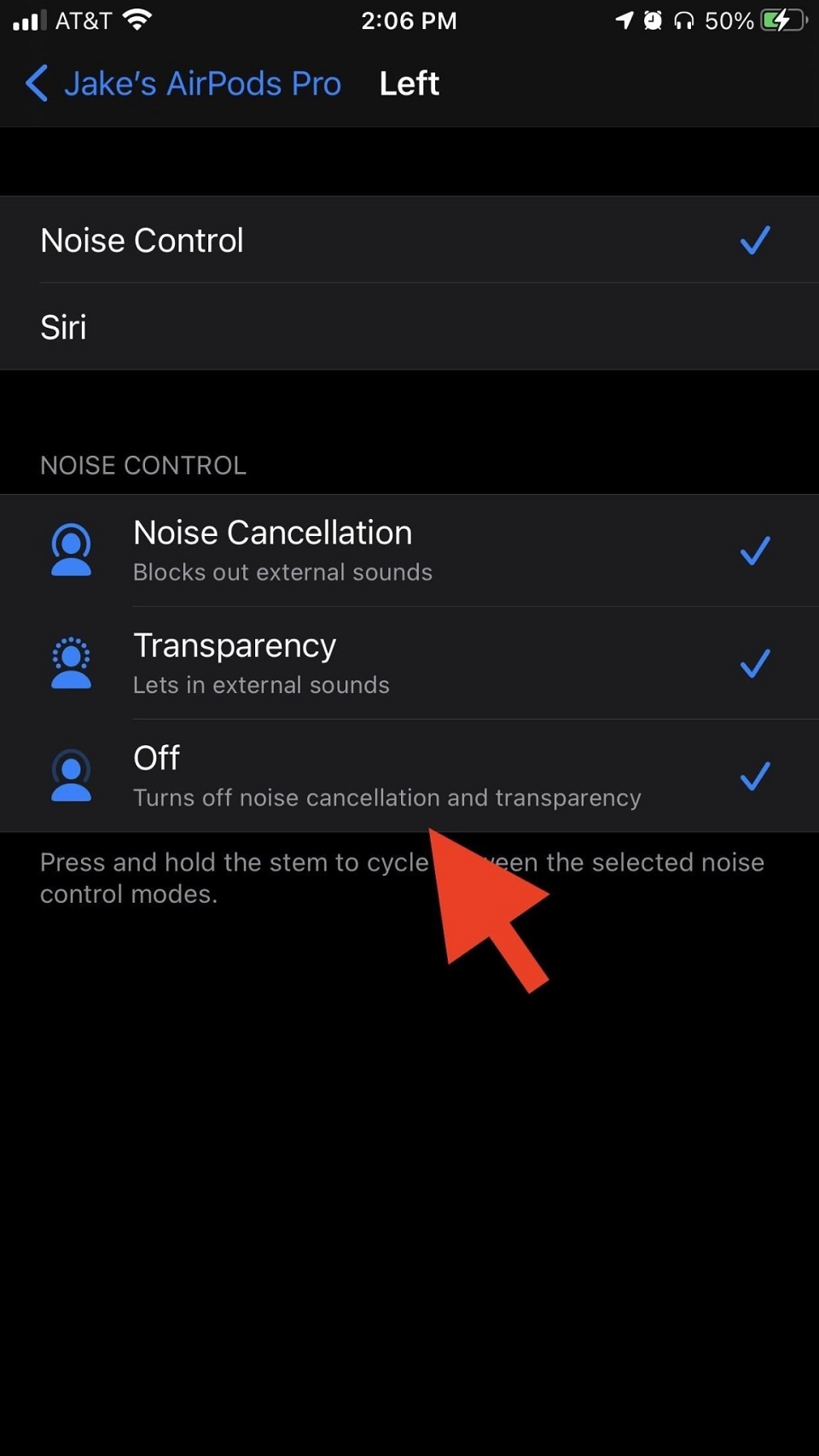 Choose the Off option
Step 3: When listening to music on your Android device, choose the Noise Cancellation mode from the slider to completely shut out all external noise. 

Step 4: If you want to hear the sounds from outside as well, switch the settings to Transparency mode. 

Step 5: The iPhone control center's sound control slider can switch between the three modes and modify their settings if you long-press it.

 
Customize the Double Tap Settings or Features
When you have paired the AirPods with an Android, the special double-tap features will also operate. 
Follow these steps as to how to change AirPod tap settings on Android:
Step 1: Navigate to and choose the Double Tap-AirPods option from the AirPods settings menu. 

Step 2: The Left and Right sections are displayed here, and you can select any options.

Step 3: You may find the Off, Siri, Play/Pause, Next Track, and Previous Track choices under the Left or Right sections.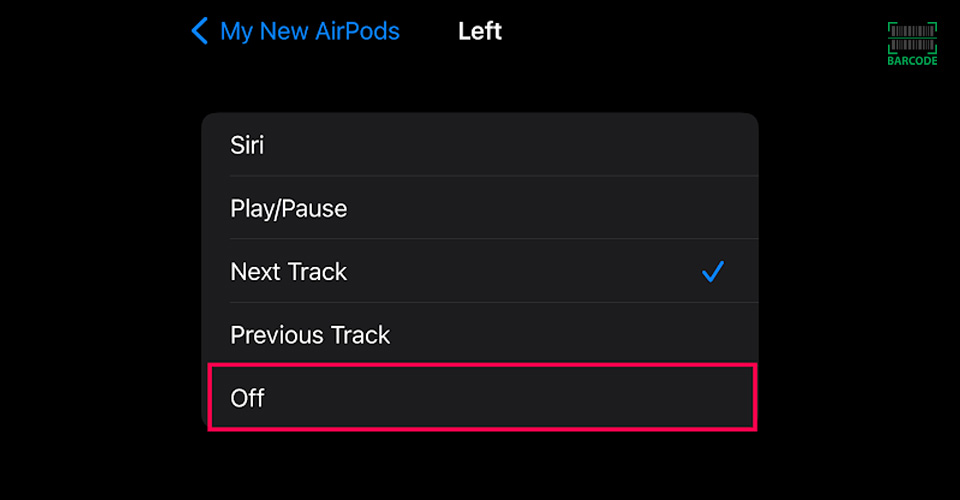 How to change AirPod double tap settings on Android? 
When you double-tap the Left/Right AirPod after selecting or checking the Siri checkbox for that AirPod, Siri will be brought up on your iOS device. Your linked Android device, however, is unable to use the Siri feature. 

By choosing the appropriate options provided for them, you can go to the next or previous song or piece of audio or pause the one you are now listening to.

Choose the "Off" option for the Left/Right or both AirPods if you wish to disable the double-tap capability. After that, if you unintentionally double-tap the AirPods, no function will be activated.
Press and Hold AirPods Features
You should adjust the Press and Hold features unless you want to open your iPhone to move between Android's noise-canceling options. 
Here are the steps to take in order to do that:
Step 1: Click on your AirPods from the linked devices, then from your iPhone or iOS device, enter the Press and Hold AirPods section.

Step 2: Activate the Noise Control option by clicking on the Left or Right section.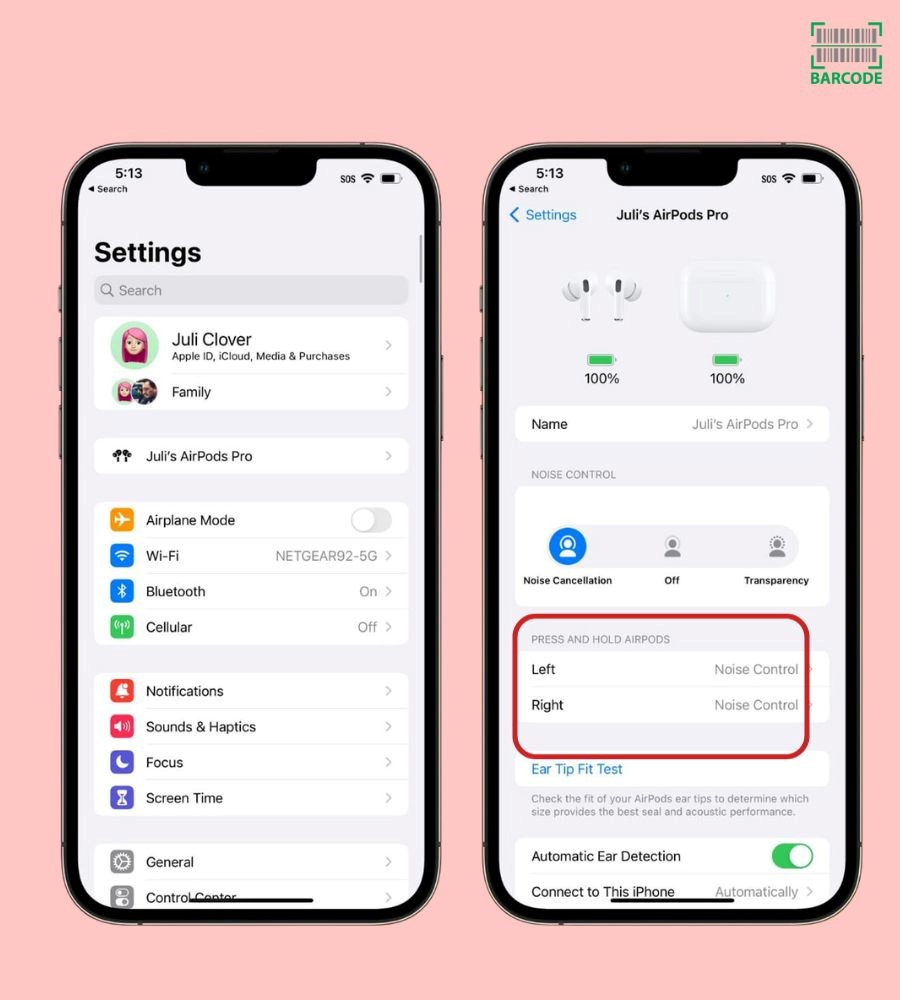 The Press and Hold feature
Read more: How to change owner of AirPods?
How to Troubleshoot Common Pairing Issues with AirPods and Android?
The following are some typical troubleshooting problems that you could run into:
Charge the AirPods
Charge your AirPods before trying to pair them with your Android device as low battery levels may make pairing difficult.
Below is a list of the best AirPods chargers, both wired and wireless in case needed:
| | | |
| --- | --- | --- |
| CIVPOWER Wireless Charging Case Compatible with AirPods 1 2 | | View Deal |
| Anker Wireless Charging Stand, PowerWave 2-in-1 Magnetic Stand Lite | | View Deal |
| Apple MagSafe Duo - Wireless Charger | | View Deal |
| FutureCharger Airpods Pro Charger,Wireless Charger | | View Deal |
| BNKLEE Charger Cable for AirPods Pro Wireless Earbuds | | View Deal |
Reset the AirPods
Try resetting your AirPods if they won't pair with your Android device. 
Put your AirPods in the case, then press and hold the back button until the LED light starts to flash amber. 
After that, repair your AirPods with your Android device.
Update the Android Device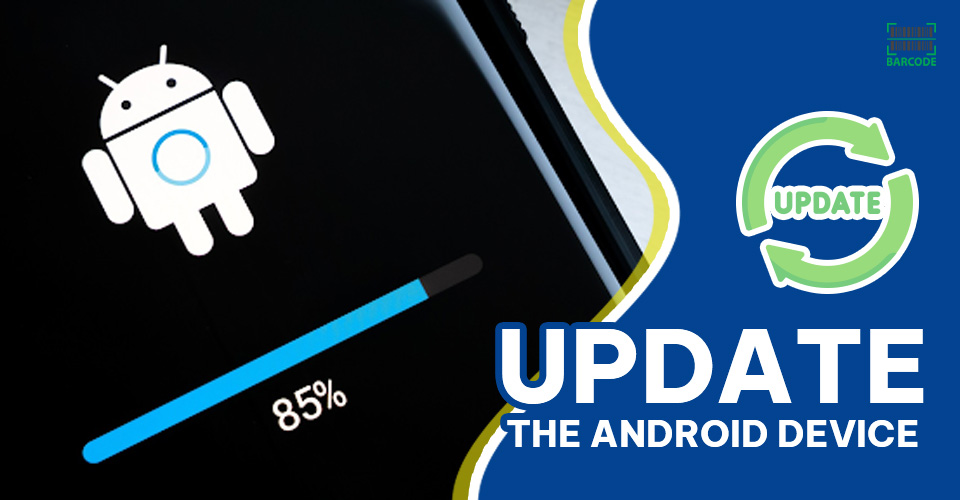 Update your phone regularly
Make sure the Android operating system on your Android smartphone is the latest version available. 
Most problems with Bluetooth connections have been resolved in recent OS releases. 
Check the Bluetooth Settings
Make sure that your Android smartphone is discoverable and that Bluetooth is turned on.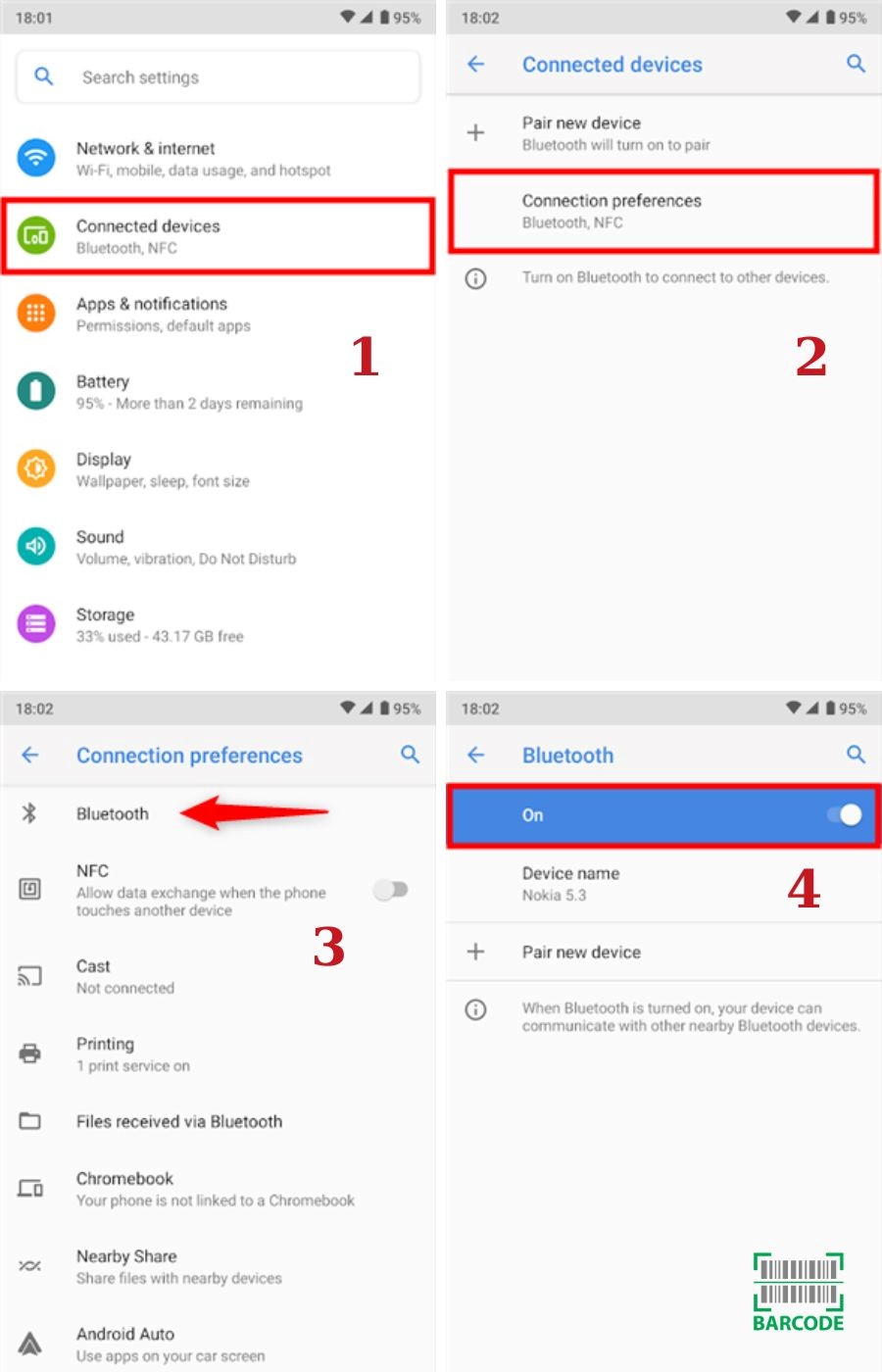 Turn on Bluetooth on Android
To do so, open the settings menu on your Android device, select "Connected devices," and turn on Bluetooth. 
Ensure that your device is set to "visible" or "discoverable".
Forget and Reconnect the AirPods
Your AirPods can be difficult to connect to your Android mobile if you have previously connected them to another device. 
To fix this, go to the Bluetooth settings on your Android smartphone, find your AirPods, and select "Forget" or "Disconnect".
After that, repair your AirPods with your Android device.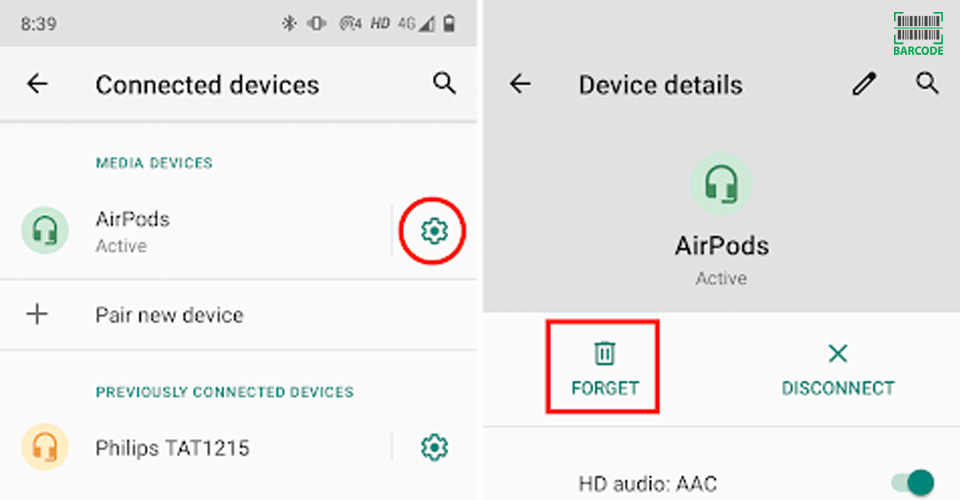 Reset your AirPods on Android
Update the AirPods Firmware
Make sure the firmware on your AirPods is the latest. 
Connect your AirPods to your iPhone, iPad, or iPod touch, then go to Settings > General > About > AirPods to see if there are any updates available.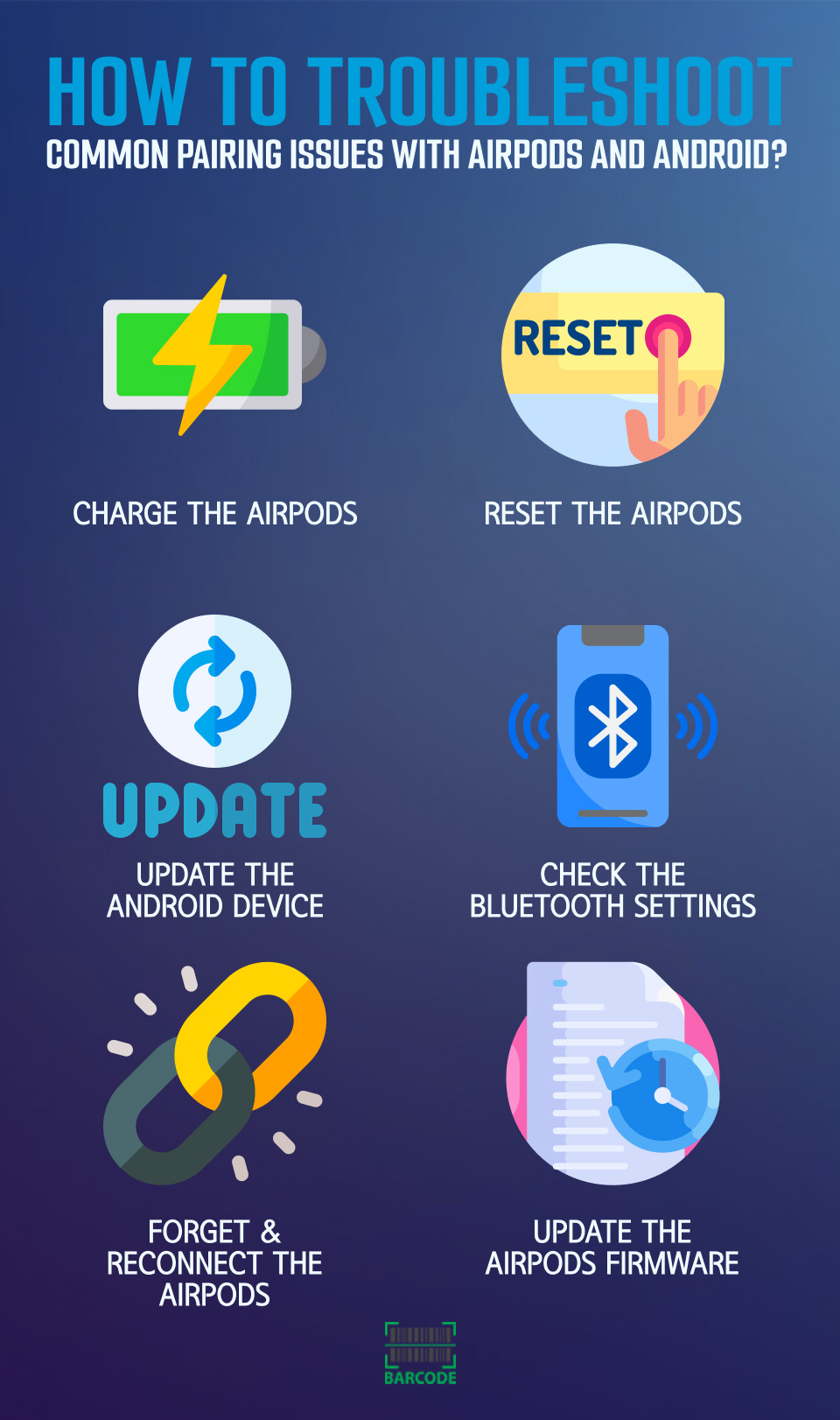 Troubleshooting tips to common pairing issues with AirPods and Android
Frequently Asked Questions (FAQs)
How to change AirPod controls on Android?
You can customize AirPods settings on Android by navigating to Settings > Bluetooth > tap on the information icon next to the paired AirPods.
How do I turn your AirPods Pro noise canceling on or off on Android?
The only way to turn on or off noise cancellation while AirPods are connected to an Android phone is directly through the AirPods.
Connect your iPhone and AirPods.

Launch the iOS Settings app.

Tap the AirPods Pro name. This should display below the Apple ID details for the phone owner.

Tap Press and Hold AirPods > Left Noise Control > Off.
Your AirPods Pro will now cycle through ANC, Transparency, and off when connected to an Android phone when you touch and hold either AirPod stem.
Does the double tap on AirPods work on Android?
Although the AirPods' functionality on Android is quite restricted right out of the box, the double-tap or press feature does operate.
One of the AirPods will play or pause the music when you double-tap it (or touch the Force Sensor on the stem of the AirPods 3).
Conclusion
Apple AirPods may be used for call and music listening on Android smartphones. Yet, the double-tapping functionality, battery life indicators, automated ear identification, AirPod controls, and other sophisticated AirPods customizations are not supported. But if you know how to change AirPod settings on Android, you can use AirPods to their maximum potential. We really hope you found this information useful.