7 Best Cocktails With Red Bull With Great Taste
Feb 24, 2023 - Views: 460 Share
These cocktails with Red Bull are the perfect choice if you're looking for your party beverage.
Feel free to be creative and experiment with different alcohol and non-alcohol drinks until you find one you enjoy. You can make it work with just about any of them.
Check out the list below!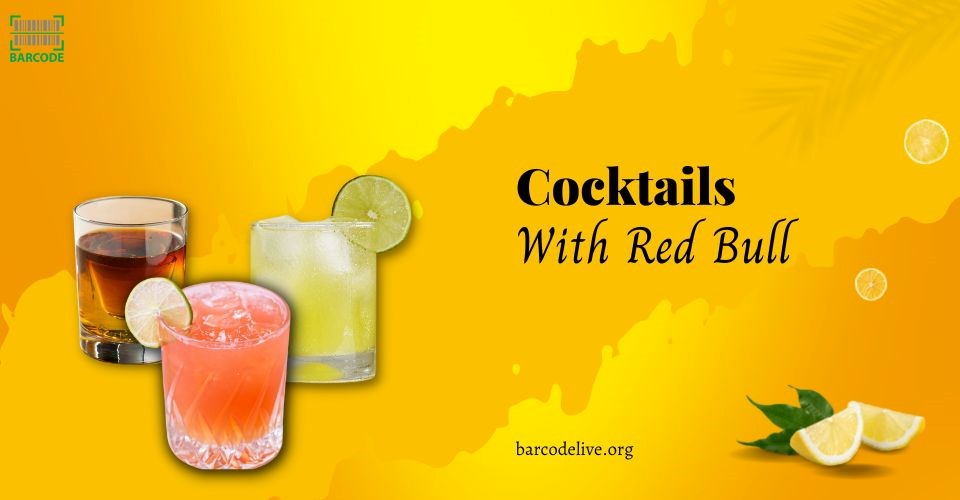 7 popular Red Bull cocktails
7 Best Cocktails With Red Bull
Red Bull recently had to admit that the drink does not give you wings. However, it still makes a great mixer for your beverage.
Vodka Red Bull
As the name suggests, the delicious Vodka Red Bull cocktail combines two traditional beverages: Red Bull and Vodka. Its flavor counteracts the taste of the vodka, and the two flavors go nicely together.
It is one of the most popular Red Bull cocktails, which is great for parties or any other time you want to sip on something energizing.
To make it, prepare 2 ounces of Vodka and 1 (8.4 - ounce) can of Red Bull energy drink.
Step to make it:
Pour the vodka in a highball glass with ice

Add the Red Bull and then stir

Serve and enjoy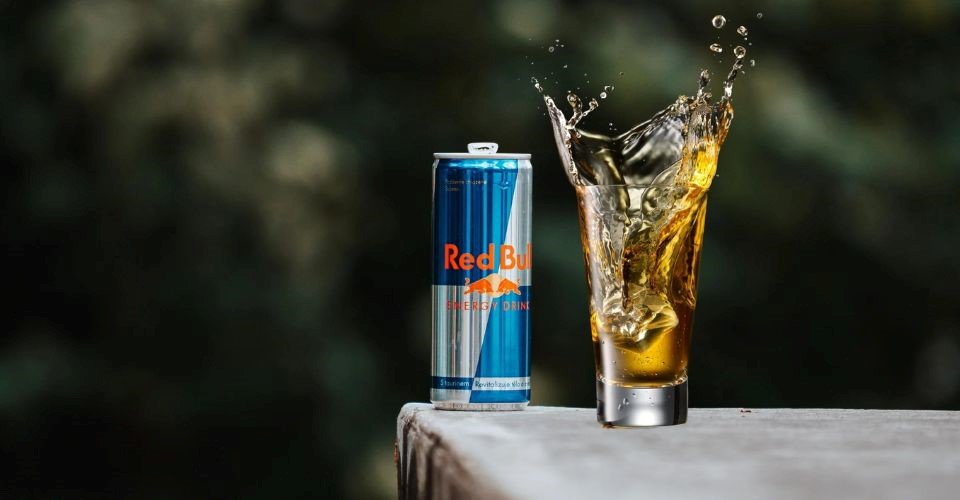 Vodka Red Bull
Red Bull Mojito
The traditional mojito's minty flavor is fully preserved in the tropical version. 
Furthermore, raspberries and Red Bull Tropical's vibrant, tropical tastes are added, making it a sweeter alternative to a standard mojito. 
But it has the same energizing lime flavors and is still fresh and zesty.
Ingredients: 
2 oz Patrón Silver

4 oz Red Bull Tropical

¾ oz lime juice

5 raspberries, 2 for garnish

5 mint leaves, 2 for garnish
Instructions:
Add all the ingredients to a shaker with ice, excluding the Red Bull, and shake to chill.

Pour through a strainer over a glass filled with new ice.

Add Red Bull on top, then add mint and 2 raspberries as decoration.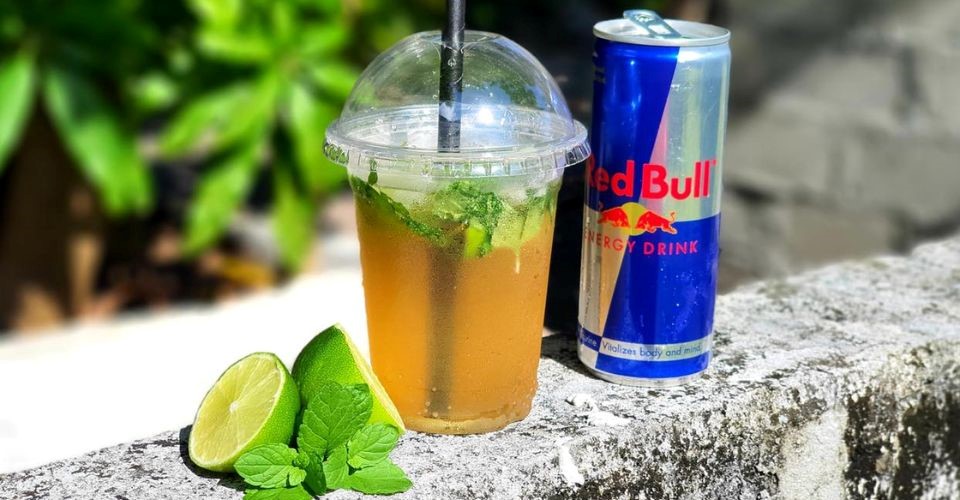 Tropical Red Bull Mojito
Vitamin C Red Bull Cocktail
Red Bull adds a little more oomph, and the orange juice and vodka combine to create a flavorful citrus beverage.
Ingredients include: ½ cup of ice, 2 oz orange Vodka, 2 oz orange juice, and the Red Bull Energy Drink 250 ml.
Here is one of Vitamin C Red Bull Cocktails recipes:
Add ice to a pint glass

Add the orange juice and vodka

Open the Red Bull. Turn it over quickly, then set it on top of the ice in the glass.

Use a straw and enjoy it!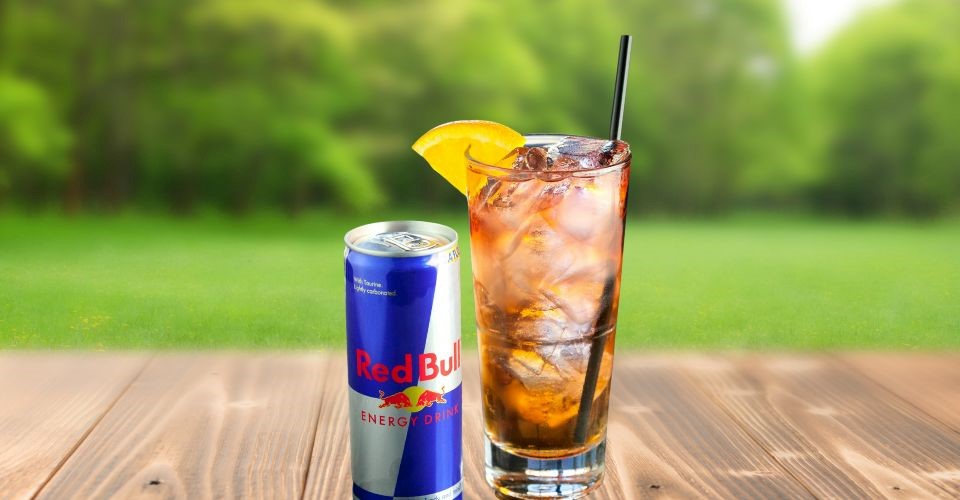 Vitamin C Red Bull Cocktail
Calabasas Cooler
Although having a simple appearance, the lemon yellow beverage tastes delicious. It has a tropical flavor and a delicious, wonderful fizz.
If you find yourself wanting another glass, don't be shocked. You might even desire a third on a hot day.
To make this cocktail, you should prepare 2 oz Vodka, 3 oz Red Bull Yellow Edition (one of the best Red Bull flavors), 1 oz San Pellegrino Aranciata, and lime wheel.
Instructions:
To an ice-filled rocks glass, add all the ingredients.

Stir till cool.

Use a lime wheel as garnish.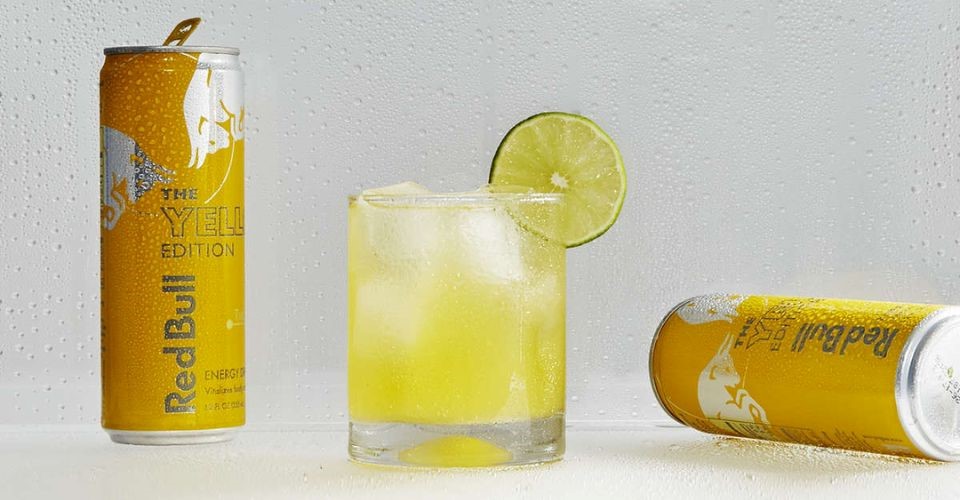 Calabasas Cooler
Vegas Bomb 
Your party will get started with the Vegas Bomb Shooter cocktail. Cranberry juice, malibu rum, peach schnapps liqueur, crown royal whiskey, and Red Bull are the main ingredients in the original recipe.
Especially, the wonderful customizable quality makes it a perfect choice. 
Also, the amount of Red Bull or cranberry juice you add can be changed based on how sweet you want it.
Follow these steps:
Add Crown Royal, Peach Schnapps, and Coconut Rum into a shaker with ice.

Pour into the center of the bomb cups after thoroughly shaking.

Add Red Bull outside. 

Make three shots.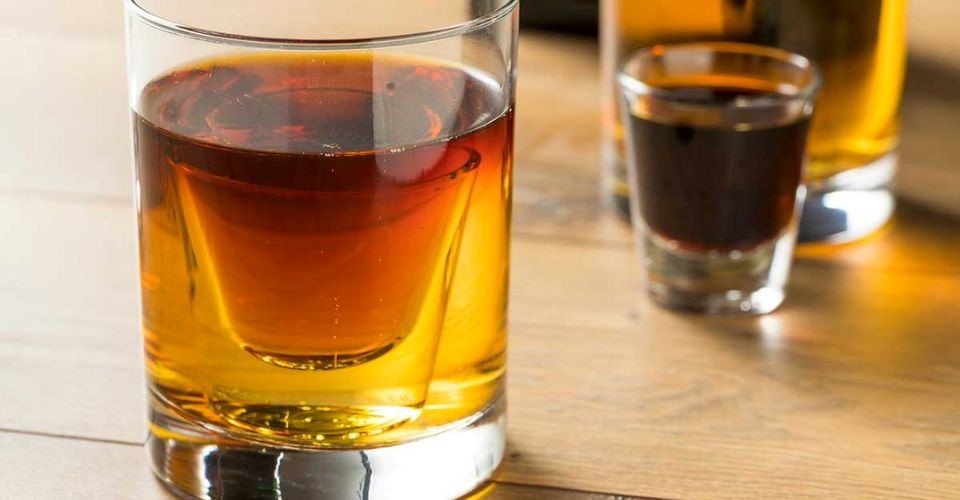 Vegas Bomb Shot
Johnny Vegas Drink
Johnny Vegas adds a novel twist to the traditional Margarita. It is a fruity, sweet beverage with a lot of punch.
This tasty cocktail, which bears the name of the city where it was created, is mixed with Red Bull, watermelon juice, and cactus juice.
Johnny Vegas is the beverage for you if you want to change things up. Refer to the recipe for the Johnny Vegas Cocktail below:
Ingredients: ½ cup watermelon juice, 1 can of Red Bull, ½ cup cactus juice, 2 lime wedges, and ice.
Directions: 
Add ice to two rocks glasses.

Fill each glass with the cactus and watermelon juices.

Pour the Red Bull on top of each glass.

Add a lime slice as a garnish.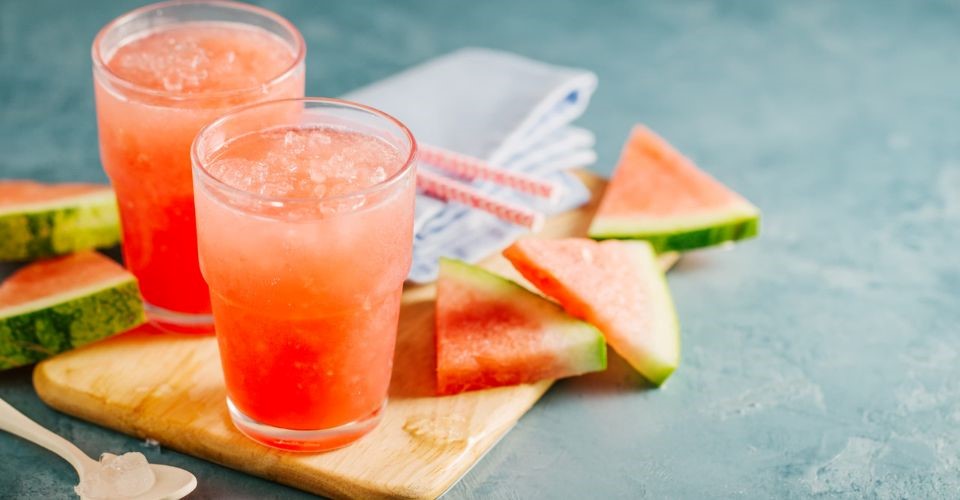 Johnny Vegas Drink
In addition to Redbull, Celsius is also a well-known energy drink. But is Celsius a good energy drink? Read our review to get the answer!
Jager Bomb
The Jager Bomb is a delicious and energizing concoction of Jagermeister Red Bull cocktails.
It's a great beverage to share with friends at home or on a night out.
A delicious and distinctive flavor is created by balancing the sweet, herbal flavor of Jägermeister with the sweetness of Red Bull.
This recipe is ideal for people who need an extra boost of energy because it contains caffeine from Red Bull. Here's how to do this easy Red Bull cocktails:
Ingredients:
½ can Red Bull

1 jigger Jägermeister liqueur
Directions:
Gather the components. Pour Jägermeister into a shot glass. In a pint glass, pour half a can of Red Bull.

Place the shot glass into the taller glass.

Drink now and take pleasure.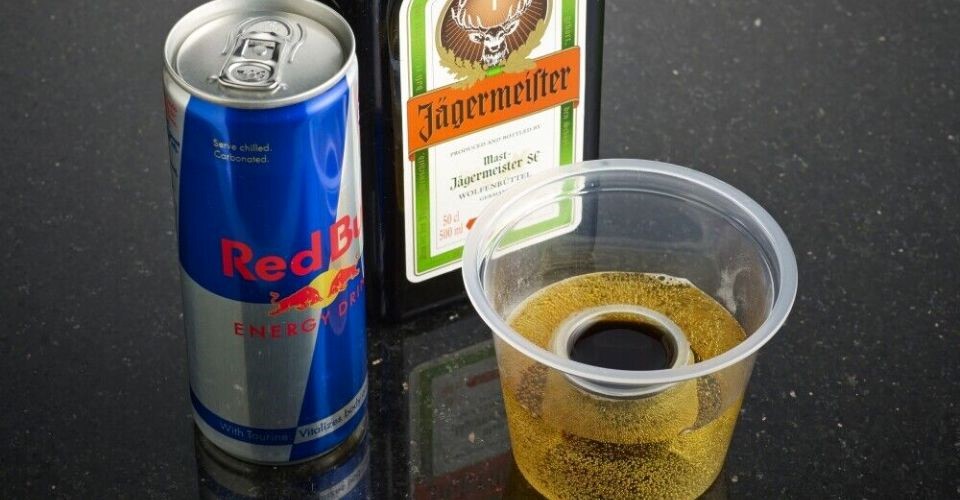 Jager Bomb
What Not To Mix With Energy Drinks?
A lot of studies have revealed the relationship between energy drinks and anxiety disorders and insomnia, as well as raising heart rates and blood pressure. 
Adding alcohol to the equation simply makes these risks worse. Thus, you shouldn't combine these two.
Especially, the stimulant and depressant effects of alcohol when combined with an energy drink cause your brain and nervous system to receive conflicting signals.
This mixture's dramatic intoxication considerably raises your risk of alcohol-related hazards like: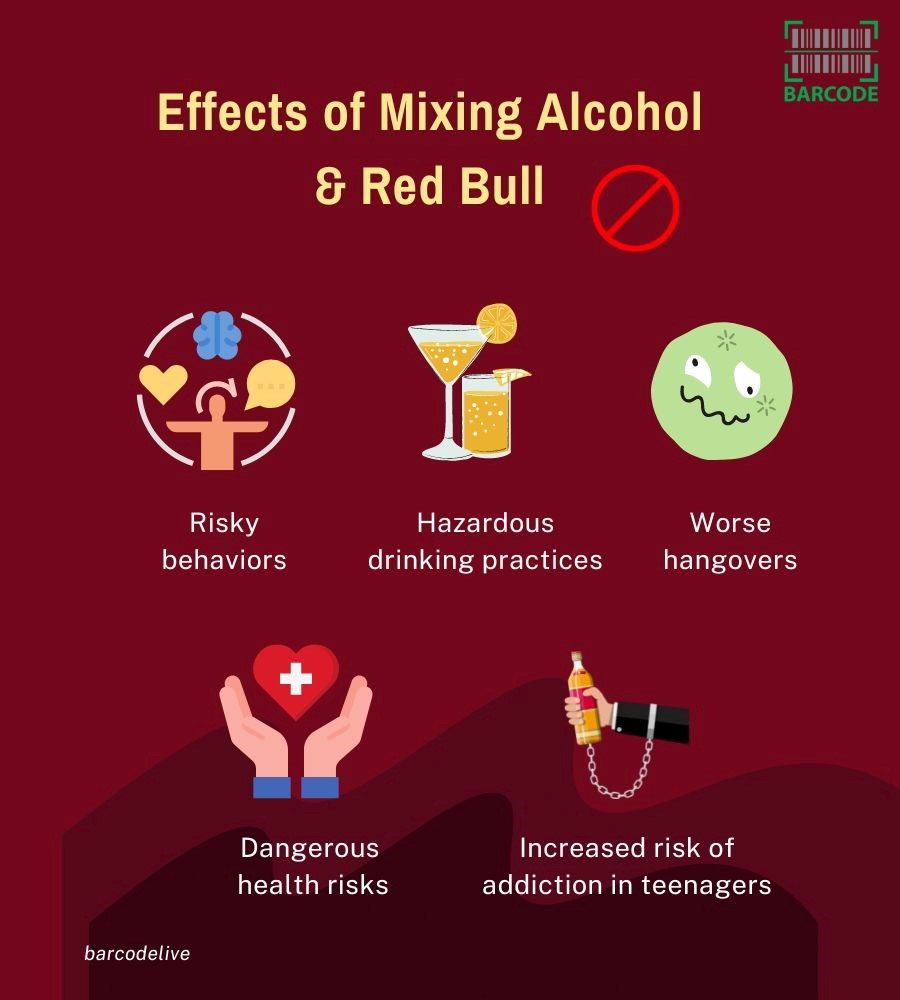 The danger of mixing alcohol and energy drinks
Frequently Asked Questions (FAQs)
1. Is Tequila and Red Bull good?
Maybe not. The two alcoholic drinks together give off a powerful rush that can persist for several hours.
As it can be fairly strong and can make you sick if you drink a lot of it, this beverage is not for everyone.
2. Who should not drink Red Bull?
Red Bull should be completely avoided by those who are pregnant, have children, have cardiac issues, or are sensitive to caffeine.
3. What are Red Bull and Hennessy called?
A drink composed of Red Bull and Hennessy is called Crunk Juice.
Final Thoughts
Drinking Red Bull is a versatile experience. Red Bull has what you need, whether you want a cool drink or an invigorating pick-me-up. Hence, the next time you have a gathering, consider including some cocktails with Red Bull on the menu.