WeChat QR code scanner - Full guide on creating WeChat QR
Nov 25, 2022 - Views: 2117 Share
WeChat QR code scanner is familiar to many users as they often use it to scan the QR code.
However, some still don't know how to scan WeChat QR code while running their WeChat.
This article will discuss the WeChat scan QR code with a detailed guide on operating it.
Read below for more information!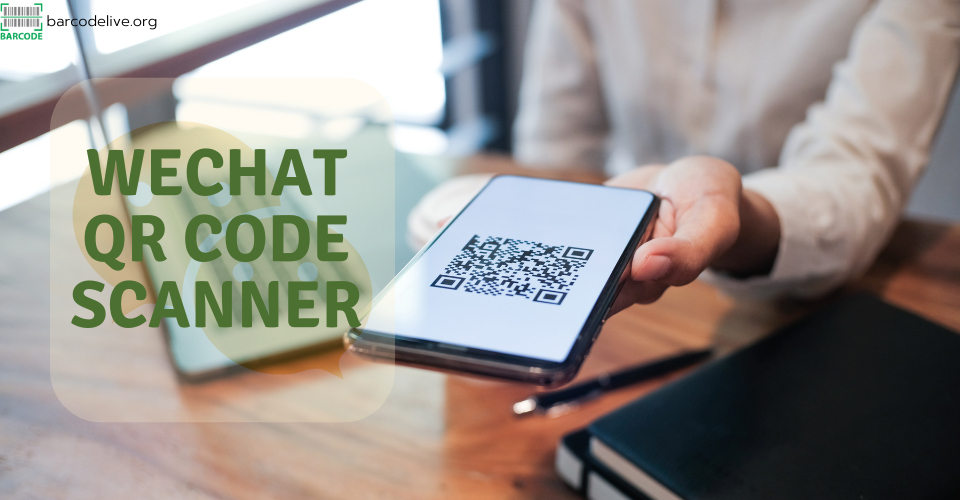 A full guide on WeChat scan code
What Is A WeChat QR Code?
A QR code is a two-dimensional barcode read by a smartphone. 
The code contains information accessed instantly once a device scans its QR code. 
QR codes were created mainly to give an easy and quick way to connect the offline to the online world.
Also, many social media apps like Instagram, Facebook, Snapchat, TikTok, and WeChat use their QR code for various purposes.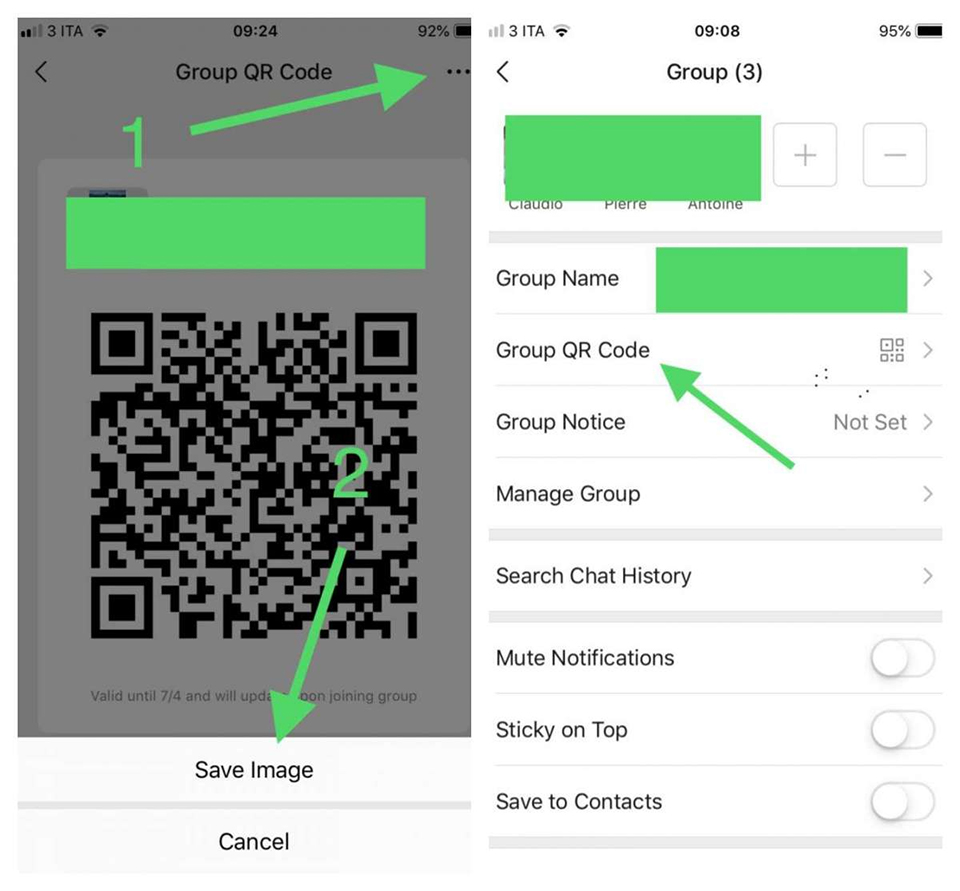 WeChat QR code
WeChat is one of the most common apps in China and QR codes are present almost everywhere in China, with WeChat leading the trend. 
QR codes have become a mandatory feature on different platforms like WeChat. 
WeChat QR codes make it simple and quick to make payments and connect with new friends.
Reasons Why WeChat QR Codes Are Popular
Reasons why WeChat QR code is popular
QR codes have countless uses. 
In China, users are familiar with it and scan QR code WeChat a lot for convenience. 
Add Friends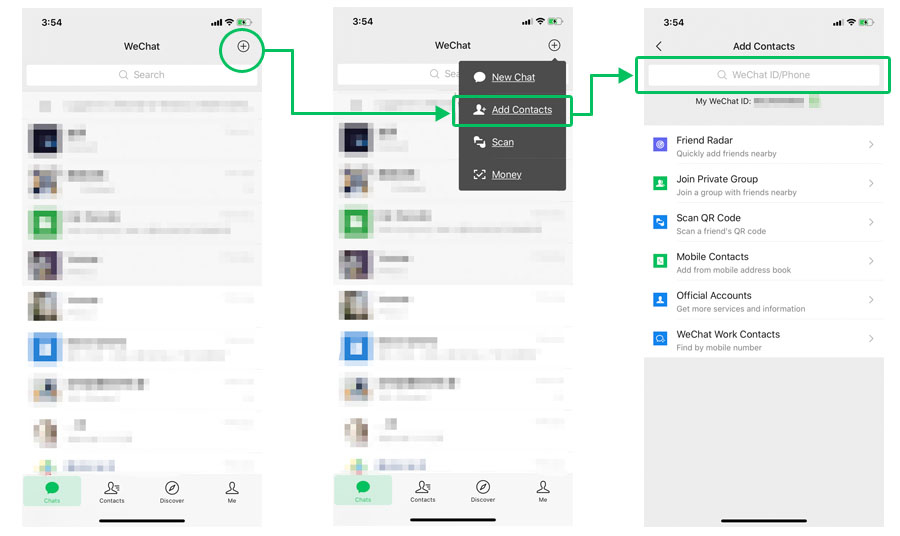 Adding friends on WeChat
WeChat allows you to add friends by scanning a QR code. 
Unlike WhatsApp, you won't be asked to add your phone number. You only scan WeChat QR code online and chat with your new friends instantly. 
You may scan the code directly from your friend's phone or use the code's image. 
To add new friends using a WeChat QR codes, follow the simple steps below:
Step 1. Tap the '+' sign on the top right corner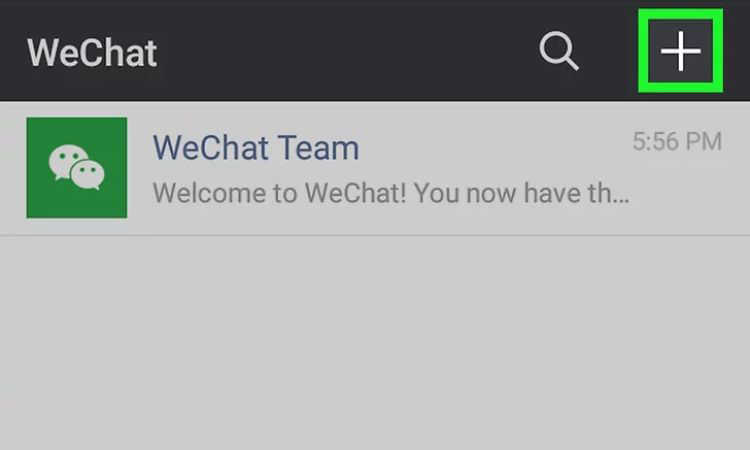 Tap the '+' sign
Step 2. Click "Scan QR Code"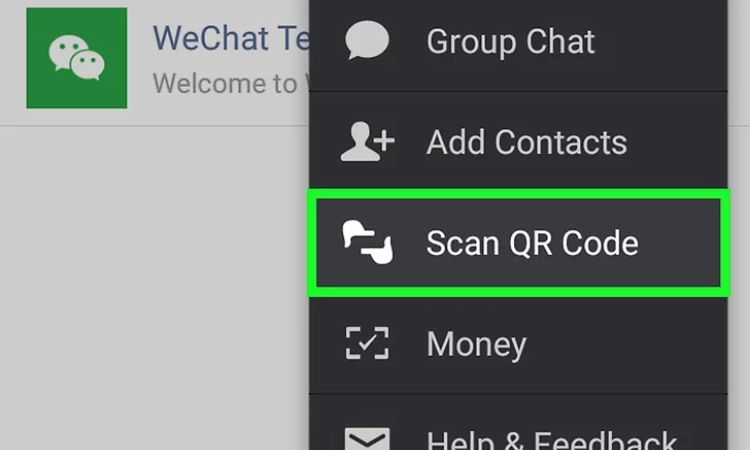 Click Scan QR code
Step 3. Point your camera at a QR code or shared a photo on your friend's phone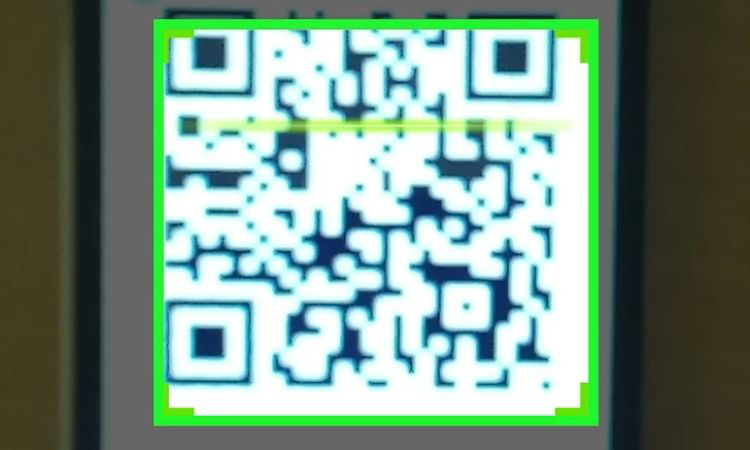 Line up the QR code in the camera view frame
WeChat Group
After adding a friend using the QR code, you can invite them to your WeChat group or invite others. 
For example, you can use a bar code for music group to add new members to a music lovers group on WeChat.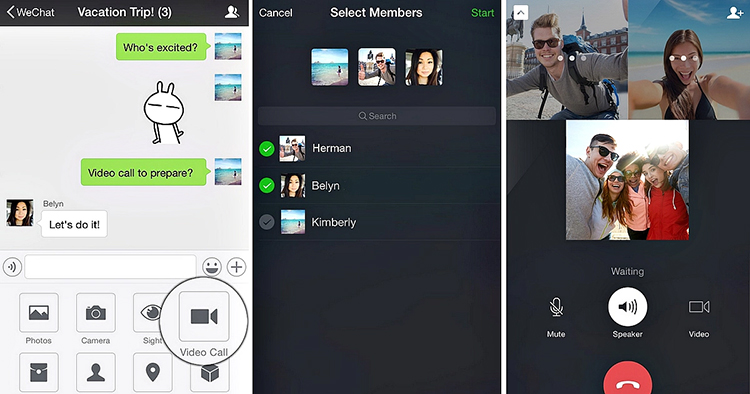 WeChat group
This feature is useful if you create a group chat and want to gain followers quickly. 
Share your code with the community and add a compelling message to motivate them to follow you.
Here is a complete guide on how to create WeChat group and invite others: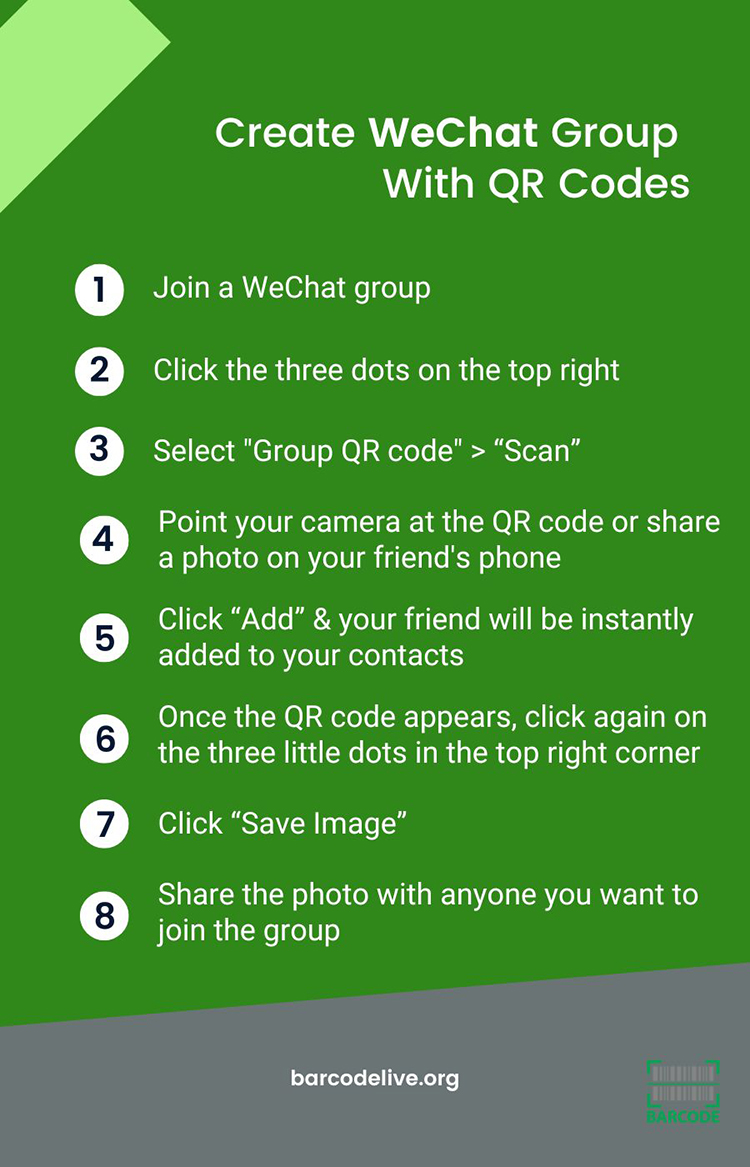 How to create a WeChat group?
After receiving the QR code image, simply scan the code from the image with a WeChat QR code scanner online.
Click and hold the image until a menu appears. Click "Scan the QR code on the image" to join the group immediately.
Official Accounts
QR code is very important for promoting your company's official WeChat account. 
You can add his QR code for your official account to your promotional materials, products, and packaging. 
Official accounts on WeChat
Official Accounts are very important to your marketing strategy. 
Therefore, using QR codes to invite more users to the company's official WeChat account will help promote its business in China.
Mini Programs
WeChat Mini Programs are a relatively new tool that is gaining popularity. 
These are like apps that you can use directly on WeChat without installing them on your device.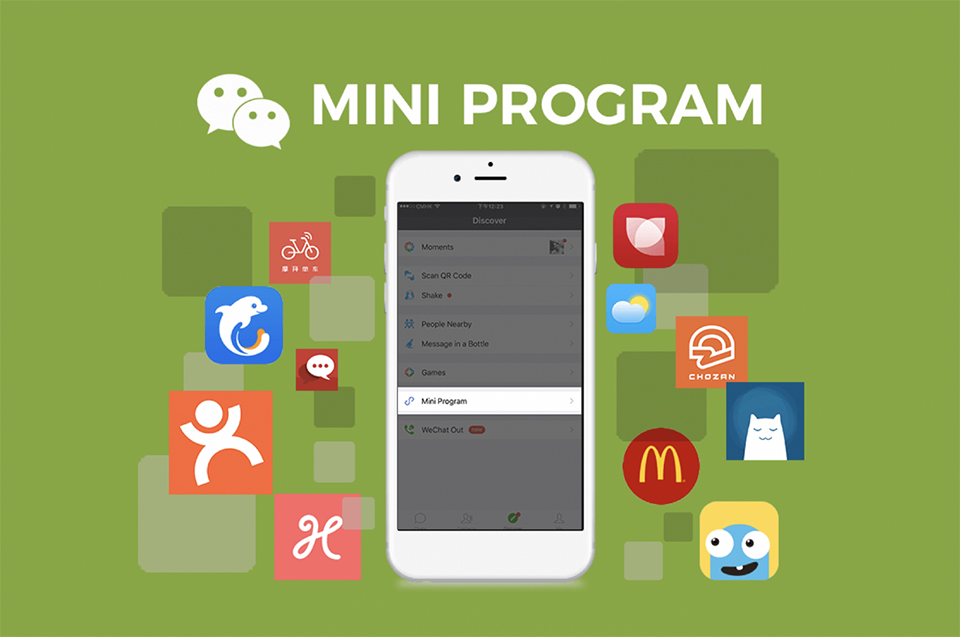 Mini programs on WeChat
Applets are used for customer support, product sales, news distribution, and more.
QR codes can give the scale of mini-programs and their role in promoting sales in China. 
Thus, you should use the QR codes to invite more people to your company's mini-programs.
Receive Special Promotions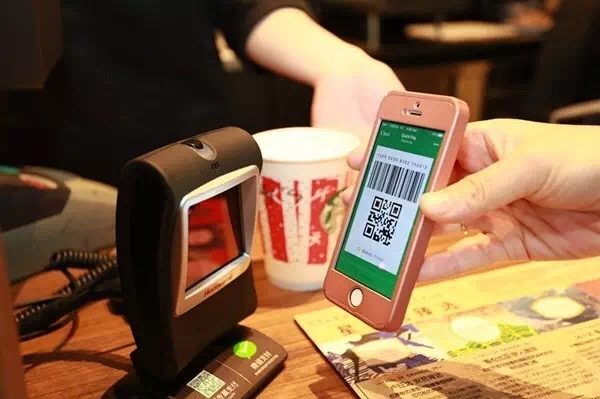 You can receive special promotions thanks to QR codes
QR codes can be linked to special promotions. 
For example, you can use codes to invite more users to your official account or mini-programs. 
In this case, you can set up a QR code to offer special discounts and freebies to those who follow you.
Payments
WeChat is a popular social network and a common way to send and receive money through the WeChat Pay payment platform. 
It's easy with a QR code.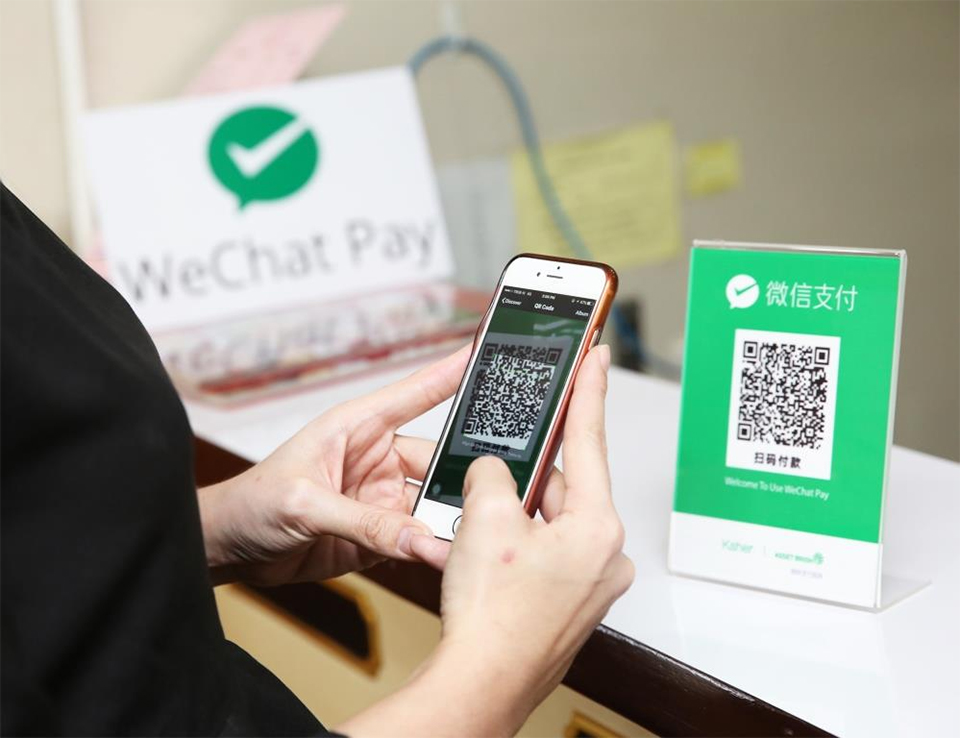 WeChat Payments
WeChat is now encouraging more users to process payments using QR codes.
The procedure is very simple. The seller generates the QR code the customer scans to get information about the product and payment. 
The customer can then easily complete the purchase and automatically transfer the money to the seller.
If you're selling in China, it's a great way to improve your user experience and increase your sales.
How To Run A WeChat Scanner Online?
It is easy to scan WeChat QR code, whether you have an Android or iOS device. 
Follow these simple steps to read the QR code.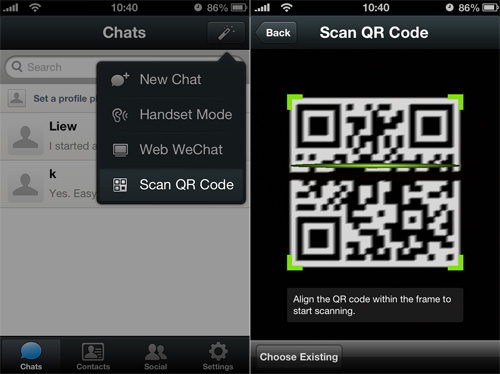 A guide on running WeChat QR code
Step 1. Click the Discover button on the WeChat home screen

Step 2. Tap Scan from the menu

Step 3. Place the camera over the WeChat QR code
The WeChat application reads the QR code and performs the desired function automatically.
How Do I Create A WeChat QR Code?
Like the Instagram QR code generator, WeChat QR Code Generator makes it easy and free to create QR Codes for your profile or company account.
To generate a QR code for your Official Account:
Step 1. Please enter your official account 

Step 2. Click to select the person icon appearing in the upper right corner

Step 3. Click "All Messages" or "All Articles" 

Step 4. Click and choose the three dots appearing in the upper right corner

Step 5. Click on the "Copy Link" menu (this action will copy the official account link)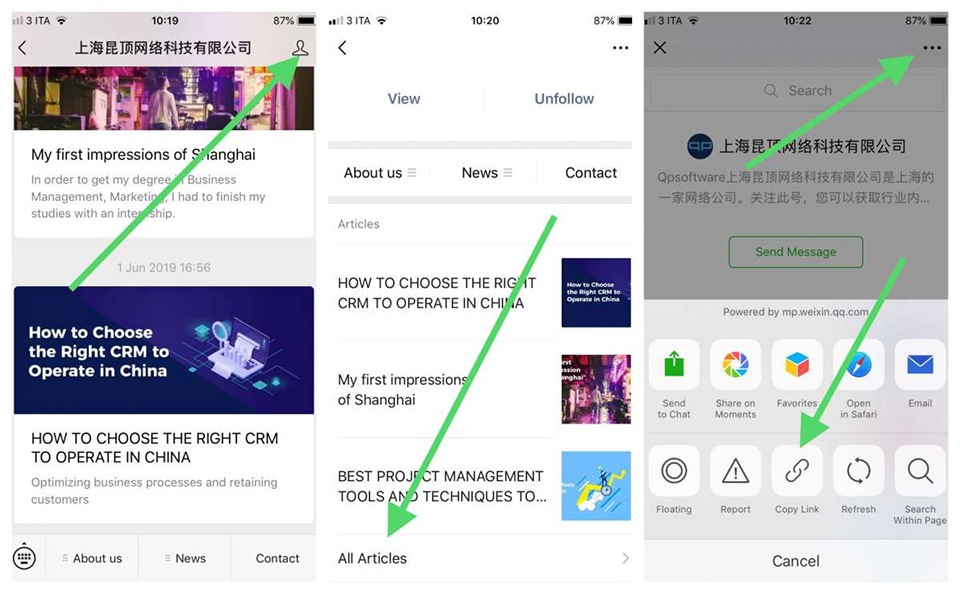 A process of generating WeChat QR code
Step 6. Open a free QR barcode generator.

Step 7. Paste the link into the tab and press Enter.
A QR code will be generated for you to download and use immediately.
How To Customize QR Codes On WeChat?
QR codes can be personalized. 
Some basic customizations are available directly in the WeChat application.
For instance, if you want to customize the QR code for your personal account, you'll need the following:
Step 1. From the WeChat homepage, click the "Me" menu on the bottom right.

Step 2. Click your WeChat ID at the top of the page. Click "My QR Code"

Step 3. After the QR code appears, click the three dots in the upper right corner of the screen. 

Step 4. Click the option "change style".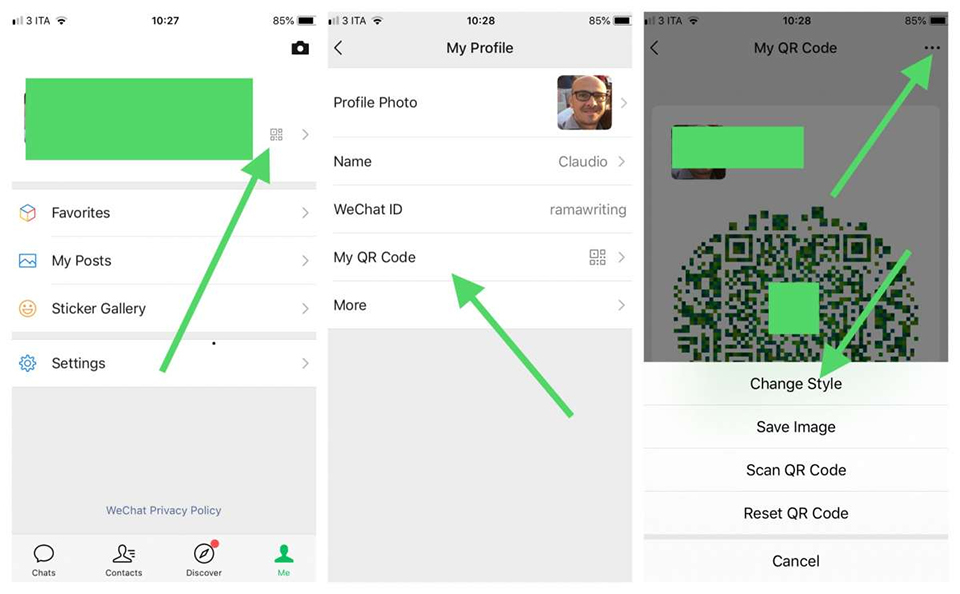 Customize QR code on WeChat
Step 5. Repeat this process until you find a design you like.
Have a look at this video for a summary of how to scan as well as customize WeChat QR codes!
Tips For Flawless QR Code Scanning
Follow these best tips for flawless scanning:
Keep your camera lens clean
It's important to keep your smartphone's camera lens clean for quick and clean scans. 
The sharper the lens, the better the scanner can recognize her QR code.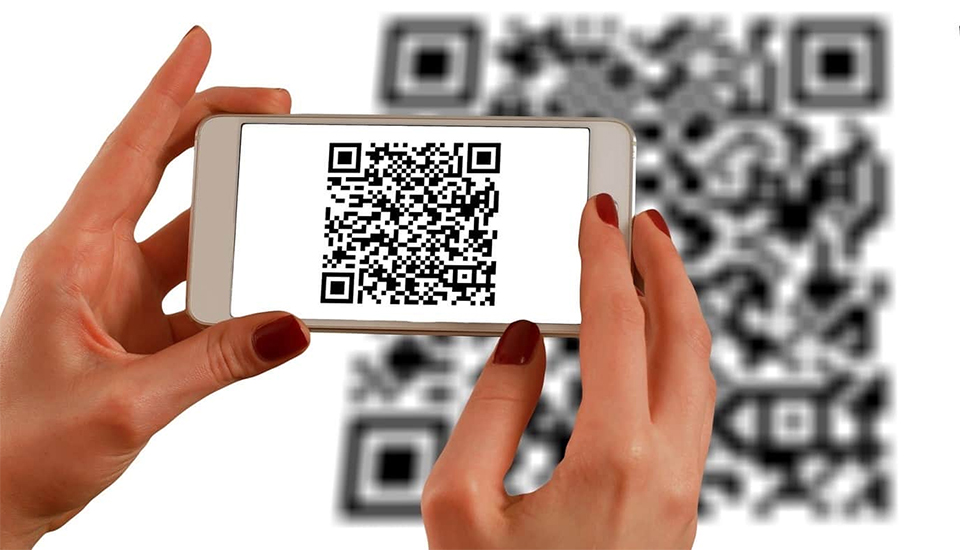 Scan QR code under the bright light
Scan in bright light
Scan in a bright environment. This allows barcode scanners or barcode readers to recognize QR codes easily. 
Scanning in dim light increases the chances of the QR code not being read.
Scan at a close distance
It is important to scan at close range for easy detection. 
Also, to effectively scan the QR code, it must be positioned within 1 cm (0.4 inches) above the viewing window of the scanning device (smartphone).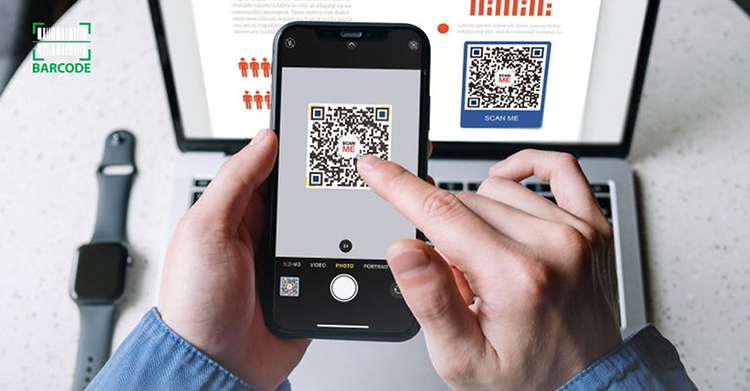 Pay attention to the distance when scanning
The size of the QR code seems to shrink as the distance between the camera and the QR code increases. 
This makes scanning difficult.
How To Scan QR Code To Log In WeChat?
Did you know that you may view your WeChat conversations on a PC by scanning a QR code? 
Using the WeChat online QR Code, you may use WeChat online to chat with all of your friends directly from your PC, similar to Whatsapp.
Step 1: Visit WeChat web and you will see a QR code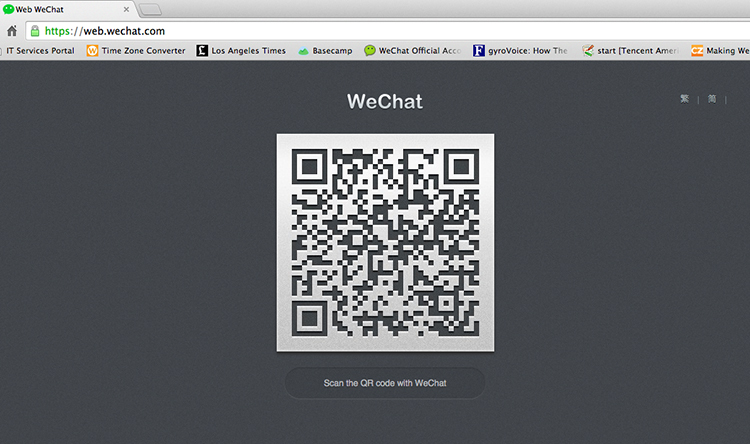 WeChat web homepage
Step 2: Go to the Discover tab in WeChat on your phone.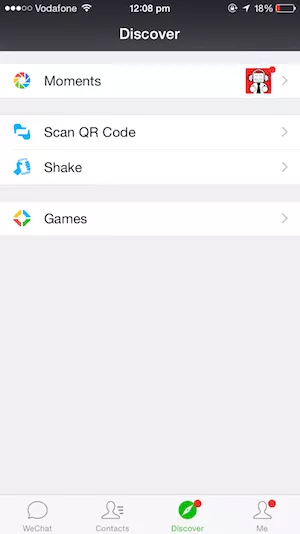 Go to the Discover tab
Step 3: On WeChat Web, select the Scan QR Code option and aim your camera at the QR Code. 
You'll be prompted to confirm online login on your phone when the QR Code has been scanned.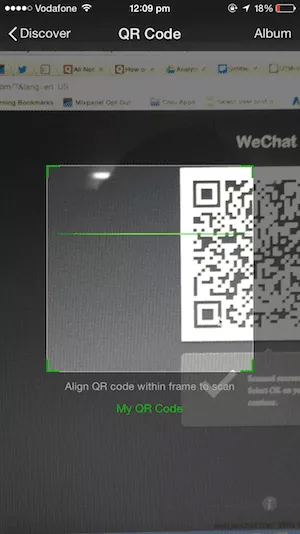 Scan the WeChat QR code
Step 4: When you confirm your login, you may begin chatting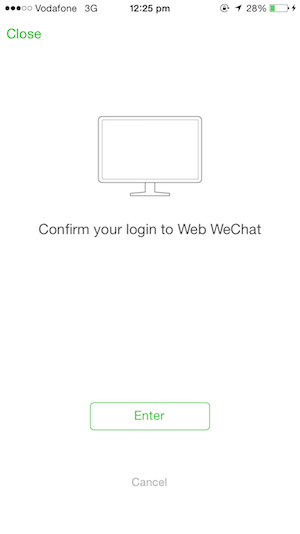 Confirm your login
Frequently Asked Questions (FAQs)
How may you change your QR code in WeChat?
You can't change the QR code unless you make some changes to your profile (obvious changes to your username).
Yet, you may use the QR code generator tool to create new codes on top of old ones.
To do this, first, scan the QR code content QR code scanner.
Then paste it into the QR code generator and use dynamic linking.
Does WeChat have a QR code?
WeChat QR Code is a colorful barcode that you can share on social media.
Each user has a unique WeChat QR code. This QR code is personal, and you can change the design.
You can also use the QR code to add people to her WeChat group quickly.
How can I download the QR code from WeChat?
Open your WeChat app with the camera.

Point your camera at the QR code.

Tap the notification appearing on your tablet, Android, or iPhone.

Continue following the detailed instructions on the screen.
Closing thoughts
The above is a complete guide on using QR code scanner on WeChat. It is a great support to increase both your marketing and brand awareness in China.
However, QR codes are just one of the many features WeChat offers. This popular national social network is one of China's most powerful marketing tools. If you join the Chinese market, you should open an official WeChat account for your business and use the WeChat QR code scanner.