Instagram QR Code Generator: 6 Practices of Instagram QR
Nov 24, 2022 - Views: 1710 Share
You may use the Instagram QR code generator to make QR codes for business, personal photography, or creative purposes.
It allows you to create, save, print, and share free Instagram QR codes so others can access your profile instantly and seamlessly.
So, it is important to know how to get QR code for Instagram using this tool.
In this article, we give you a detailed guide on how to use Instagram's QR code generator to make QR codes for various purposes.
Let's read on!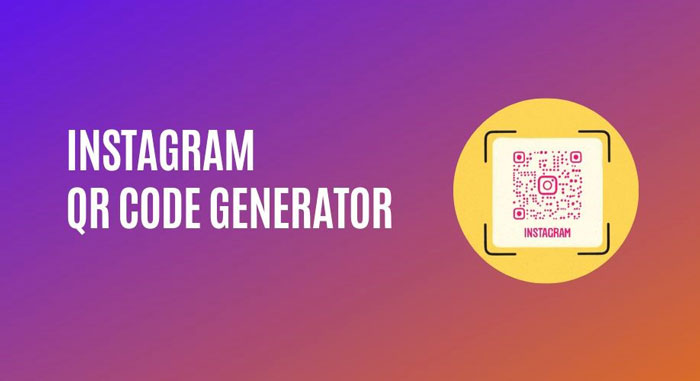 Instagram QR code generator for making QR codes
What Is An Instagram QR Code?
Instagram QR Code is a hacks tool you may use to get more followers on your Instagram profile or business page.
Instagram QR redirects to the page after the scanner scans the QR code.
It is the same as WeChar QR codes, in which you can use WeChat QR code scanner to read the code.
A new person is added to your profile every time they scan it, encouraging them to hit the "follow button."
Thus, more followers and engagement on Instagram means more attention for you and your brand.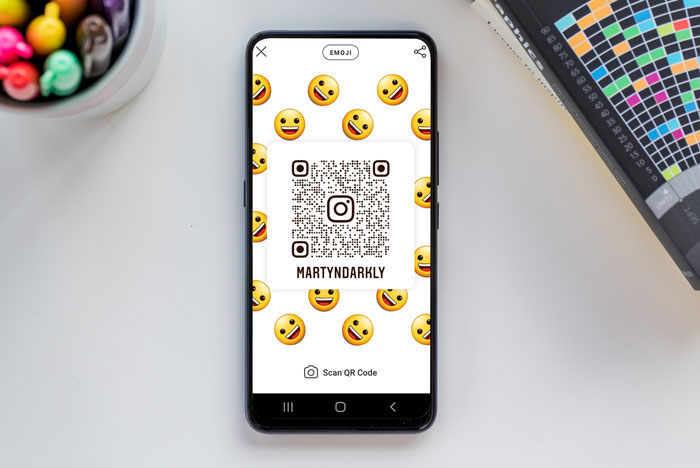 The definition of Instagram QR codes
QR codes for Instagram is a solution connecting your Instagram profile (business, creative or personal) with a QR code. 
It is part of the marketing tools for digital marketers to promote and market their products, brands, and services to reach an audience.
If you're looking for a way to draw attention to your Instagram profile, look no further than Instagram QR Codes.
What Are The Benefits Of An Instagram QR Code?
If your brand concentrates on visual content, using Instagram as your advertising platform is your best option for social media. 
Below are some benefits of generating the QR code for Instagram and all the reasons why you should use it.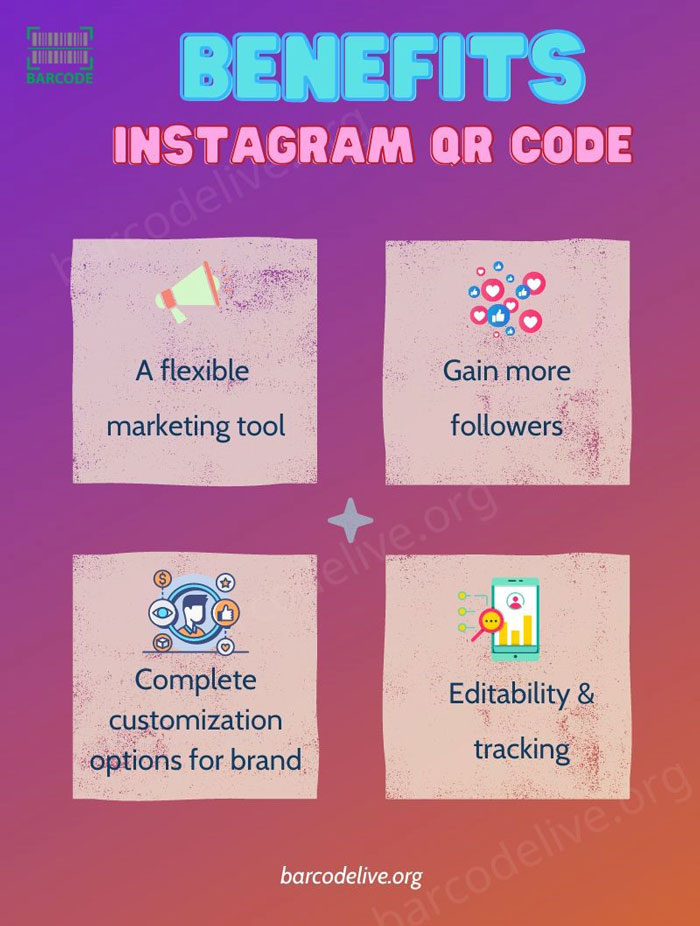 Benefits of an Instagram QR code 
A flexible marketing tool
With an Instagram QR code generator, you may customize each aspect of your QR code using the QR code generator.
It is the same as the way you use code128 barcode generator to create a code 128 barcode.
You may also produce an Instagram QR code with your logo. 
Gain more followers
The more people that have access to your profile, the more likely your engagement rate will improve. 
Higher retention rates often lead to more conversions and drive business growth increase.
This is where the QR code can come into play and bridge the gap between digital and offline marketing. 
By placing the QR code in print ads, consumers may connect directly to your brand.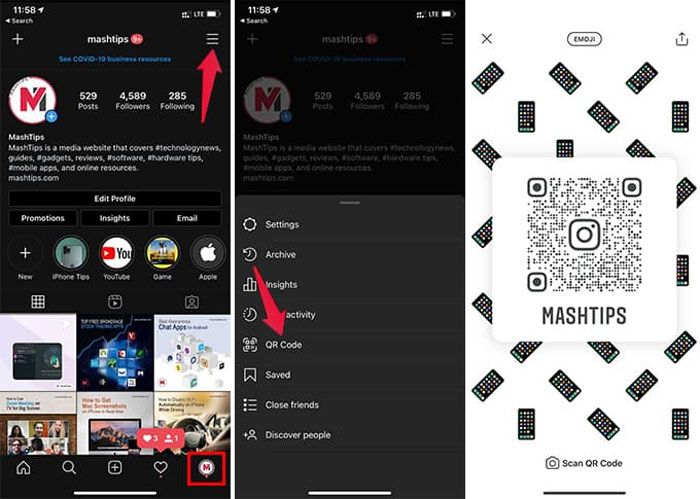 Get more followers using QR codes for Instagram
Complete customization options for your brand
Dynamic URL QR Code is the ideal solution to help you go further with QR code marketing. 
It gives you all customization options to customize your Instagram QR Code to match your brand, scan data, and QR code. 
Thus, you may edit the URL after creating the code. 
If you use multiple Instagram profiles and want to link to different profiles than the one you used first, you may do so using a dynamic URL QR code.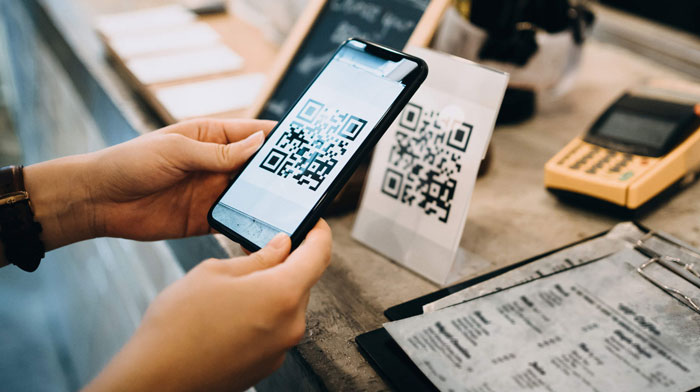 Complete QR code customization option for your brand
Structure your Instagram campaigns holistically with editable and trackable QR codes
Creating your Instagram QR code as a dynamic URL QR code has two main benefits: monitoring and editing. 
It allows you to update the QR code link at any time without reprinting it. Thus, you may save a lot of time, money, and stress.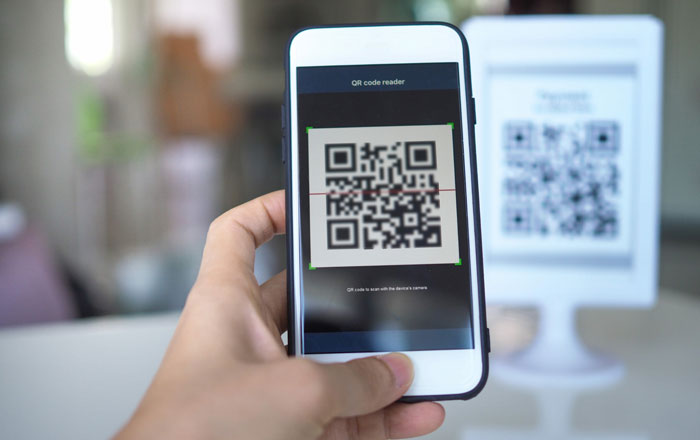 Align your Instagram campaigns with QR Code editability and tracking
Besides, a dynamic URL QR code can enable real-time QR code tracking with 24/7 access to Instagram QR code. 
It will scan data in different locations, countries, cities, and operating devices using unique and total scans and time scanned. 
This is the finishing touch you need to optimize your Instagram QR code strategy and calculate ROI (return on investment) for print marketing!
What Is An Instagram QR Code Generator?
QR Code Generator for Instagram allows you to create QR codes linking directly to your Instagram account when scanned with your mobile device. 
This barcode generator allows you to customize the QR code with your colors, shapes, images, and more. 
There are even more choices for paid subscribers, such as dynamic QR codes. 
You may edit it anytime, analyze it, and track it to know how people interact with your codes and your Instagram followers.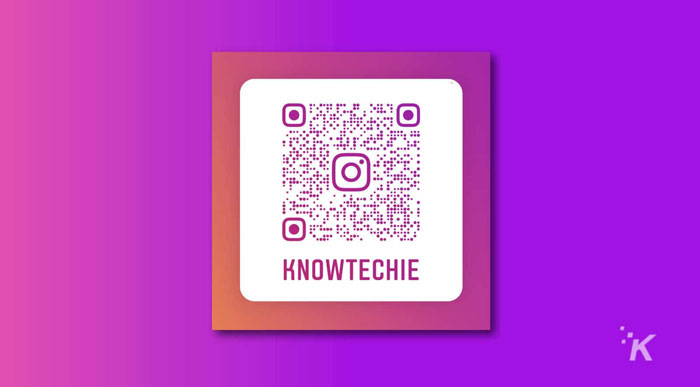 An Instagram code generator
How To Make A QR Code For Instagram With An Instagram QR Code Generator?
How to get a QR code for Instagram? It's simple to create with these simple steps:
Step 1. Choose the URL tab at the generator's top. You can sign up for QR Code Generator PRO to make a dynamic URL instead if you want to create a trackable QR code.

Step 2. Copy the Instagram profile link, its specific format: instagram.com/yourbrandname, from your desktop computer. 

Step 3. Paste it into the URL field. A QR code can automatically be produced. 

Step 4. Run an Instagram scan code test to ensure it works properly since static QR codes cannot be edited once created. 

Step 5. Customize your QR code with frames and colors. 

Step 6. Download the Instagram QR code and paste it on your favorite media.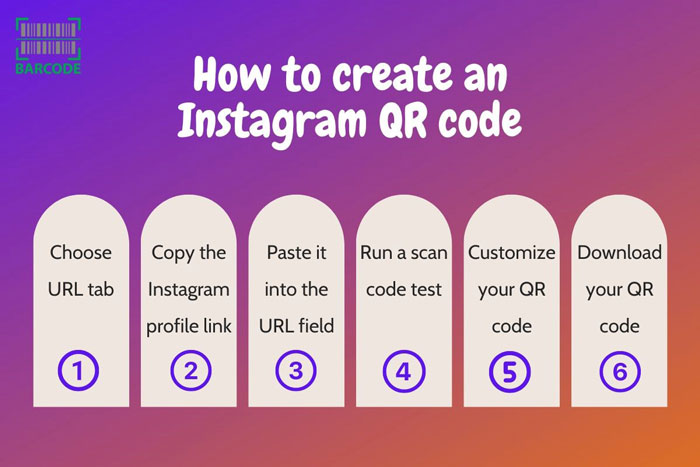 A guide on generating Instagram QR codes using a QR code generator
How To Use Instagram QR Code?
Find out how the Instagram QR code generator Instagram can help maximize your business potential.
Product packaging
This application will encourage your audience to stay updated by following your business page on Instagram. 
You may instantly connect with your audience and tell them if you have promotions.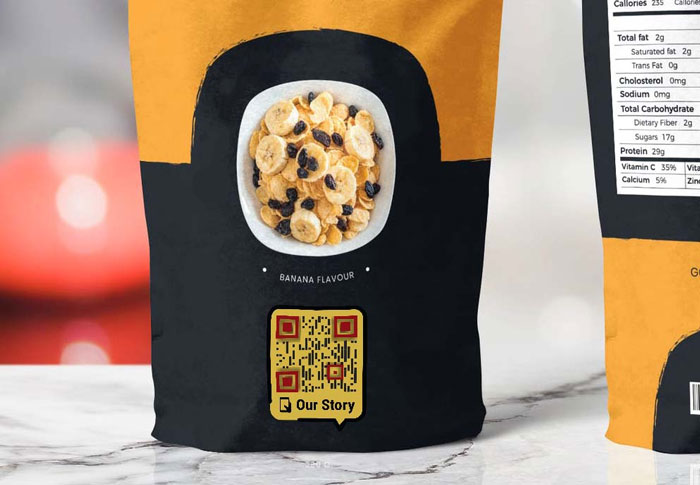 Product packaging with QR Instagram code
Promote event
One of the most popular platforms to announce an event via social media is Instagram with a QR code.
You may print an Instagram QR code encoded with relevant event information you want to share with others. 
You can distribute it to your target audience or post it in crowded places.
Advertisements
With Instagram QR Codes, you may get more organic followers on your platform and boost your business's development.
You may also produce most of the basics of social media platforms to increase customer loyalty using QR codes.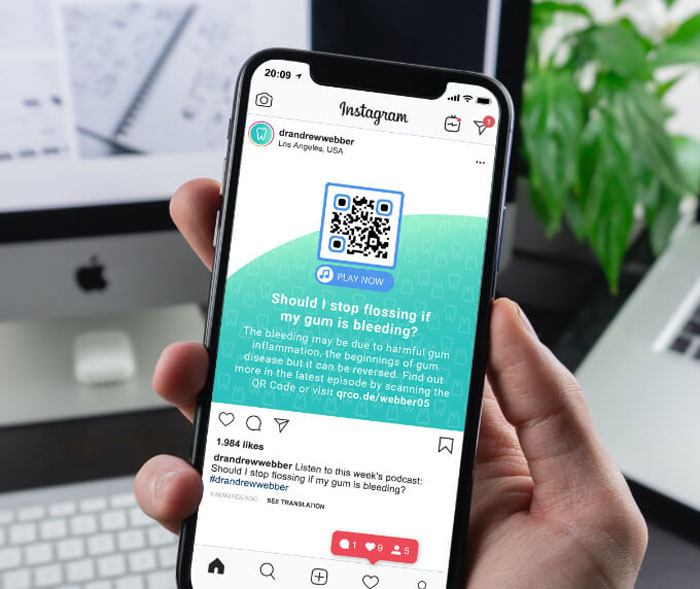 Instagram QR code for advertisements
Promote your advocacy campaign
If you want to change the world, advocacy is one way to strengthen these campaigns and encourage other members to join your project with Instagram. 
You may print and paste the Instagram QR code on flyers, brochures, catalogs, and magazines to encourage people to follow your page automatically. 
This way, you can give them the information and awareness you want to provide.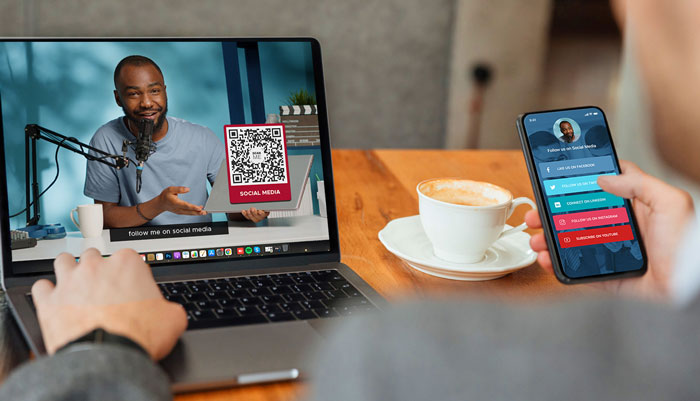 Using QR code to promote the advocacy campaign
Hospitality industry to engage guests and gather reviews
You may use the QR code on Instagram to interact with guests during their stay.
This comes with a QR code in the reception area so guests can access your Instagram profile while waiting for their room. 
You may also link QR codes to posts and reels for travel tips and must-see attractions. 
Besides, you can add the QR code to your signage or receipt at the counter at checkout to encourage you to share your feedback.
These reviews will support you in attracting more guests to your hotel and increase your online social media presence.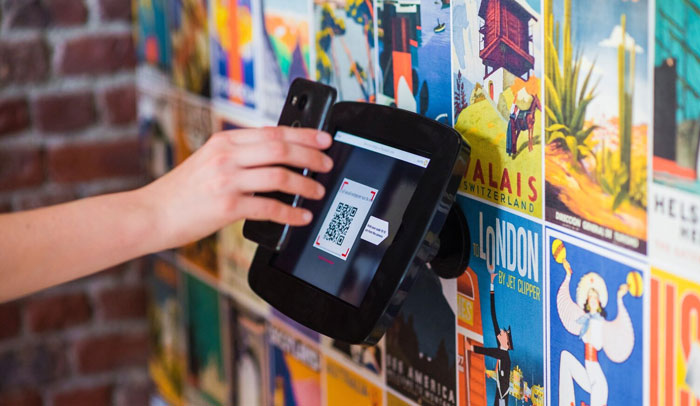 QR codes in hospitality industry help engage guests and gather reviews 
Artists and musicians
Instagram QR codes allow bands and artists to speak directly to their fans and keep them informed about new releases and upcoming tours. 
Add a QR code linked to your Instagram profile to your concert tickets and promotional posters to attract your followers and have a loyal fan base.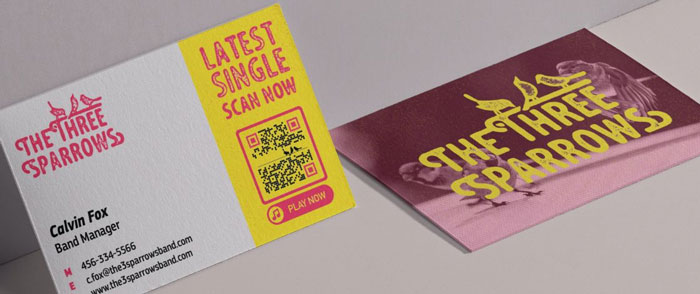 Making QR codes for artists and musicians
How To Maximize An Instagram QR Code?
There are important details to remember when creating and using Instagram QR codes. 
Below are some best practices you should get on the right track.
Use a link from a desktop browser
Access your Instagram profile and create a QR code link through your desktop browser to make it simple and quick.
If you want more flexibility with your links, such as using deep links or tracking links, the QR code generator makes it easy to use the links you need.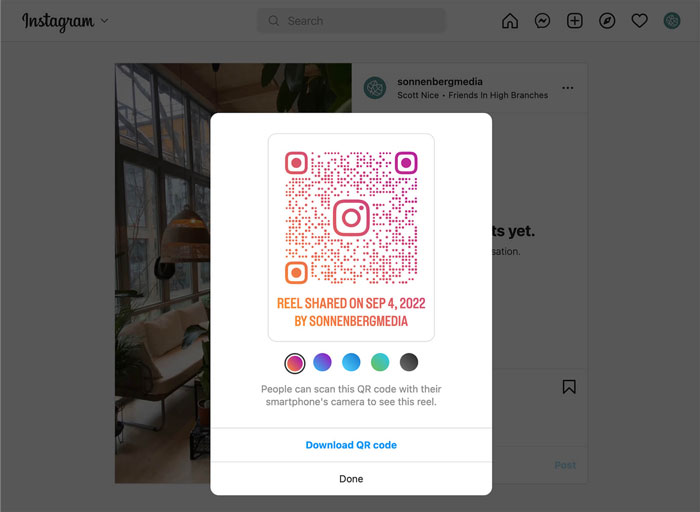 Using the link from a desktop browser
Include a call-to-action
Customize your QR code and add a witty CTA to spark interest with clever CTAs are great for getting more scans. 
A QR code with the message: "Follow me on Instagram!" can be greater than "Scan me" only.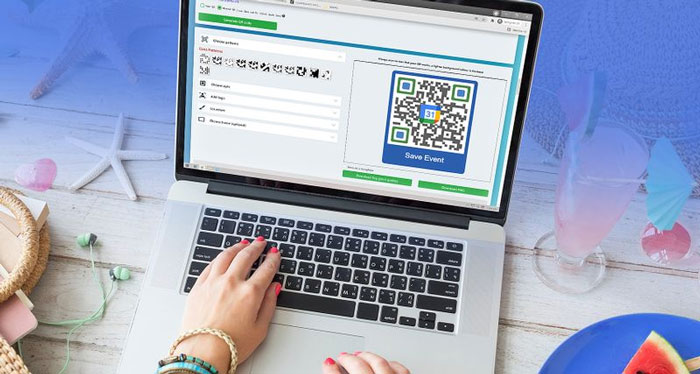 QR code includes a call-to-action
Engage with your Instagram followers
It's important to regularly add new content that users like, comment on, or want to share. 
Whether your campaign is continuous or short-term, ensure you have a comprehensive QR code Instagram marketing strategy to engage and keep in touch with your new followers.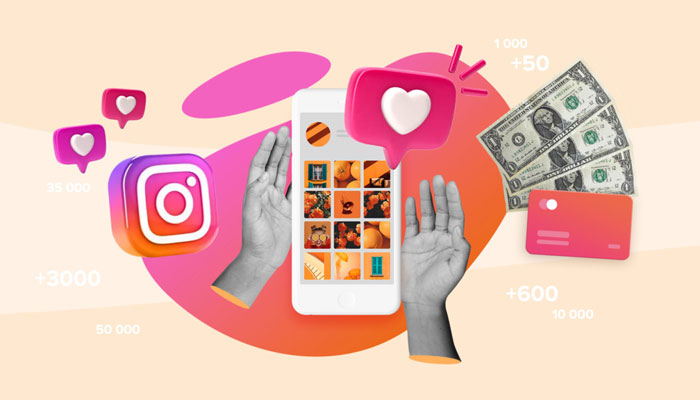 Engage with Instagram followers
Customize the design and size of your Instagram QR code
Instagram QR codes can be as large as your design allows, but there are some minimum size requirements. 
First, the QR code should be at least 2 x 2 cm (0.8 x 0.8 inch) for dynamic and at least 3 x 3 cm (1.2 inch x 1.2 inches) for static, and match the media size. 
Thus, the QR code size guide will help you determine the best proportions for the QR code to print.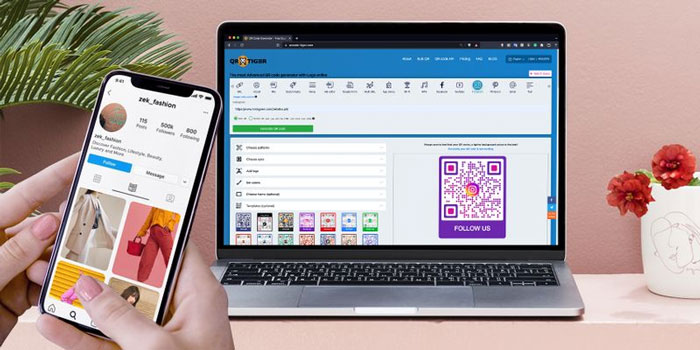 Customize the size and design
Generate a QR Code for Instagram and track scans
On Instagram, it's tempting to measure the success of the QR code by the new followers you get, but dynamic QR codes can do more than that. 
A dynamic QR code can give you access to scan data, including the time, location, and medium the QR code was scanned.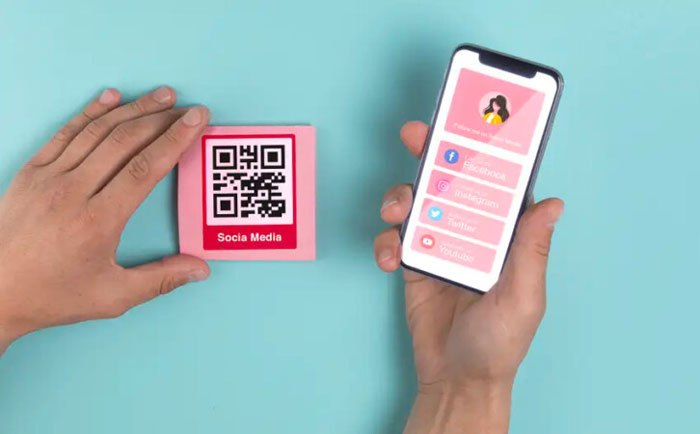 Create a QR code for Instagram and track scans
Frequently Asked Questions (FAQs)
1. What information can an Instagram QR code store?
A QR code holds various information, like a link connecting to your Instagram profile but in a more visually appealing and cleaner way. 
2. How to scan a QR code on Instagram?
Whether you use Instagram on your desktop or via the app, many new smartphone models can automatically scan QR codes with their cameras. 
However, you can also use a 3rd party scanning app like Barcode Live.
3. How to print an Instagram QR code?
Printing and creating an Instagram QR code is easy. 
Copy your Instagram profile URL into the QR code generator

Download the QR code 

Add it to the design or material you want to use. 

Print out the document with the QR code and complete it
4. Do Instagram QR codes work?
You can now share posts with QR codes on Instagram. 
You can use this procedure to save a photo of a post's QR code to their device's camera roll, where they may then upload and distribute it if you want. 
Also, you can use QR codes to share both regular posts and Reels.
5. How to add someone on Instagram with a QR code?
You may learn how to do that by following the steps below:
Open Instagram on your smartphone

Log in to your Instagram's account

Click the Profile icon

Click the three horizontal lines

Click the QR code section

Place your smartphone camera over QR code you wish to scan, then wait for the image to be taken

You can visit a user's profile page or begin following them by hitting the Follow button
Conclusion
Finally, an Instagram QR code generator is a valuable tool whether your business has already invested in Instagram marketing or you want to increase your followers and engagement.