5 Best Barcode Generator Software & Ways to Print Barcodes
Oct 26, 2022 - Views: 3161 Share
You may generate several sorts of barcodes using barcode generator software. The barcode website can be used to create and print barcode labels for products.
This guide will go over the best barcode generators as well as 5 different methods for printing barcodes.
This post also contains a ton of useful information, so have a look!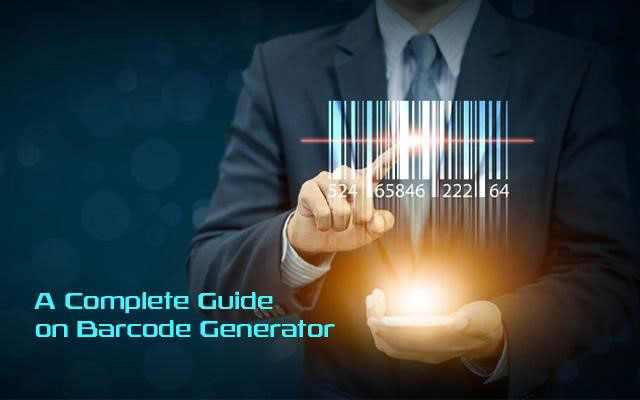 A guide on barcode generator
What Is Barcode?
First of all, it is vital to go through the barcode's definition and reasons why it is so commonly used these days.
Definition
An item's identification data is shown visually in a barcode. It is made up of bars, which are parallel black lines. 
Optical scanners can read the width of each bar and the distance between them. 
If you've set up a barcode system, you can quickly add items' information by scanning them.
Barcodes
They are now present on a variety of goods, including checked luggage, hospital bands, rental cars, and clothing purchased from retail stores or supermarkets. 
They each represent a thing or a person and encode significant information.
But what advantages come from using them? For the answer, keep reading…
Benefits
Since they have been employed in commerce and other fields for more than 50 years, bar codes have a solid track record of improving business operations all around the world. 
Bar codes have shown to be a remarkably effective tool for managing costs, lowering errors, and enhancing supply chain visibility if the solution is implemented thoughtfully and deliberately.
Compared to barcodes, manually entered data has a much higher likelihood of errors. 
A barcode scan is quick and accurate, and it takes a smaller amount of time than manual data entry. 
Based on the type of barcodes and printing solution employed, the error rate may reach 1 error in 36 trillion characters.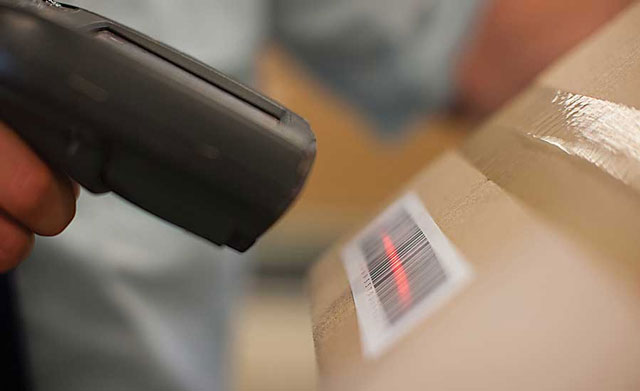 Using barcodes help reduce errors
Barcode data entry is quicker than manual data entry and is also more precise.
Contrary to normal human data entry, which could take several minutes for a specific customer order, bar code data transfer can be completed in a matter of seconds. 
These time savings add quickly to a business that manages hundreds or thousands of transactions.
Barcodes make it possible to convey and record information more quickly and accurately, which helps track ongoing projects or the precise movement of assets. 
Since you can trace an item's location, bar codes can accelerate operations and enhance tracking of these things, saving your organization time when responding to questions and changes.
As a result, it improves efficiency.
What Are Some Types of Barcodes?
The most common varieties of barcodes are listed below with explanations to assist you in deciding which to use:
| | | |
| --- | --- | --- |
| Code 128 | | A universal barcode with excellent data density, which is popularly used in packaging and shipping |
| Code 39 | | An incomplete alpha-numeric barcode used worldwide for many purposes  |
| EAN-13 | | An European Article Numbering international retail product code |
| EAN-8 | | A less used version of the EAN-13 |
| UPC-A | | Similar to the EAN and is used in North America for retail products |
| UPC-E | | A shorter version of UPC-A, which is used for smaller items in North America |
| DataMatrix | | A 2-dimensional code containing numbers, text, or binary data |
| PDF417 | | Good for encoding large amounts of data  |
How to Create A Barcode?
In this post, we will introduce 2 different ways to generate a barcode. One is easy and another is difficult.
But don't worry, we'll discuss both in detail so that even beginners can do it.
Let's see!
Method 1: Make a Barcode in Excel
You must first download a barcode font in order to create a barcode with Excel. Code 39 is the most popular font, and we'll be using it in this tutorial. 
A font version is available for download from several websites, such as Free Barcode Font, Dafont, ID Automation, or Square Gear. 
So after downloading it, you'll have to install it to make it compatible with your version of Excel.
Then, follow these instructions to create a barcode.
Step 1: In a blank spreadsheet, add two columns
Text and Barcode should be the column headings.
Put the alphanumeric data in the Text column and the Barcode column will display the barcodes.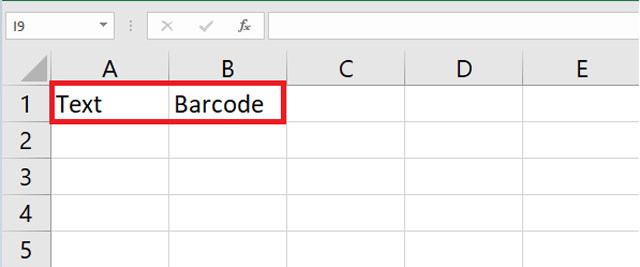 Create 2 columns
Note: To create a layout that resembles a table, add more columns if you want to provide a description of each object to which the barcode relates.
Step 2: Format the cells in the Text column
Right-click on the Text column after selecting it. Choose Format Cells, Number, and Text. 
This will preserve leading zeros and stop greater numbers from appearing in scientific notation.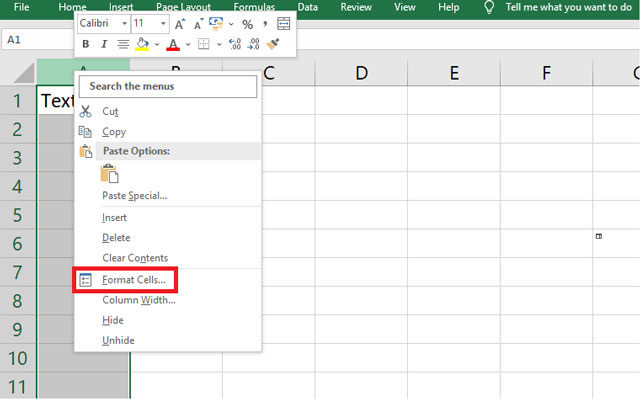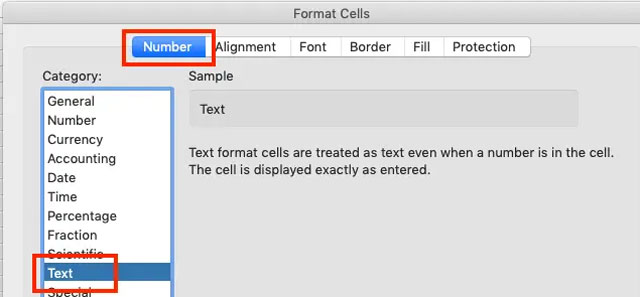 Format the cells
Step 3: Enter the following formula in the Barcode column's first empty row: ="*"&A2&"*"
We're presuming in this stage that cell A2 is in the Text column; if it's not, modify the formula as necessary. 
If the first column is blank, there will be two asterisks in the second column.
Enter the formula
Step 4: Fill the Barcode column down

Step 5: Modify the Barcode column's font
Choose the downloaded and installed barcode font from the font menu.
Although it's recommended, you are not required to use the same font for the header row that you do for the remainder of the spreadsheet.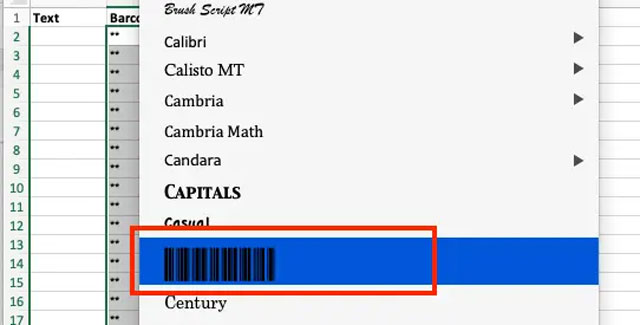 Change the font
Step 6: Enter data in alphanumeric data in the Text column
The Code 39 font may encode the numbers 0 to 9, the letters A to Z, the asterisk (*), the percentage sign (%), the dollar sign ($), the plus (+), the slash (/), the period (. ), and the space.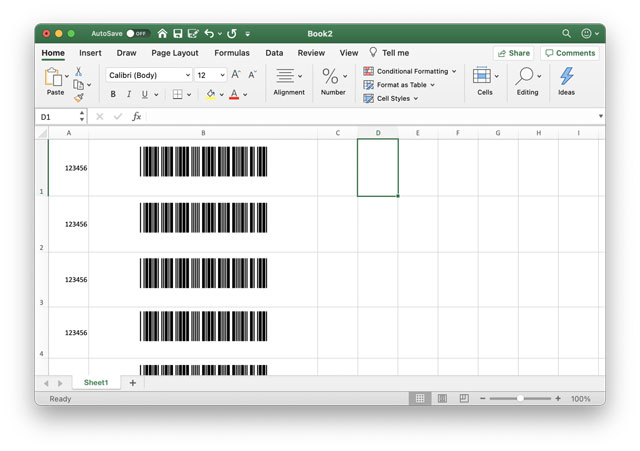 Enter the data
Method 2: Use a free online barcode generator
In contrast to the previous way, it is simple to use a barcode generator program to create various forms of barcode and automatically calculate the check digit.
Step 1: Create your product codes
The numerical and symbolic sequences you designate to your products are referred to as product codes.
The type of business you run and the requirements you have for inventory tracking will determine the ideal stock coding or numbering system.
Step 2: Enter your code into a barcode generator system
The next step is entering your product codes into a system that converts them into scannable barcodes after you have established your unique product codes.

Enter your code
If you are wondering which one to choose, we will suggest the 5 best ones in the next part!
You simply enter your codes into a system that converts them into scannable barcodes on the majority of online websites.
Top 5 Barcode Generator Software 2022
Here we'll provide with you a list of the most popular barcode generators that aid in the speedy and effective creation of barcodes.
So make sure to read them carefully!
Morovia
A well-liked program called Morovia barcode generator is well-known for its capacity to change a barcode's dimensions. 
The barcodes don't download automatically, so you have to drag and drop them out of your browser or right-click on the photos to save them.
Despite that, if you wish to change the size of your barcode, it is still a useful tool. 
You can decide whether to include text or not, but we advise incorporating text to make it simpler to distinguish between different barcodes without scanning.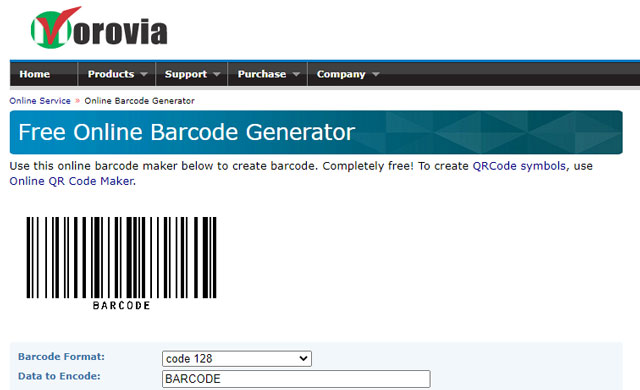 Morovia barcode generator
Its outstanding qualities include:
Community Assistance

Including and excluding text

various barcode formats (code 128, UPC-A, EAN-13, etc.)

Free to use
Handifox
You can produce and manage inventory more effectively if you use the free HandiFox barcode generator. 
Simply scan the barcodes on your goods, and HandiFox will instantly create distinctive barcodes for each one. 
You can also create labels with these barcodes for simple identification. 
Even the inventory at your distribution center can be managed with HandiFox. Inventory tracking is a breeze with this tool!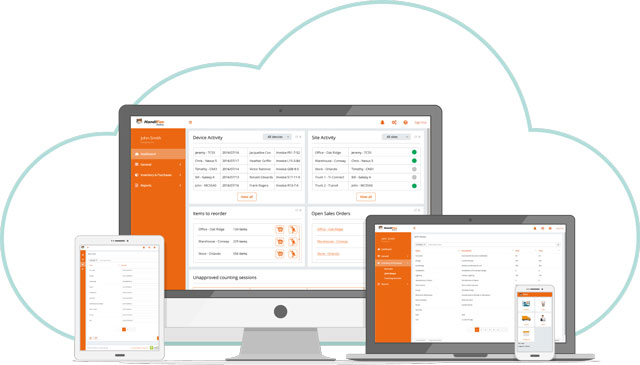 Handifox barcode generator
Below is some of Handifox's good points:
Inventory counting

Barcoding

Multi-location tracking

Sales and customer order
Great Barcode Generator
A good number of features are included in this free barcode generator to make creating barcodes as simple as possible.
You can select from a wide variety of barcode templates, and it works with many barcode printers and labels.
As a flexible barcode solution for items like inventory labels, it's a fantastic choice.
Additionally, the customization and compatibility options provide you with all you need for barcode graphics.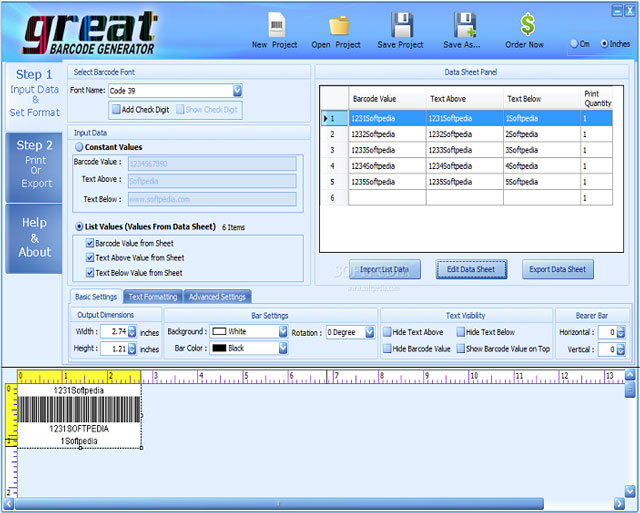 Great Barcode Generator
Consider its benefits:
Export in many image formats

Toolbar

Create customized barcodes easily

Compatible with text apps and Excel;

Print barcodes
EZOfficeInventory
The fact that companies like CNN, Honda, Amazon, and others trust EZOfficeInventory has demonstrated its usefulness.
With EZOfficeIventory, you can centralize the labeling process, totally automate it, and reduce administrative costs. Additionally, it works with QR codes.
According to the level of barcode generation required by your business, it will provide a variety of different subscription packages.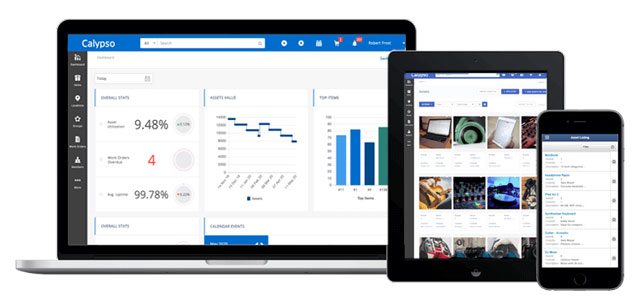 EZOfficeInventory
Indeed, it's a fantastic barcode maker and barcode reader all around with the following features:
Easy to use

Flexible to add products

Seamless integration with 3-rd party platforms
Labeljoy
For practically any circumstance, the Labeljoy barcode generator generates 25 various sorts of barcodes. 
You may design personalized barcodes with this tool's easy-to-use UI in only a few clicks. 
For updating the alphanumeric and numeric values in the barcode, it has an incremental counter. 
Additionally, you may incorporate your data into barcode production by connecting the program to external data sources like Excel or Outlook.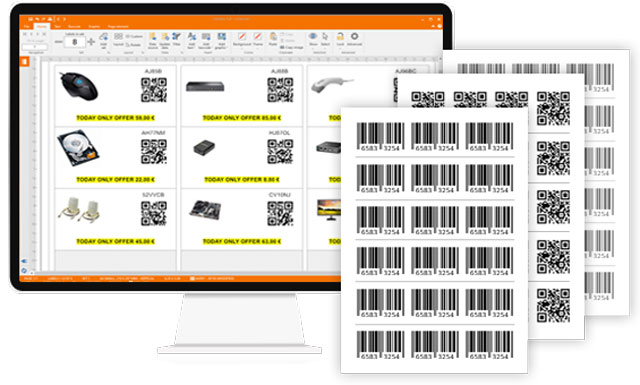 Labeljoy barcode generator
Have a look at its benefits:
Export to PNG, JPG, TIF, and PDF

Dynamic barcode fields update

QR Code generator

Roll printer support
What Are the Best Ways to Print Barcode?
You just need to choose the method that best suits your requirements from among the various ways to print barcode labels. 
To make it easier for you to compare, below are the top 5 methods for printing barcode labels.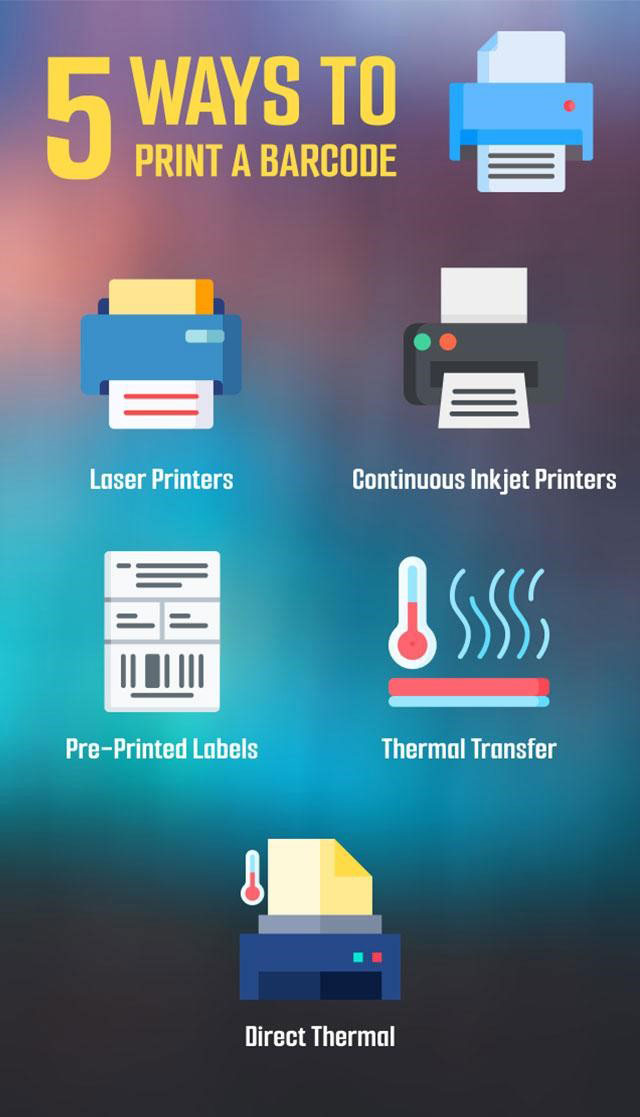 5 ways to print a barcode
Laser Printers
Small-scale barcode printing is possible with laser printers.
Quality laser printers can produce extremely accurate results, and you likely already have one in your business. 
They are commonly accessible, right?
Your cost may be low if you decide to continue using your dependable workplace printer. Hence, this may appeal to smaller businesses.
Laser printers, on the other hand, are pricey and ineffective for producing barcodes over time or in greater quantities.
Continuous Inkjet Printers
If you require more specialized barcode printing requirements, continuous inkjet (CIJ) printers can be used because they provide a variety of ink possibilities.
You can pick from options for pigment, food-safe, UV, and dye inks, for instance.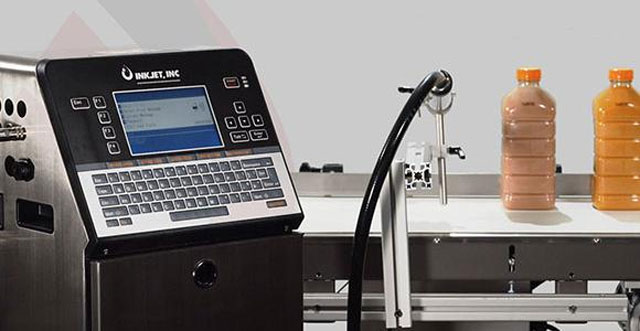 A continuous inkjet printer
Because of this, CIJ printing is an effective choice for food brands or packaging that will be exposed to sunlight. 
In case your print surfaces are a little odd, CIJ is a versatile process that may be used to print on a variety of media, including plastics, paper, and a variety of other materials.
Pre-Printed Labels
You can buy labels with barcodes already printed on them unless you want to bring label printing manufacturing in-house.
This is advantageous if you run a small business since pre-printed labels are reasonably priced.
Furthermore, it's a wonderful alternative for adding more design value to your barcode as many pre-printed labeling providers also let you customize the appearance of your label.
Pre-printed labels, though, typically only function when you require them for modest numbers of barcodes that include little non-variable data.
Thermal Transfer
The most long-lasting printing technique is thermal transfer, which is perfect if you need a robust barcode. 
A heated ribbon is used in the thermal transfer technology to print on a specially prepared medium.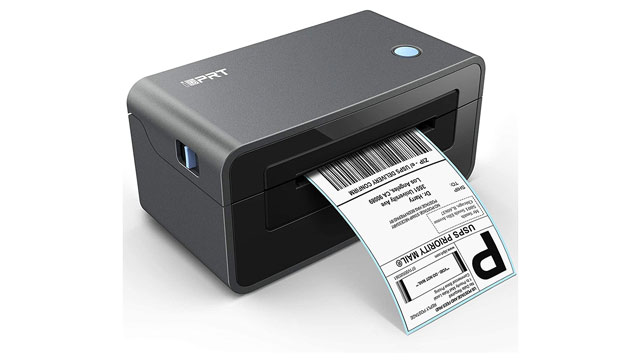 A thermal transfer printer
Images created in this way may endure exposure to various elements, including light, moisture, heat, chemicals, and more. 
The barcode also provides a clean, premium finish that cannot be removed or smudged.
Direct Thermal
Because it doesn't require a ribbon, direct thermal printing is less complicated than thermal transfer printing while maintaining effectiveness.
This method depends on printing on specially treated material, which reacts as it passes beneath the heated print head. 
Direct thermal printing eliminates the need for ink, toner, or ribbons, resulting in cheaper operating costs and higher value.
Direct thermal printing isn't as resilient as a thermal transfer but has a longer lifespan than CIJ or laser printing.
Factors Affecting Barcode Scannability
No matter which type of barcode you generate or which way you use to print it, you may not scan it sometimes.
In fact, barcode scannability is affected by many factors, which will be mentioned below!
It depends on what print and background colors you use because the bars need to stand out from the spaces as much as possible.
The scanner won't be able to detect the bars if they are printed in a color that is too light. 
Similarly, the computer might not be able to tell the difference between the bars and the spaces if the background is too dark.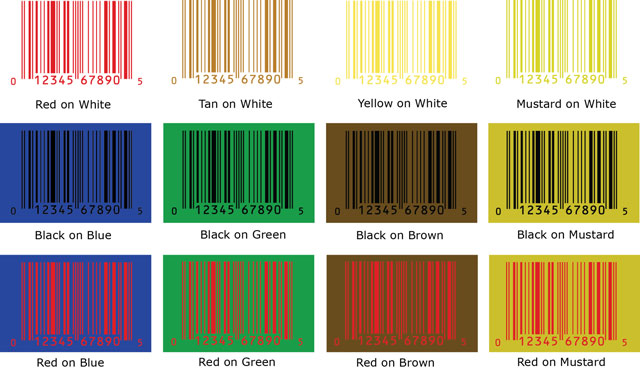 Pay attention to the barcode's color
Barcodes must be printed properly since reading errors may result from an incorrect bar or gap thickness. 
The erroneous information may be retrieved due to a small typo as well.
Print resolution is impacted by size. 
Although scalable, barcodes must be adjusted such that the height-to-width ratio does not vary. This can make scanning less accurate.
Smudges will impair barcode readability and attractiveness. 
Since they don't require expensive and smear-prone consumables, direct thermal printers are the ideal tools for producing barcodes.
One-dimensional barcodes are those that simply have a horizontal or vertical component. It is two-dimensional if it possesses both.

1D vs 2D barcodes
Scanners that use laser light can read one-dimensional barcodes. 
For two-dimensional variations, more sophisticated sensors are required, like those found in camera phones.
Positioning and visibility on packages
To avoid distortion and reading issues, don't fold your barcodes over the corners or edges.
To secure packages, don't forget to wrap labels in plastic film. If you simply wish to use clear, translucent plastic, your package labels will be more protected.
For instance, older scanners may only read horizontal barcodes from left to right. 
Scanners may now read barcodes in multiple directions because the start and end parts of barcodes are made to be distinct from one another.
Things to consider before printing barcodes
To get the highest printing quality, it's worth paying attention to these 4 things:
Get the best facestock material for your barcode
The facestock will serve as the surface on which you will print your barcode. If the proper supplies and tools are used, barcodes can be printed on any solid surface.
The best facestock materials for small enterprises are paper, fabric, and plastic.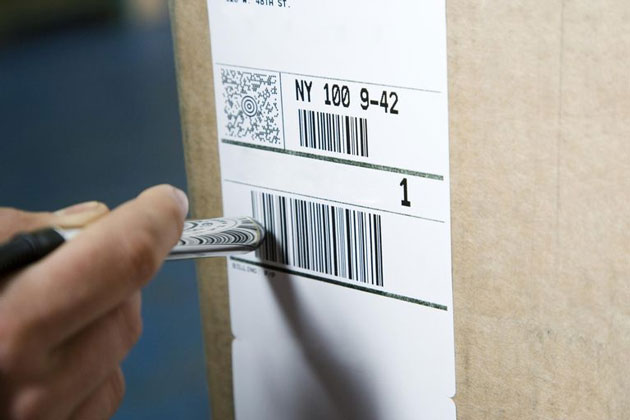 Choose a suitable facestock material
Pick a suitable barcode printer
Your choice of printer is influenced by the cost and intended use of the barcode. You can consider the 5 types that we recommend above: laser printer, thermal transfer printer, etc.
Optimize your PC and printer settings
Even if your design, facestock, and printer are the greatest, you could still experience some printing issues.
Think about improving your tools in the following ways:
#1. Adjust your print speed
#2. Adjust the image's contrast and brightness settings
#3. Save the barcode as a .EMF or .EPS file
#4. Utilize the right ribbon type on the appropriate kind of facestock
#5. Maintain your printer properly
Test the quality before printing all barcodes
Finally, ensure that you test your barcode before distributing it. 
Print a test paper or label that you can scan to determine whether it successfully retrieves the necessary data. 
Once it happens, you can display that barcode in your store.
Frequently Asked Questions (FAQs)
1. How to create a barcode in Excel 2016?
Install a barcode font you downloaded. Then, create two rows in a blank Excel spreadsheet (Text and Barcode).
Enter the following formula in the first empty row of that column using the barcode font in the Barcode row: ="*"&A2&"*".
The other cells in the Barcode row should now have the formula filled in. In the Barcode row, the numbers and letters you enter for the Text row will show as barcodes.
2. What is a UPC barcode?
A UPC barcode includes two components.
You are given a 6 to 10-digit UPC Company Prefix, which is the first part of the barcode and your special reference number for a particular product is the second component.
3. What is the difference between direct thermal and thermal transfer?
Direct thermal printing employs a label covered in a heat-sensitive layer rather than ribbon or ink to print.
It won't last more than a year since it can fade easily, making it a poor choice for hotter climes or environments that get a lot of sunshine.
Instead, a more durable and unfading option is thermal transfer print.
4. What is the difference between 'desktop' and 'tabletop' printers?
Smaller desktop printers are ideal for low-volume tasks like office labeling or small retail stores.
Tabletop printers are built stronger to withstand tougher circumstances and are designed to produce hundreds or thousands of labels every day.
Bottom Line
That is the end of today's article. In this post, we have gone through a lot of information about barcodes, including ways to create and print them. After reading this post, we hope you can choose a barcode generator as well as printing methods for yourself.