How To Get A QR Code For Your Business [A Proven Guide]
Nov 23, 2022 - Views: 1569 Share
A QR code may be found almost anywhere nowadays and there's no doubting its prevalence and efficiency.
But how to get a QR code for your business?
Discover the solution and the top ten best practices for business QR codes in this article now!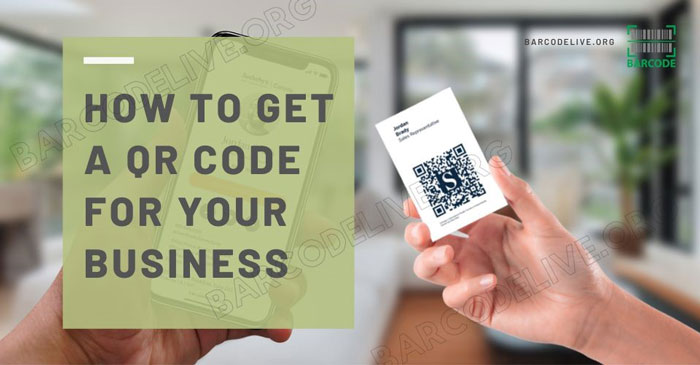 How to get a QR code for business?
Reasons Why You Should Get A QR Code For Your Business
Employing a business QR code provide various advantages, including:
Combine internet and physical marketing strategies

Enhance the reach of your advertising 

Boost the traffic and user involvement on your web platforms

Enhance your customers' interactions
Using a company QR code has many advantages
Among the most appealing aspects of company QR codes is that they may be generated for free. 
This implies that small enterprises who want to employ them incur essentially no opportunity cost.
Of course, this is dependent on the QR code generator you decide to use. 
To know more about how to create a business QR code for your business, read on...
How To Get A QR Code For Your Business?
Below is a 4-step guide to create QR codes for businesses:
Step 1: Select a QR code generator: Finding the correct barcode generator for your company's requirements is crucial to build a successful QR code campaign.

Step 2: Select the content: Businesses must then determine what material will be attached to a QR code. 
For instance, if your company is in the beauty market, consider linking the QR codes to "how-to-videos" that will assist clients in better comprehending your product.
Step 3: Select the design and customization: Businesses may develop and adapt QR codes to meet their unique needs. Regarding QR code design customization, the only boundary is your creativity.

Step 4: Keep track of campaigns: Tracking scans of every QR code assist firms which use QR codes printed on various marketing materials in identifying and ranking marketing tools from most to least successful.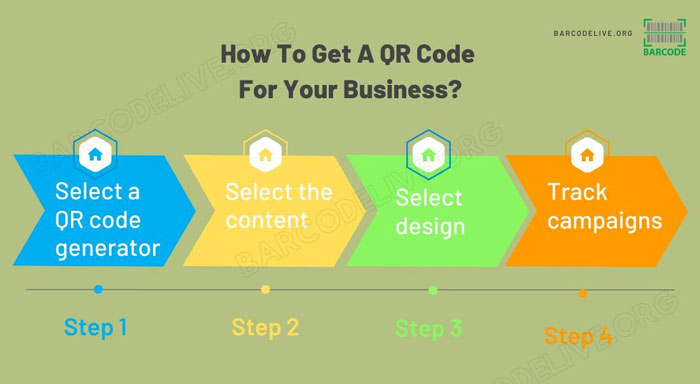 How to make qr code business in 4 steps?
Are you curious about where this process can be applied to "how to make a QR code for a Google Doc?" 
If the answer is yes, you can check out our previous post to get the right answer!
Tips To Maximize A QR Code For Business
Below are some tips to make the best uses of your business QR codes:
Have a call to action
It is usually a good idea to give your consumers an incentive to scan your QR code. 
Customers are more likely to scan a QR code if you include a memorable phrase like a call to action.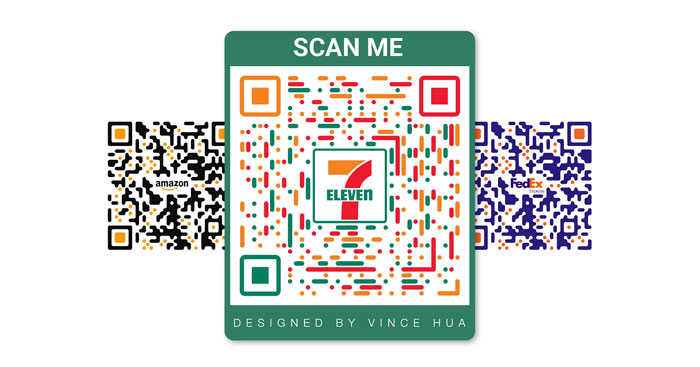 A QR code with an call to action: Scan me
Position it properly
Another critical factor that you should not overlook is the location of your QR code advertising. 
Put your code somewhere that people may see and scan it easily.
Pick the right size
To guarantee that your QR code business projects are successful, your code should always be scannable. 
A code which is too large or too tiny for a phone to read is a waste of money and time that small businesses cannot afford.
Consider technical elements 
It is critical to double-check that your link works to prevent 404 problems, keep the quiet zone, and print your QR codes that are at least 2 x 2 cm in size (approximately 0.8 x 0.8 in). 
Although your codes can always be scaled up, they won't be viewable or scannable if too small.
Test it out
Taking the time to check the design and functionality of your QR code for businesses is critical to help you prevent mistakes that might lead to a poor consumer experience.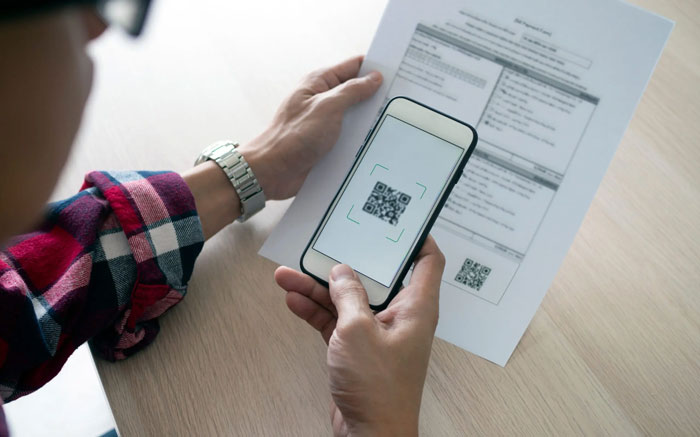 Don't forget to test your QR codes
Make a customer incentive
Providing something helpful and appealing to reward clients who spend time scanning yor codes is a great approach to persuade them to do so. 
For instance, they will be eligible to get a gift card if they scan a QR code to register to your newsletter.
How Can QR Codes Help Your Business?
Wonder how to use your business QR codes effectively? Here are some ways that QR codes can help your business:
Encourage loyalty card membership
Small companies may attract loyalty card members by including QR codes into freebies and giveaways. 
Giving out a few free samples and giving access to member-exclusive pricing and freebies can help you establish a loyal client base.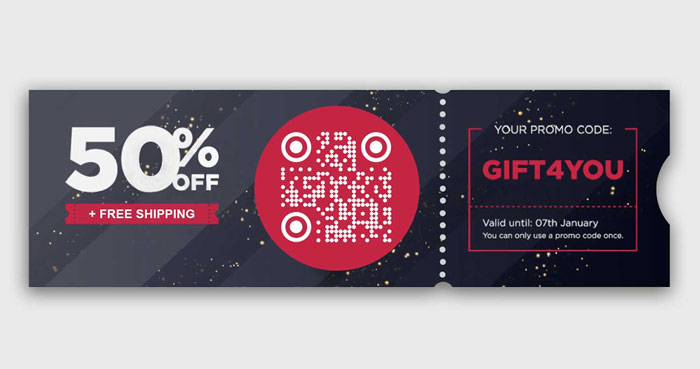 A QR code on giveaway
Raise app downloads
Displaying QR code embedded posters on window displays and storefronts is an excellent approach to increase app downloads and raise awareness.
Achieve more social media visibility
QR codes on items and flyers may increase the amount of likes, followers, and shares for your company profile pages on social social media sites like Instagram and Facebook.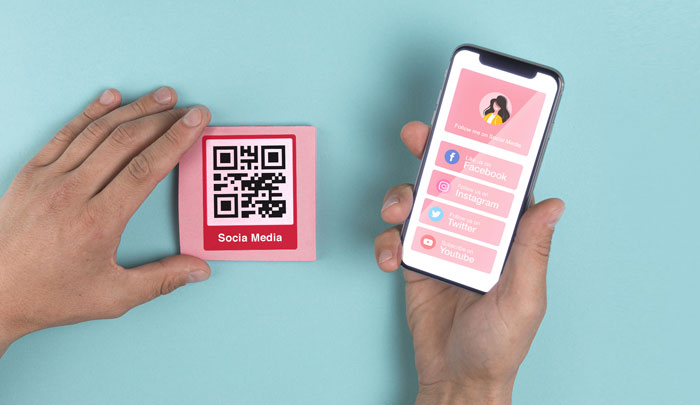 QR code can help improve your business's brand on social media
Enable customers to locate you
In case you have a recently opened business that people are not aware of, you may assist them in finding it by tying QR codes to your position on Google Maps.
Putting QR code integrated billboards along major roads and heavily inhabited regions can increase in-store traffic as well.
Get clients feedback
When your firm is just getting started, you should prioritize customer feedback so that your business can improve. 
If you attach QR codes on product labels, customer purchase invoices, or receipts to feedback forms, you can gather vital consumer insights.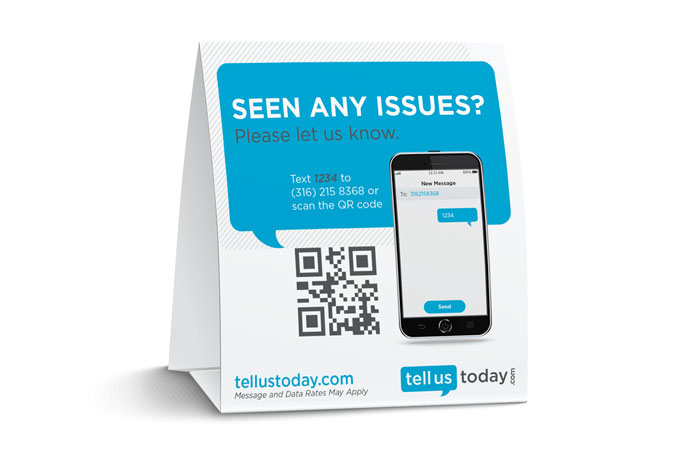 A QR code asks for feedback
Monitor your campaign and better retarget your clients
Dynamic QR codes may help small companies keep track of campaign analytics including scan demographics, the quantity of scans, best/worst performing campaigns, etc. 
This helps you improve your current marketing strategies and increase your company's ROI.
Furthermore, dynamic QR codes can also assist small companies in retargeting potential clients with appropriate ad campaigns on Google and Facebook. 
This enables your company to communicate with prospects who have already engaged with your brand but have not yet converted.
Direct the customers to your landing page or website 
URL-based QR codes may assist your business in directing customers to your company's campaign landing pages or website, resulting in increased internet traffic and revenues.
Small companies can utilize QR codes outside their establishments, on print materials, and so on, to direct customers to their preferred URL destination.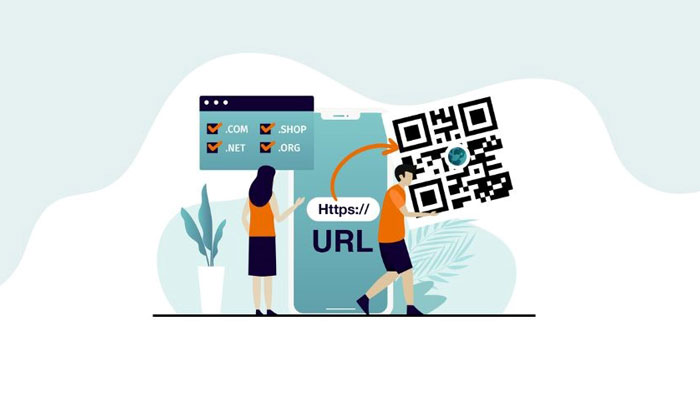 Use QR codes to link your customers to your company's website
Create a email marketing list 
Small companies may also utilize URL QR codes to link clients to lead generation landing sites that allow them to collect users' emails. 
It can be done by letting them fill out forms as well as sign up for special offers or extra information.
Share your contact information easily
Small companies may rapidly and simply communicate their contact information with potential clients using vCard QR codes. 
Potential customers simply scan a QR code and store the information on their devices for future reference.
Additionally, dynamic vCard QR codes enable you to alter your company contact information as needed without having to reprint the QR code.
Increase engagement rates
All companies want their potential customers to be involved with its services and products to increase brand loyalty and conversion rates. 
Your company may also do this by employing video QR codes, which, when scanned, direct customers to product tutorial films, ad campaign videos, and other content.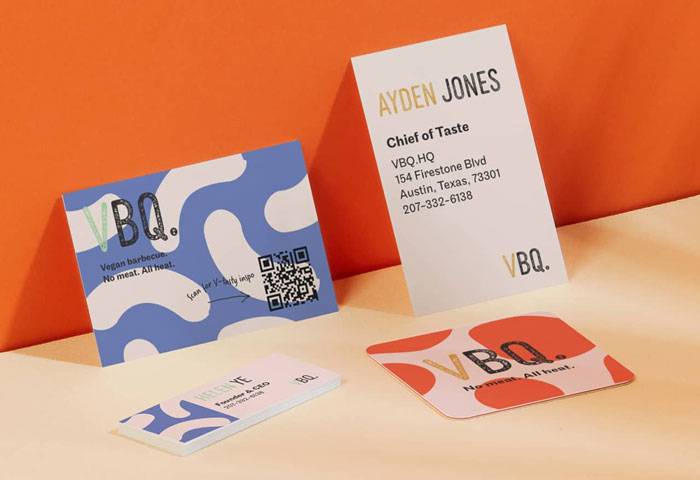 Employ QR codes business to raise engagement rates
Learn more on "how does a thermal printer work?" in Barcode Live's blog for more interesting information!
Other Things To Consider When Making A QR Code For Your Business
You should keep these few points in mind both before and after making your business QR code.
Set a QR code target
When selecting a QR code kind for business, it is important to take advantage of all available options. 
Also, it will let you know what you want from a QR code solution.
Consider the material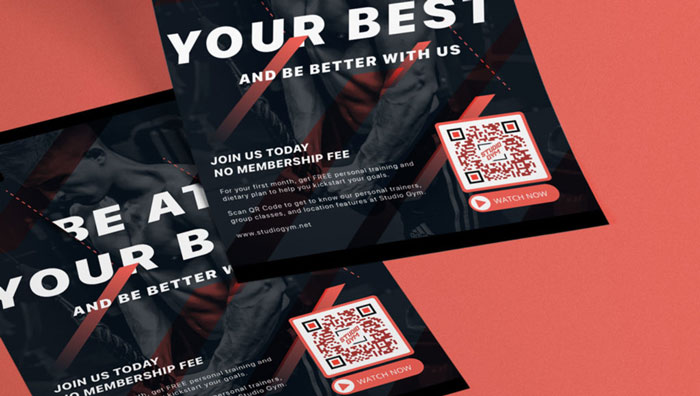 Pay attention to your code's material
It is usually necessary to consider what sort of material you want to include in your business QR code. 
You will need to think again if you want to produce static QR codes since there is no going back when these codes are established. 
Before finishing your QR code, do not forget to check for typos and mistakes on a regular basis.
Frequently Asked Questions (FAQs)
1. How do you obtain a QR code for your business card?
Using a QR code generator, you can quickly create a QR code for a business card.
Once you have created your QR code, download the picture and include it in your business card template. 
2. How much does a business QR code cost?
Beaconstac's dynamic QR codes, for instance, begin at $5 per month and then go up to $99 per month, making them suited for individuals and enterprises of various sizes.
3. Are QR codes free for commercial use?
Of course, yes. All QR codes created are completely free and may be used for whatever purpose you like.
4. Are QR codes free for commercial use?
QR codes really have no expiry date since a Quick Link is hidden behind the QR code. 
This code will continue to function as long as the Quick Link is still activated.
The Bottom Line
It is time to take action! You have already spent a significant amount of time learning about business QR codes. So, utilize a free QR code generator and follow the instructions on how to get a QR code for your business in this article to get your business, event, or campaign out there in the real world.