How to Fix Water Damaged AirPods? Do & Don't to Save Wet Earbuds
Oct 16, 2023 - Views: 463 Share
If you are reading this article, you are likely to understand how troublesome it is to get your AirPods wet accidentally.
People rush to find a way to dry electronics off when they come into contact with water.
So this article will tell you how to fix water damaged AirPods to prevent any further damage!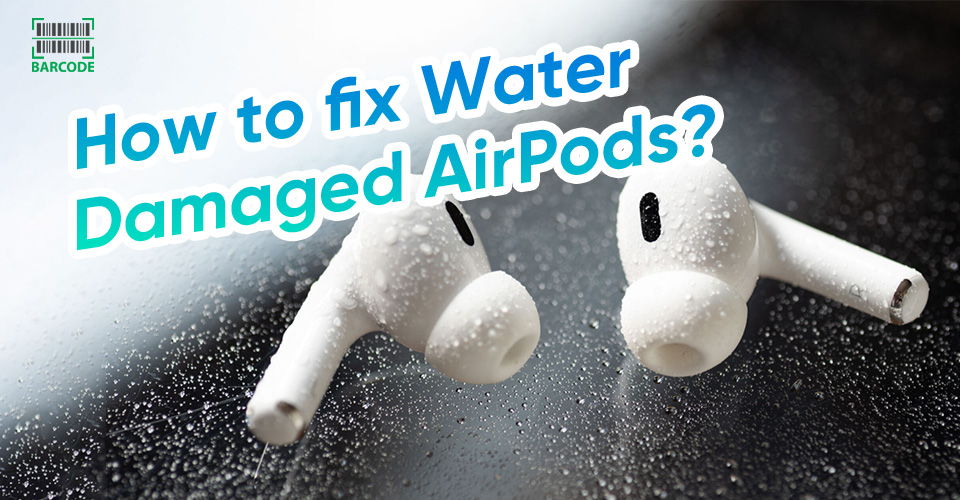 How to fix AirPods water damage?
Are AirPods Waterproof?
AirPods are not waterproof, yet they are to some extent water-resistant.
Officially speaking, the first-generation AirPods are not resistant to sweat or water. 
On the other hand, the IPX4 rating of the AirPods 2 and Pro suggests that they are resistant to water splashes coming from any angle.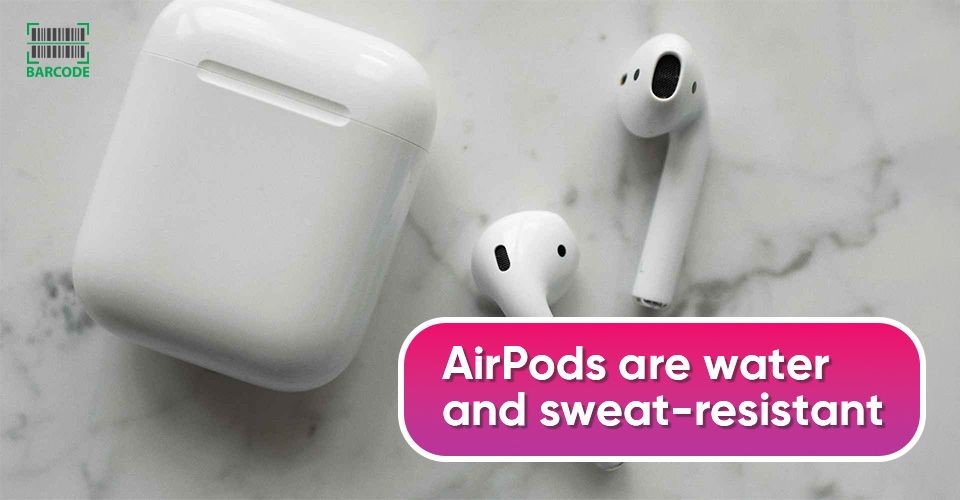 AirPods are resistant to water
Waterproof vs Water-resistant
So what are the distinctions between being water-resistant and waterproof?
Although the two terms are often used interchangeably, waterproof and water-resistant headphones offer different levels of protection.
When something is waterproof, even after being submerged for a long time, water cannot pass through it. 
However, water-resistant items like AirPods can only withstand a limited amount of exposure to water. It will eventually let water through.
The most recent models of AirPods can only withstand splashes of water before becoming damaged if they are immersed.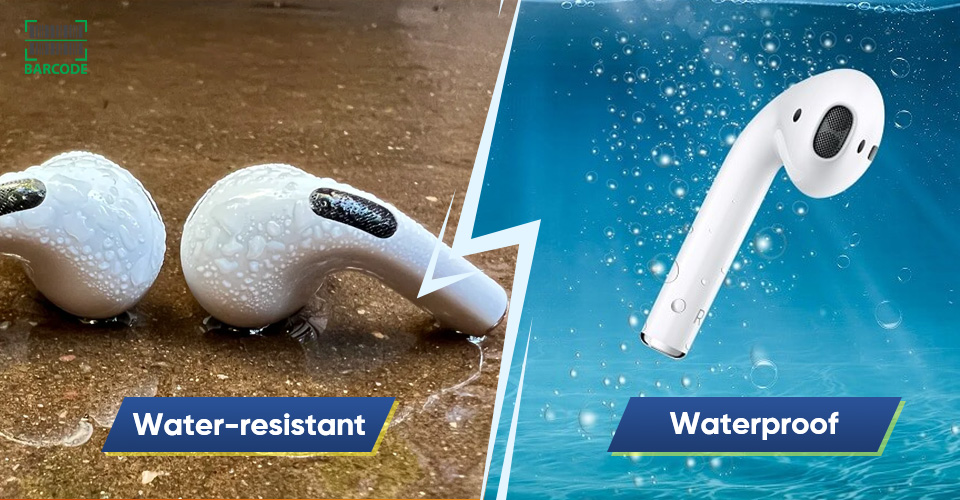 Waterproof vs Water-resistant
IP Ratings
How can you then determine which AirPods versions are the most water-resistant?
Based on the IP ratings!
Ingress Protection Mark or IP is a grading system that manufacturers employ to assess how successfully a device's enclosure stops moisture intrusion.
If the equipment has been evaluated for a particular hazard, the IP rating will typically be two digits, sometimes followed by a letter.
The first digit denotes resistance from the users themselves as well as from foreign bodies.
Meanwhile, the second one denotes the degree of water resistance (among other types of exposure) that the gadget inherently possesses.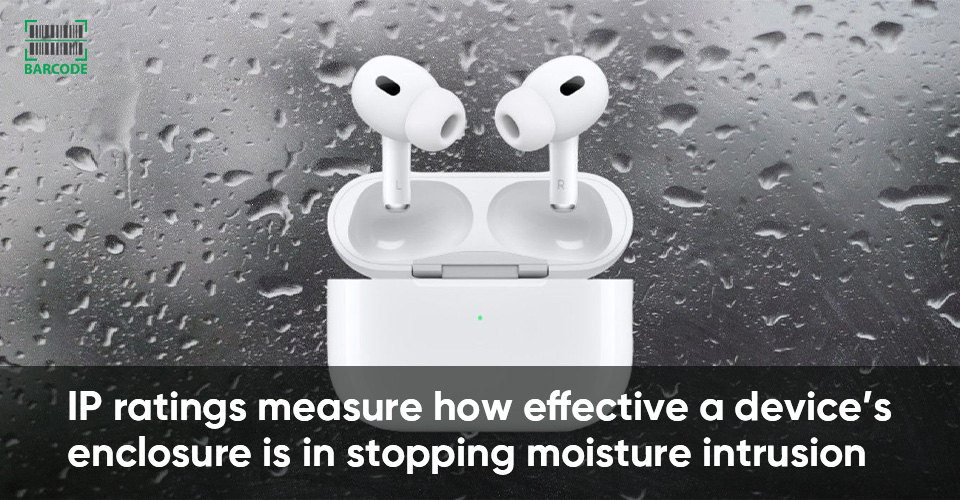 IP ratings 
How to Fix Water Damaged AirPods?
Since AirPods aren't waterproof, it will be helpful to dry them out as soon as possible to prevent water damage.
This part will cover effective ways to thoroughly dry out your water damage AirPods, check out how to fix AirPods now!
Remove your AirPods from the water instantly
Though AirPods Pro, AirPods 3rd gen, and the MagSafe Charging Case for AirPods 3rd gen can all endure little splashing of water, they're not designed to endure being submerged
Therefore, if you find your AirPods in washer, your first course of action should be to remove them from the liquid.
Set them down on a flat, dry surface.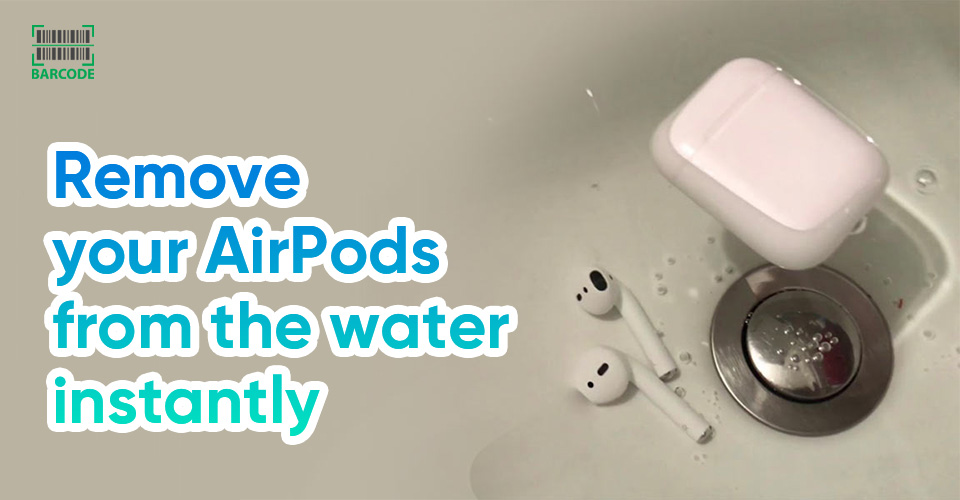 Take your AirPods Pro water damage out of the water immediately
If the AirPods charging case is wet, place the AirPods charging case on its side with the lid open to let any remaining liquid drain out. 
Don't forget to unplug it if it's plugged in.
Pat your wet AirPods down with a lint-free cloth
Now, blot any remaining liquid from your AirPods.
The best way to remove moisture from water-damaged AirPods is with a microfiber cloth, like the ones included with screen cleaning kits or eyewear.
Koala Lens Cleaning Cloth and MagicFiber Microfiber Cleaning Cloth are two popular choices.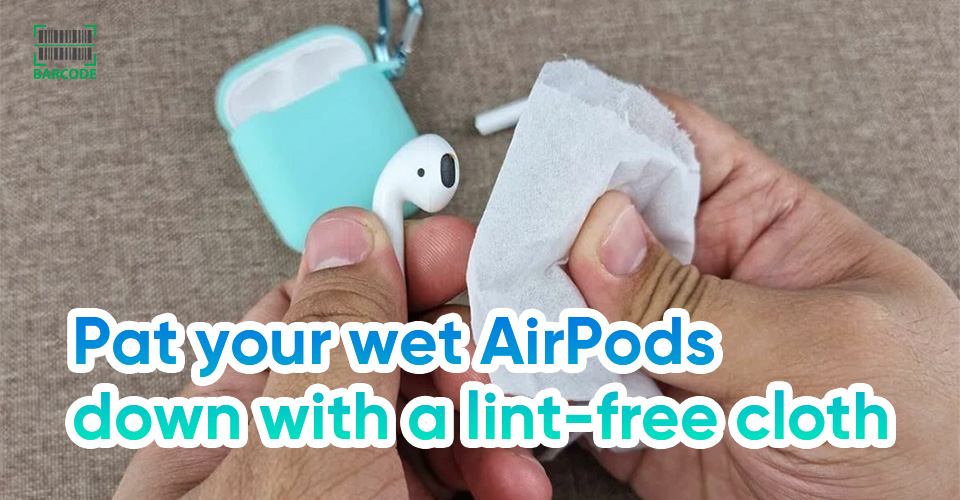 Wipe your wet AirPods with a lint-free cloth
To let moisture come out of the speakers of your AirPods, gently pat them with the cloth. 
Do the same with the charging case, ensuring to get water out of every crack.
Run the Water Eject shortcut
What to do if I accidentally washed my AirPods? The Water Eject Siri Shortcut is another practical solution.
This app enables you to have your AirPods vibrate at a specific frequency to eject water from them.
Learn how to use the Water Eject Siri Shortcut by following these steps:
Step 1: Go to "Settings > Shortcuts"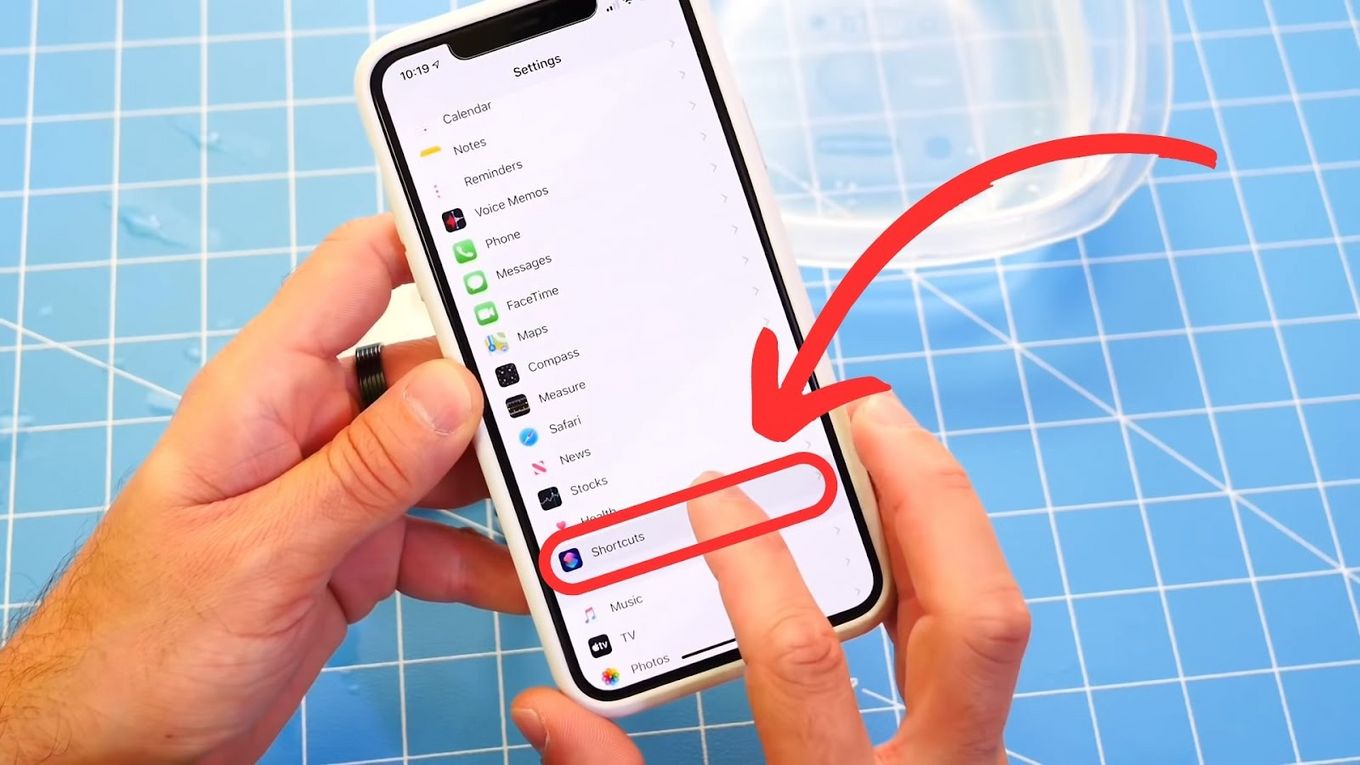 Navigate Shortcuts
Step 2: Turn on "Allow Untrusted Shortcuts"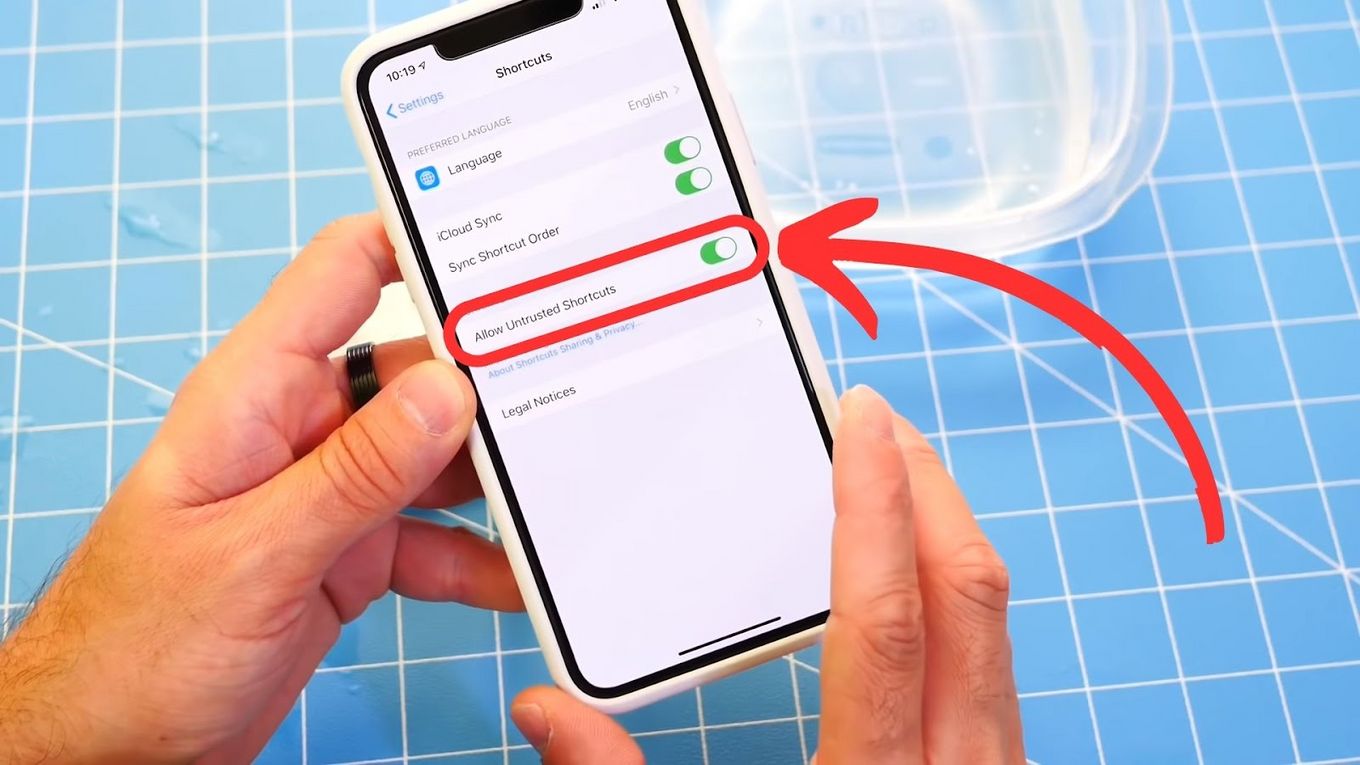 Turn on "Allow Untrusted Shortcuts"
Step 3: Download and install the Water Eject Siri Shortcut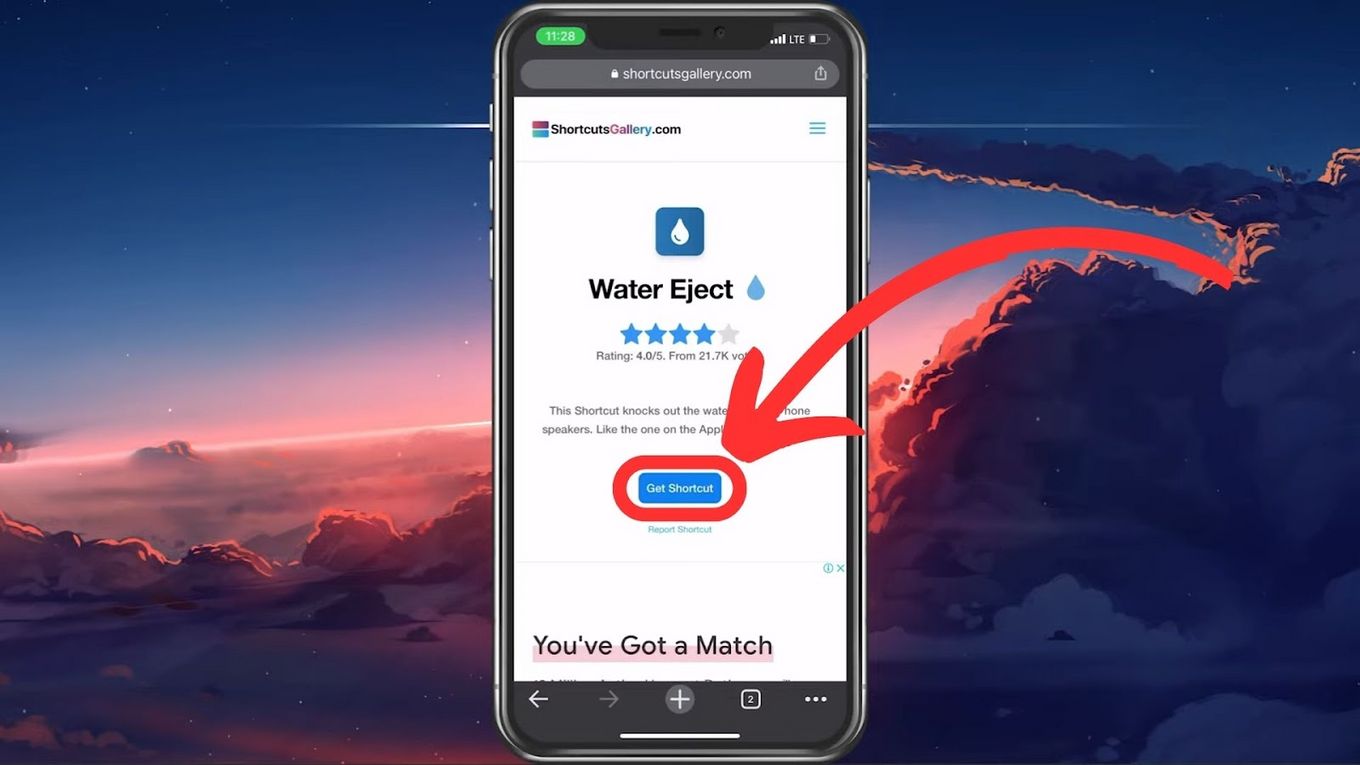 Get the Water Eject Siri Shortcut
Step 4: Navigate "My Shortcuts" on your iPhone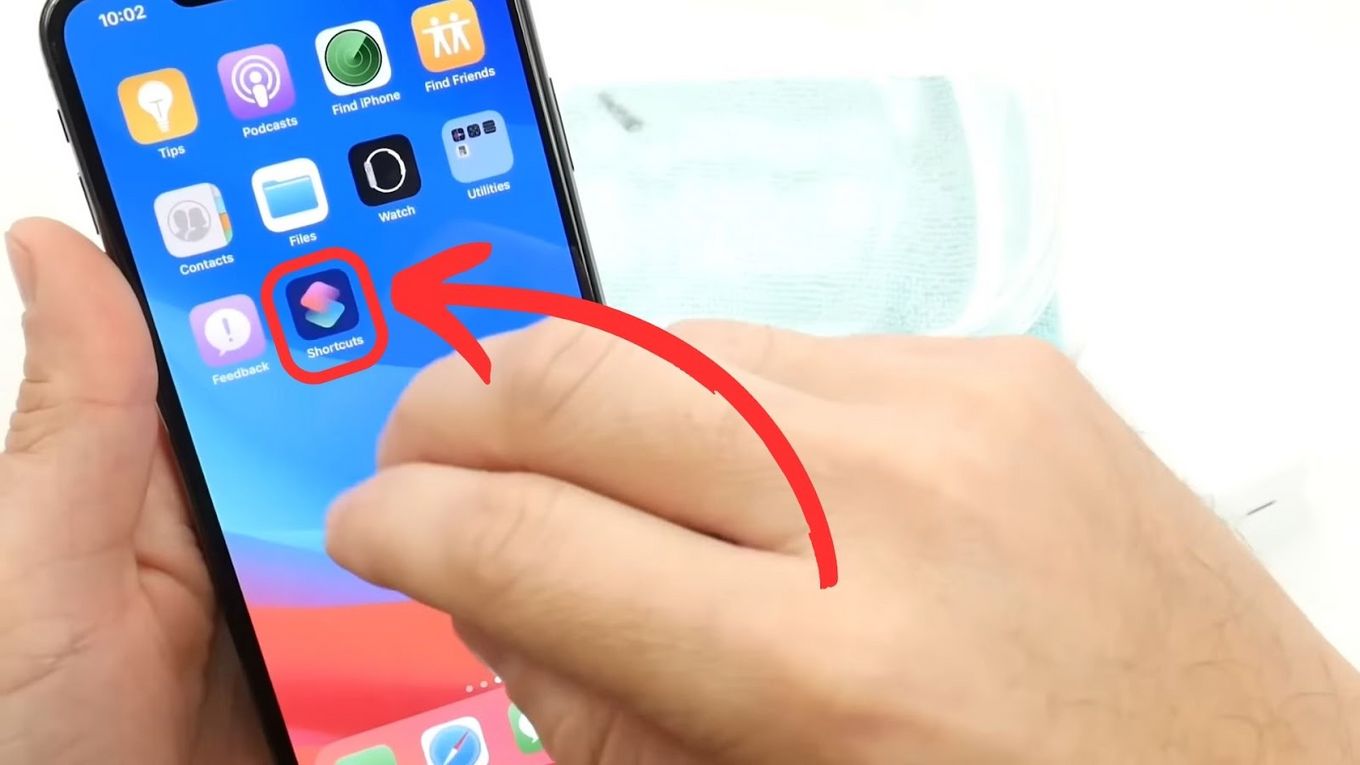 Go to "My Shortcuts"
Step 5: Tap on the Water Eject Shortcut and select "Begin Water Ejection"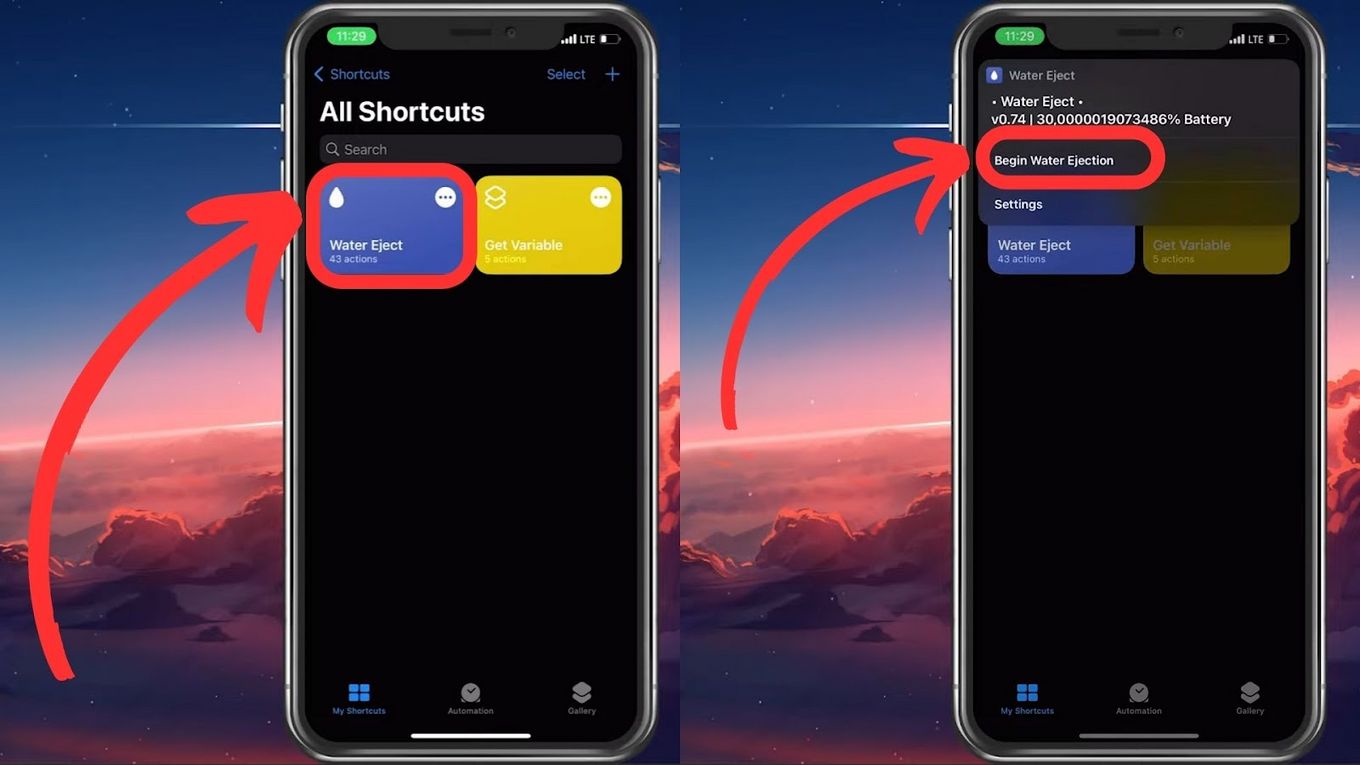 Choose "Begin Water Ejection"
After you activate the "Water Ejection" feature, your AirPods will start playing sounds that are intended to cause the speaker's diaphragm to vibrate. 
Your AirPods' ear tips will become dry as a result of the vibration.
Read more: AirPods making high pitched noise
Allow the AirPods to air dry 
What if I washed my AirPods?
Place the AirPods in the sun if it's a dry, sunny day (as long as it isn't too hot outside) to hasten the process. 
If not, any area with low humidity will do. 
Before using your AirPods again, wait a few hours for them to thoroughly dry.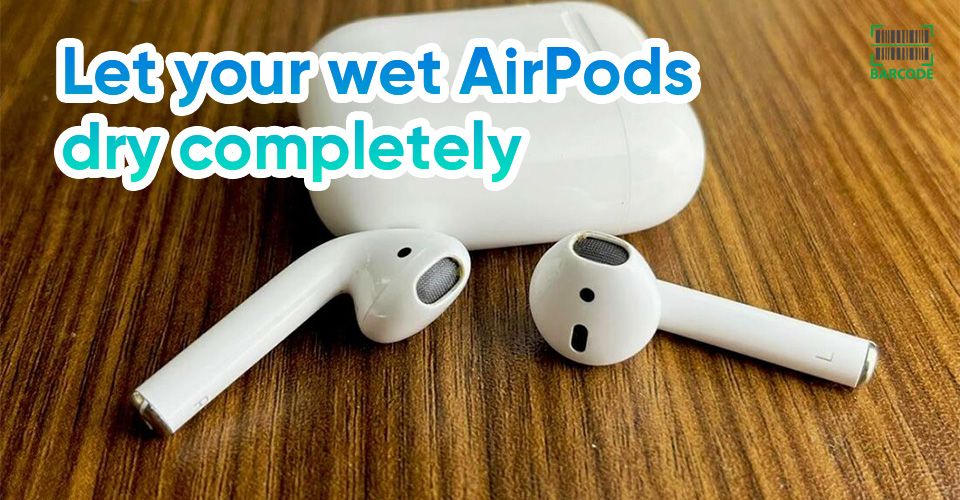 Allow the AirPods to dry before putting them back into the charging case
Get some silica packets
A desiccant, silica gel helps draw moisture from its surroundings. Thus, if you unintentionally leave your AirPods in washing machine, this is a good fix. 
Place your earbuds in a container and cover them with silica gel packets (like Wisedry Silica Gel Packets) after drying them with a lint-free cloth.
Before using the AirPods, let them sit in the container with the drying agent for 24 to 48 hours.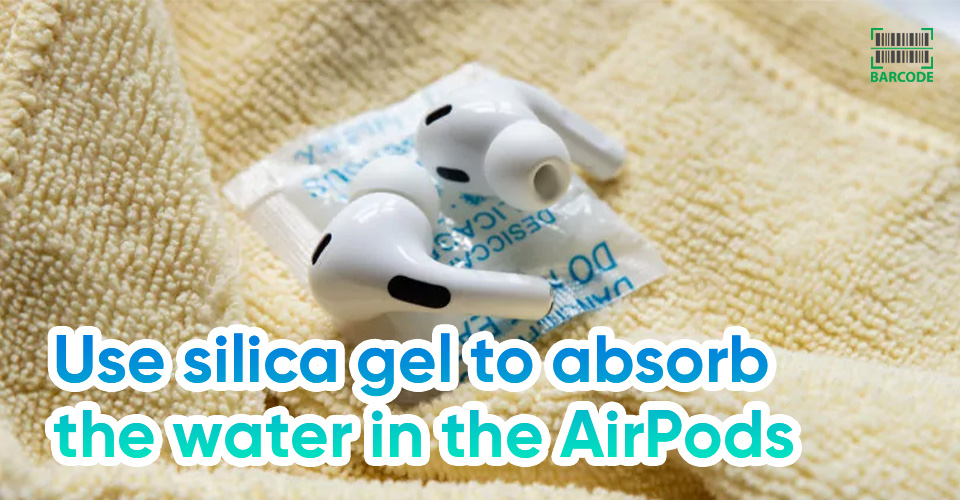 Get silica gel packets to save your AirPods
Replace the AirPods
Try listening to your AirPods after they have completely dried.
The speakers need to dry longer if they sound distant or warbled. Retry in a day or two after giving the drying process some more time. 
In case they are still not functioning properly, you can either get your AirPods replaced or serviced by an Apple Authorized Service Provider.
You may replace AirPods got washed for a very low service charge if you have AppleCare+. 
If you are out of your warranty, the repair charge may rise.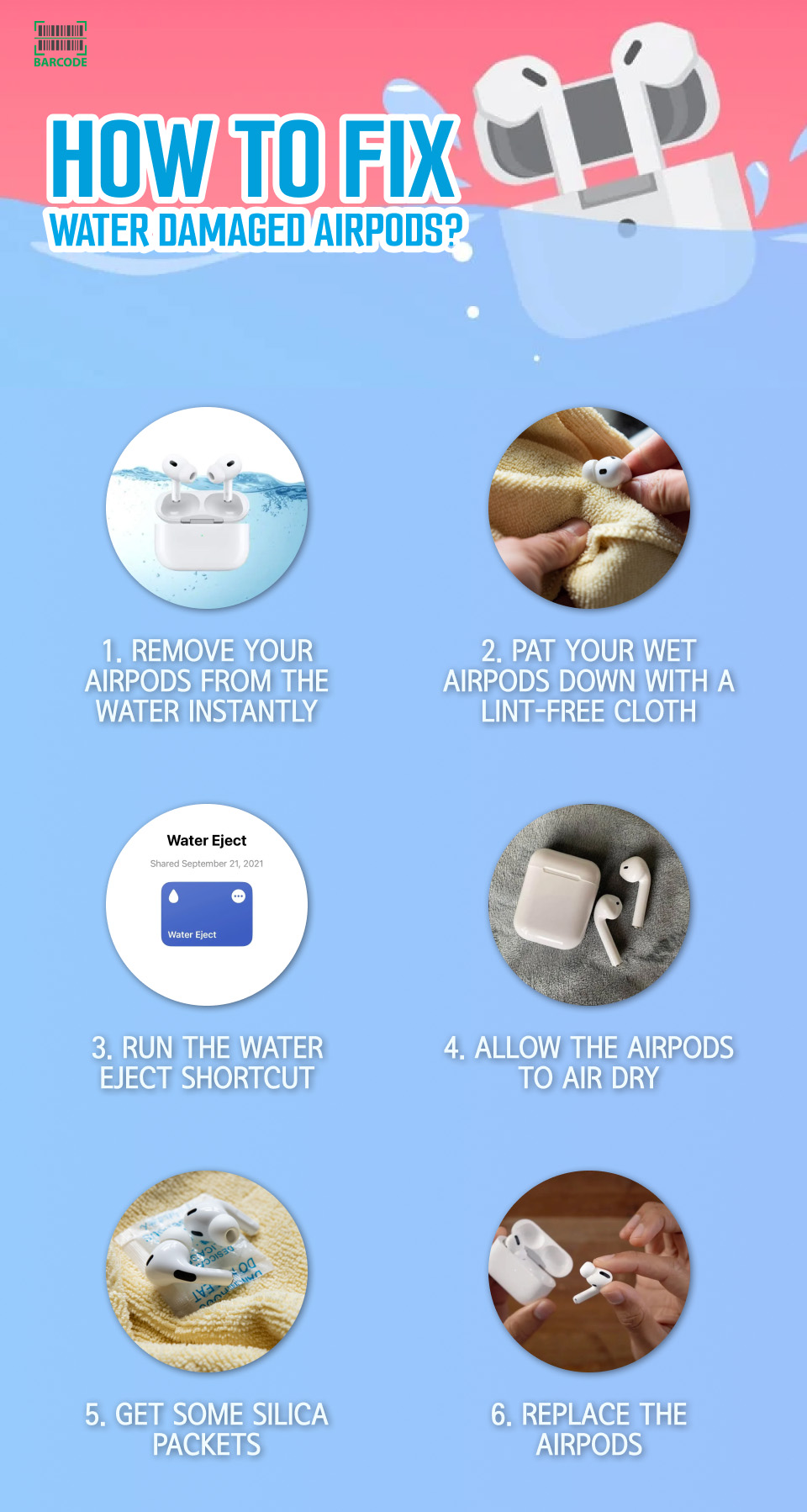 How to fix AirPods that went through the wash?
Read more: How to fix one AirPod louder than the other?
What Not to Do with Wet AirPods?
Now that you are aware of the best strategy for removing water from your AirPods.
However, when drying out your AirPods, there are a few things you should avoid doing. 
Some of these seem like they would work (like putting them in rice), but don't do them to protect your Apple earbuds.
Don't place your AirPods inside a rice container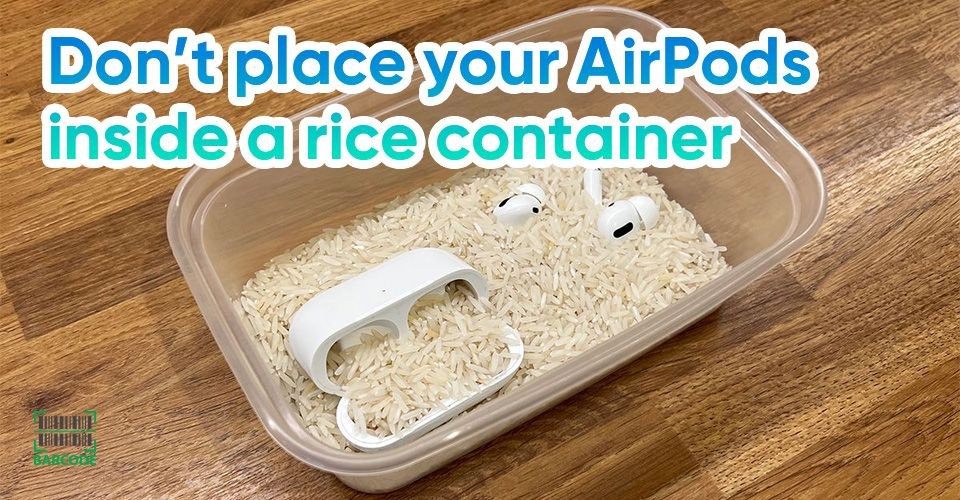 Avoid putting AirPods in rice
This is a terrible solution that is ineffective, especially if you use it for several days, weeks, or months at a time. 
Approximately 20% of the humidity is specific to rice.
So no matter what you do, the AirPods will never operate again after they cease working because they are wet or submerged in water.
Therefore, it's best to stay away from this approach entirely.
Don't turn on your washed AirPods instantly
After getting your AirPods wet, turning them on could further harm their internal parts. 
Electronics can short circuit due to moisture, harming parts like the microphone, batteries, and speakers.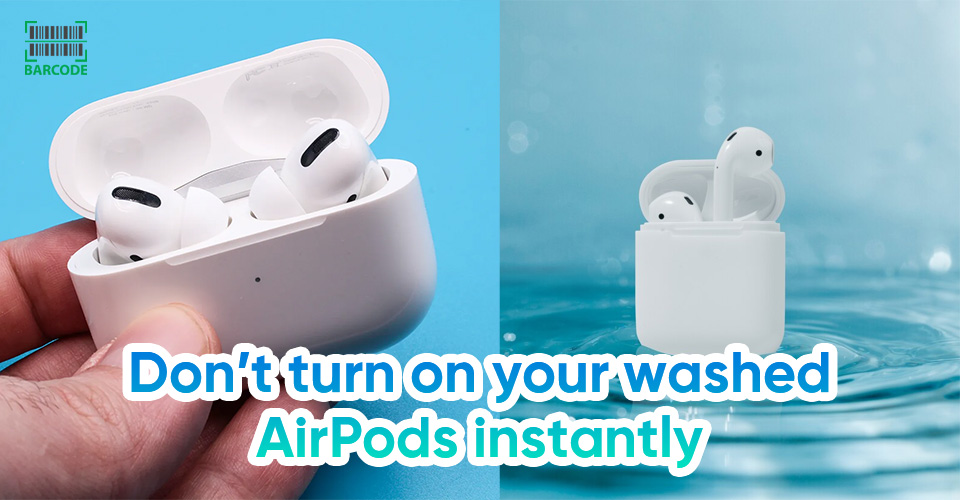 Not to turn on your AirPods immediately
As soon as you remove the charging case from the AirPods, they switch on and connect to your phone. 
Hence, turn off Bluetooth on your phone before removing them to dry to prevent them from connecting to your phone.
Don't use hot air to dry your wet AirPods
Your AirPods' rubber and plastic parts may melt or be warped by the hot air from a hair dryer.
Even worse, it might lead to the battery overheating and rendering your gadget useless.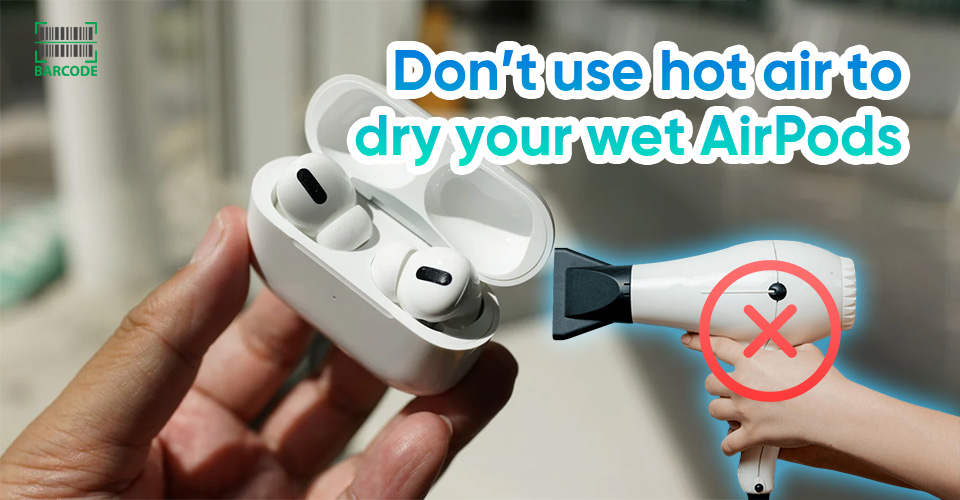 Don't use a hair dryer to dry your AirPods
Even if the air you're using is not particularly hot, it is still not advisable to blow air directly into your AirPods. 
Air pressure can force moisture further into your earbuds, which could lead to more harm.
Don't shake your AirPods too much
Despite the fact that shaking your AirPods helps eliminate some of the water, it could push the water deeper inside your device.
By transferring the water to other electronic components in the AirPods, it might potentially cause further harm as well.
This makes drying out the washed AirPod Pro significantly more difficult.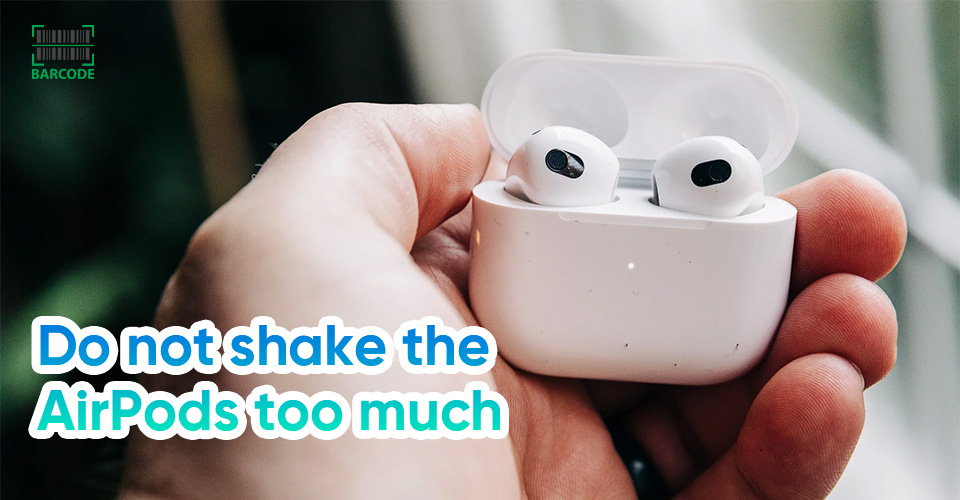 Avoid shaking your AirPods haphazardly
Don't waste time
To prevent water from getting inside all of the electrical components of your AirPods and ruining the assembly, you must act fast when they start to absorb water. 
Your AirPods will sustain less damage and have a better chance of recovering if you can get the water to dry out as soon as possible.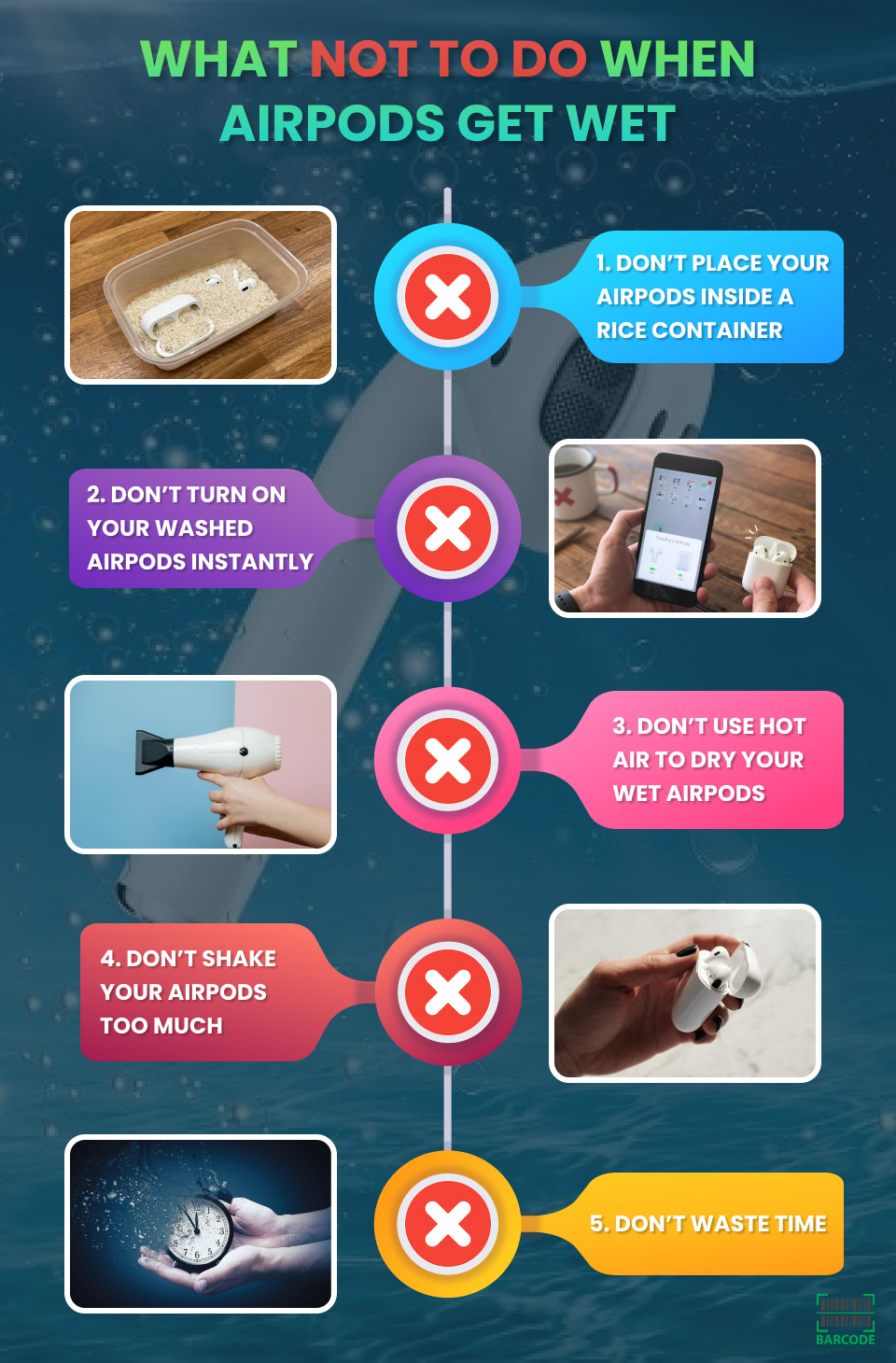 Things you should not do with wet AirPods
How to Protect Your AirPods From Water Damage?
Accidents like AirPods went through washer occur frequently, but you can minimize the harm by taking the following preventative measures:
Get a waterproof AirPods case cover to provide your device with some kind of protection. (Consider the Catalyst 330ft Waterproof Total Protection Case)

Keep track of their serial number to get a replacement if your AirPods are still under warranty.

Get an AppleCare+, which is insurance for your Apple products that enables you to get them replaced or repaired even after their limited warranty has expired.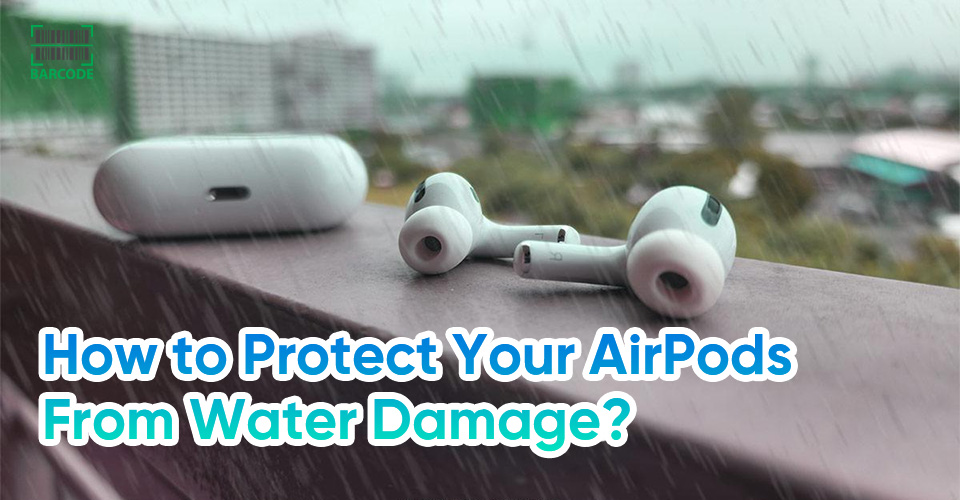 Protect AirPods from water damage
Avoid wearing your AirPods. Never take them outside in the rain either while swimming or when you are near water.

Before you take your clothes to the laundry, empty the pockets of your shirts, pants, and jeans.

Avoid keeping the AirPods close to any spillable liquids, including coffee, juice, and water.

When not in use, always keep your AirPods in their charging case. 
Frequently Asked Questions (FAQs)
Can AirPods survive the washing machine?
According to Tech Geek Base, AirPods can actually last 60 minutes in the washing machine.
However, they advise drying them out for at least 12 hours after that.
How do you get water damage out of an AirPod?
First, dry the outside of your AirPods with a lint-free cloth to remove any wetness.
Next, use the iOS Water Eject shortcut to eject water from the interior.
To remove any last traces of moisture, put them in a silica gel container.
Can I dry AirPods with a hair dryer?
As advised by Apple, since your AirPods are heat-sensitive, avoid using heat or compressed air to dry them.
Final Words
Because AirPods may be expensive and appear to be fragile due to their size, having one or both of them damaged can be very disappointing. But despite how they appear, they are incredibly durable. We hope that this post has provided you with the information you need to know about how to fix water damaged AirPods if you ever accidentally washed AirPods or dropped them in the water.