How to Fix One AirPod Louder Than the Other? Causes & Fixes
Oct 17, 2023 - Views: 405 Share
The Apple AirPods are renowned for their deep, crisp sound, which is enhanced by their spatial audio function.
Using your AirPods, though, you could occasionally have lopsided listening, which is extremely annoying!
Learn how to fix one AirPod louder than the other and the underlying cause to prevent it from happening in the future here!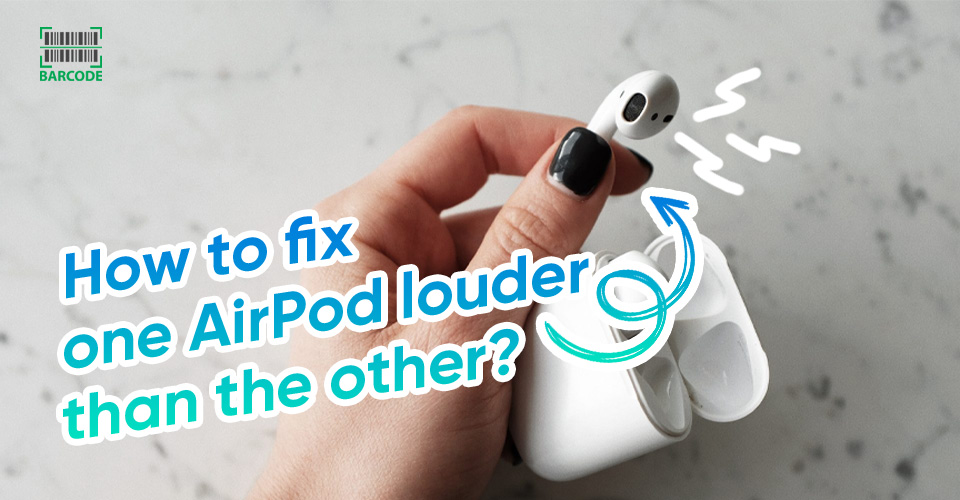 How do I fix one AirPod louder than the other?
Why Is One AirPod Louder Than The Other?
The first potential cause is that your AirPods' volume is not set to the same level. 
The speaker or microphone on one of your AirPods may possibly be obstructed or broken, which would explain why the sound is louder on one side. 
Second, this issue may arise if there are problems with the connection between your device and the headphones. 
Another likely cause of AirPods louder in one ear is that an excessive amount of junk has gathered inside one of your AirPods. 
The material is typically earwax that has built up in the AirPod's main speaker over time. 
Finally, it can also be because of issues with the software.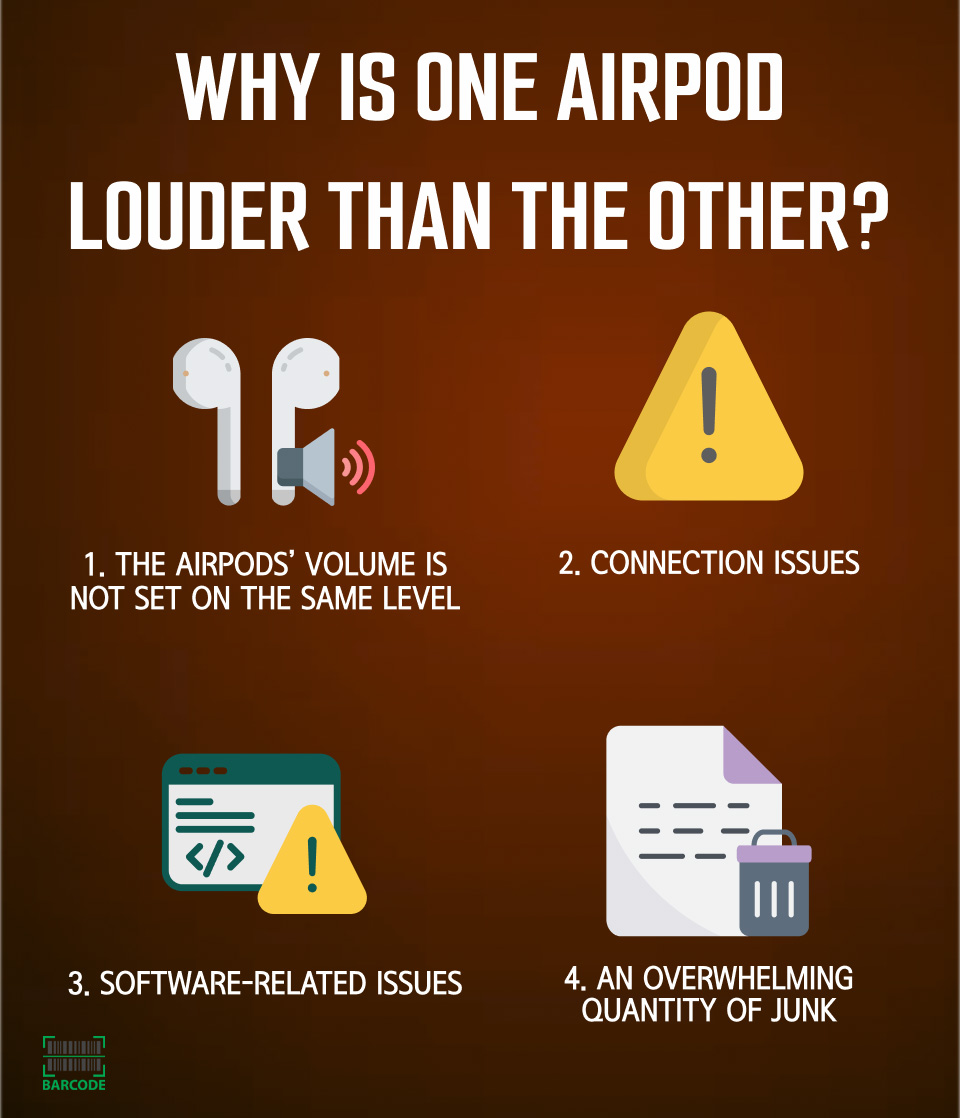 Why is one of my AirPods louder than the other?
How to Fix One AirPod Louder Than the Other?
One AirPod is louder than the other due to a variety of reasons, as was previously discussed.
Whatever the issue, you can solve it in a few easy steps below. 
You can also figure out troubleshooting tips for other common issues with your earbuds in our post titled "How to fix AirPods?"
Now, let's get started!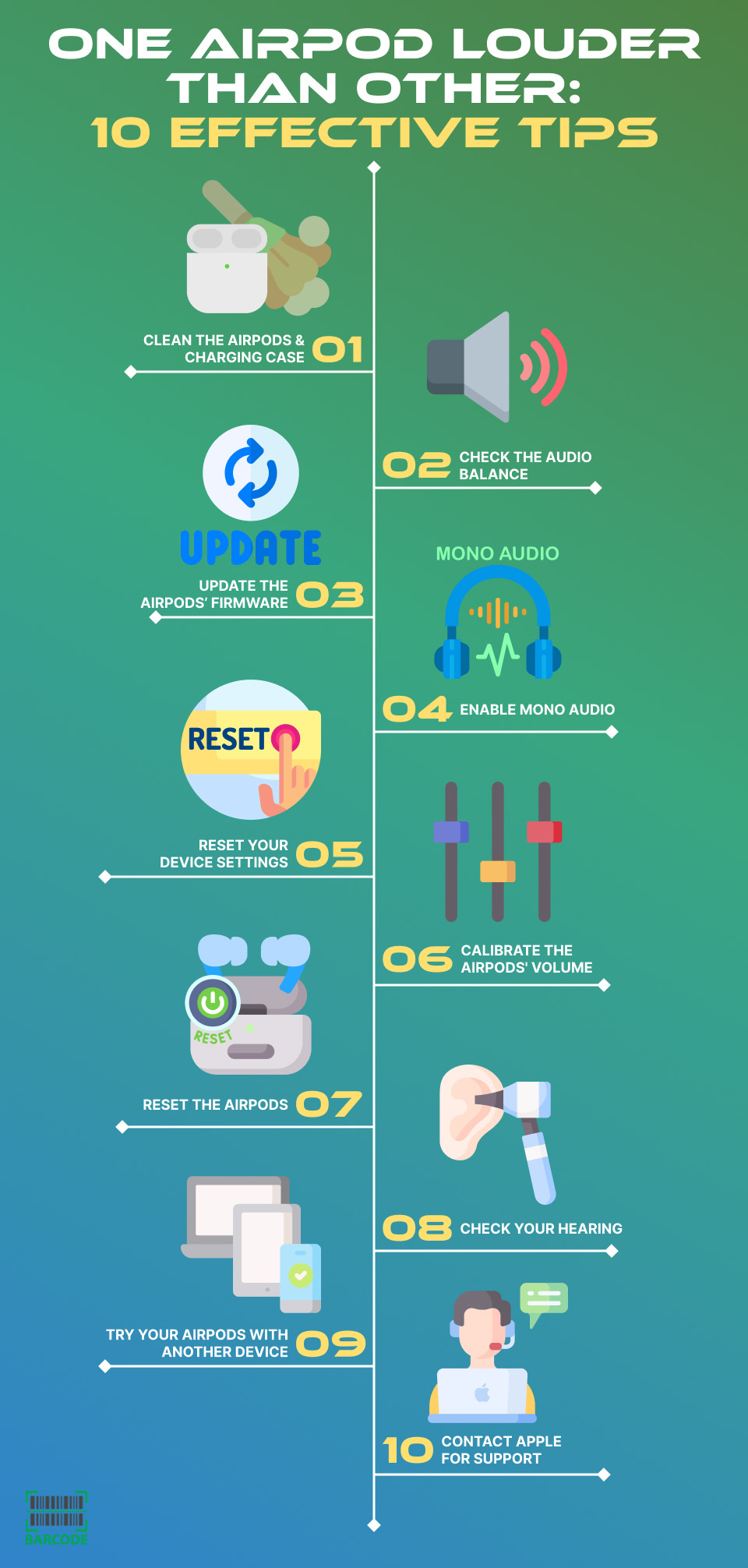 How to fix one AirPod louder than other?
Clean the AirPods and Charging Case
Wiping down your devices with a lint-free cloth can help solve the problem of AirPods one side louder.
Avoid using delicate tissues that can fragment and become lodged in your AirPods case. 
Regular cleaning of your AirPods can help keep dirt from getting stuck in your speakers, causing muffled sounds.
You can also use a dry, electric toothbrush to quickly remove any debris that is tightly packed in small spaces.
A cotton swab is another option.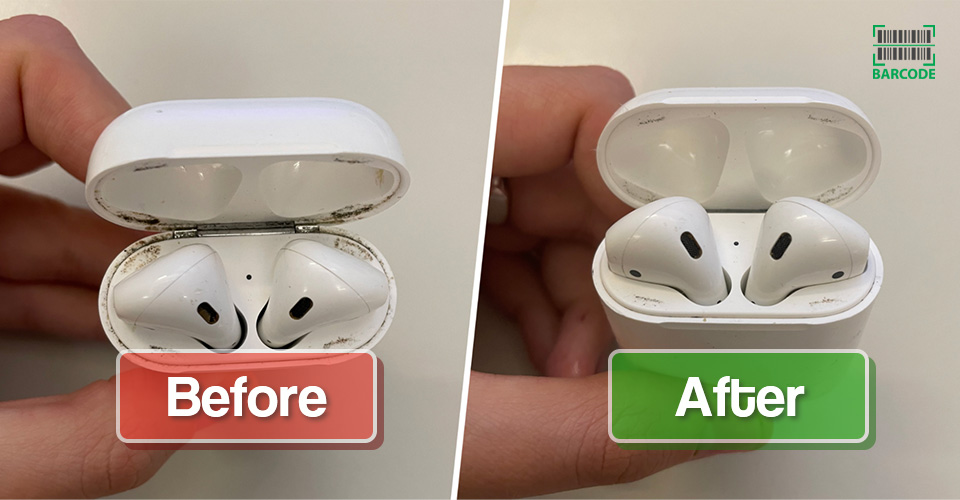 Clean your AirPods frequently
An Ecasp Cleaner kit, which has all the tools you need to remove dirt and lint from your earphones, will be useful in this situation.
Check the Audio Balance
Why one of my AirPods is louder than the other? Ensure your audio balance is normal. 
It's possible that you accidentally tweak the sound balance on your device and shift sound towards the right or left AirPod, making one of your AirPods louder.
Luckily, this can be fixed quickly.
Step 1: Navigate Settings > Accessibility > Audio/Visual

Step 2: To evenly spread the sound balance, move the slider under Balance. To balance the volume between the two AirPods, place it in the middle.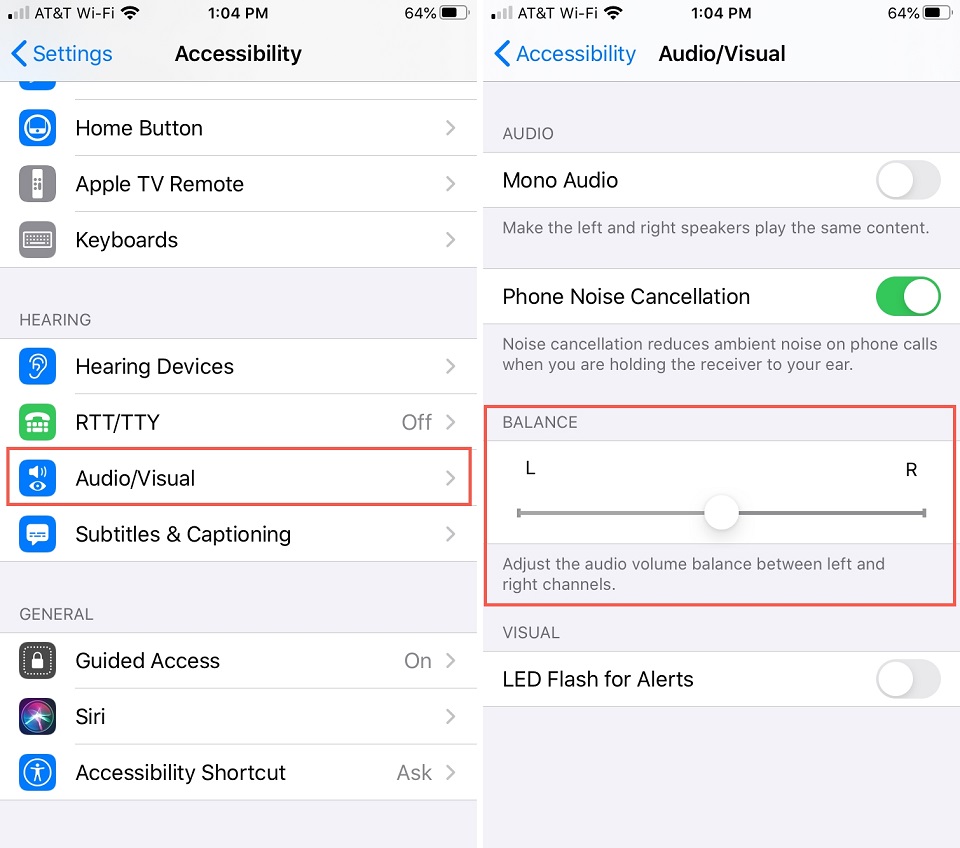 Adjust the Sound Balance
Update the AirPods' Firmware
Apple continuously releases firmware updates for AirPods, which frequently include fixes for bugs and other software issues that make AirPod louder in one ear.
There is no way to manually upgrade your AirPods. You can only do this through an iOS device.
If you want to check the updated version of your AirPods, follow these steps:
Step 1: Navigate Settings > Bluetooth > AirPods

Step 2: Tap the circled "i" icon next to your AirPods, then scroll to About to see the version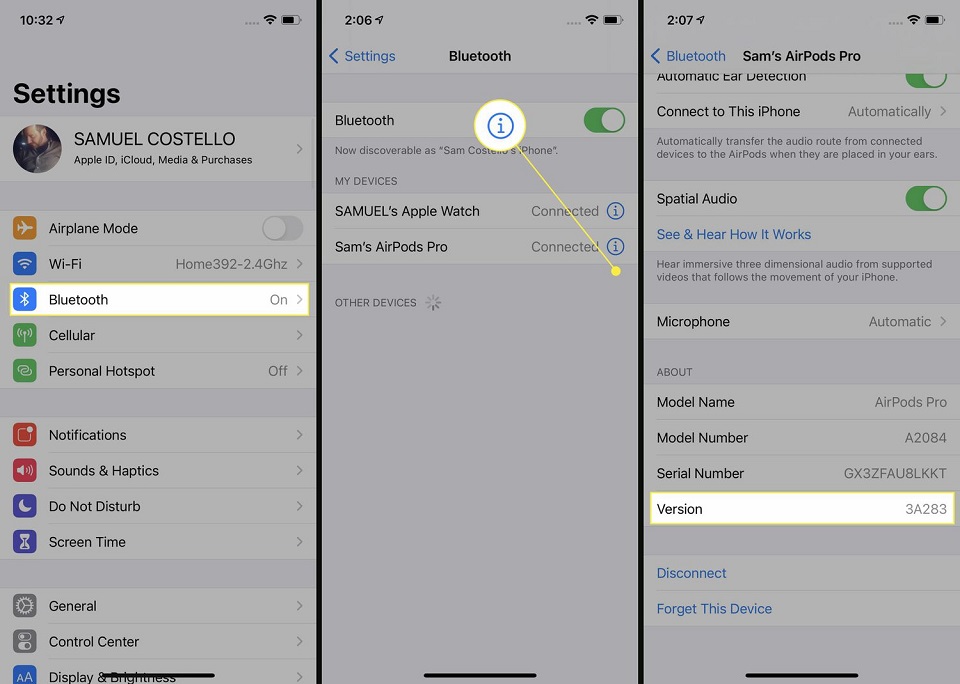 Steps to check if your AirPods are up to date
When connected to an iPhone with a secure internet connection, your AirPods will automatically install the most recent firmware update. 
Leave your AirPods connected for roughly 30 minutes without using them to give this update enough time to complete.
Read more: How to fix AirPod case lid?
Enable Mono Audio
Some songs, movies, videos, and parts of songs or video clips may have been produced with an imbalance on both the left and the right. 
In order to fix this, turn on Mono Audio and see if it helps.
Step 1: Navigate to Settings > Accessibility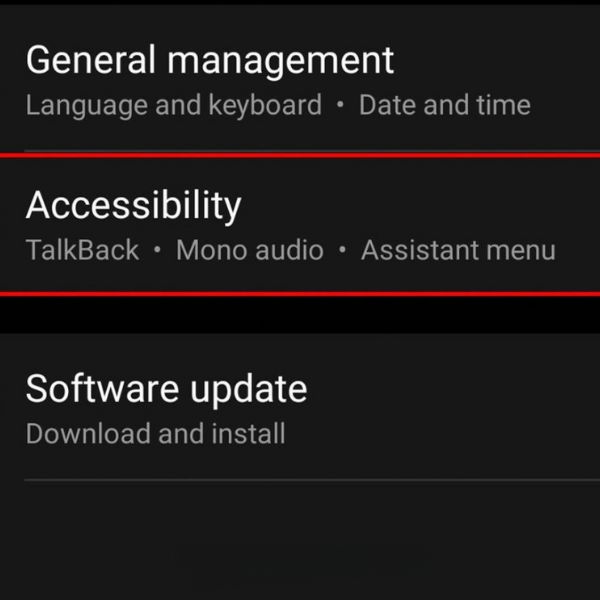 Go to Accessibility
Step 2: Select Audio/Visual under Hearing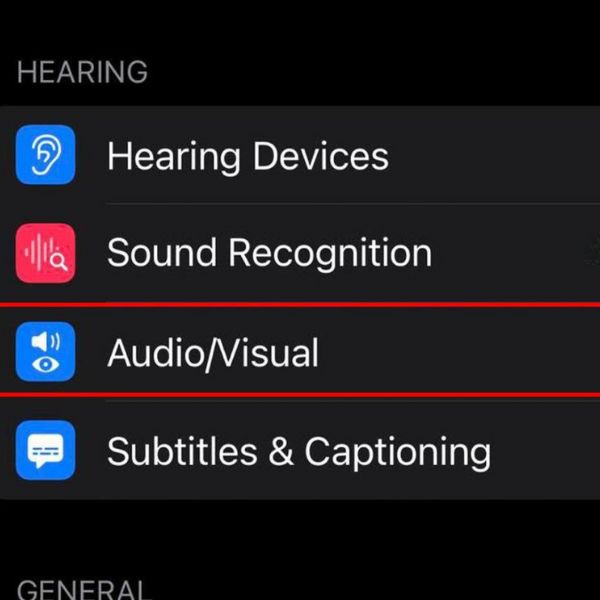 Choose Audio/Visual
Step 3: Switch on Mono Audio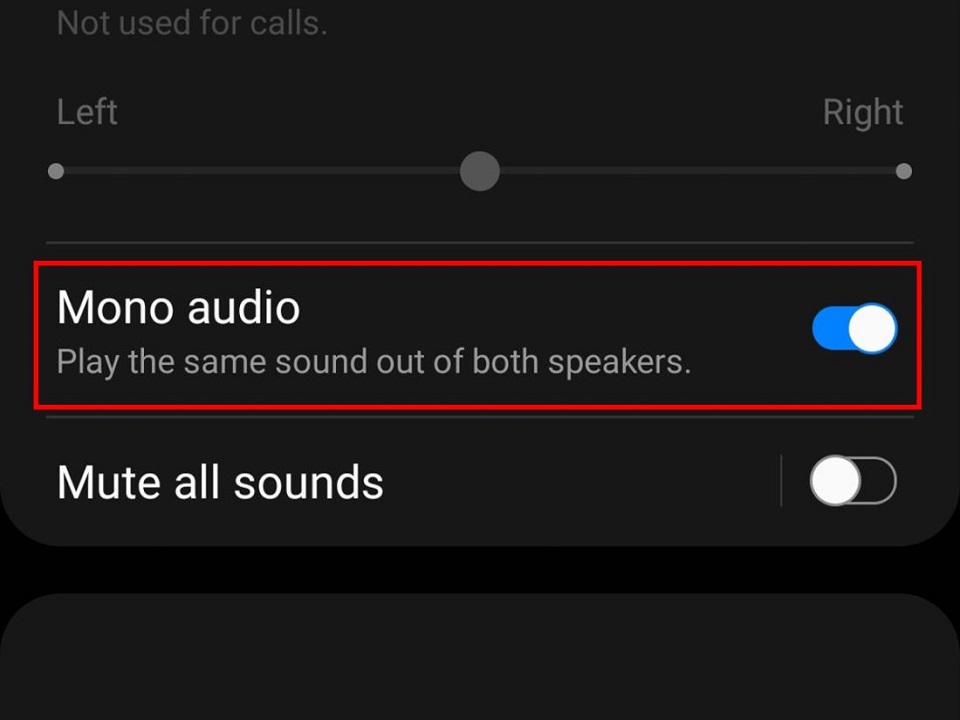 Toggle Mono Audio on
Reset Your Device Settings
One of your AirPods may break down as a result of certain device settings having an impact on several components, including audio. 
Then, it's time for a reset.
Here is how to create an iCloud backup:
Step 1: Go to Settings on your iOS device and tap on your name

Step 2: Tap iCloud > iCloud Backup > Back Up Now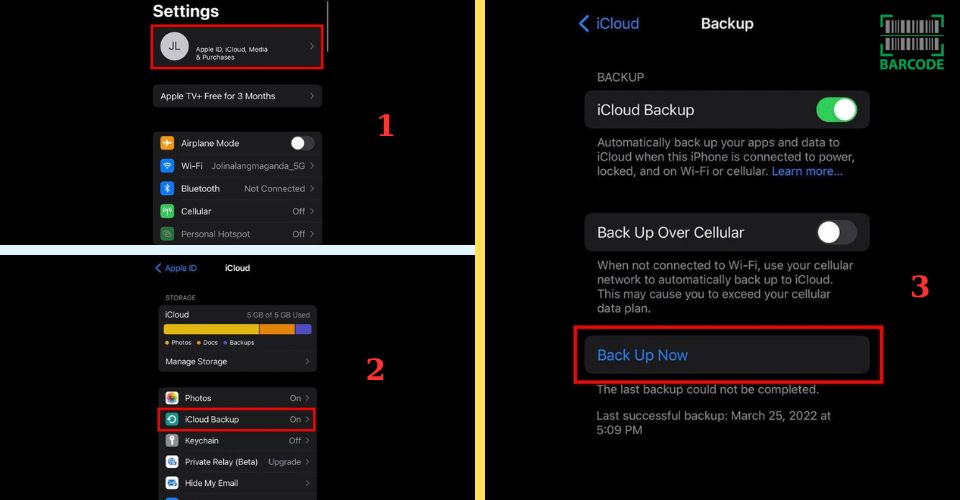 Steps to get an iCloud backup
Following a backup of your device, you can reset it by following these instructions:
Step 1: Ensure that a power supply is available for your iOS device. Open Settings next

Step 2: Go to General > Reset > Erase All Content and Settings

Step 3: Type your passcode and tap Erase iPhone twice. Resetting and rebooting on your iOS device should begin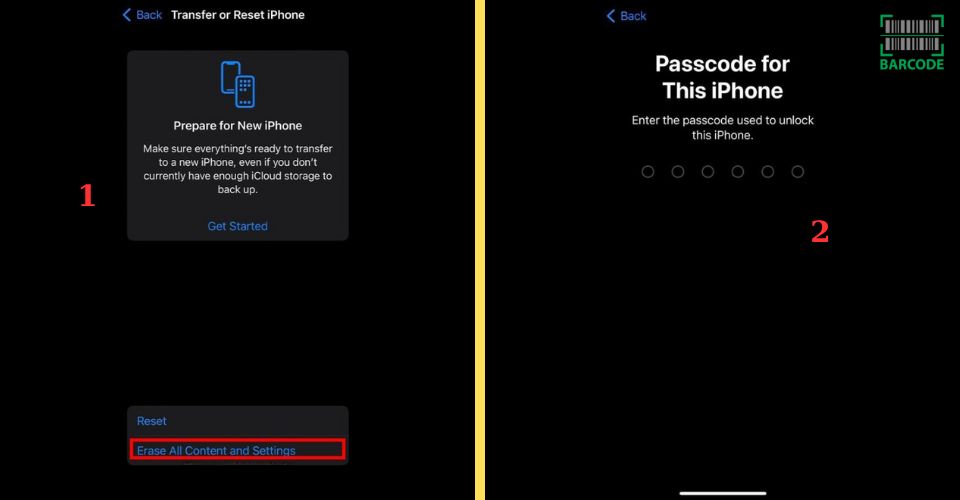 Reset your device settings
Calibrate the AirPods' Volume
Since they are out of sync with the audio source device, AirPods can sometimes sound uneven, making one AirPod not as loud as the other. 
They are unable to use the full volume control as a result. 
To fix this, you must re-calibrate your iOS device and AirPods.
Step 1: Play music by connecting your AirPods to your iPhone/iPad

Step 2: Reduce the volume by pressing the Volume Down button until it is muted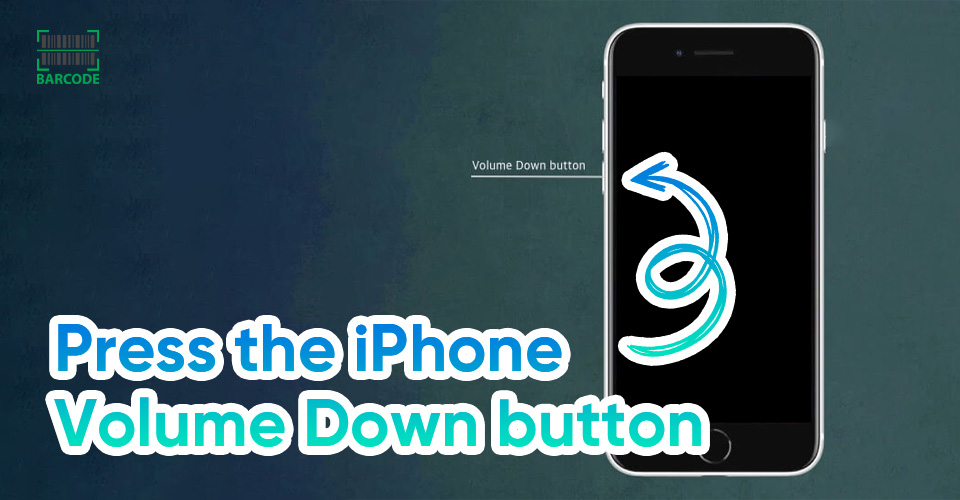 Calibrate the AirPods' volume
Step 3: Open the Control Panel and tap the Bluetooth icon for Bluetooth to be turned off and your AirPods to be disconnected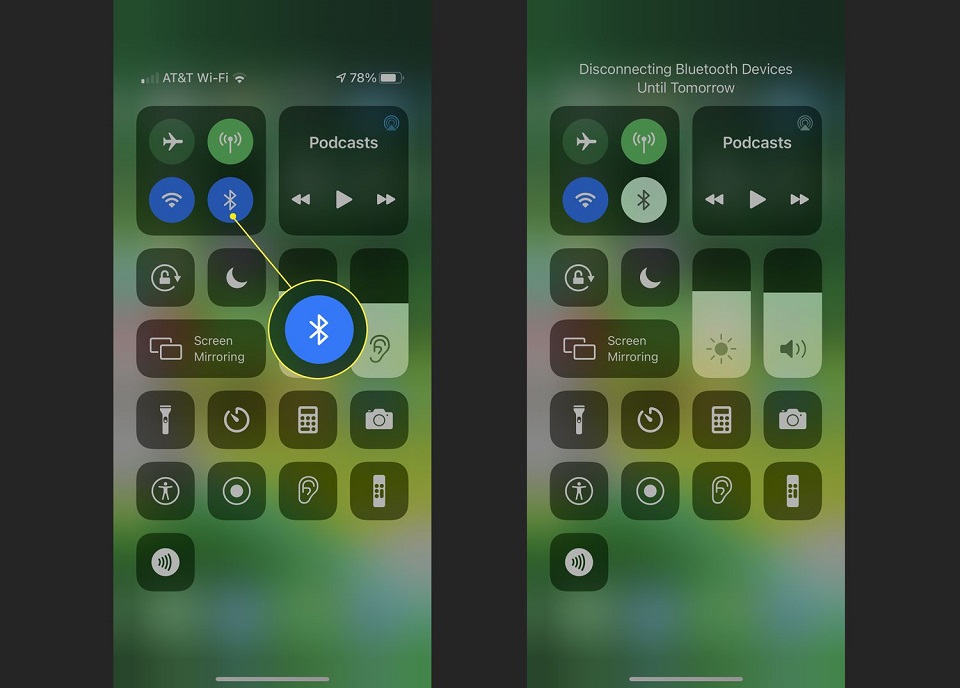 Tap the Bluetooth icon
Step 4: Exit the Control Panel and restart playing your music from the device speaker

Step 5: Press the Volume Down button to turn down the volume until the music is muted.

Step 6: Open the Control Panel and tap the Bluetooth icon to enable Bluetooth

Step 7: Once more, tap the Bluetooth icon while holding it down to see a list of nearby Bluetooth devices on your device. Choose them to reconnect your AirPods

Step 8: Your AirPods can now use full audio and volume settings after calibration is complete. Listen as you play to see whether that fixes the problem.
Reset the AirPods
How to fix one AirPod being louder than the other? Reconnect your AirPods to your device once they have been reset. 
The Bluetooth connection between your AirPods and your iPhone/iPad may be having trouble and a quick reset can assist in re-pairing the two devices.
Step 1: Press and hold the button on the charging case's back

Step 2: Hold off until the status light flashes yellow, then white

Step 3: Reconnect your AirPods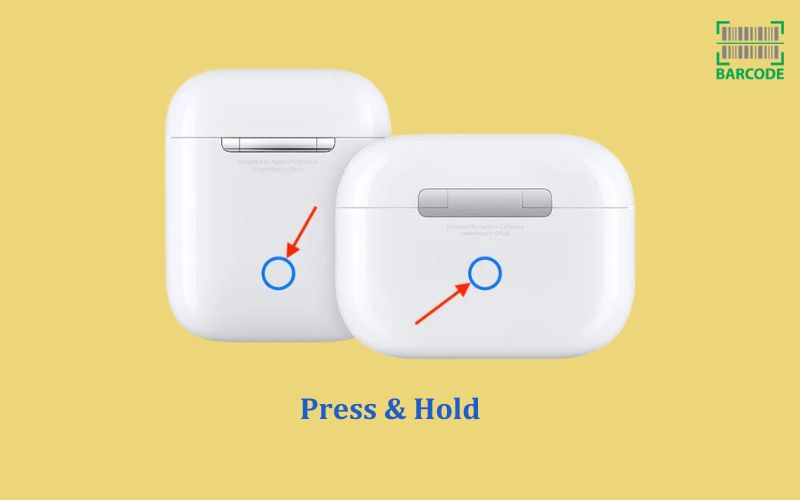 Reset your AirPods
Check Your Hearing
If none of the aforementioned fixes work, you should test your hearing to see if the problem of one AirPod sounds louder than the other is genuinely with your earbuds.
Consultation with a hearing specialist (like an ENT professional) is the best and most accurate way to do this since they can do a thorough hearing examination to find any underlying issues.
But if it's not yet possible, you can also use apps from third parties.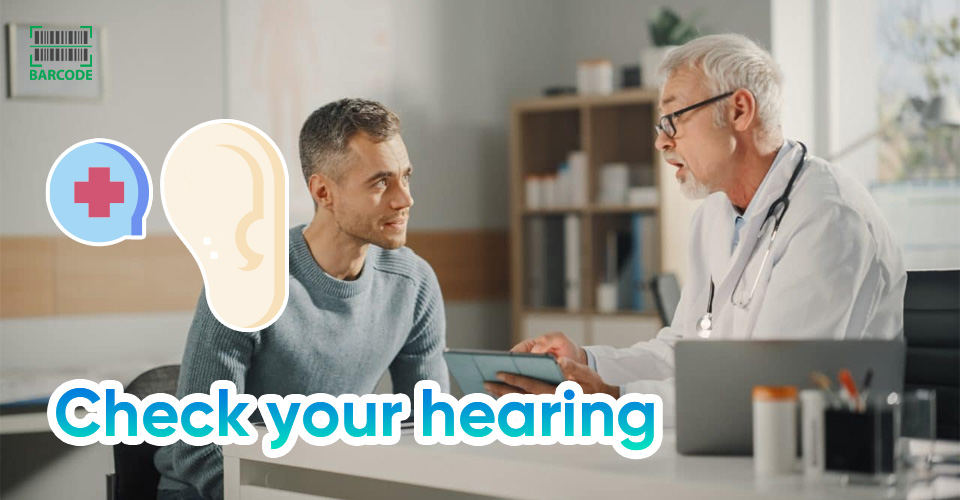 You can consult a hearing specialist
Try Your AirPods with Another Device
Do only certain devices cause one AirPod is louder? 
If so, try pairing your AirPods with another device to identify the source of the issue.
Note that although AirPods are compatible with Android phones, some Android phones may cause sound issues such as uneven left and right balance, drastically reduced volume, etc.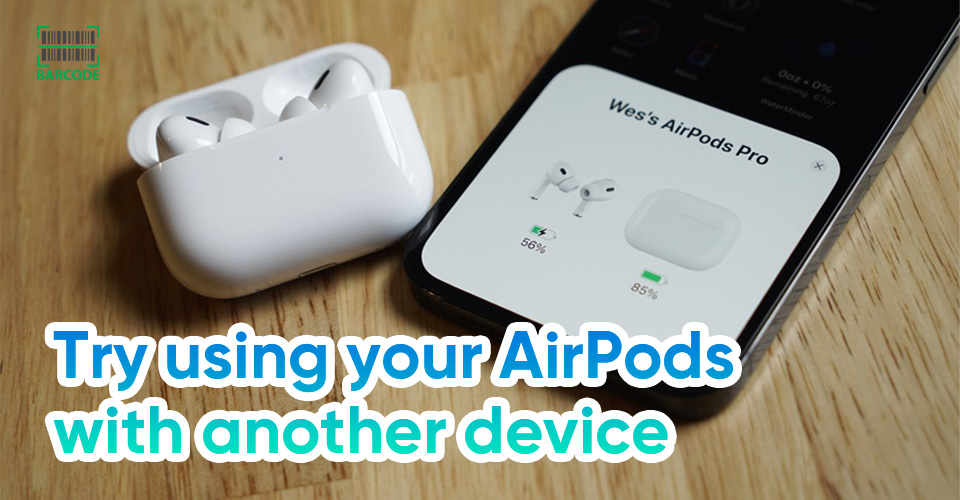 You may pair your earbuds with other devices
Contact Apple for Support
Request a repair or replacement if your AirPods are still under warranty since you might have received a bad pair. 
Apple will typically be able to fix your AirPods for no charge. You can also ask for a replacement if it cannot be fixed.
In fact, this solution can be applied to most AirPods issues, including how to fix water damaged AirPods!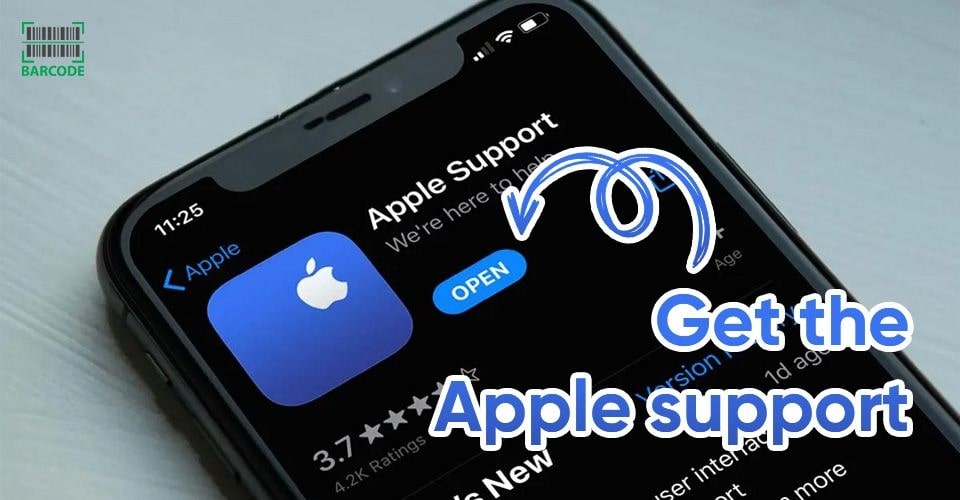 Contact Apple for support
Frequently Asked Questions (FAQs)
Do AirPods get quieter over time?
Like many other earbuds, AirPods are prone to problems over time, such as losing some of their initial loudness.
This issue could be caused by a variety of factors.
How to fix quiet AirPods?
Cleaning the mesh on each AirPod, verifying the audio balance in the settings, and calibrating your AirPods with your iPhone are the initial steps in resolving a quiet AirPod issue.
You ought to get in touch with Apple support if nothing works.
How do you clean wax out of AirPods?
A toothbrush or a lint-free cloth can be used to clean wax.
To remove the wax from the mesh, you can either use a cotton bud or a toothpick.
Some people swear by using a cloth to suction the wax out of their AirPods.
You should also keep the towel over the mesh of the AirPods while sucking the wax with your tongue.
Conclusion
Having AirPod one side louder, whether your AirPods are new or have been in use for some time, can be unpleasant if you don't know the hidden causes as well as how to fix one AirPod louder than the other.
Luckily, you now have a variety of options to consider to solve this audio balance issue. If your friends ever run into the same issue, you might even be able to spare them the trouble.