Why Do My Airpods Keep Cutting Out When Fully Charged? 9 Proven Fixes
Oct 16, 2023 - Views: 315 Share
AirPods gives us a seamless, perfect audio experience but Why do my AirPods keep cutting out when fully charged?
Have you ever been in that situation? Don't worry.
Read this article to find out the reasons why it happens and simple ways to fix it effectively.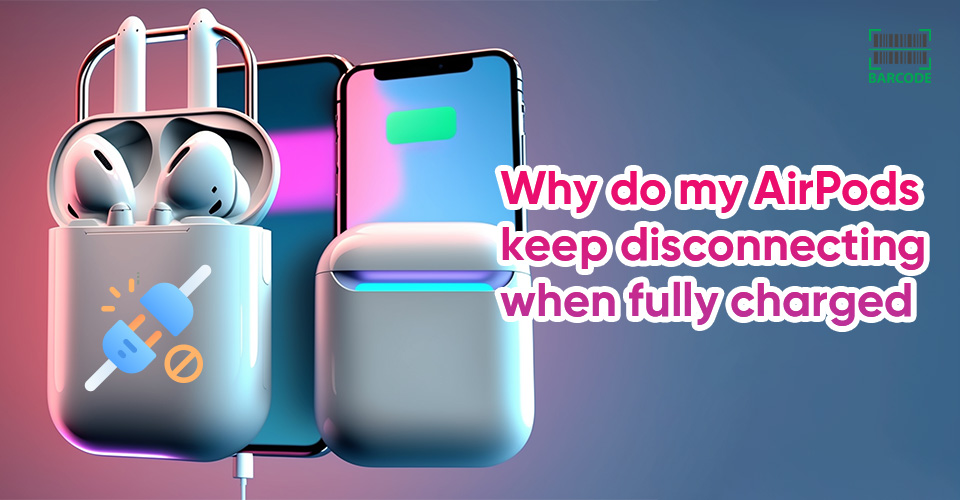 Why do my AirPods keep disconnecting when fully charged
Why Do My AirPods Keep Cutting Out When Fully Charged?
Usually, for any problem, you need to find out the causes before applying any fix. This cutout issue does too.
Why do my AirPods keep cutting out when it is charged fully? Understand the reasons and you can prevent it in the future.
Cutouts mean your audio keeps stuttering or choppy even though your AirPods are still connecting to your device. 
This differs from when your AirPods suddenly completely disconnect from your device or your AirPods sound too quiet.   
Now, let's take a look at 6 common reasons why your AirPods cut out below:
Unstable connection

AirPod sensor issues

Low battery

Incompatible firmware version

Hardware defect

Audio source issues
Unstable connection
The first common reason for AirPods cutouts is an unstable connection. 
Not only AirPods but also many devices connect via Bluetooth. 
As a result, if you are in an area full of other same-frequency connections, the cutouts will happen.
To be clear, for example, at the gym center, both customers and staff are using wireless headphones. 
Of course, your AirPods need to compete with many connections for space in that 2.4 GHz frequency range.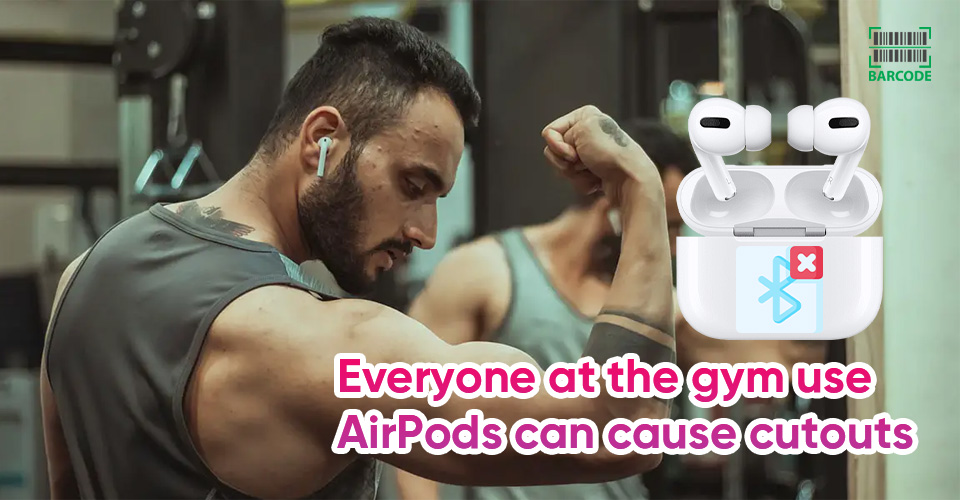 Everyone at the gym use AirPods can cause cutouts
Bluetooth range is also an important consideration. 
This is determined by how far you can move away from your device while remaining connected. 
The optimal range for AirPods is 30-60 ft (10-18 m). 
When you leave this range, the connection deteriorates, and the audio crackles.
AirPod sensor issues
Like many new wireless headphones, the AirPods can detect when they're in your ear and automatically play or pause music. 
This feature is known as "Automatic Ear Detection" and is enabled by default.
When you remove one or both of your AirPods, the audio stops and resumes when you put them back on.
It means that sometimes your AirPods can make a mistake and can not detect them even if you don't take off your AirPods. Thus, audio cutouts may happen.
Low battery
Normally, when the battery of your AirPods or your device is low, the Bluetooth connectivity can be dropped and you can't hear any sound. 
However, the audio may still play from your source device. 
Look out if your devices are less than 20% battery life because every device needs enough power for optimal performance.
AirPods can be used for up to 5 hours of listening time on a 25-minute charge. 
Incompatible firmware
Like everything technical, it's essential to update software to make sure things run smoothly.
From the first version in 2007, Apple has released many versions. Unfortunately, bugs can appear in the early stages of the updates. 
As a consequence, AirPods issues like sudden cutouts happen.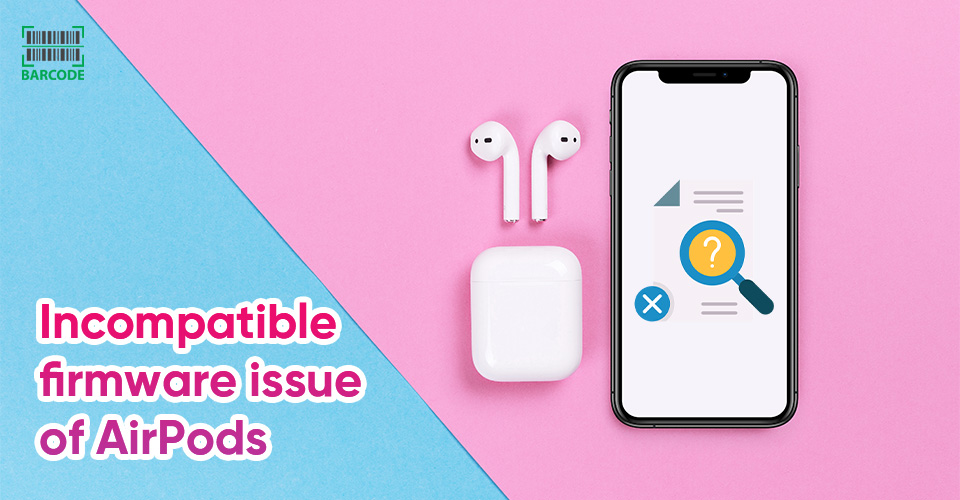 Incompatible firmware issue of AirPods
Hardware defect
Moreover, the problem could be with your AirPods. 
There is always the possibility that the hardware inside the earbuds is faulty, defective, or damaged and requires repair or replacement.
Apple has admitted that a small number of AirPods manufactured prior to October 2020 were defective, and some users will experience sound issues. 
If you believe your AirPods are affected, you can take the steps outlined by Apple here.
Audio source issues
If you're sure your AirPods are working properly but the audio still cuts out, the problem may be with the audio source.
The audio source may have too many apps running, which can slow down its performance or interfere with the Bluetooth connection that AirPods need.
The audio source may have outdated drivers that can cause audio problems.
Too many apps running can also cause low-volume issues in AirPods.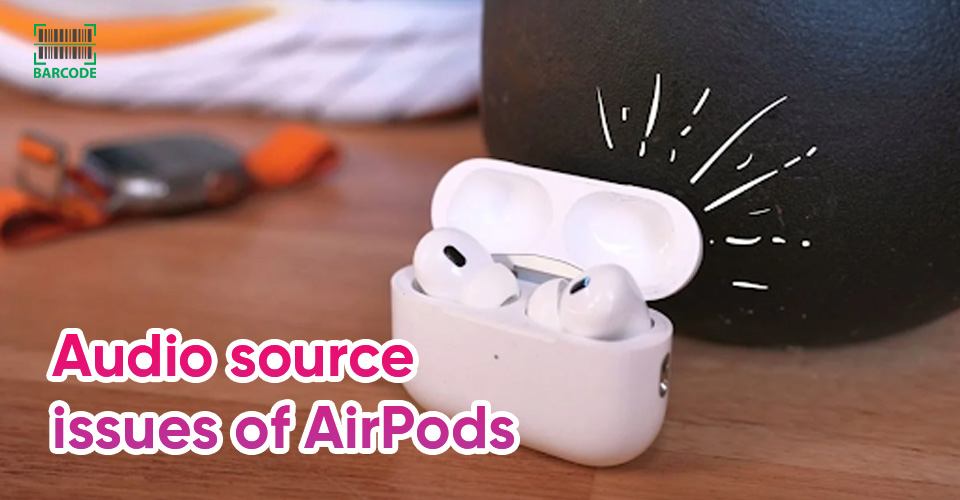 Audio source issues of AirPods
Read more: How long do AirPods Max take to charge?
How to Fix AirPods Keep Cutting Out?
You've known 6 common reasons for AirPods cutouts. It's time to deal with this issue. 
Take a look at these simple solutions below:
Check the battery levels

Check Bluetooth connection

Reset your AirPods

Turn the Automatic Ear Detection off

Update your AirPods' firmware

Disable audio enhancements

Clean up the AirPods

Update your operating system

Contact Apple support
Check the battery levels
Before applying any technical solution, check your AirPods battery life. 
Because AirPods don't show any battery indicators on the earpieces, users may not notice and realize whether AirPods is low battery or not.
We all know how to charge AirPods, but how to check the AirPods battery? Follow these steps.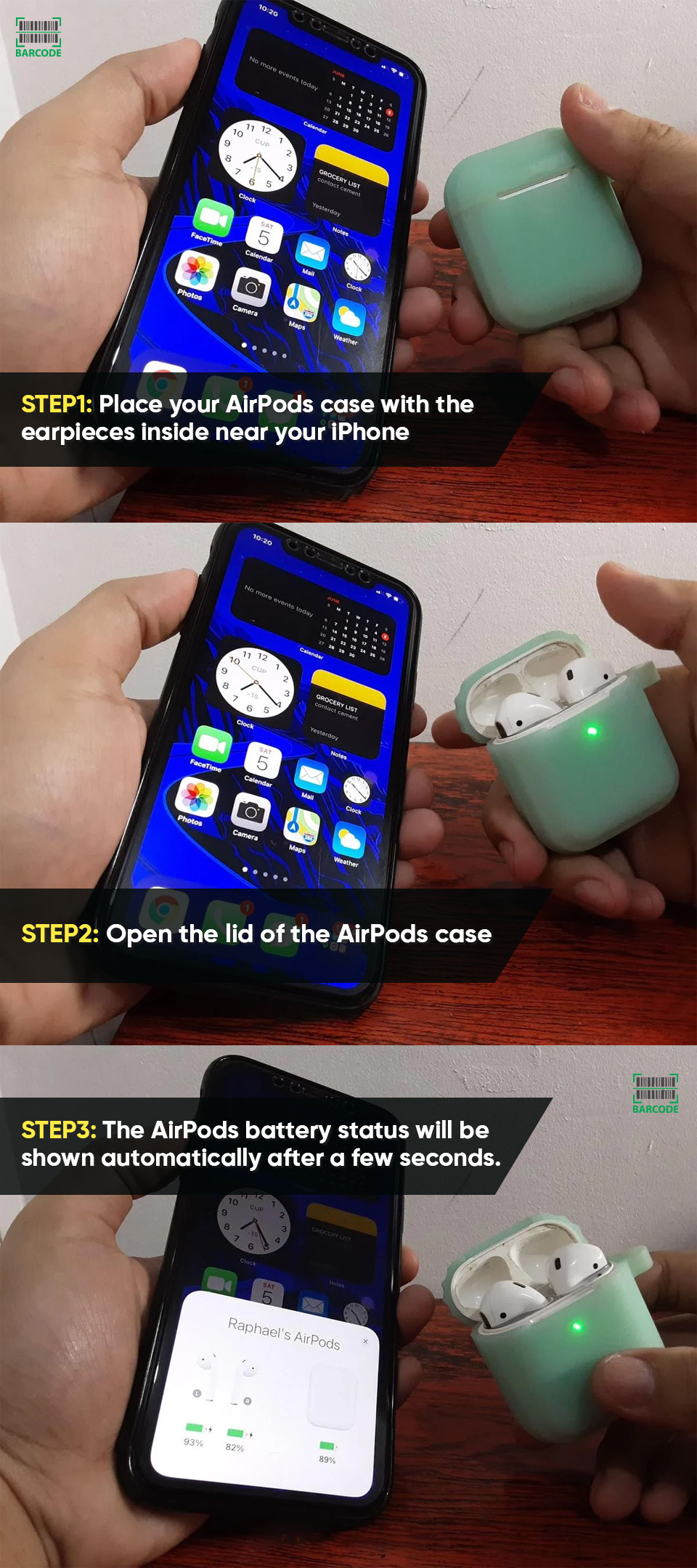 How to check the battery levels?
Check Bluetooth connection
If you're encountering inconsistent audio quality despite having a sufficient battery charge, it's possible due to a Bluetooth connectivity issue. 
To enhance your connection, consider the following steps:
Ensure there are no physical barriers between your device and AirPods, as these obstacles can disrupt the wireless link. Try moving your device closer to your AirPods to eliminate any potential physical interference.
Another solution is to relocate to an area with minimal wireless interference. Locations with multiple Wi-Fi routers, microwave ovens, and wireless speakers can interfere with your Bluetooth connection. Transitioning to a quieter environment can significantly enhance the stability of your connection.
Reset your AirPods
Besides, you can reset your AirPods to restore all factory settings. This action will remove any bugs or internal settings issues. Here's how you do it for your AirPods:
Step 1: Go to Settings => Bluetooth. Tap the small "i" icon 
Step 2: Tap Forget this device and confirm 
Step 3: Place the earpieces in their case and close the lid
Step 4: Press and hold the multifunction button of the case for 15 seconds until the status light turns from amber to white.
Step 5: After a few seconds, reconnect your AirPods to your iPhone.

Steps to reset your AirPods
Turn the Automatic Ear Detection off
As mentioned, the Automatic Ear Detection can be incorrect. You can disable this feature to allow your AirPods to continue playing audio even when you are not wearing it. 
So, how to disable it? Take a look.
Step 1: Go to Settings => Bluetooth. Tap the small "i" icon
Step 2: Turn off Automatic Ear Detection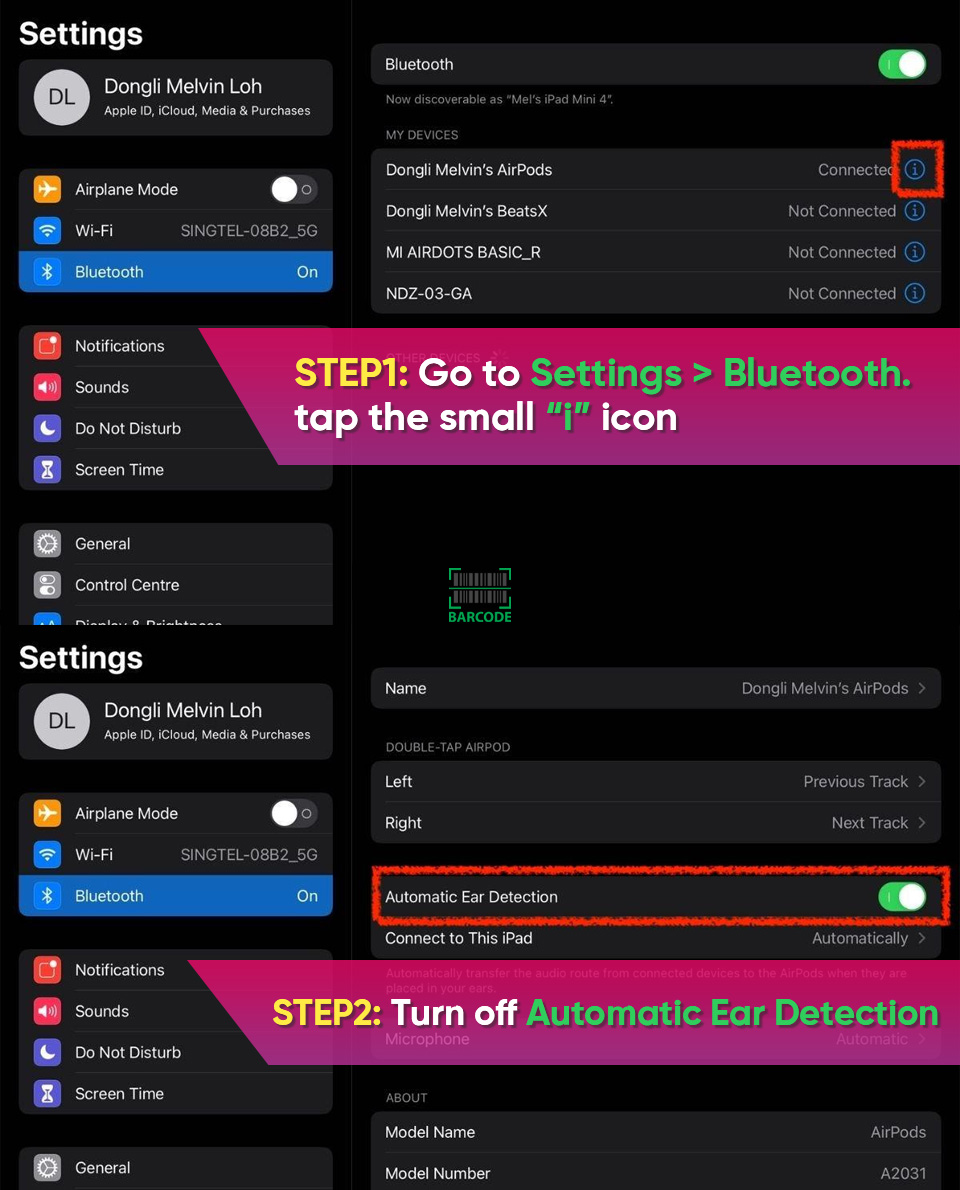 How to turn the Automatic Ear Detection off?
Update your AirPods' firmware
If your AirPods cutouts is due to incompatible firmware, let's update it. 
It's difficult to manually update AirPods to newer firmware versions, but with Apple, you can setup to do it automatically.
Here's what you need to do:
Step 1: Turn on your AirPods (make sure the AirPods connect to your iPhone)
Step 2: The firmware will be downloaded, updated, and installed on the AirPods automatically.
Step 3: Go to Settings > Bluetooth to see if the firmware version has been updated.
Step 4: Locate your AirPods and press the small "i" icon on the right.
Step 5: Check to see if the Firmware Version has been updated.

How to update AirPods' firmware?
Clean up the AirPods
Over time, the dust particles may be accumulated in the delicate holes of your AirPods. As a result, it blocks the sound from coming out. 
Therefore, it's great to clean up your lovely AirPods.
Clean your AirPods to restore the sound with a cotton bud or specialized devices.
Take a reference to the best AirPods cleaning kit below:
| | | |
| --- | --- | --- |
| AKIKI Earbuds Cleaning Kit | | Best overall |
| 39 Pcs Cleaning Kit | | Best for quality |
| REFLYING's Phone Cleaning Kit | | Best for safety |
| CRYSFIY 7-in-1 Electronic Cleaner Kit | | Best for versatility |
| RevJams 31pc Cleaning Kit | | Best for hard-to-reach places |
| MUIIGOOD AirPods Cleaner Kit | | Best variety |
| Kikkerland Earbud Cleaning Kit | | Best compact |
| KeyBudz Air Care AirPods Cleaning Kit | | Best all-in-one |
Update your operating system
The disconnect issue may arise due to compatibility issues between your operating system and the AirPods software. 
Therefore, it's essential to ensure that you are running the latest version of the operating system, as any bugs in the previous version may have been resolved in the new update. 
It's worth trying this approach to resolve the problem.
Contact Apple support
If you apply all troubleshooting steps and the problem still remains, it's advisable to reach out to Apple Support for assistance. 
This solution can help you solve other issues as well, such as AirPods Max won't charge.
You can access helpful resources through their online forums or get in touch with them directly via phone or chat.
When contacting Apple Support, it's crucial to effectively communicate your issue. To ensure a smoother and more productive interaction, please take note of the following information:
On your iPhone, navigate to Bluetooth settings and tap the "i" icon next to your AirPods' name.

Make sure to record the following details: model number, serial number, and version.
Write down the specifics of your issue or concern: describe what occurred, when it started happening, and the actions you've taken since it began.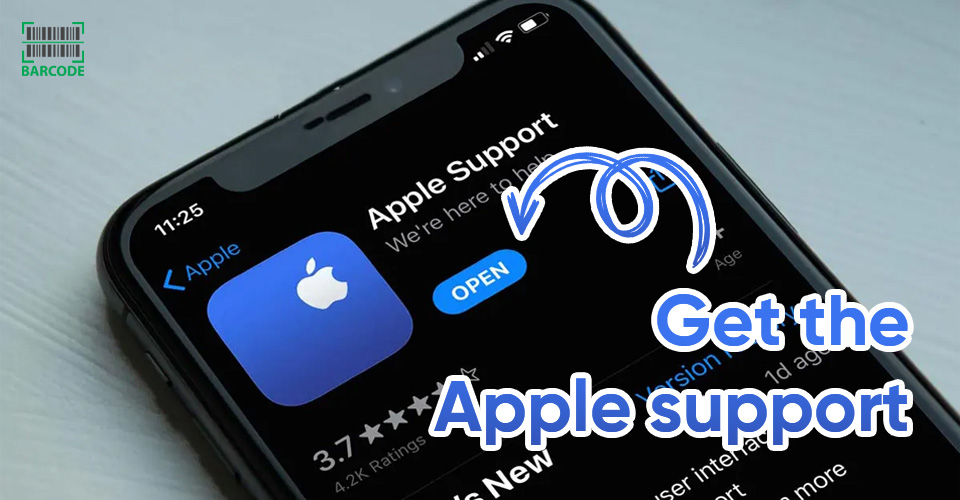 Get the Apple support
Frequently Asked Questions (FAQs)
Why do my AirPods sound stutter?
It may be due to the quality of the AirPods connection. Check the Bluetooth connectivity and then reconnect. Remember standing in an area with many 2.4GHz frequency devices like microwaves, fridges can make sound stutter.
How long do AirPods last?
With a full battery, you can use AirPods for up to 6 hours of listening time (up to 5 hours with Spatial Audio enabled) or up to 4 hours of talk time on a single charge.
How do I check the health of my AirPod battery?
In the article, we've mentioned the way to check the AirPods battery. Read again to know how to check.
Conclusion
Why do my AirPods keep cutting out when fully charged? Hope that you understand why it happens. Most importantly, you've known and can deal with this issue easily and quickly if it occurs. Follow us to get further useful information.