How to Clean AirPods? Ways to Eliminate Dirt & Wax
Oct 19, 2023 - Views: 400 Share
Throughout the day, you frequently use your AirPods to listen to music, make calls, and catch up on your favorite podcasts.
However, when did you last clean them? If "never," you learn how to clean AirPods right now.
Both you and your AirPods will benefit from cleaning them!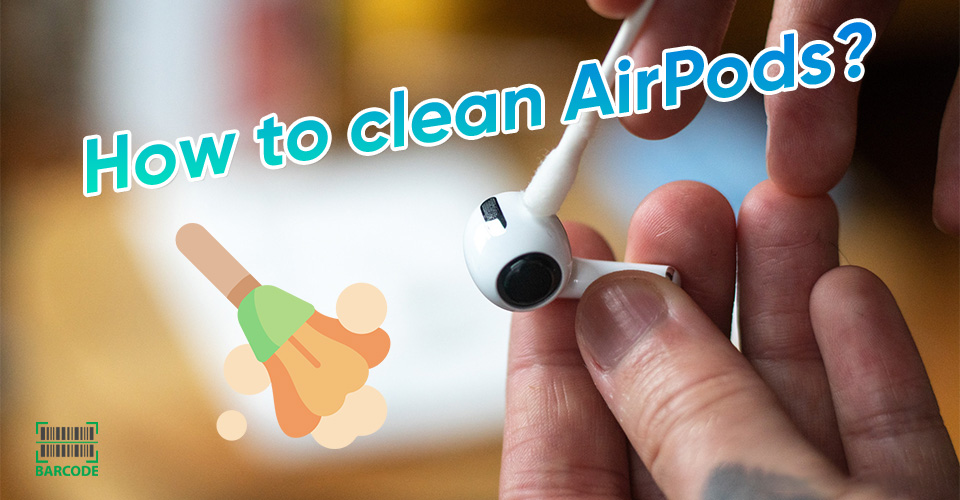 What is the best way to clean AirPods?
Why Should You Clean Your AirPods?
It's important to regularly clean AirPods.
You may run the risk of ear pain, excessive ear wax, fungal infections, and other problems when you allow dirt to accumulate in your AirPods. 
This is due to the fact that, though earwax generally helps protect your ears, when it becomes stuck in your earphones, it might encourage bacterial development. 
Additionally, sweat moisture from your workout can potentially result in health problems besides being generally icky if you use your AirPods or other wireless earphones while exercising.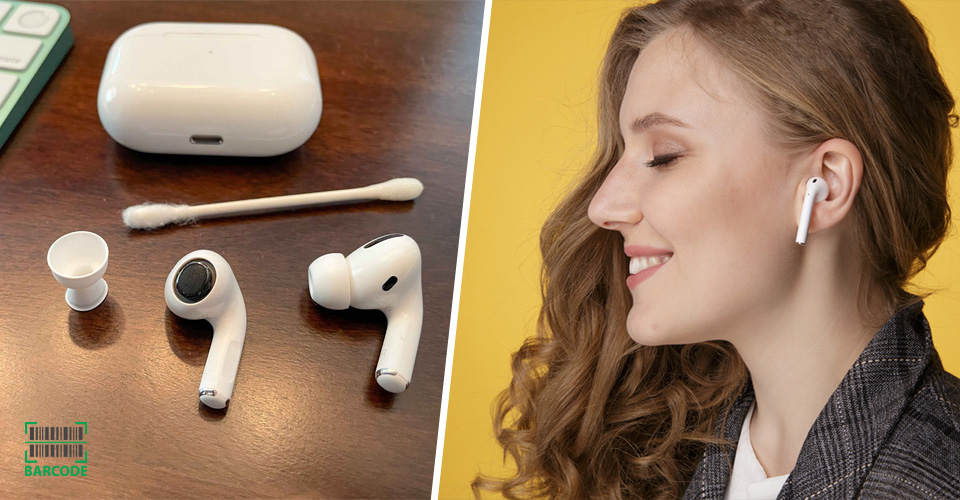 Cleaning AirPods is good for your health and the audio quality
What's more, maintaining the audio quality that your headphones or earbuds deliver is crucial. 
The sound will undoubtedly be masked by any accumulation. 
Further, it may interfere with the microphone, making voicemails and phone calls more challenging. 
Sweat can also harm your headphones because it is acidic and can harm the internal electronics.
Learn how to clean AirPods microphone and how to clean AirPods ear wax below!
How to Clean AirPods Correctly?
When deep clean AirPods Pro, you must be cautious to prevent water damage, which can result in long-term damage and impair the performance of your devices. 
You can learn how to safely clean and maintain your AirPods in this section but let's first look at some things you should prepare in advance: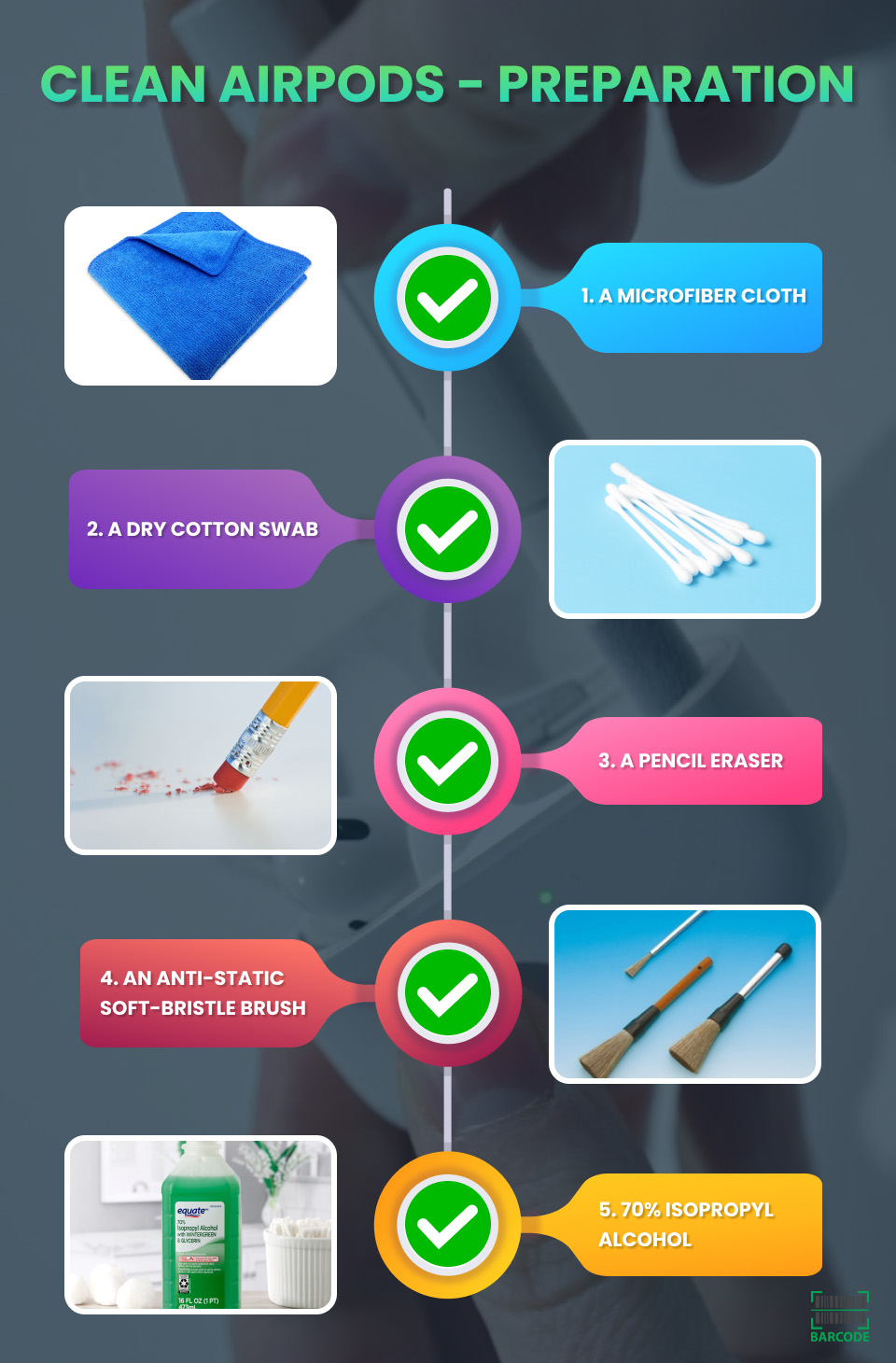 What to use to clean AirPods?
Now, follow the steps below:
Step 1: Wipe down your AirPods with a microfiber cloth
First, use a microfiber cloth to clean the earphones' outside.
Reminder: Avoid using an ordinary cloth or rag because doing so risks damaging the polish on your AirPods.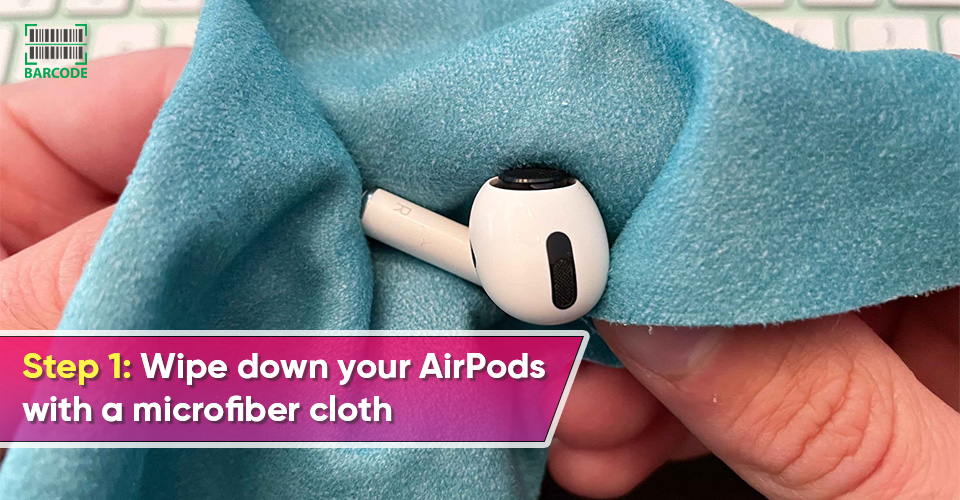 Wipe the outside of your AirPods
Step 2: Use a dry cotton swab to wipe off hard-to-reach areas
You should carefully run the cotton swab's soft end through the tiny cracks and crevices on your AirPods while holding it in your hand. 
How to clean earwax from AirPods? To remove any accumulated dust or wax, properly wipe the speaker grills. 
Avoid applying too much force to the speaker grills or you risk damaging them.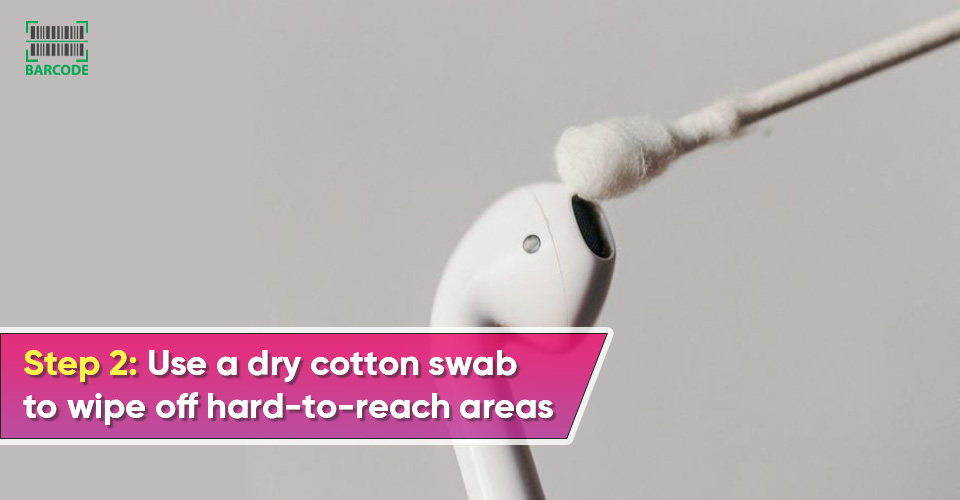 Wipe off other areas to clean earwax from AirPods
Step 3: Rub away dirt and grime spots with a pencil eraser
You should gently go back and forth over the area you want to remove with the eraser. 
After the spot has been eliminated, wipe away any leftover eraser shavings with the microfiber cloth.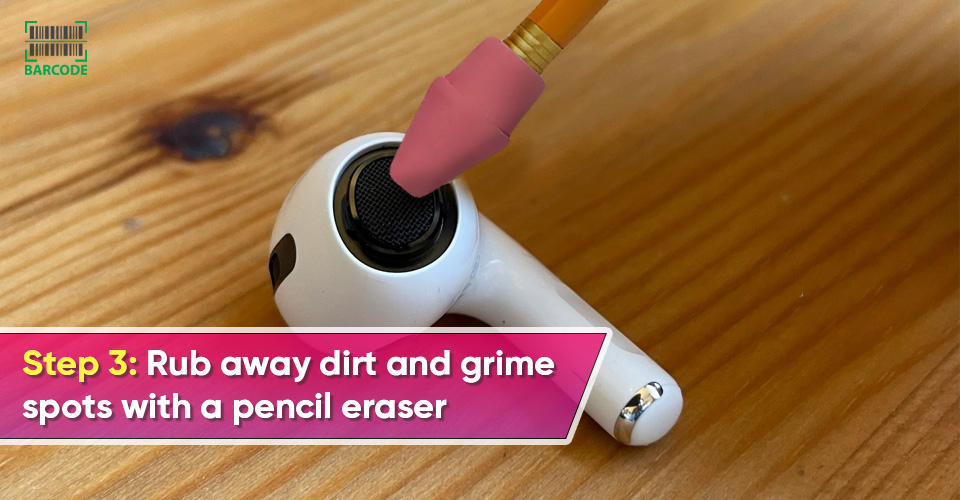 Rub away dirt and grime spots
Step 4: Brush the speaker grills with an anti-static soft-bristle brush
You can use the bristles on a dry, clean toothbrush unless you have an anti-static brush. 
Use the anti-static brush's bristles to remove debris lodged in the speaker grills, such as dust, grime, or wax. 
Remember to gently brush the surface to avoid damaging the grills.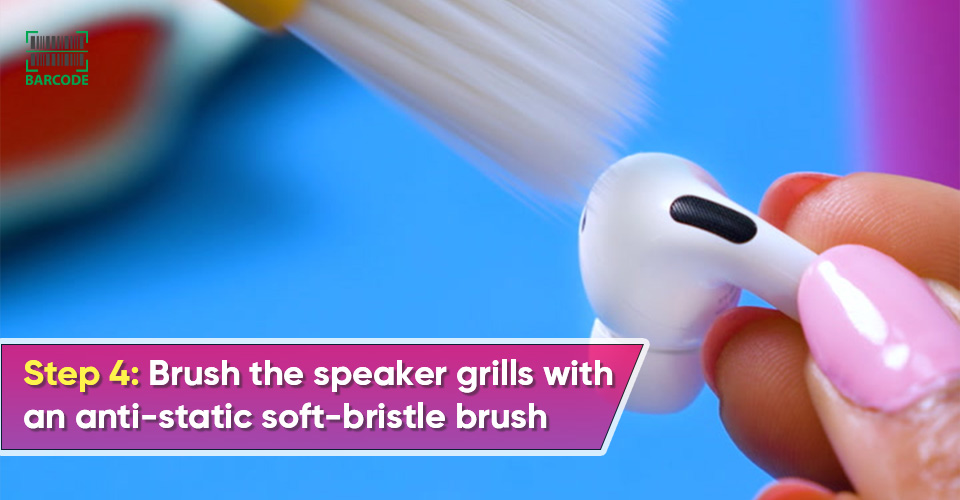 Brush the speaker grills
Step 5: Use a damp microfiber cloth or 70% isopropyl alcohol wipe
You might need to use a little water to remove tough dirt and grime stains if you haven't cleaned your AirPods in a while. 
A few drops of distilled water can be used to lightly moisten a microfiber cloth.
Can I use rubbing alcohol to clean my AirPods? 
You can also use an isopropyl alcohol wipe or dampen it with a little isopropyl alcohol. 
Next, wipe your AirPods with the damp part of the cloth. 
Don't touch the wet part of the cloth with the speaker grills to avoid letting moisture enter them.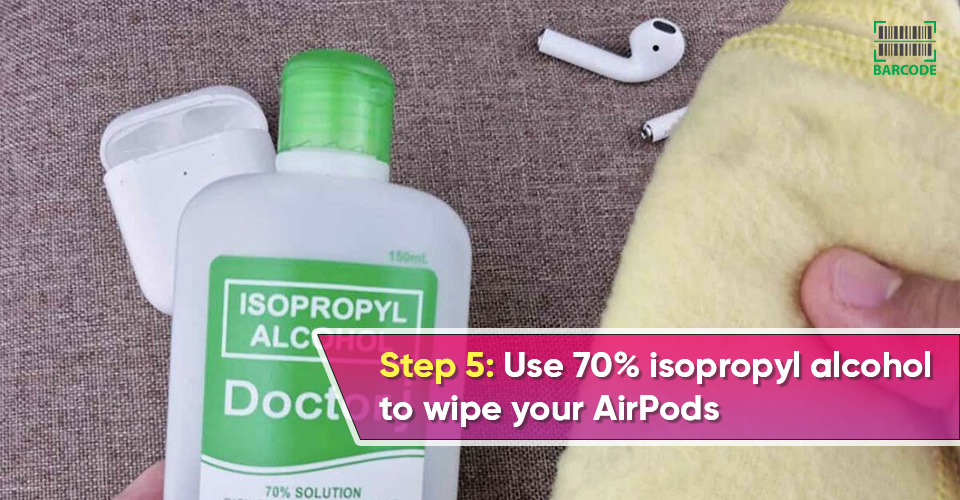 Use 70% isopropyl alcohol to wipe your AirPods
How to Clean AirPods Case?
The case's deep crevices can collect dirt from your headphones while they are charging as well as pocket lint from your bag and pockets. 
Any accumulation of filth or earwax can actually interfere with charging your headphones because these cases often use metal connections to connect to and charge the buds.
Therefore, if there is anything preventing your earbuds from charging, you should remove them with a soft cloth or a cotton swab for harder-to-reach areas. 
How to clean AirPods Pro case? You might also use a small amount of air from a bulb air blower.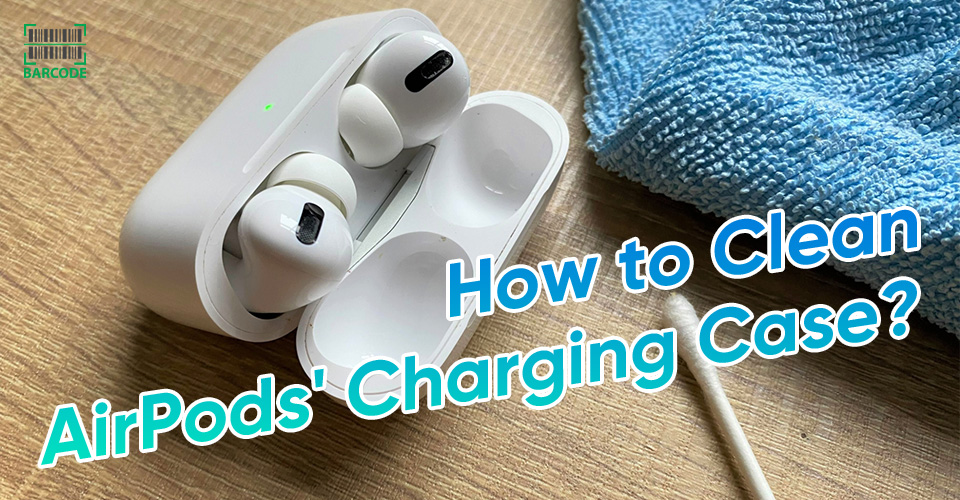 Try to keep the AirPods case clear and clean
How to Clean AirPods with Removable Silicone Tips?
The speaker is shielded from earwax and other debris by the silicone tip, and they are simple to remove. 
To clean them, take the earphone tips out and wash them in warm, soapy water for 30 minutes. 
You can shake the container to break up the dirt if they are really grimy. 
The silicone tips should then be thoroughly dried before using a clean cloth or cotton swab to remove any lingering earwax or dirt.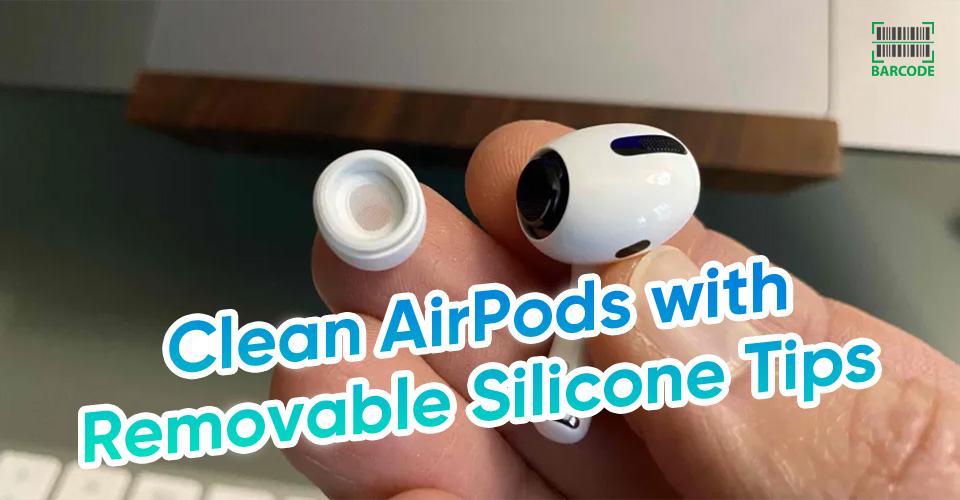 How to clean AirPod tips?
If your earphones don't come with silicone tips, you can easily purchase them separately on Amazon. 
For instance, the Link Dream 12 Pieces Replacement Ear Tips fit over standard AirPods.
How to Clean AirPods Max?
Due to its memory foam and knit mesh materials, AirPods Max is more easily dirty than other headphones that use pleather. 
Although these ergonomic materials make users more comfortable, they also catch dirt easily and get stained after a time.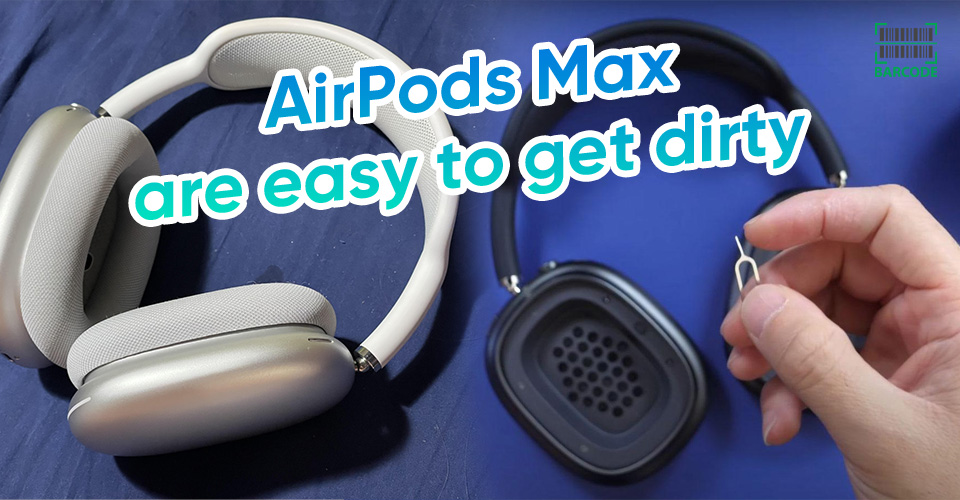 How to clean AirPod Max?
If your AirPods Max comes into contact with anything that could result in stains or other harm, such as soaps, shampoos, solvents, detergent, or anything else:
Cleanse them with a gentle, dry, lint-free cloth that has been slightly wet with fresh water.

Wait till they are completely dry before trying to use them.
You can watch this video tutorial:
Learn about the process of cleaning other parts of AirPods Max, such as how to clean AirPod Max ear cups in Barcodelive! 
Things You Should Not Do When Cleaning AirPods
In order to protect your AirPods from damage, you should stay away from the following when cleaning them: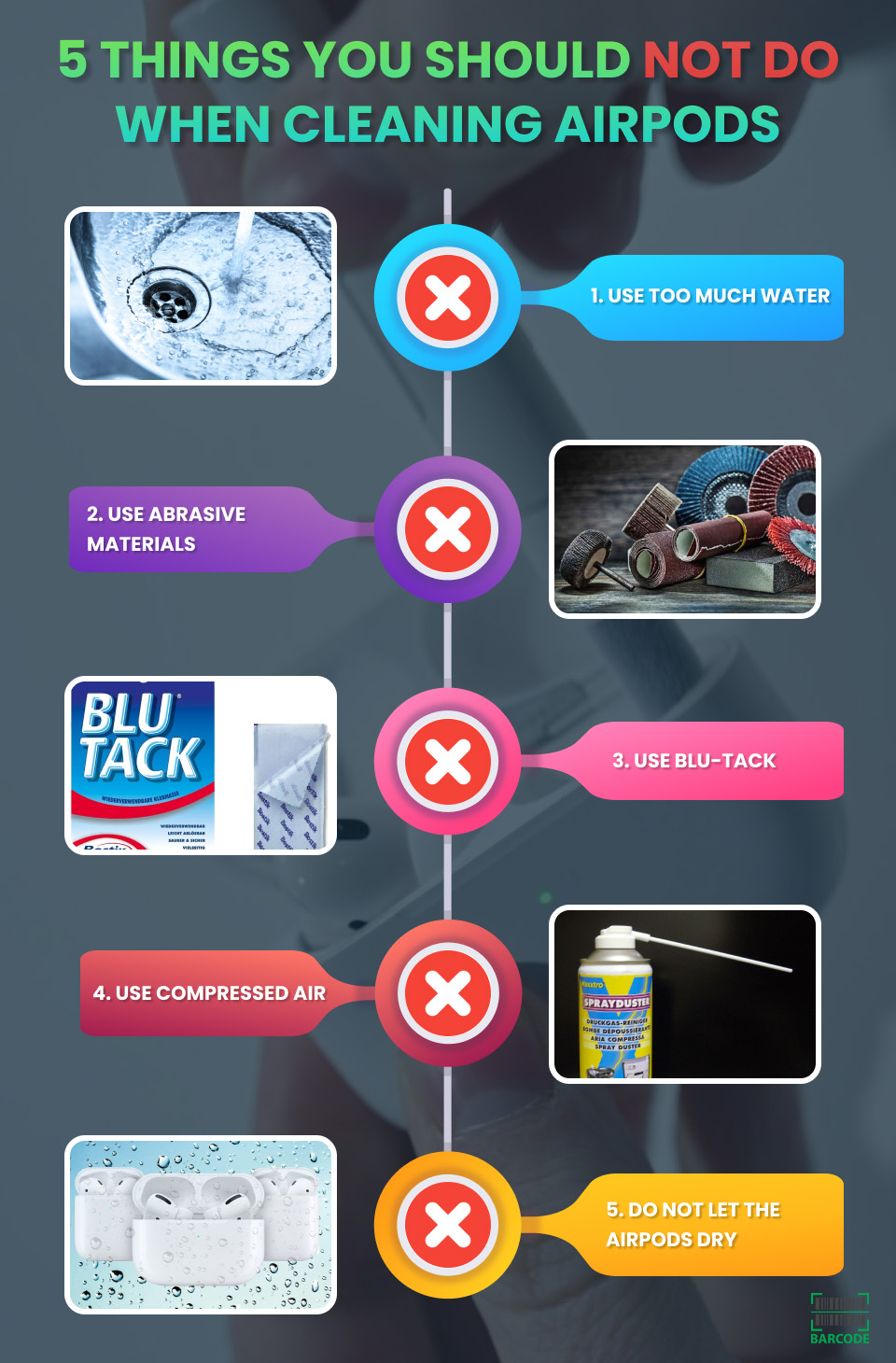 What not to do when cleaning AirPods
If you utilize too much water on AirPods, they will become permanently damaged because they are not waterproof. 
A better alternative is isopropyl alcohol which is at least 70% pure since it eliminates microorganisms and evaporates completely.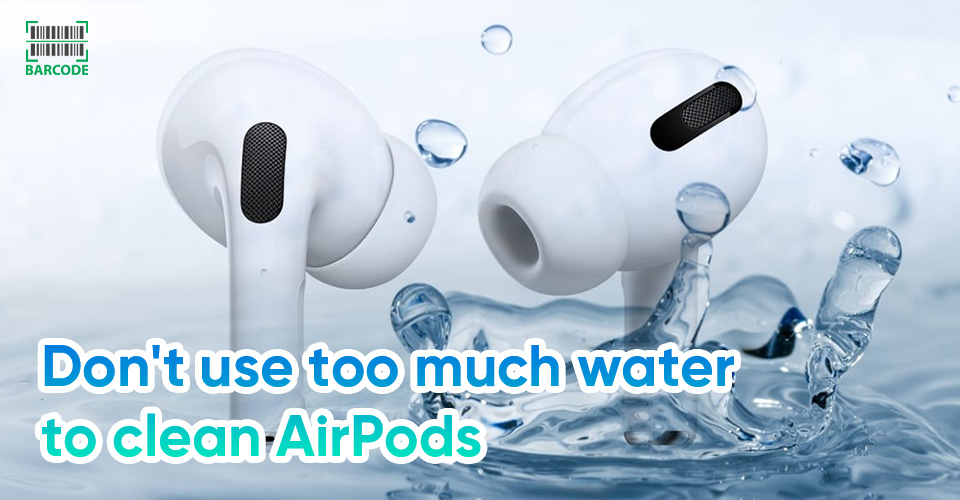 AirPods are not waterproof
The plastic body of your AirPods can become scratched by substances like rough fabrics, metals, and harsh cleaning agents such as bleach, nail paint remover, and 90%+ alcohol. 
Instead, use materials like microfiber cloths and cotton swabs.
Don't use Blu-tack to clean AirPods 
When Blu-tack is used, the dirt is frequently forced deeper into the speaker.
Additionally, the speaker mesh on your AirPods could become trapped with the Blu-tack or the mesh could potentially come out.
The speaker mesh and charging port on your AirPods and case, as well as the high pressure from compressed air, are both susceptible to harm.
Don't let the AirPods dry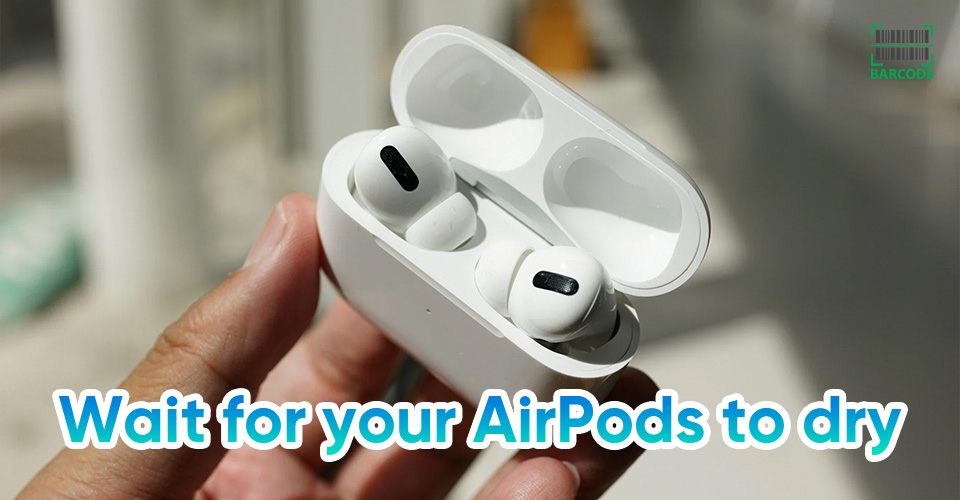 Let your AirPods air dry before using
Even if your AirPods appear dry, there may still be invisible moisture present that is causing corrosion or circuit damage. 
So before storing your AirPods in their case or using them, always let them completely air dry.
How to Keep Your AirPods Clean Longer?
You may perform routine maintenance on AirPods each time you use them instead of waiting for them to become dirty. 
To avoid the accumulation of wax, sweat, and other potentially irritating substances, simply wipe them with a clean, dry towel after you've worn them.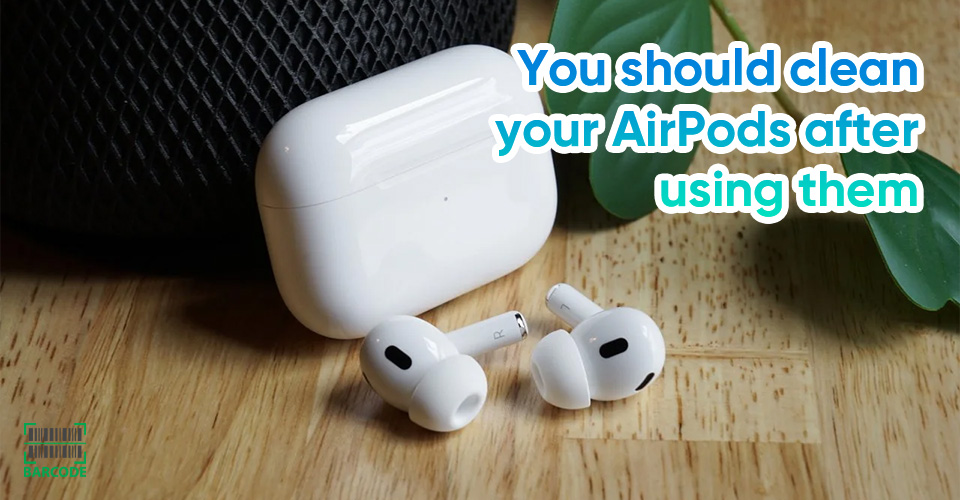 Tips to keep your AirPods clean longer
Before charging or storing your AirPods, ensure they are completely dry to prevent damage to them or the charging case. 
Your AirPods will last longer and be less likely to be damaged if you keep them clean and dry.
Frequently Asked Questions (FAQs)
How often should you clean your AirPods?
Cleaning your AirPods after every use is recommended.
If not, you should clean your AirPods and the charging case every 72 hours (after use).
Is it OK to wash your AirPods?
According to Tech Geek Base, AirPods can endure up to 60 minutes in the washing machine.
However, they advise drying them out for at least 12 hours after that.
Does water damage AirPods?
It will be helpful to dry them out as soon as possible to prevent water damage since AirPods aren't waterproof.
You'll be okay if you can get the water out before any harm is done!
Summary
To conclude, it's critical to know how to clean AirPods at home to get rid of dust, germs, and wax buildup. Additionally, using clean and clear AirPods, you can minimize health issues and get a better sound quality as well. We hope that our instructions will assist you in maintaining the cleanliness of your earphones and case!