How to Clean AirPods Pro Case to Give It a Brand-New Look?
Oct 23, 2023 - Views: 377 Share
How to clean AirPods Pro case?
You probably carry your Apple AirPods or AirPods Pro with you almost everywhere you go if you own a pair.
Just in case you have a few minutes to catch up on that new true crime podcast you like, you can easily fit them into your pocket or bag because they're so lightweight.
This implies that the case will also gather dirt, therefore you should clean it periodically.
Here's how to get a clean and clear AirPod Pro case.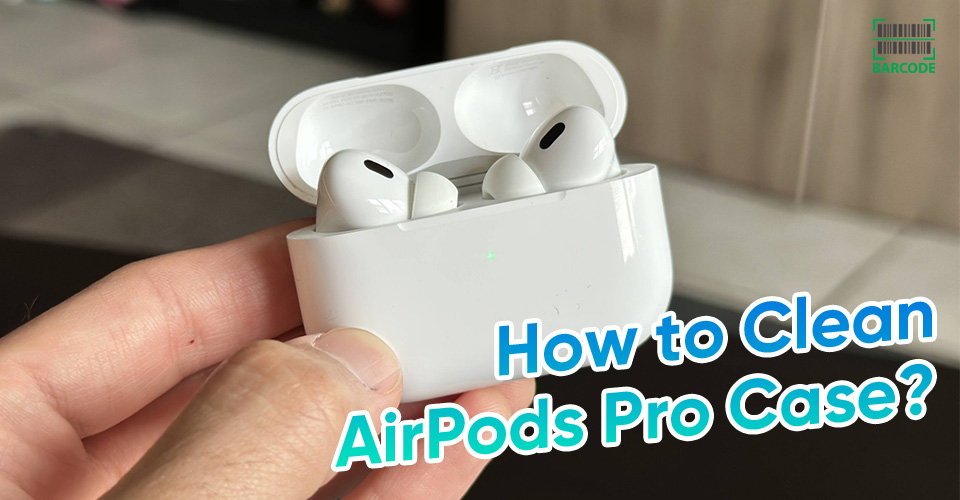 How to clean AirPod Pro case?
What Do You Need to Clean AirPods Pro Case?
For your AirPods, you don't need any specialized tools or cleaning kits. 
All you need are a few simple supplies, which you may already have around the house for various uses. 
The following things are required to have Apple Airpods Pro clear case at home: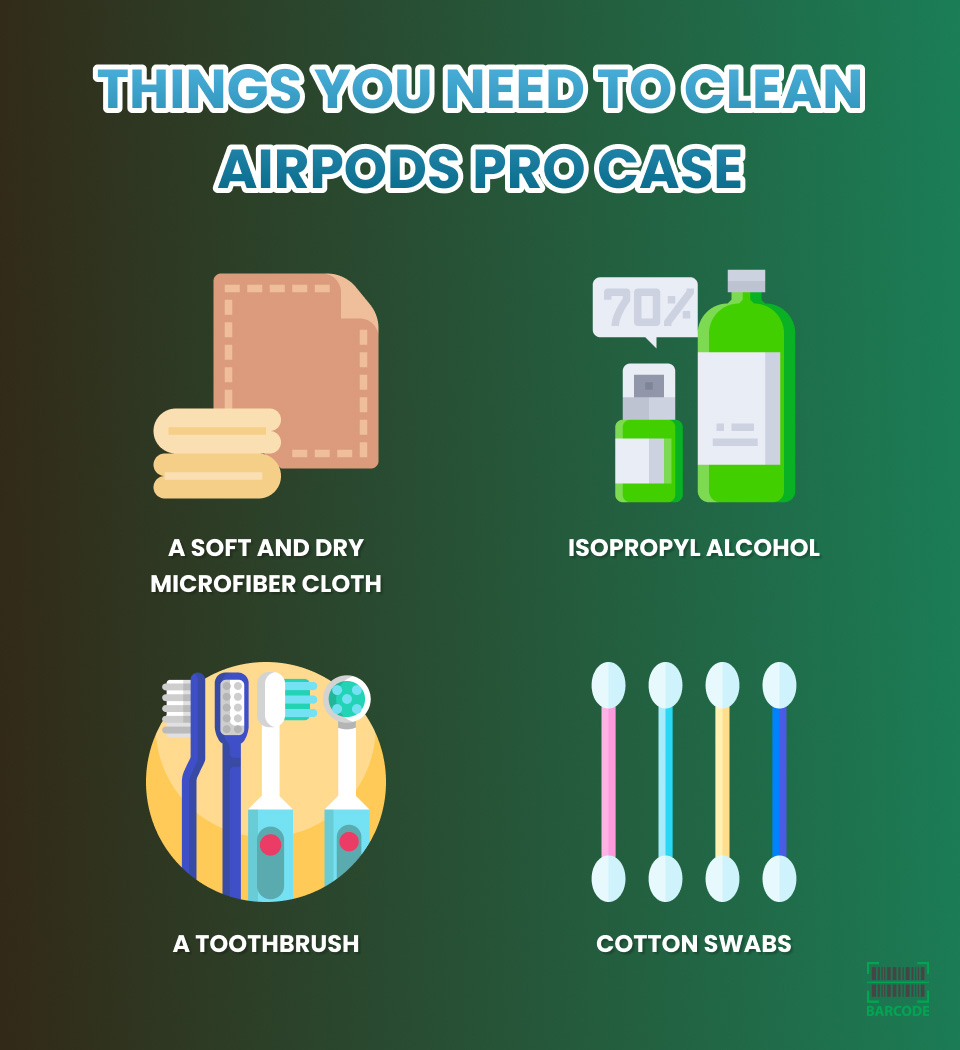 Things you need to clean AirPods Pro case
How to Clean AirPods Pro Case?
Keeping your Apple equipment clean will keep it functioning and looking new.
We'll walk you through how to clean AirPods case correctly here:
Clean the Outside of the Case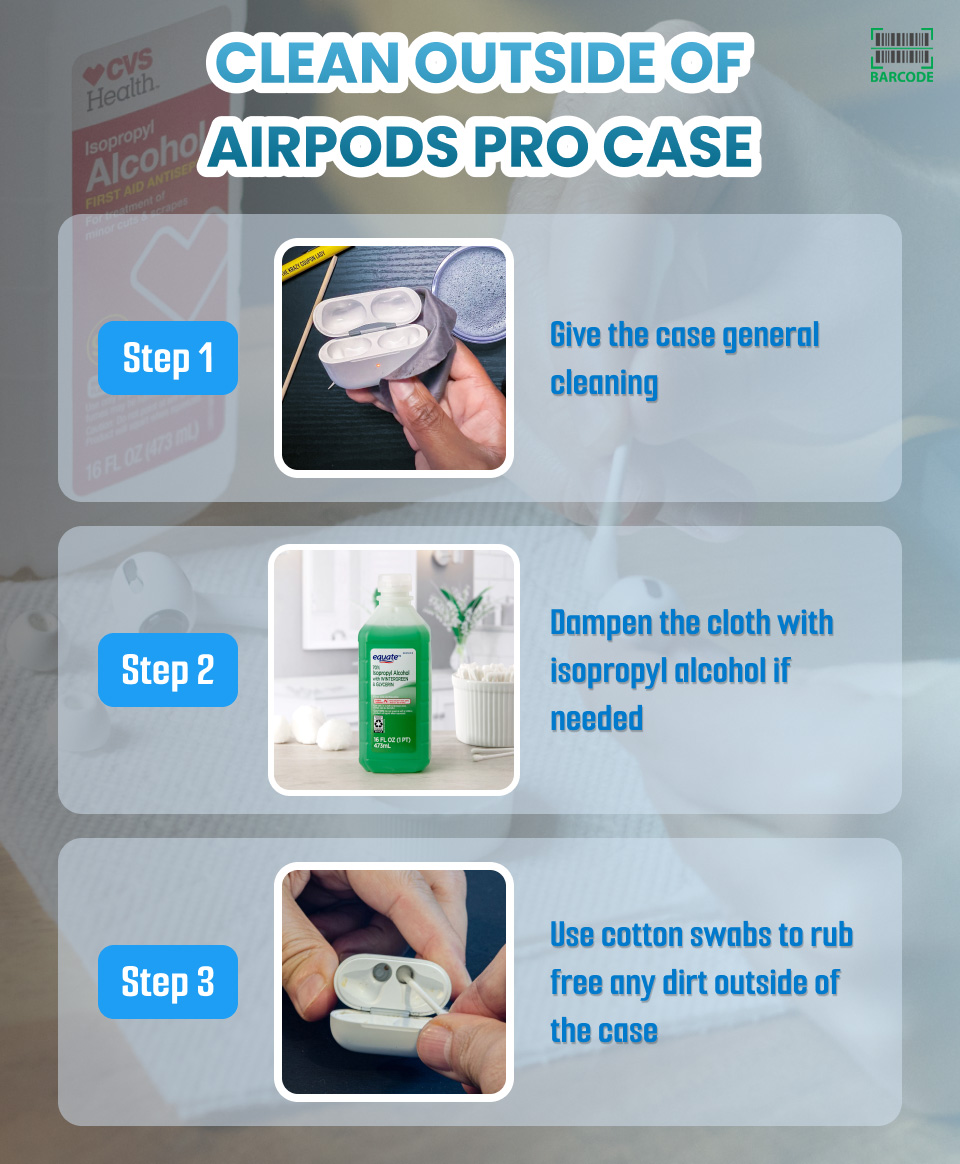 What is the best way to clean AirPod Pro case?
Start by giving the case a general rubdown and quick cleaning with a soft, dry microfiber cloth. 
Remove any easily removed debris, wax, and lint by giving the case's outside a thorough cleaning.
Second, use a tiny bit of isopropyl alcohol to moisten the cloth for dirtier messes. 
Gently rub at the debris and avoid touching the charging port. 
Let the casing completely dry before using.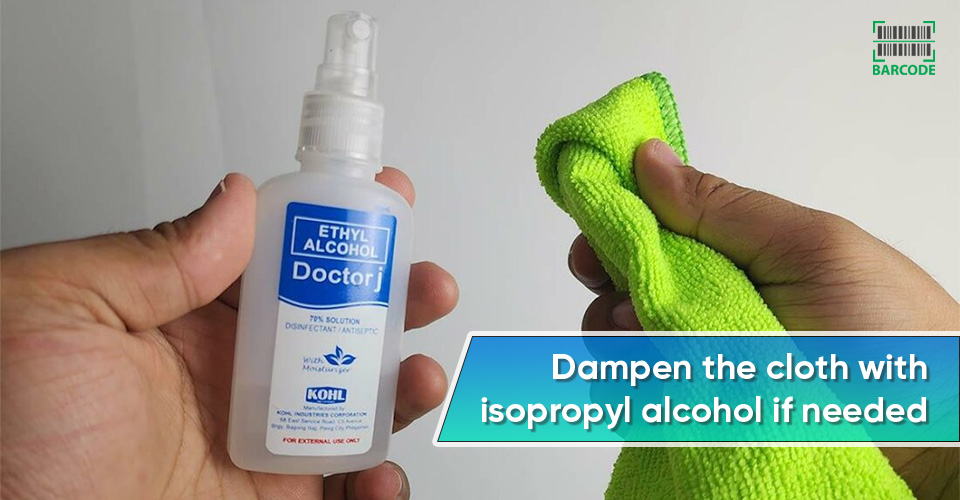 Use isopropyl alcohol for more difficult grime
To remove any remaining dirt from outside the casing, use cotton swabs. It allows you to muscle through the gunk and gain better accuracy. 
Use isopropyl alcohol to moisten the swab if needed to remove wax and hard grime.
Clean the Inside of the Case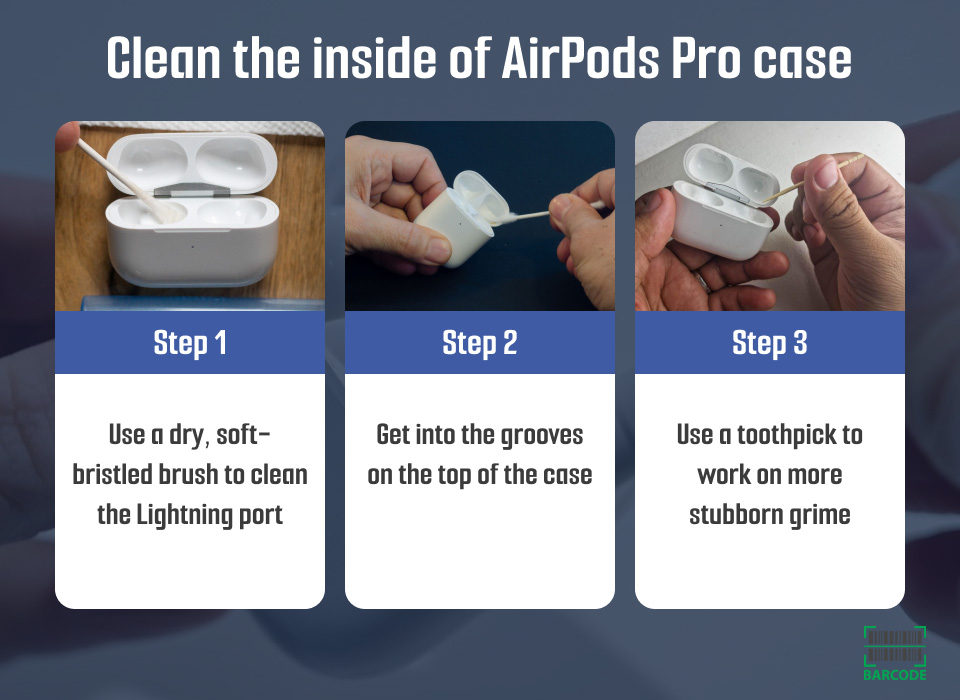 How to clean the inside of the case?
Gently brush the Lightning port with the brush to clean the interior of the case.
Don't apply excessive pressure as this can push debris and wax further into the port.
Next, get into the case's top grooves. You will get the AirPods Pro case clear if you keep these grooves clean. 
When needed, dampen your swab with a small amount of isopropyl alcohol.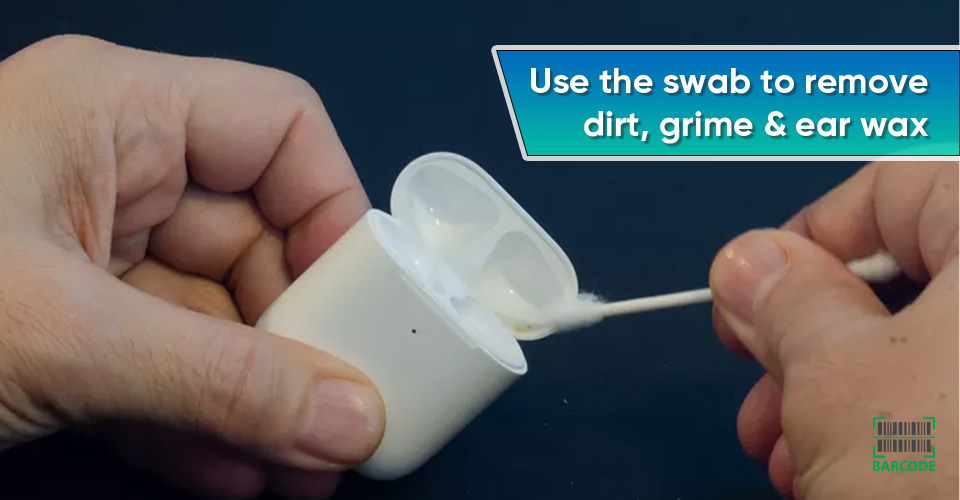 Clear AirPods Pro case with a cotton swab
Since bacteria may really take hold inside the case, use a toothpick to work on dirtier areas.
Cleaning out the fissures and cracks in the case, particularly those near the lid, should be made much easier with the use of a wooden or plastic toothpick.
Work the waxy accumulation away carefully and patiently; do not use excessive force.
Finish the Cleaning
By now, your AirPods case ought to appear nearly brand-new. Applying a fast-finishing polish with a dry microfiber cloth is the final step to clear AirPods Pro 2 case.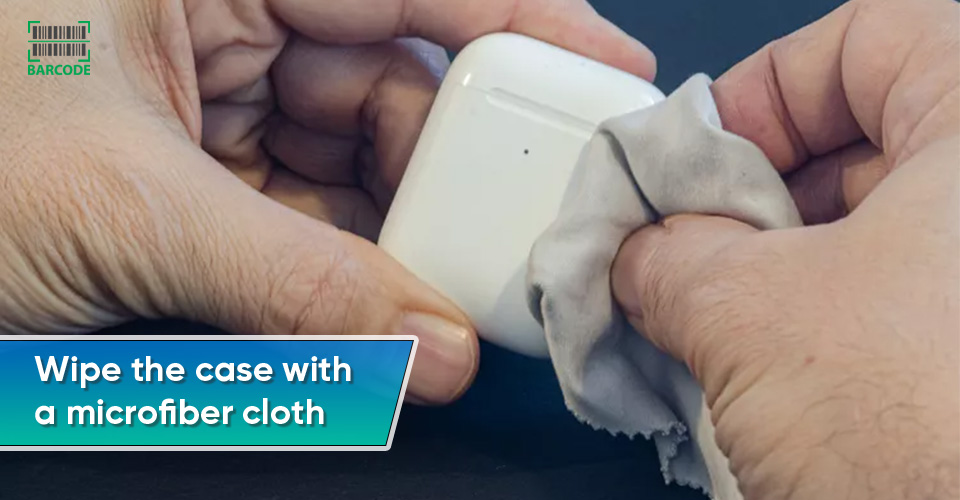 Use a microfiber cloth to thoroughly wipe the case
Give it one last thorough rubdown, being forceful but gentle to finish cleaning the case.
If there is any dirt in the grilles, use a toothbrush to carefully brush it away. 
To remove dried-on wax, dab a small quantity of isopropyl alcohol onto a cotton swab.
However, be careful not to get any of it near the grilles or speaker elements.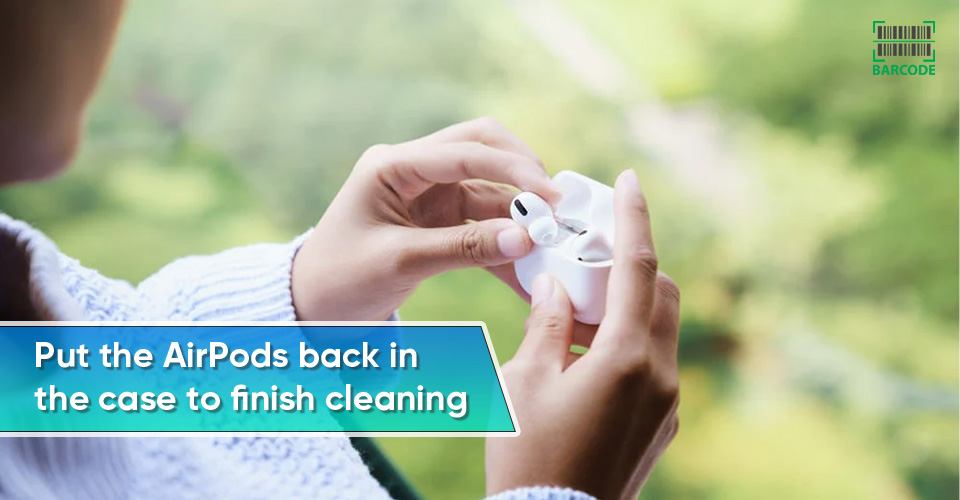 Finish cleaning AirPods Pro case
It's time to put the AirPods back in their charging case. They'll be prepared for their next use.
You can learn more on how to clean AirPods microphone in Barcodelive!
What to Avoid When Cleaning AirPods Pro Case?
Despite knowing how to clean AirPods Pro and case, many customers still damage them for some reason.
As a result, it was imperative to discuss the main AirPods case cleaning no-nos: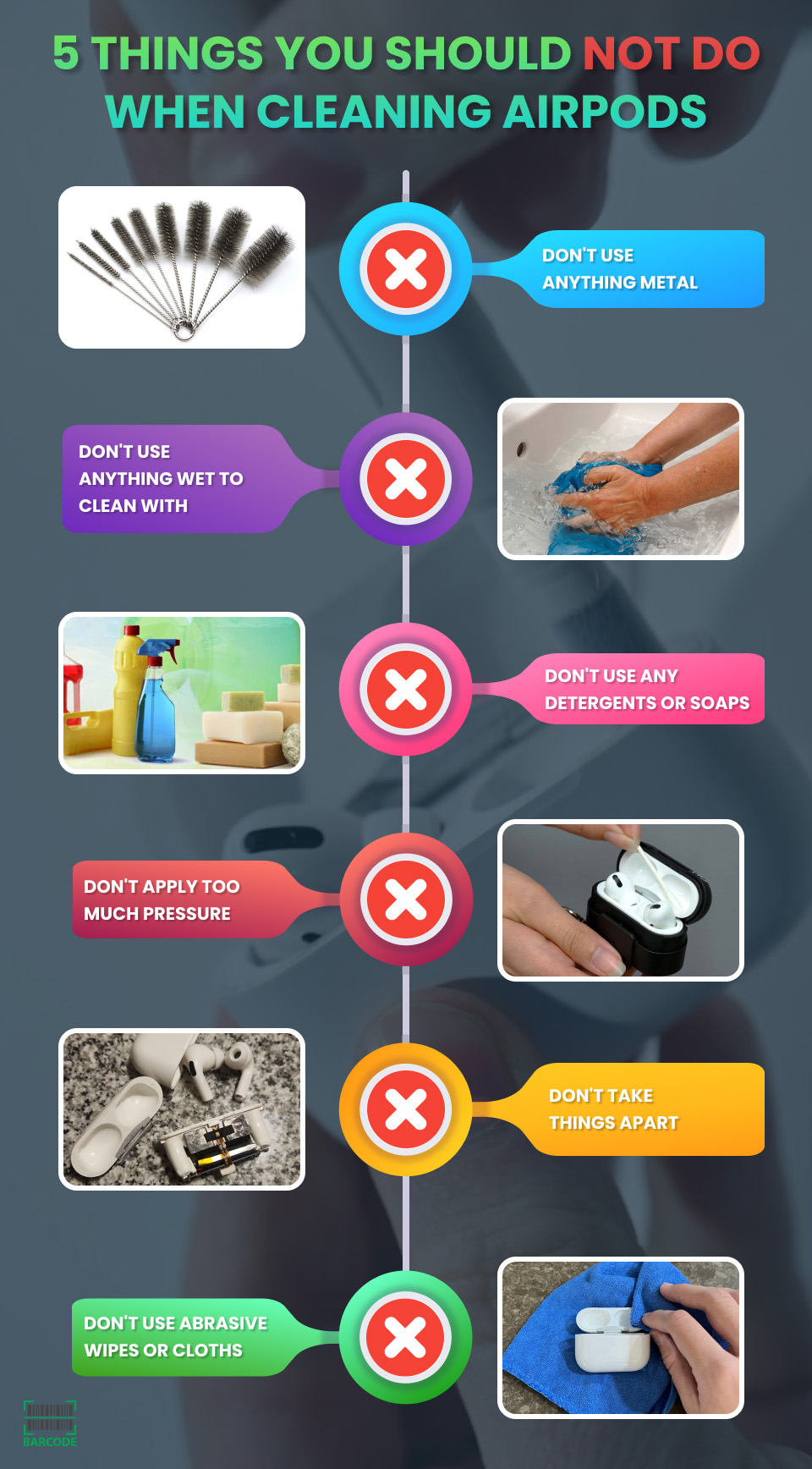 What you should avoid doing while cleaning AirPods Pro case
Don't use anything metal: Using metal could harm the screens inside the earpieces as well as scratch the plastic and other parts
Don't use anything wet to clean with: Technology and moisture don't mix, and AirPods aren't waterproof
Don't use any detergents or soaps: These may erode protective coatings, worsening the state of your accessories

Don't apply too much pressure: With the right equipment and techniques, a lot of elbow grease won't be needed

Don't take things apart: It is not advisable to remove a component unless it is intended to be removed (like silicone covers or other removable parts)

Don't use abrasive wipes or cloths: The surfaces of your AirPods and their case may become damaged if you use washcloths, paper towels, or other materials with a larger texture and absorbency.
Read more: How to clean Airpod Max ear cups?
Frequently Asked Questions (FAQs)
How do I get the black stuff off my AirPod case?
Wipe the charging case with a dry, gentle cloth that is free of lint. If needed, use isopropyl alcohol to mildly moisten the cloth.
Let the charging case dry.
Why is my AirPods case so dirty?
Similar to the AirPods, the case is susceptible to bacterial growth and can be impacted by accumulation of wax or moisture.
What if my AirPods case gets wet?
Use a soft, dry cloth right away to wipe any moisture off your AirPods; microfiber works best since it draws moisture and dries quickly.
You can quicken the drying process by placing your AirPods upside down.
After that, put them somewhere safe to dry for a few days, or longer, based on how wet they were.
Conclusion
Due to their small size and numerous built-in nooks and crannies, cleaning AirPods and their charging cases properly can be difficult and even risky at times. On the other hand, a fast, comprehensive cleaning of your AirPods case will increase the longevity of your device, remove any trapped material, and stop bacterial growth. Thus, we hope that our instructions on how to clean AirPods Pro case will help you maintain the cleanliness and optimal functionality of your earphones!