Best Equalizer Settings For AirPods Pro for the Best Overall Sound Quality
Sep 18, 2023 - Views: 238 Share
Sometimes each song sounds different as your music shuffles due to the overall recording quality and original intent.
So here are the best equalizer settings for AirPods Pro that will provide the best sound for you if you want to attain the best overall sound quality without wasting time navigating the Apple settings!
Let's dive into the details!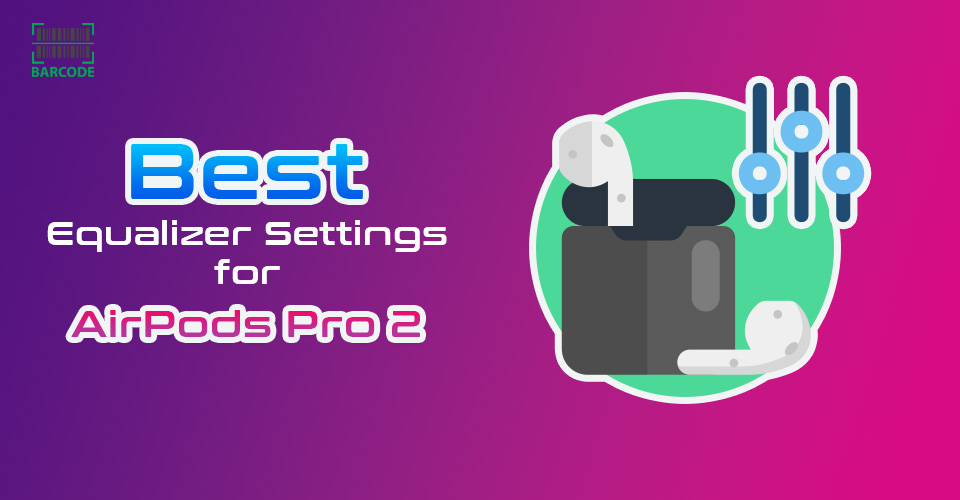 Best equalizer for AirPods Pro
Best Equalizer Settings For AirPods Pro
AirPods Pro is among the best AirPods available with excellent audio quality, which is partly due to its equalizers.
Since every set of earbuds is different, there isn't a gold standard for equalizers on them. 
Some adjustments may sound fine to you, but others may complain that the treble is too low or that the bass is too strong.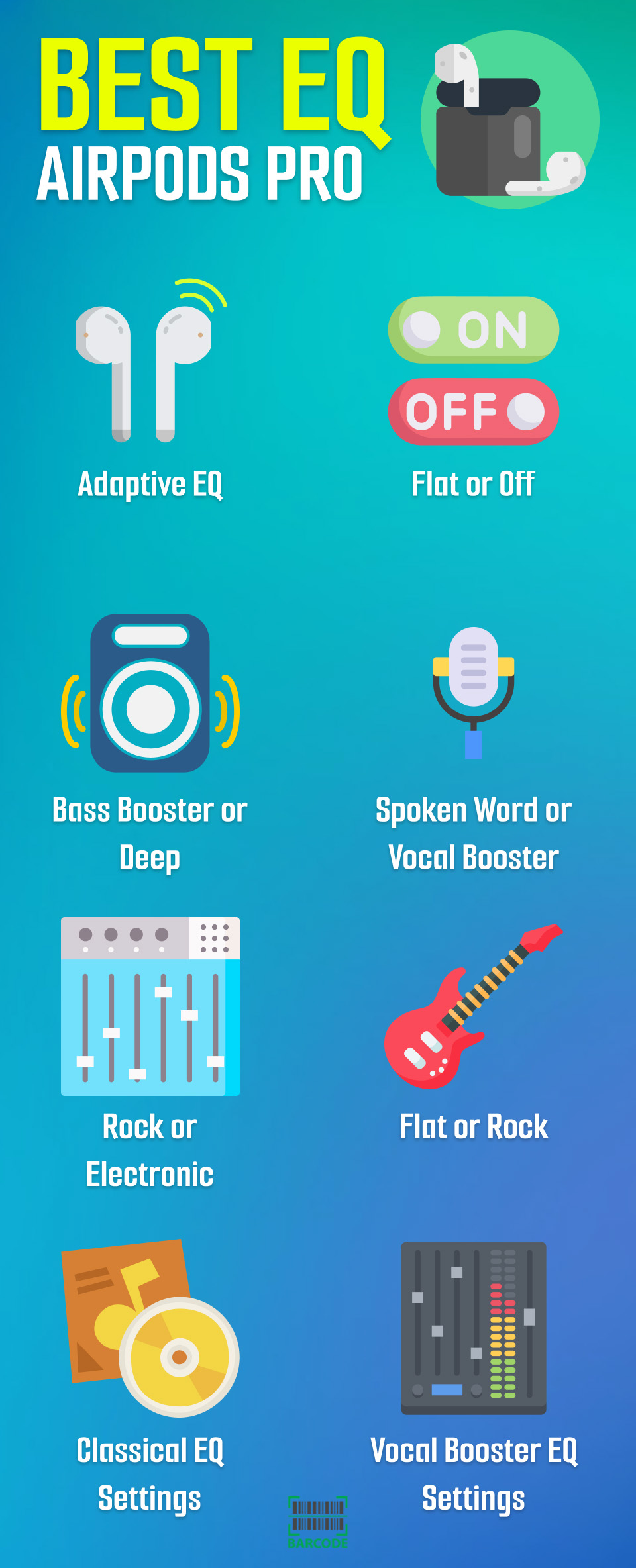 A list of the best Spotify settings for AirPods Pro
Having said that, our guide on the best EQ settings for AirPods Pro acts as a go-between to determine which default works exceptionally well for many people. 
You are welcome to further customize your experience using the EQ settings on your device or the music streaming service.
Adaptive EQ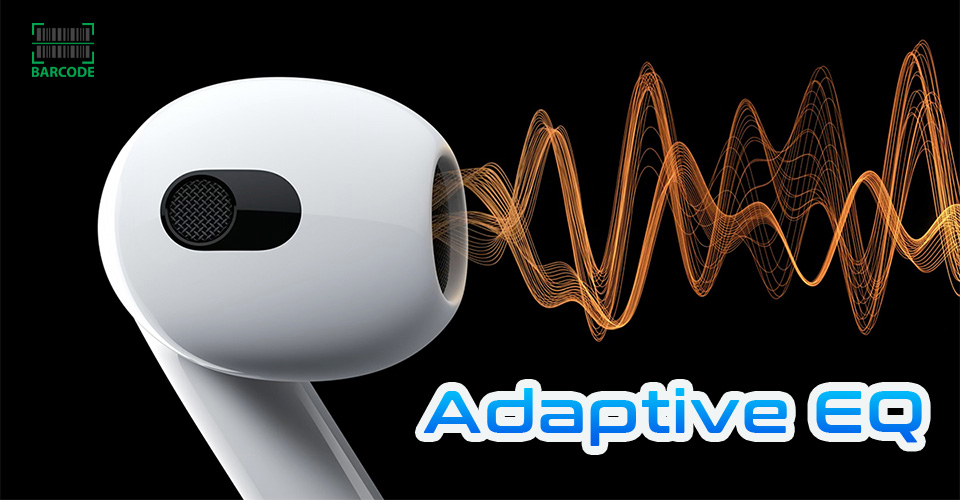 Adaptive EQ is among the best AirPod Pro settings for music
For a more individualized listening experience, you might want to employ adaptive EQ, which is the best equalizer setting for general purposes.
If you let the AirPods do their adaptive EQ magic, you probably won't need to adjust or activate EQ in your device's or streaming app's settings. 
This should provide excellent sound for nearly any material or media you'd listen to when Noise Cancellation is disabled.
Flat or Off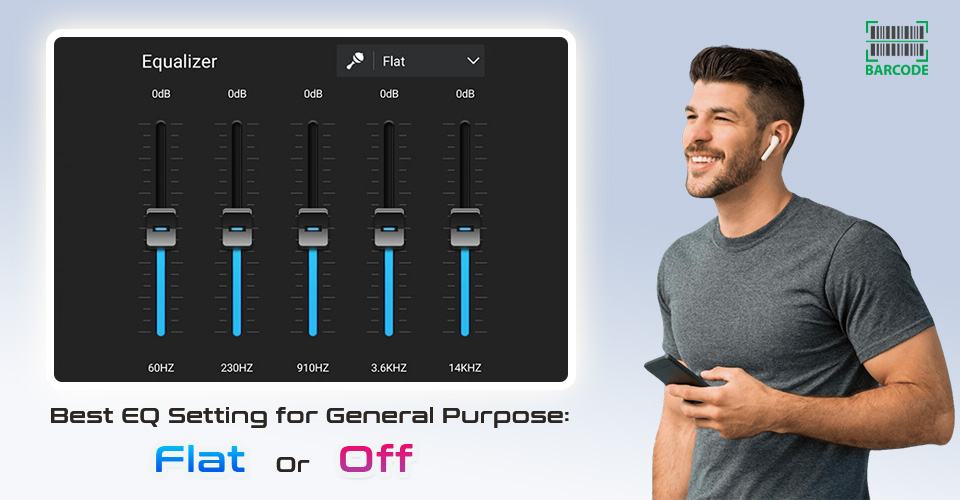 Flat equalizer setting
The bass, midrange, and treble of your AirPods device are all level on the zero range when the Flat equalizer setting, one of the best sound settings for AirPods Pro, is used. 
The real sound and tuning of your AirPods will be audible while you're listening to music, watching YouTube videos, or playing games.
When you initially set up your AirPods, the EQ setting will be set to "off." 
To enable it or select a preset option, navigate to Settings on your device > Music > EQ.
Bass Booster or Deep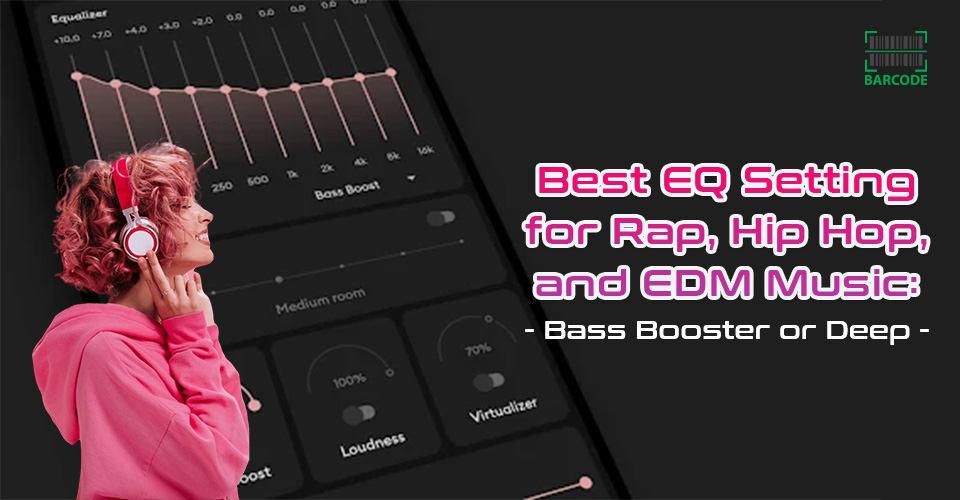 Bass Booster equalizer
You'll want the bass running point and center with Hip Hop, rap, and EDM music. 
If your favorite rap or dance song is being backed with thunderous bass, all's right with the world.
Whereas Bass Booster significantly improves bass, Deep simultaneously increases bass and somewhat reduces treble.
Spoken Word or Vocal Booster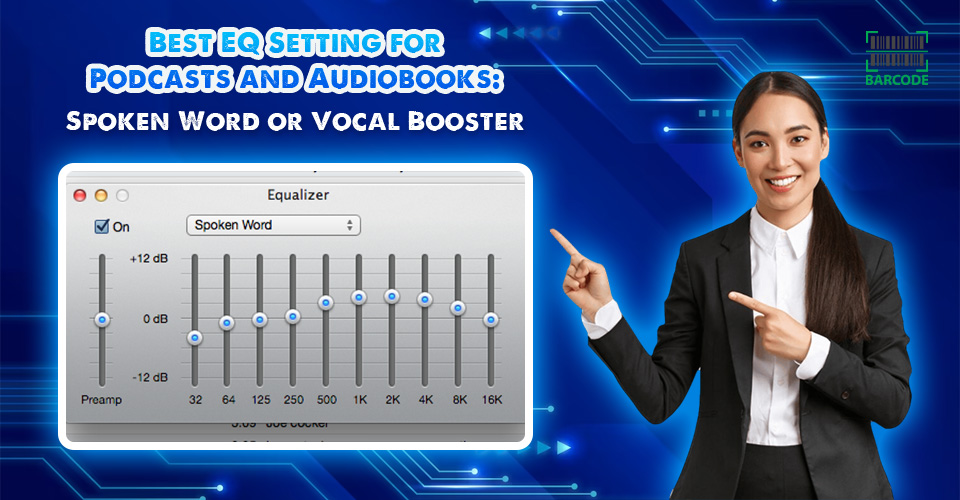 Spoken Word equalizer
When listening to audiobooks or podcasts, any EQ setting with mid-cranked up should be sufficient because the voice is mostly located in the mid-range.
Set your AirPods' equalizer to Spoken Word or Vocal Booster to completely block out any background noise. 
Additionally, you can turn on Noise Cancellation to totally shut out outside noises while you are absorbed in the content.
Rock or Electronic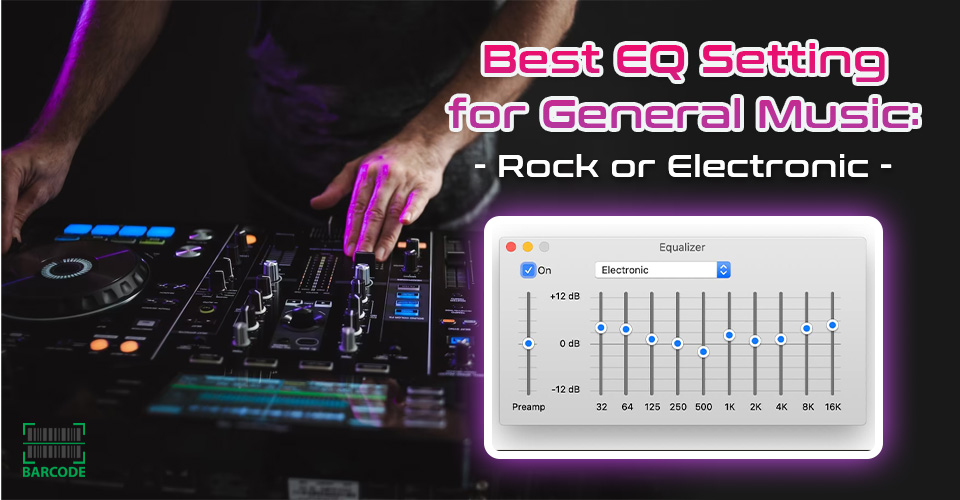 Electronic equalizer setting
Setting your EQ to Rock or Electronic is recommended for people who enjoy listening to music from different genres. 
You won't need to modify it each time you listen to a different music or flip between tracks using it. 
The benefit of rock is that it slightly boosts all frequencies without muddying any of them. 
Bass and treble receive a slight nod, while the midrange remains where it is.
Flat or Rock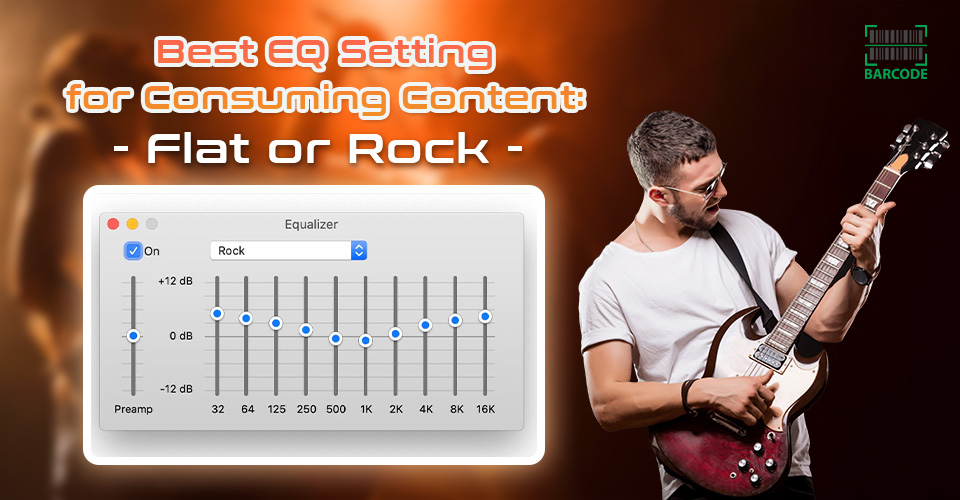 Rock equalizer setting
Sometimes, you may use your AirPods solely to access Netflix, Apple TV+, or Disney+ to stream movies and TV shows. 
Alternatively, you may spend all day on websites like YouTube or TikTok and require an AirPods setting that is appropriate for that sort of activity.
You won't miss out on any specific audio cues when using Rock or Flat as your EQ, and dialogues and background music have a depth of clarity. 
Or you may disable EQ and let the hardware handle everything.
Classical EQ Settings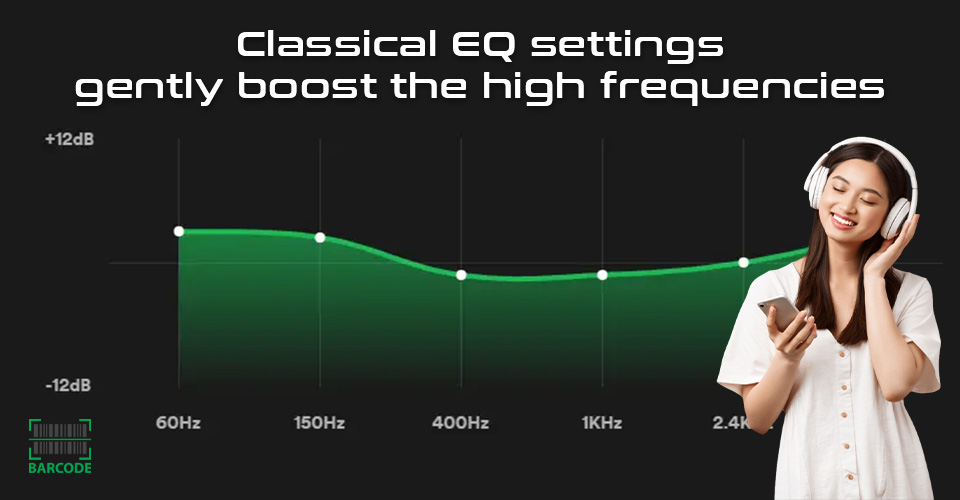 Classical EQ settings
Another best Spotify equalizer settings AirPods Pro is classical EQ settings.
For the listener to have a satisfying experience, the vast range of frequencies in classical music must be balanced. 
Luckily, using the Classical EQ settings, the bass frequencies are balanced while the high frequencies are subtly enhanced for a brighter sound.
Vocal Booster EQ Settings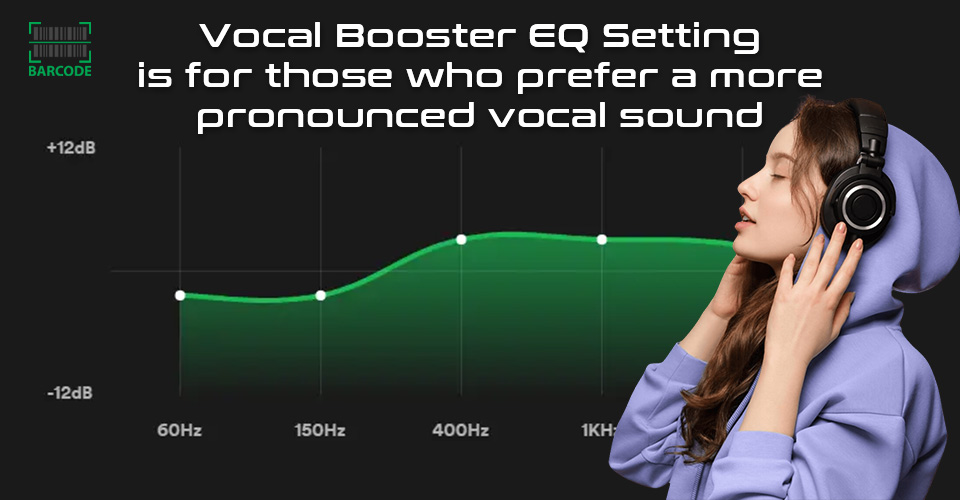 Vocal Booster EQ settings
For those who desire a more prominent voice sound, the voice Booster EQ Setting is advised. 
The setting boosts mid-range frequencies to highlight the voices while keeping the background music in the background.
How To Get Best Sound From AirPods Pro When Using Equalizer Settings?
There are some ways to improve the sound quality while using AirPods Pro best sound settings.
Have a look!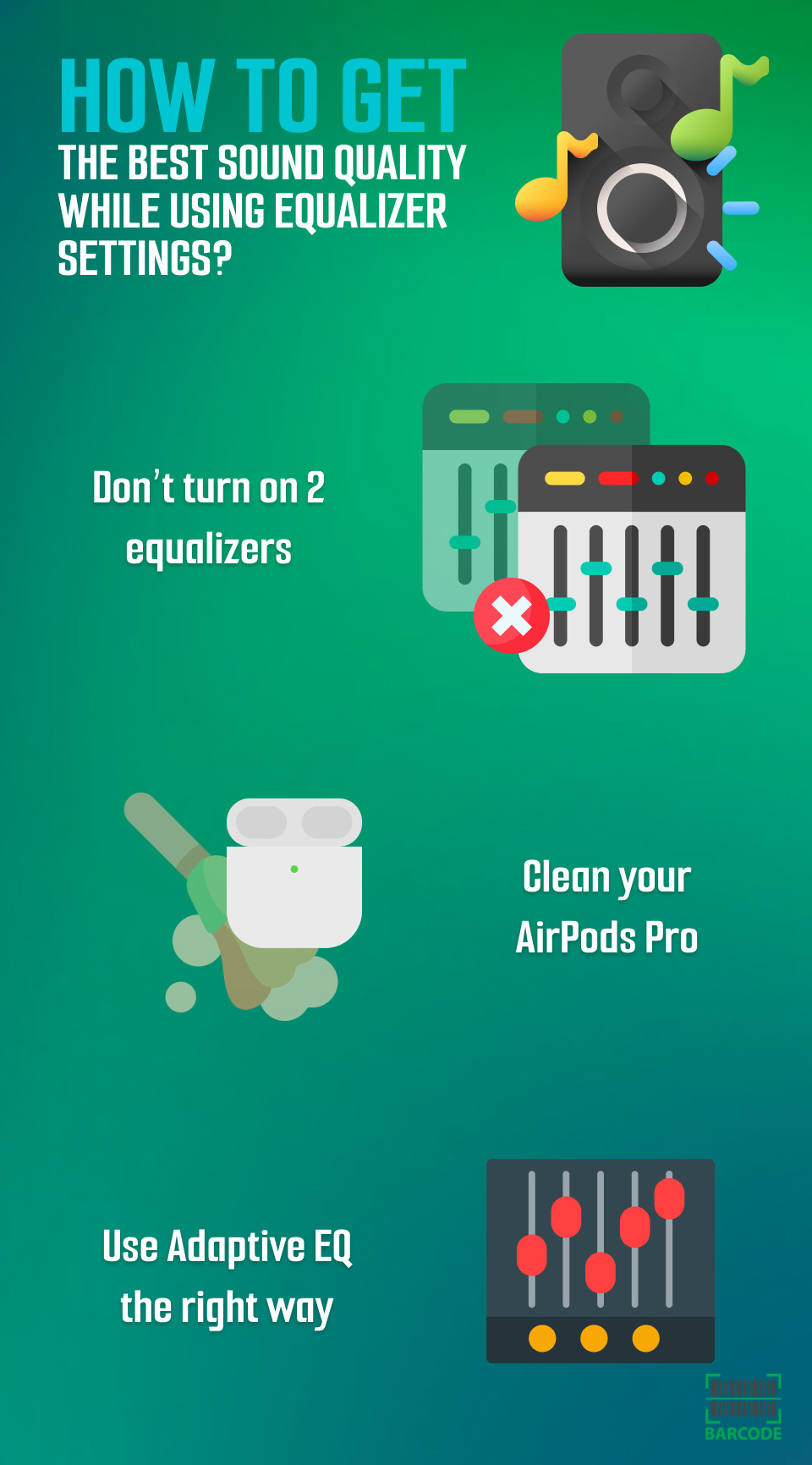 Tips to get the best sound quality
Don't turn on 2 equalizers
The music may sound excessively muddy and distorted at a certain point, regardless of the preset, and no best EQ AirPods Pro adjustment will help.
So, disabling the equalizer on your smartphone or the streaming music app of your choice is the first thing you should do.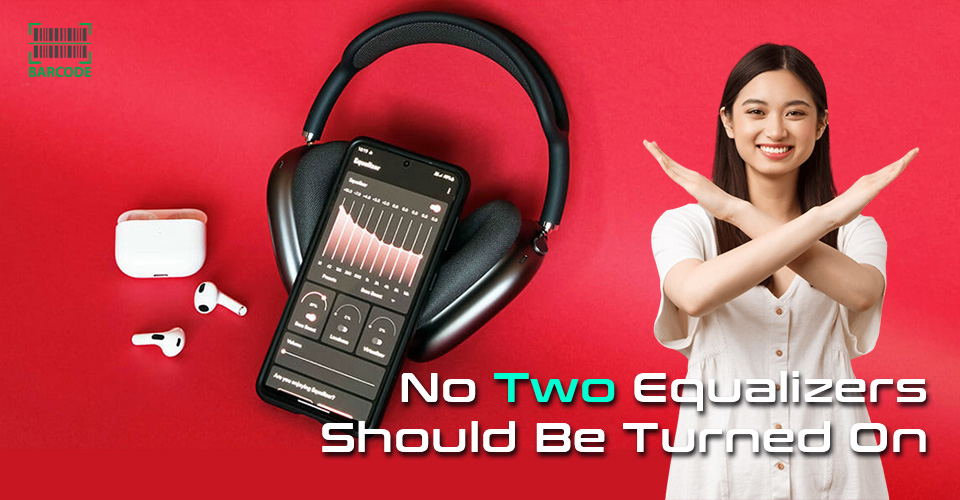 Don't turn on 2 equalizers
In case it doesn't work, you may want to try another sound enhancement option on the device or streaming app. 
Usually, you may find them in the accessibility options or in the settings part of the device. 
Look around and turn any necessary buttons "off" or disabled.
Clean your AirPods
Your AirPods Pro will frequently require cleaning and maintenance, just like any other audio gear.
Use a Q-tip or cotton ball to clean the earbuds' speakers of wax buildup and dirt. 
Alternatively, you may use cleaning tools made for them, like the best AirPod cleaning kit.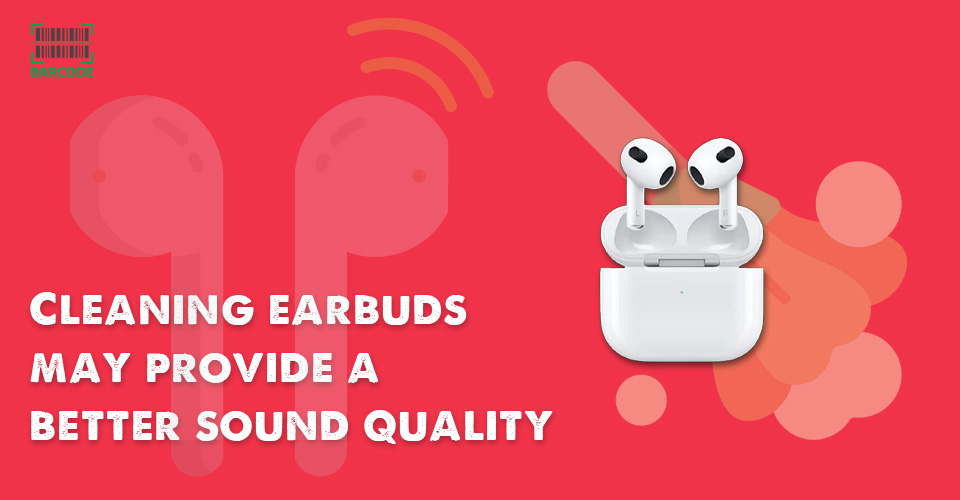 Clean your earbuds frequently
Be mindful of the speaker openings, and only use clean water that won't leak into the earphones.
A soft toothbrush or cotton swabs can be used to clean the inside of the case after washing the outside with a clean microfiber cloth.
Use Adaptive EQ the right way
Here are some steps you may take to stabilize the process if you discover that Adaptive EQ triggers more frequently than you'd like.
The microphone in the AirPods or AirPods Pro largely modifies the sound by altering the frequency in accordance with the shape of your ear and the degree of leakage. 
So, to ensure a secure fit, place your AirPods first and let them rest there for around 15 minutes.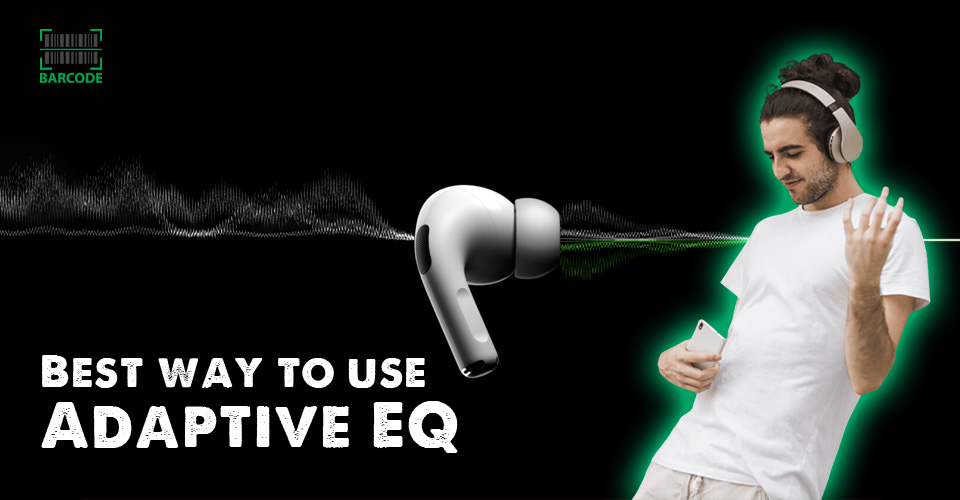 Use Adaptive EQ the right way
If you actually need to listen to the outside world within the allotted 15 minutes, it is preferable to turn on Transparency Mode rather than take the AirPods out of your ear.
Otherwise, the earbuds will automatically tune once more, distorting the music. 
The secret to amazing music on the AirPods is consistency.
How To Enable Equalizer In Spotify?
You simply need the Spotify app and an active Spotify account to enable the Spotify EQ. Let's then make your music sing.
Step 1: Launch the Spotify app and open the Settings window. Choose your profile icon in the desktop app, and then select Settings in the pop-up menu that appears.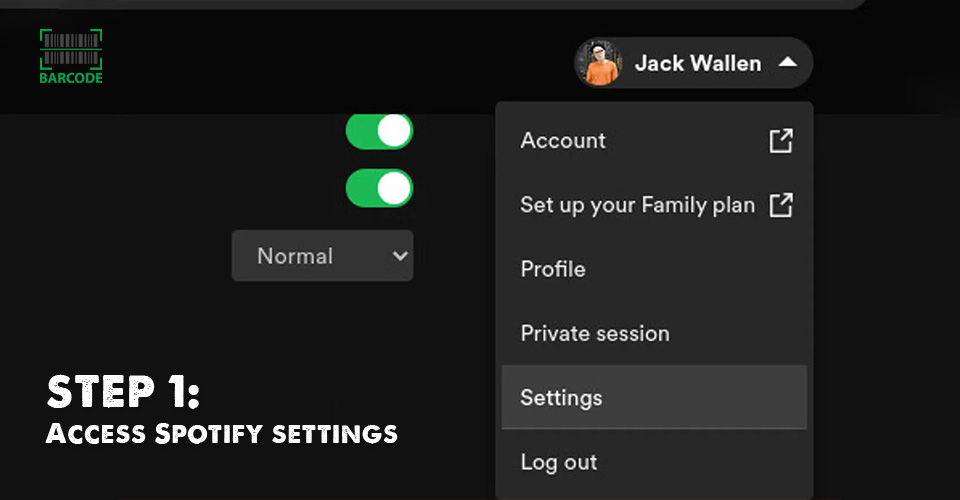 Access Spotify settings via the profile menu
Step 2: Go to Settings and find the Playback section. There, you'll see the Equalizer entry. Click the On/Off slider if it is not already in the On position.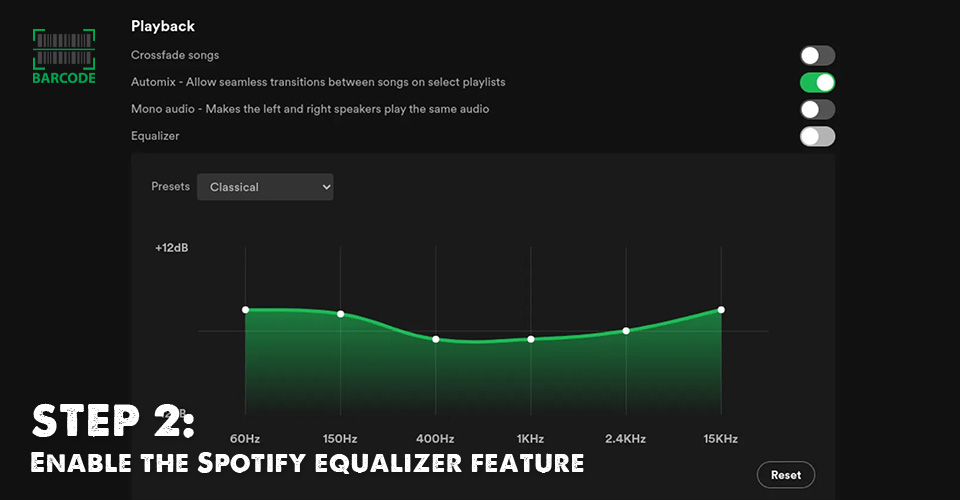 Enable the Spotify equalizer feature
Step 3: After turning on the Equalizer, you may choose from a variety of presets or make custom adjustments by selecting one of the band dots and moving it up or down.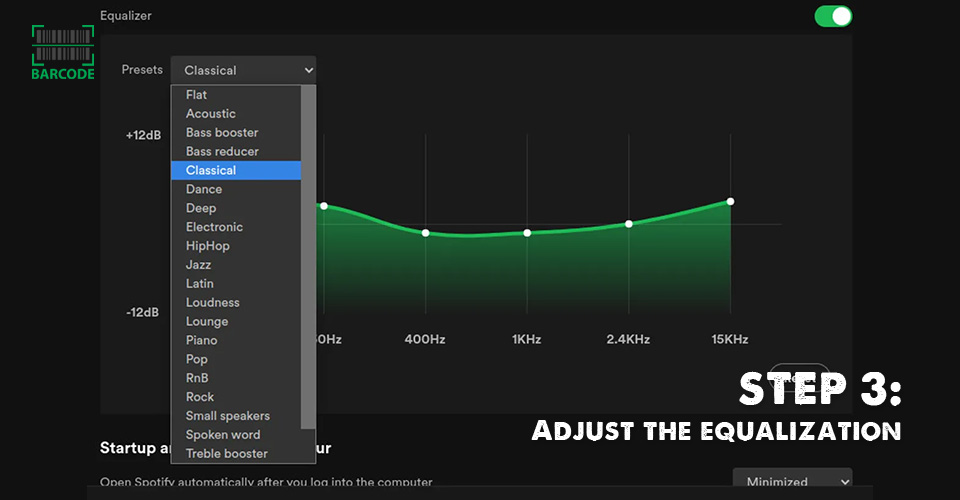 Adjust the equalization
Note that the EQ is per instance. 
It means that if you use Spotify on both your phone and desktop, changing the EQ on your desktop will not change the EQ on your phone. 
You must make such modifications on each device.
After getting the best equalizer settings for AirPods Pro, check out today's best deals of Apple earbuds to enjoy the best sound quality:
Apple AirPods Pro (2nd Generation)

Amazon Prime

$249.00

 $219.00

Apple AirPods (2nd Generation) Wireless Earbuds (best deal)

Amazon Prime

$129.00

$99.00

Apple AirPods (3rd Generation)

Amazon Prime

$169.00

$159.00

Apple AirPods Max Wireless Over-Ear Headphones

Amazon Prime

$549.00

$479.00

Apple EarPods Headphones with 3.5mm Plug

Amazon Prime

$30.00

$16.99
Read more: Best features of AirPods Pro 2
Frequently Asked Questions (FAQs)
How to find Apple Music's EQ?
How to find Apple Music's EQ?
It's simple to find the best Apple Music settings for AirPods Pro. All you have to do is adhere to these instructions:
Open Settings on your iPhone

Scroll down and select Music

Scroll to EQ and tap it

Now, you will see a list of Apple Music EQ to choose from
What caused the muffled sound on my AirPods?
The most frequent reason for muffled AirPods is that they are dirty.
An accumulation of muck clogging up the earpiece is an example of how to receive muted audio, whether it be earwax, dirt, dust, or anything else that has made its way onto the AirPods' speakers.
What are the best Spotify EQ settings for AirPods Pro?
Many users consider Bass Booster as one of the best Spotify equalizer settings for AirPods Pro.
However, you may manually change the EQ by sliding the sliders at the top of the screen.
Final Words
The equalizer settings on the AirPods Pro are not universal. Instead, the best equalizer settings for AirPods Pro will vary depending on your preferences and the genre you are listening to, but the aforementioned tips should be helpful!