Can I Wear AirPods Pro While Sleeping? Pros & Cons You Should Know
Oct 11, 2023 - Views: 768 Share
"Can I wear AirPods Pro while sleeping?"
Given that these earphones are wireless and pleasant, this is a common question.
Well, if you decide to do this, there are some hazards involved.
So we'll discuss the advantages and disadvantages of using AirPods while you sleep in this article so you can decide if you want to do it permanently.
Let's get started!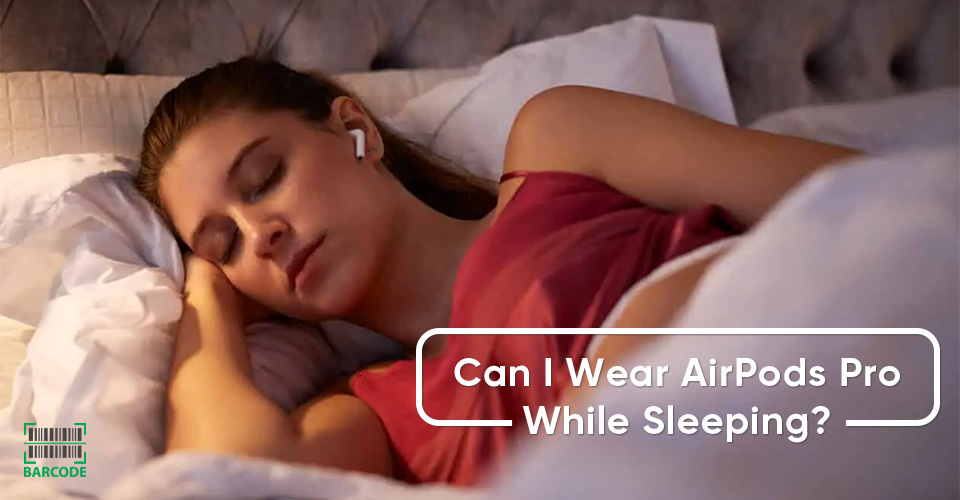 Can I wear AirPods while sleeping?
Some Risks When Wearing AirPods Pro While Sleeping
Remember that most of the potential dangers associated with wearing AirPods to sleep are minor.
The chances of anything going wrong are small unless you use them frequently.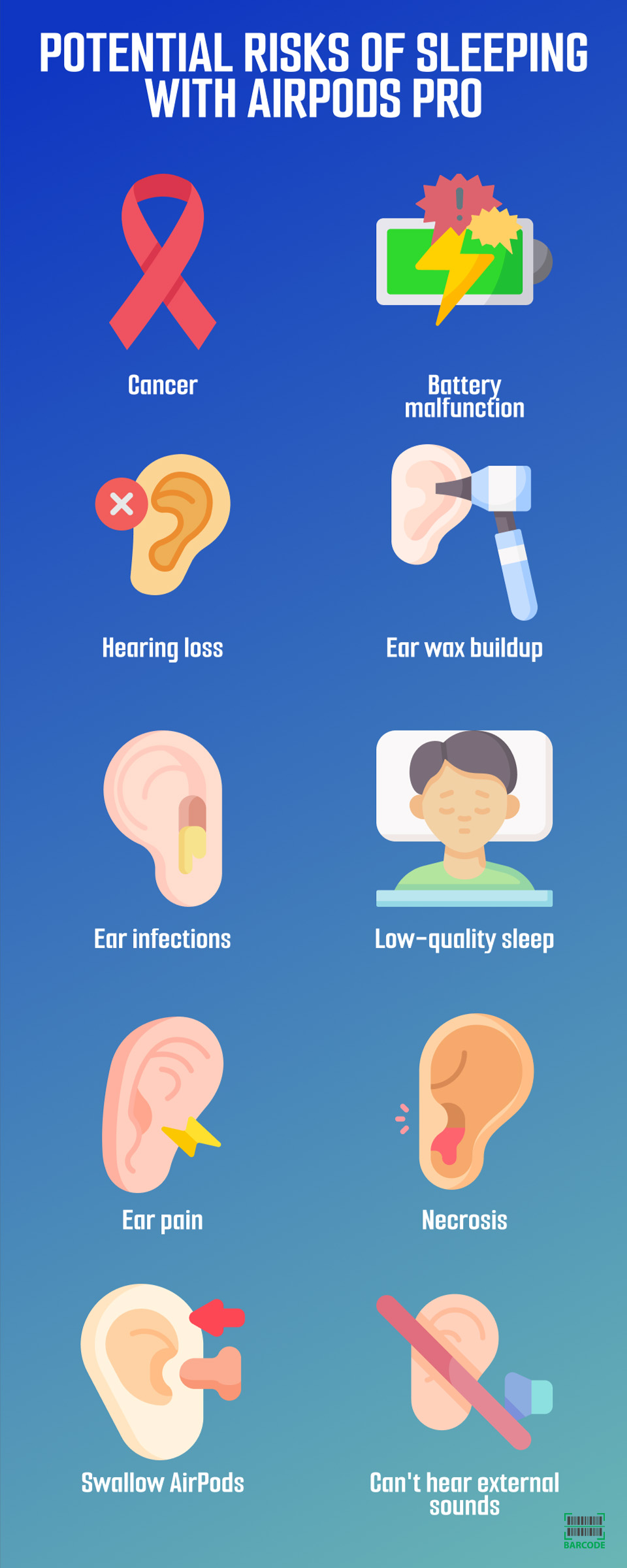 Dangers of sleeping with AirPods Pro
Cancer 
One of the main worries is that wearing AirPods Pro to sleep may make you more susceptible to cancer. 
This results from AirPods' usage of Bluetooth radiation to connect with iPhones and iPads.
Even though there haven't been any studies that show a clear connection between prolonged radiation exposure and an elevated risk of cancer, it's still something to think about, especially if you use AirPods all day long.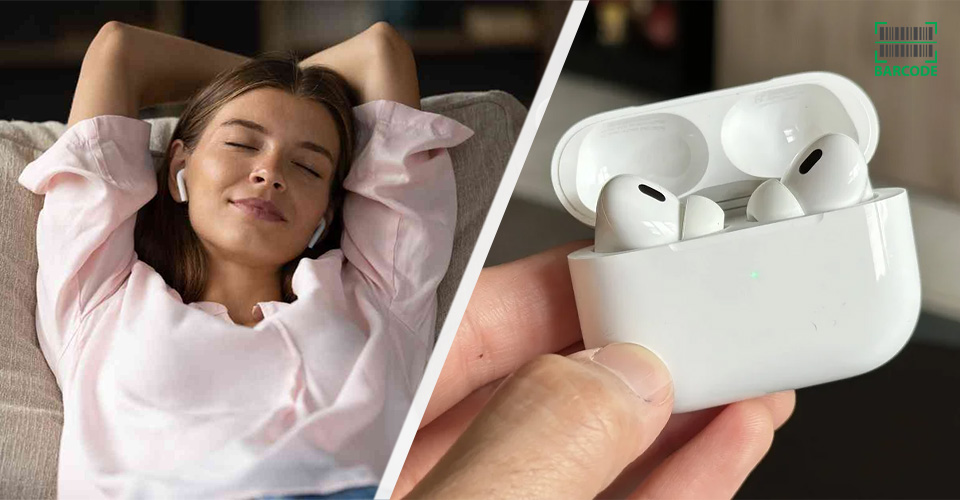 Wearing AirPods Pro to sleep may be associated with cancer
Wireless gadgets like laptops, smartphones, and tablets are also subject to radiation. 
Thus, consider investing in a pair of wired earbuds if radiation anxiety is keeping you up at night, and minimize how much time you use them throughout the day.
Battery malfunction
Lithium-ion batteries, which power AirPods, are prone to malfunction, particularly when charged or depleted too quickly.
Watching your AirPods' battery levels and charges is crucial since a broken battery could leak its contents and cause a fire.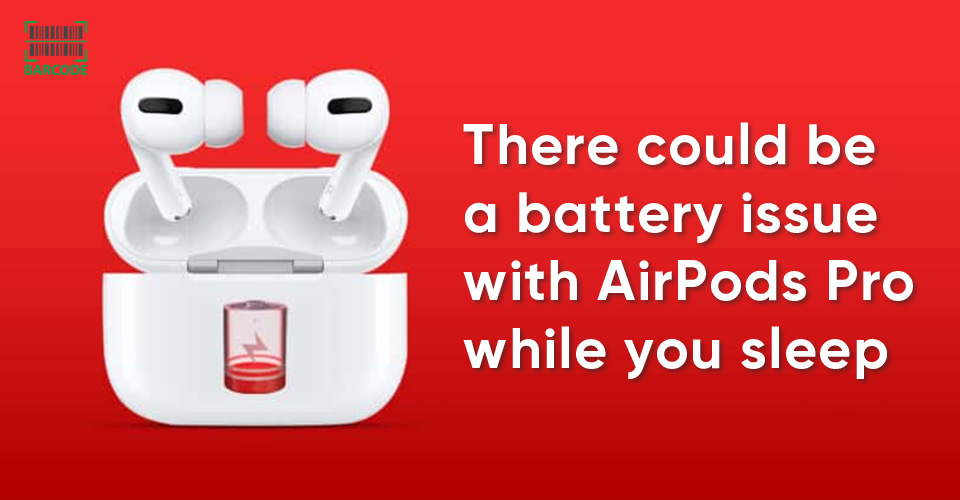 Be careful of battery malfunction
It's possible that you won't be able to tell when something happens if wearing AirPods while sleeping.
Batteries might swell at other times, so you had better keep them in a cold, dry environment.
Hearing loss
Volume level is among the most important elements in hearing loss! 
Since AirPods include an internal limiter that restricts their maximum output to about 85 dB, they are unlikely to create any issues unless you continuously listen to them at or near maximum volume.
It is not advised at all to fall asleep with levels above that.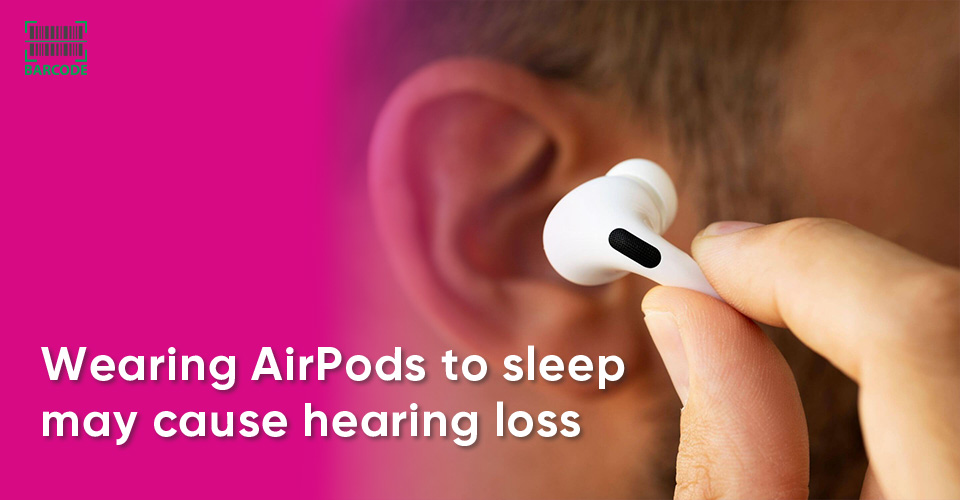 Sleeping with AirPods on may harm your hearing
Therefore, set the volume to 50% or lower if you wish to listen safely. 
The reduced level won't bother your ears because you won't have noise difficulties at night.
Besides, try setting your phone up to cease playing music after a specified period to avoid being exposed to loud music right before bed.
Ear wax buildup
The increased ear wax buildup caused by wearing AirPods to sleep is another concern as well.
This occurs as a result of the AirPods' inability to keep your ears clean while you sleep.
If you already have a lot of ear wax, sleeping with AirPods could make the condition worse.
A helpful tip is to clean your ears thoroughly before going to bed and keep your AirPods clean if you still want to use them.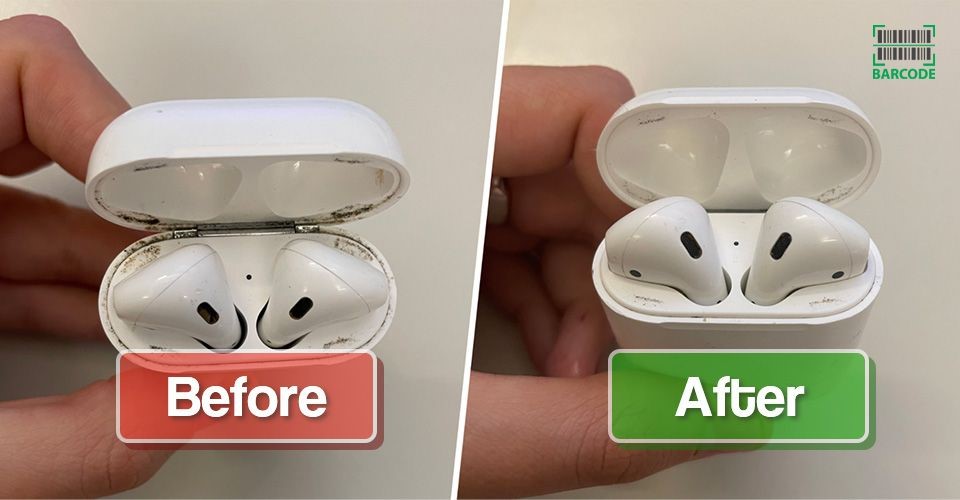 Always keep your AirPods clean
Ear infections
Is it okay to wear AirPods while sleeping? 
Yes, but unless you clean your ears or AirPods frequently enough, you could get an ear infection!
This is particularly true for those who already have immune system issues like asthma and allergies. 
Even if it might not occur while you're asleep, it's still something to think about.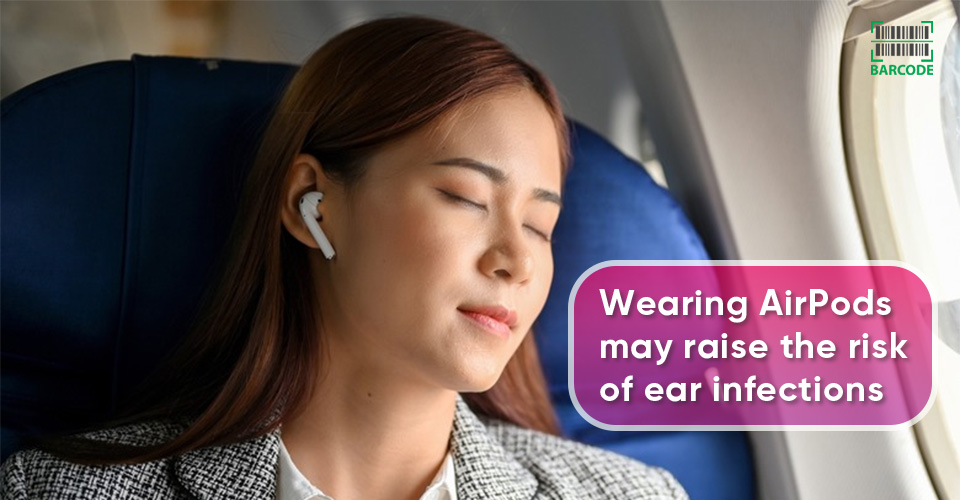 You may get ear infections due to wearing AirPods
Regular hand washing will aid in lowering both the likelihood of this happening and associated health problems.
You might also want to be cautious about ear infections if you live in a humid or warm environment as bacteria are more prone to proliferate under such conditions.
Ear pain
When AirPods are in your ears for an extended time, they will feel like they are pressing against one side of your head.
If you're not careful, this could make you feel uncomfortable or perhaps result in severe headaches. 
This is even more probable if you sleep on your side as the earbud will be pressed up against your pillow.
Don't wear AirPods if you feel painful
You can try moving them around to see if it solves the issue! 
Use a different technique to listen to music or audiobooks before bed if that doesn't work. 
Even when you're sleeping with AirPods, you'll still get a nice night's sleep without any discomfort!
Necrosis
Necrosis is the organ-specific death of skin cells brought on by injury or disease.
It may occur due to the intense, long-lasting pressure that continuous earbud use induces.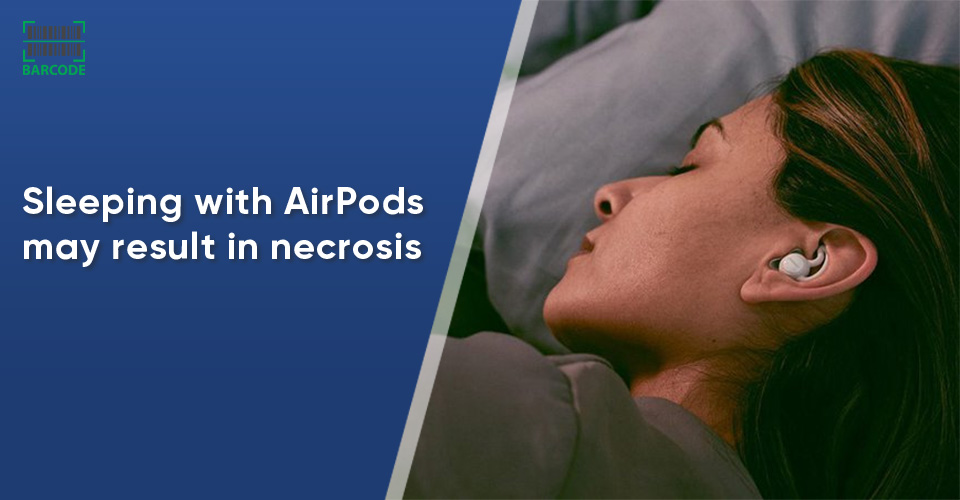 Wearing AirPods during sleeping may cause necrosis
Earbuds that exert pressure on and rub against the skin inside of the ears will trigger those skin cells to die way too quickly, which might make your ears sore after prolonged use.
And the generation and promotion of healing won't be possible with fresh skin cells.
Low-quality sleep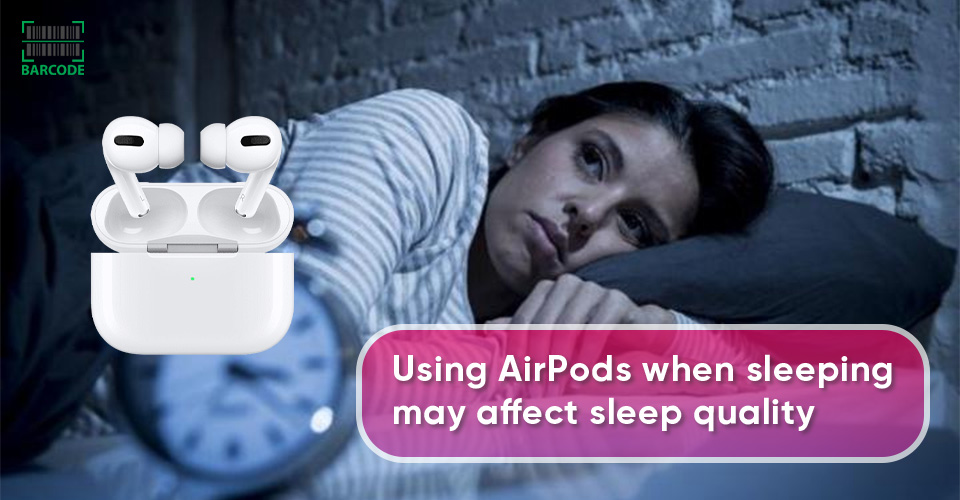 The quality of your sleep could be impacted by using AirPods
Is it bad to wear AirPods to sleep? - Yes, to some extent. 
This practice may lead to poor sleep, which occurs when you listen to loud noises before night, which includes AirPods! 
And it can have an impact on how you live your daily life.
So, stop using them before bed if you find that you wake up feeling drowsy and fatigued.
Others risks
Swallow AirPods: Because they are so small, AirPods Pro could come out of your ears while you sleep, particularly if you move around a lot at night. 

Can't hear external sounds: You won't be able to hear anything around you if you wear AirPods while you sleep, which might be awful in an emergency.
Read more: Can you wear AirPods while driving?
Advantages of Wearing AirPods Pro While Sleeping
Now that we have covered all of the potential hazards of using AirPods while you sleep.
But like everything else, sleeping while wearing AirPods has both pros and cons.
Is it safe to wear AirPods while sleeping? The following are some benefits of sleeping with AirPods.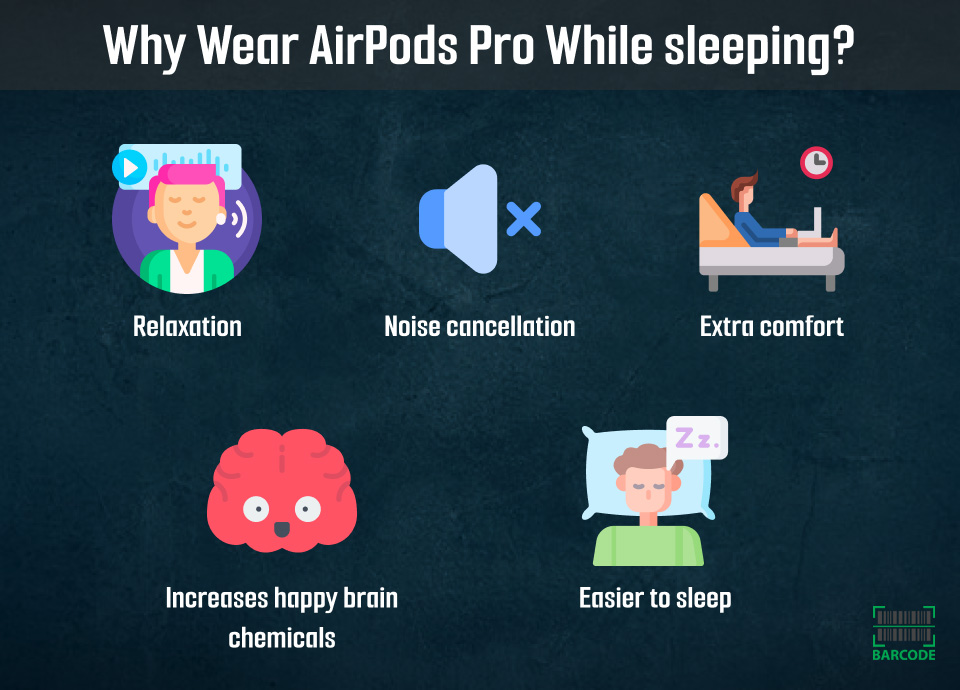 Benefits of sleeping with AirPods Pro in
Relaxation
Listening to their favorite podcasts, tunes, or audiobooks before bed is calming and relaxing for some people. 
By reducing outside noise, it can make it easier for you to go to sleep and stay asleep.
Listening to white noise or ambient noises is a popular alternative. 
This may be a fantastic method for unwinding and falling asleep without interruptions.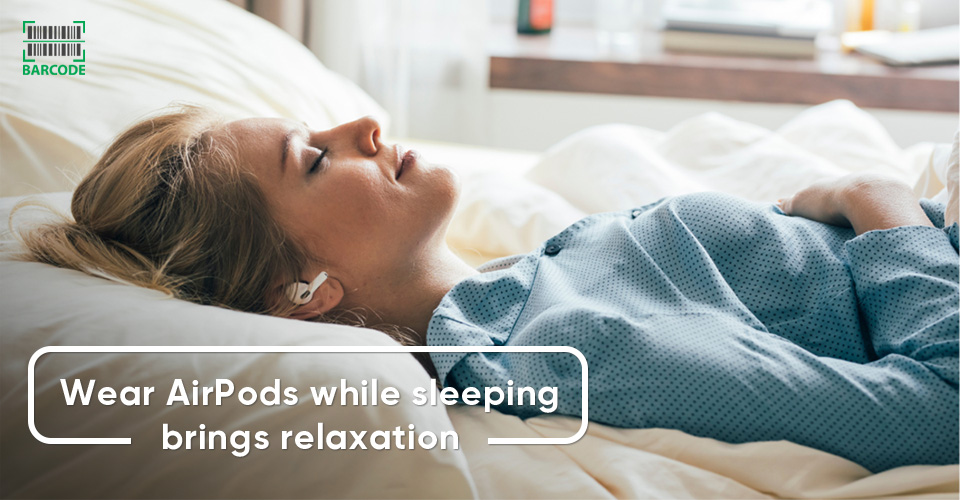 Wearing AirPods Pro to sleep helps you relax
Noise cancellation
AirPods are ideal if outside noise bothers you all the time. 
The AirPods Pro in particular has active noise cancellation that will help block out any outside noise. 
If you reside in a noisy neighborhood, it's a terrific strategy to avoid being bothered for the night.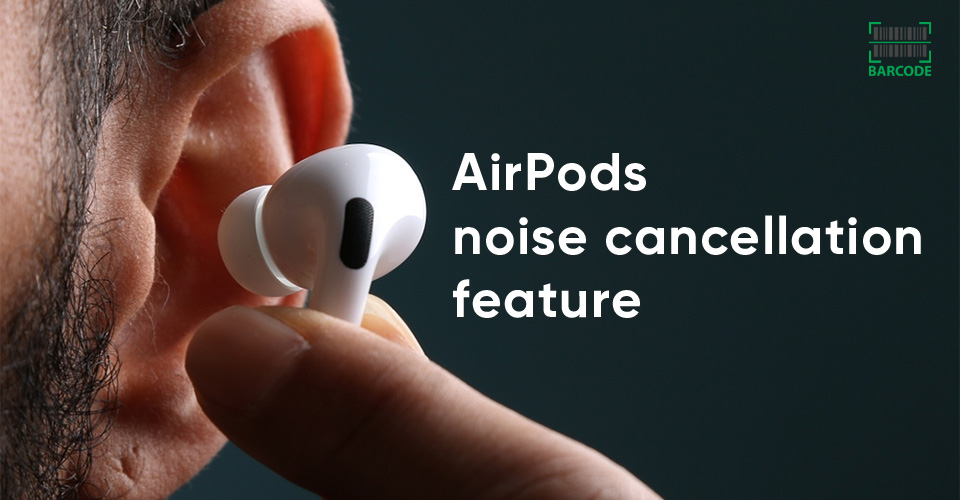 The noise cancellation feature of AirPods is great
Extra comfort
One of the nicest aspects of the AirPods is this! 
They are wireless and won't interfere with your sleep.
Several people even prefer to sleep with them since they don't want their partner to remove them during the night.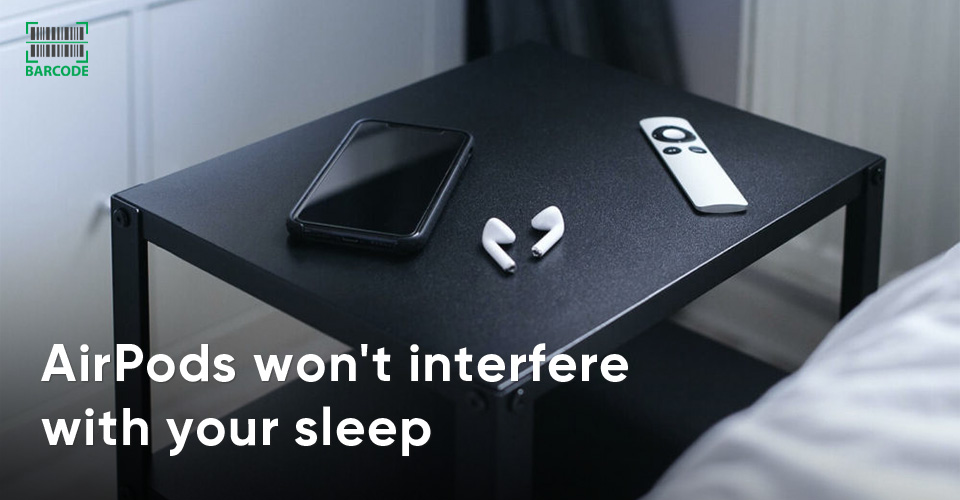 AirPods Pro are wireless earbuds
Increase happy brain chemicals
Dopamine release and serotonin production can both be stimulated by music, which has connections to both contentment and relaxation.
Your body's natural chemicals are activated when you have AirPods in your ears and relaxing music playing, making it simpler than ever to fall asleep.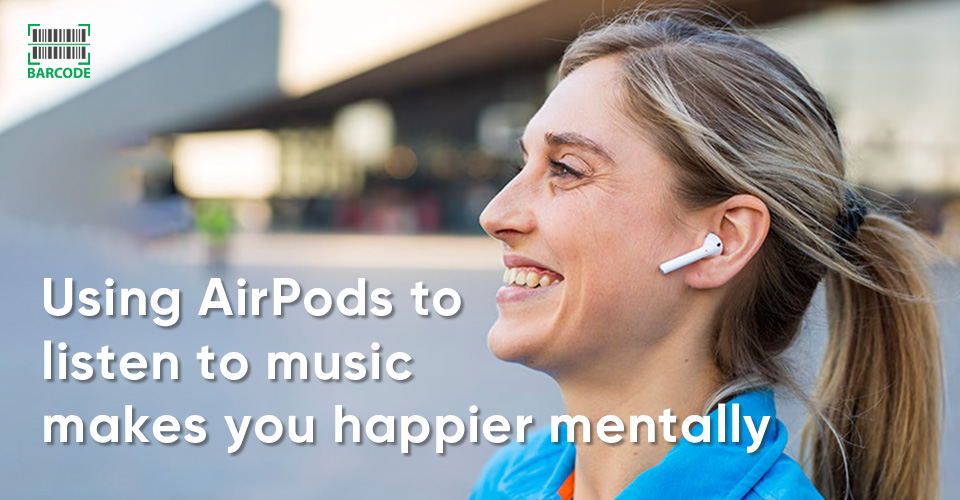 It's relaxing to listen to music with AirPods
Easier to sleep
Playing music in the background while you sleep helps you unwind and clear your mind. 
It may lead to a more relaxing night's sleep and a more awake morning.
If you were in a bad mood when you went to bed, listening to music might help you feel better. 
For this reason, many people often wear their AirPods while they sleep.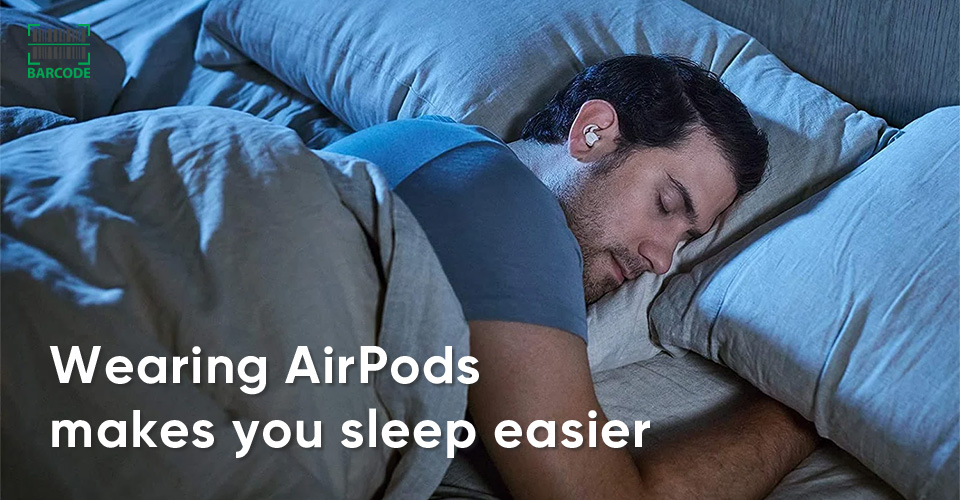 It is easier to sleep with AirPods
Read more: Can you wear AirPods in a tanning bed?
Can I Wear AirPods Pro While Sleeping? Your Choice
You have it now! You can choose whether or not to utilize AirPods Pro.
However, if someone wants to unwind before going to bed, they're still a great choice. 
Just be mindful of the dangers and make sure you don't sleep with them every night. 
Alternatively, give it a try for a week and see if it benefits you.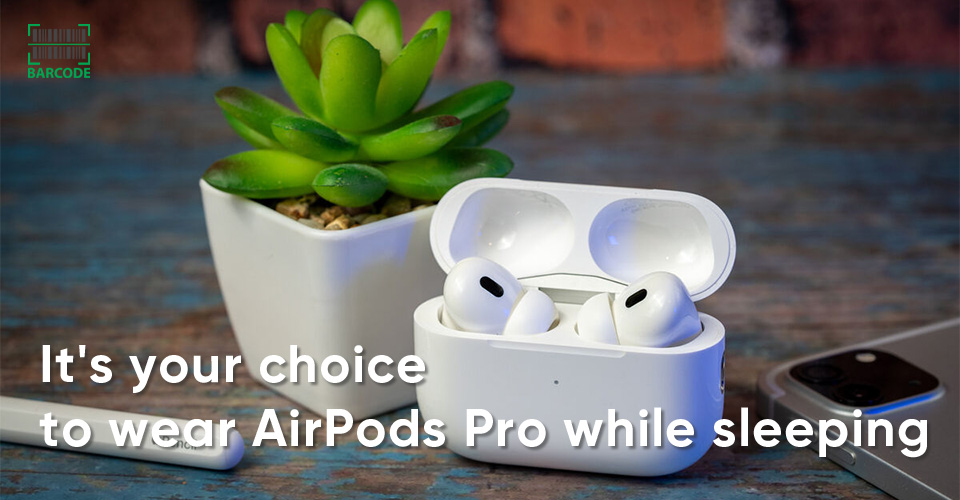 Sleeping with AirPods or not is up to you
How to Keep Your AirPods Pro in While Sleeping?
Your AirPods Pro are prone to falling out of your ear canals when you sleep with them in.
So how to wear AirPods to keep them in your ears? 
Follow these do-it-yourself tricks and numerous add-on items!
Use ear hooks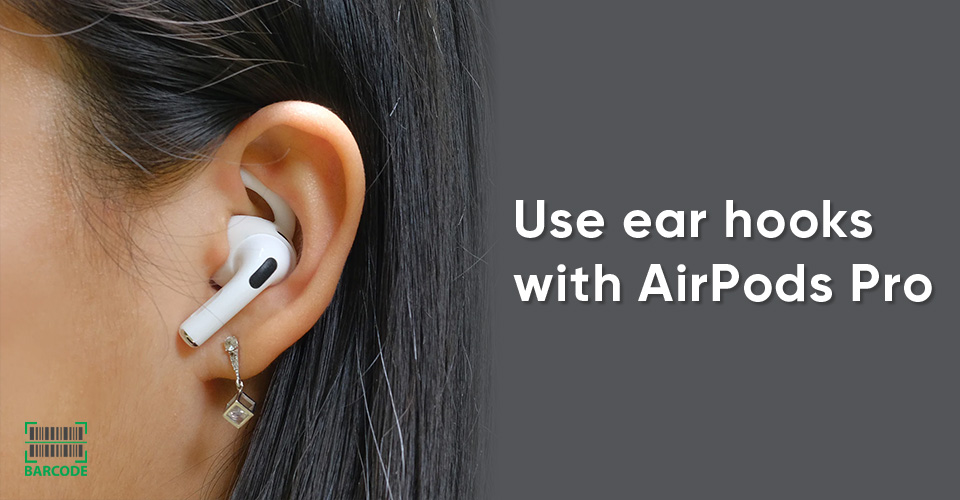 Using an ear hook helps keep AirPods in place
Long-lasting ear hooks can be attached to your AirPods to keep them in place.
First, align the speaker holes on your AirPods and ear hooks. Then, put on the AirPods by wrapping one of the hooks around each ear. 
While sleeping with AirPods Pro, it may be a good idea to use premium ear hooks like Proof Labs 4 Pairs for AirPods Pro 2 Ear Hooks Covers to prevent them from falling out.
Use memory foam tips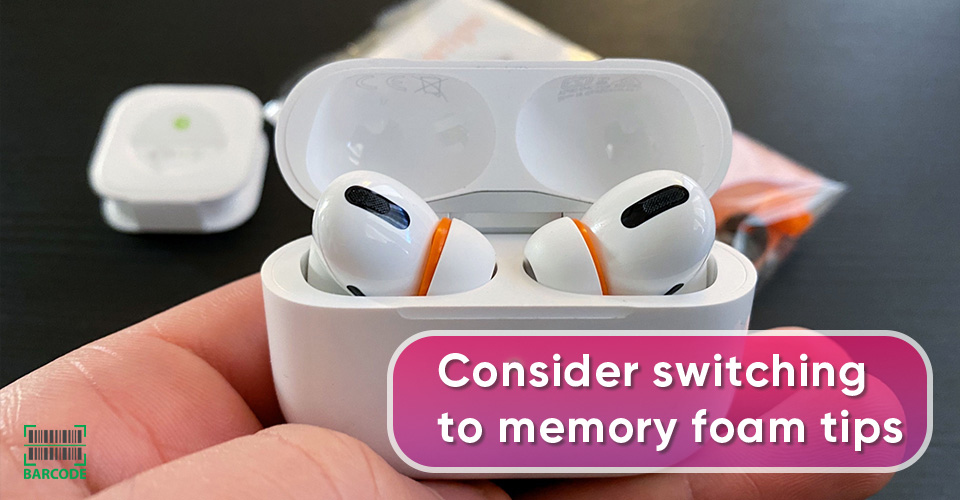 Use memory foam tips
Unluckily, the silicone tip of the current AirPods does not fit snugly inside the wearer's ear. 
So why not add a memory foam tip to achieve a better seal? It easily adapts to the shape of the ear canal.
The Lanwow Premium Memory Foam Tips for AirPods Pro are among those most frequently endorsed by users who have switched to memory foam ear tips.
Use waterproof tape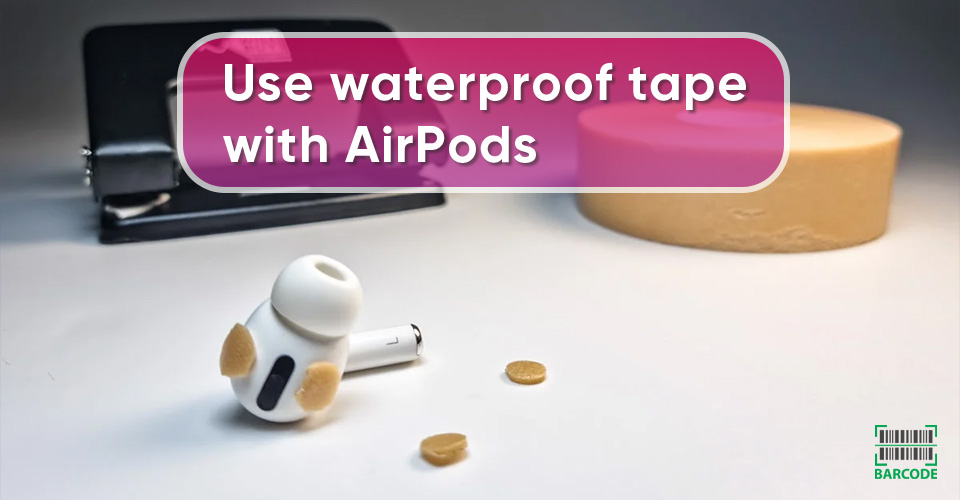 Consider using waterproof tape to keep your AirPods in position
If your AirPods Pro keeps coming off, consider sealing them with waterproof tape.
It has great stickiness and durability, making it ideal for holding things in place. 
Cut four strips with scissors, then adhere them to the top and bottom of the earbuds. 
Anytime you wear them and walk around, your AirPods will stay firmly in your ear!
Your AirPods Pro 2 keep falling out of your ear while sleeping? Then this video may be what you need:
Frequently Asked Questions (FAQs)
Can I sleep with noise-cancelling AirPods?
When wearing noise-canceling headphones while sleeping, there is a specific pressure and sensation in the ear that could have some unpleasant impacts over time.
Why do I sleep better with noise-cancelling headphones?
Noise-cancelling headphones are made to block out outside noise while also letting you play soothing music or other noises that may put you to sleep.
Is it good to listen to music while you sleep?
The autonomic nervous system is calmed by music, which results in slower breathing, a lower heart rate, and lower blood pressure.
Most people who have trouble sleeping think of their bedrooms as places where they'll have restless evenings.
Wrapping Up
We hope that this information has allayed your concerns about "Can I wear AirPods Pro while sleeping?" Although it's unlikely that wearing AirPods to bed can directly harm your general health, there are many ways to at least lessen the effect, such as keeping them clean, using low volume, etc. Also, frequently check your ears for warning signs that you should cease sleeping with them, then you should be fine if you decide to wear your AirPods to bed.