Apple AirPods 3rd Generation Review: Price, Design, and more
Mar 17, 2023 - Views: 587 Share
The Apple AirPods (3rd generation) are a significant improvement compared to the previous version in terms of design, audio quality, and connectivity.
Although they cost more, we believe they're a worthwhile upgrade if you currently own the first generation AirPods.
Keep following on our Apple AirPods 3rd Generation review to get further ideas of these earbuds.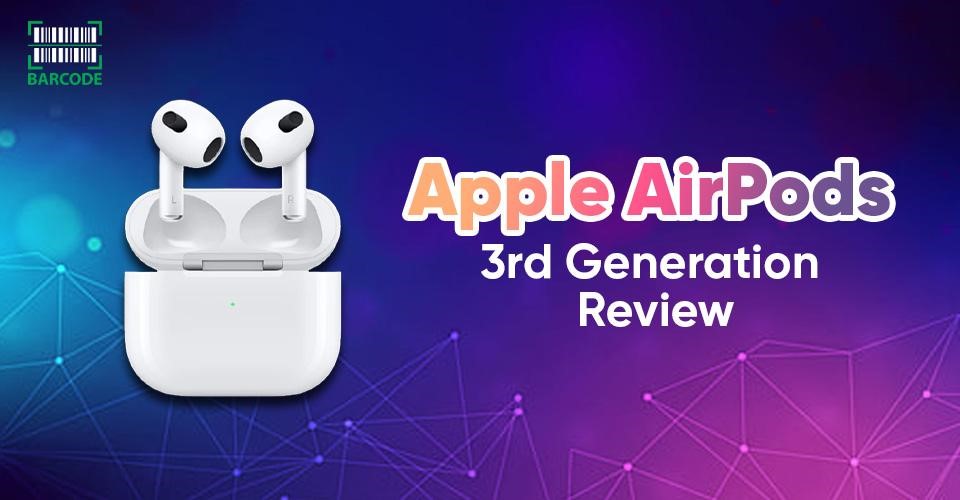 A complete review on Apple AirPods 3rd generation
Apple AirPods 3rd generation: Price
The Apple AirPods 3 went on sale for the first time on October 26, 2021 at $179. 
That's less expensive than the noise-canceling AirPods Pro, but more expensive than the second-generation AirPods, which cost $159 when they were released in 2019. 
You'd have to pay $199 for the wireless charging case. Luckily, it is included with the AirPods 3.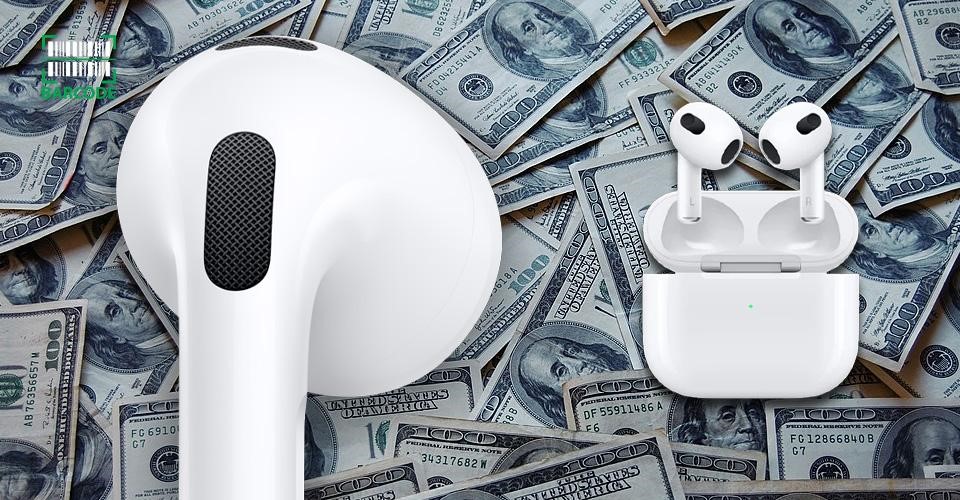 Price of Airpod 3
The AirPods (3rd generation) are less expensive than Sony WF-1000XM4 and the Nurture earbuds, when compared to other true wireless earbuds on the market. 
Apple AirPods 3rd generation: Design
The new AirPods are available in the familiar shiny white finish that Apple has always preferred, and only in white. 
It means that even though the design is new this time, one glance tells you that you're looking at AirPods. 
The stem is about a third shorter here, making it look very similar to the Apple AirPods Pro - White (2nd generation).
However, the vents and microphones are located in different locations and are not the same shape and size. And the big difference is in the speaker. 
In addition, the AirPods Pro comes with three different sizes of silicone ear tips to ensure a secure noise-isolating fit. 
This type has no ear tips and the speaker is positioned directly in your ear.  It's the same size as the Pro speaker but has a slightly different shape.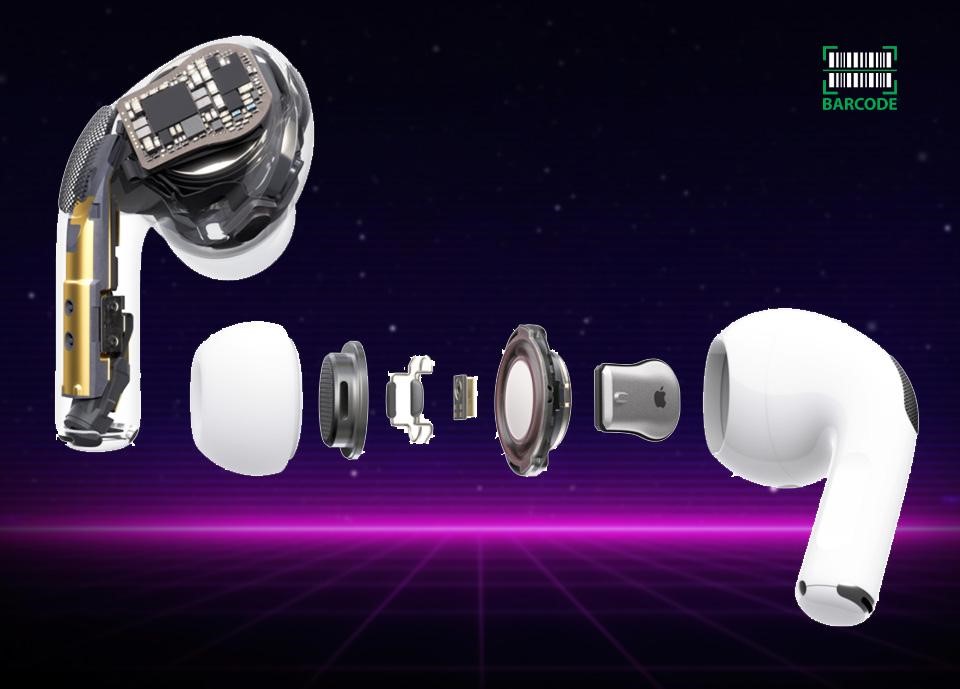 Apple Airpod 3 design
These AirPods, like all Apple's in-ear headphones, come in a charging case, and where previous AirPods had a squarish case (with rounded corners), this case is more rectangular, like AirPods Pro, though this one is smaller.
Notably, unlike previous AirPods, the new model has an IP rating, IPX4, meaning that they are water-resistant enough to deal easily with sweat or running in the rain. 
Apple AirPods 3rd generation: Sound Performance
The audio quality of the AirPods 3 feels far better than that of their predecessors. New, low-distortion drivers and high dynamic range amplifiers are included. 
The latter are also allegedly capable of producing "powerful bass with crisp, clear high frequencies," in Apple's words. 
The new earphones produce a more robust, warmer sound and are undoubtedly better at transmitting bass frequencies, which is a better difference when compared with the other brands or its predecessor like Beats Fit Pro vs AirPods Pro 2. 
Although by no means audiophile in-ear headphones, these are still a perfectly good listen for music or podcasts. 
The AirPods 3 should be somewhat adapted to your ears thanks to support for Adaptive EQ (originally seen on the AirPods Pro). 
Based on how the earbuds fit in your ear, this technology adjusts the sound of the headphones in real-time.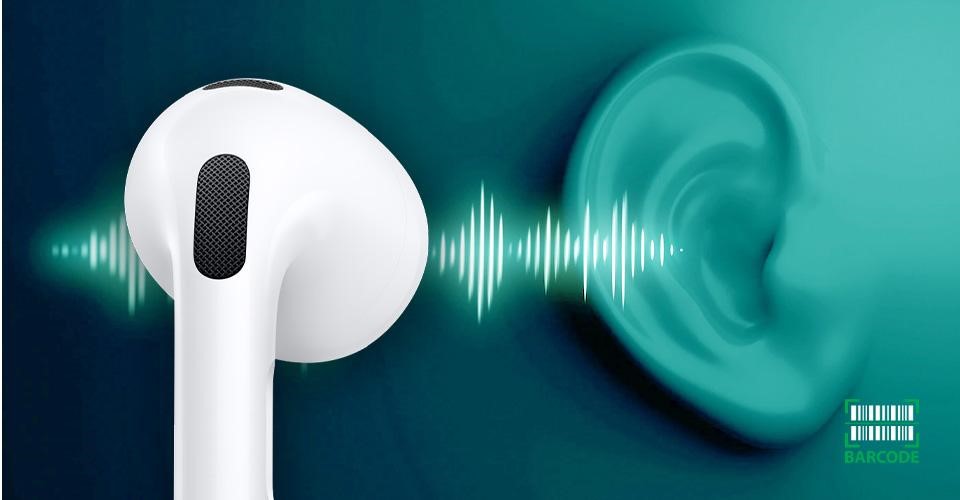 Sound performance of Airpods 3
Apple claims that an inward-facing microphone detects sound, and then the computational audio that drives the Adaptive EQ feature adjusts the low and mid frequencies "to account for what may be lost owing to differences in fit". 
Particularly, the AirPods 3 have another trick up their sleeves: compatibility for spatial audio. 
Apple's Spatial Audio technology applies directional audio filters to 5.1, 7.1, and Dolby Atmos content to place sound in a 3D sphere. 
This gives the impression that the audio is coming at you from all directions, making the experience more immersive. 
When making phone conversations, an acoustic mesh is placed over the outer beamforming microphones in order to block out wind noise and improve the clarity of your speech. 
The AirPods 3 also support the AAC-ELD codec, which Apple claims will provide "Full HD voice quality" - whatever that means. 
When making calls with the AirPods 3, recipients said our voice was clear and there was no background noise.
Apple AirPods 3rd generation: Features
The new AirPods include several features that the AirPods Pro do not, including a new skin-detection sensor. 
AirPods have had a handy feature for when someone wants to talk to you since day one. Taking an earbud out of your ear is the most natural action. 
When you do, the AirPods are programmed to detect this and automatically pause what you're listening to until you resume listening. 
Apple has now improved this so that it works better, such as preventing the AirPods from thinking they're in your ears when they're on the table or in a bag.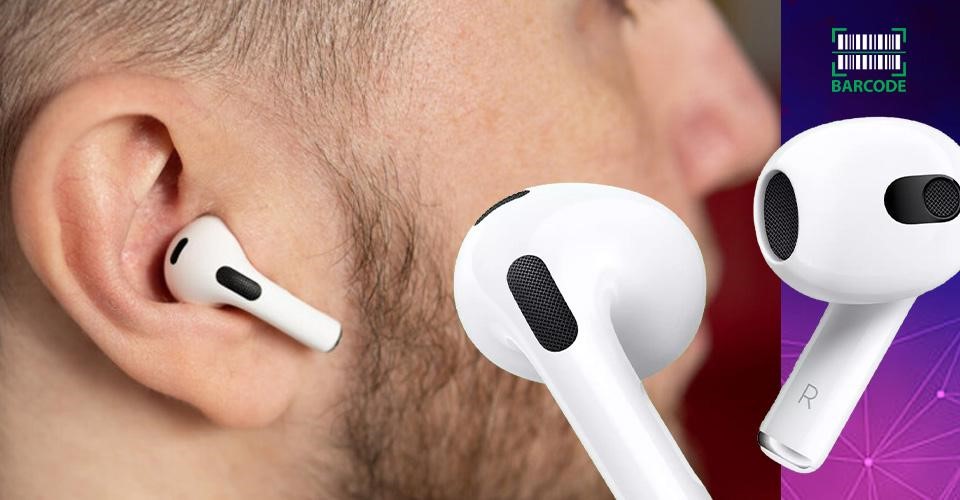 Special features of Airpods 3
Spatial audio was a standout feature of the AirPods Pro, and it's now available here. 
It delivers a surround-sound effect for movie soundtracks from the iPad, for example, and a really immersive experience for music from the growing number of compatible tunes on Apple Music. 
The spatial audio is amazing, and it even has dynamic head tracking.
When you turn your head while watching a movie on the iPad, the earbuds adjust the output so that the audio is locked to where the screen is. 
It creates a more realistic effect. Unlike previous AirPods, it is also Dolby Atmos compatible. 
Moreover, adaptive EQ adjusts the sound output to your ear's shape using computational audio and the AirPods' inward-facing microphones (components absent from the second-generation model), ensuring the optimal sound for your individual hearing.
Apple AirPods 3rd generation: Battery Life
Now, let's move to the AirPods 3rd generation review about its battery life. Indeed, the battery life on the AirPods 3 has been improved. 
While the 2019 AirPods offered 24 hours of total playback (about 5 hours from the earbuds and another 19 hours from the charging case), the new AirPods 3 offer a 30-hour maximum battery life.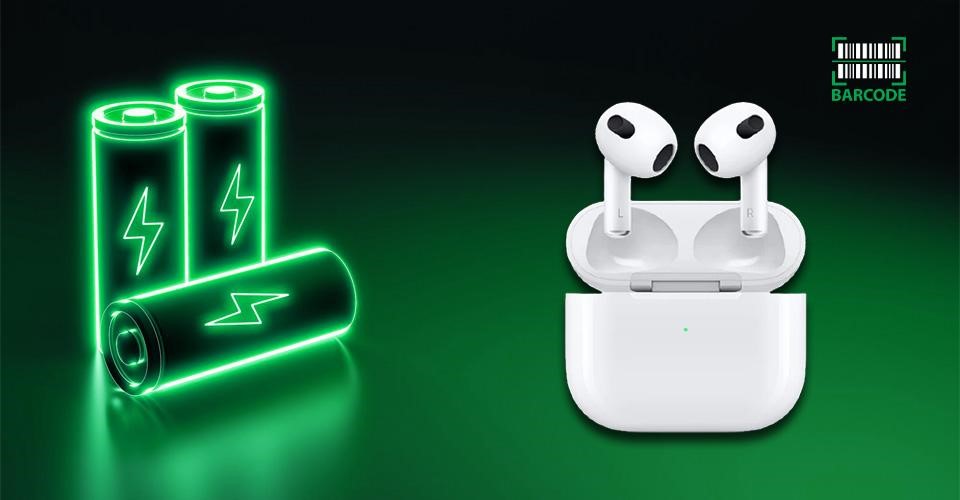 Battery life of Airpods 3
The brand claims that the buds themselves can provide up to six hours of listening time or four hours of talk time, with four additional charges from the case. 
If you're in a hurry, a quick five-minute charge will provide you with approximately an hour of playback. 
The AirPods 3 include a wireless charging case that is compatible with Apple's MagSafe ecosystem, just like the AirPods Pro. 
That all sounds good, but with Spatial Audio enabled, the onboard battery life drops to five hours, which is the same as the older AirPods. 
Because Spatial Audio is one of the main reasons to choose the AirPods 3 over the AirPods 2, you don't really benefit from the longer battery life. 
Apple AirPods 3rd generation: Connectivity
The AirPods 3 are, unsurprisingly, designed for use with Apple products, with a one-touch setting that automatically pairs the buds with your iPhone, iPad, Mac, and MacBook. 
Audio Sharing allows you to share the audio stream between two pairs of AirPods, AirPods Pro, or AirPods Max while using your iPhone, iPad, iPod touch, or Apple TV.
It is very useful if you want to share your music without sharing your friends' soiled earbuds.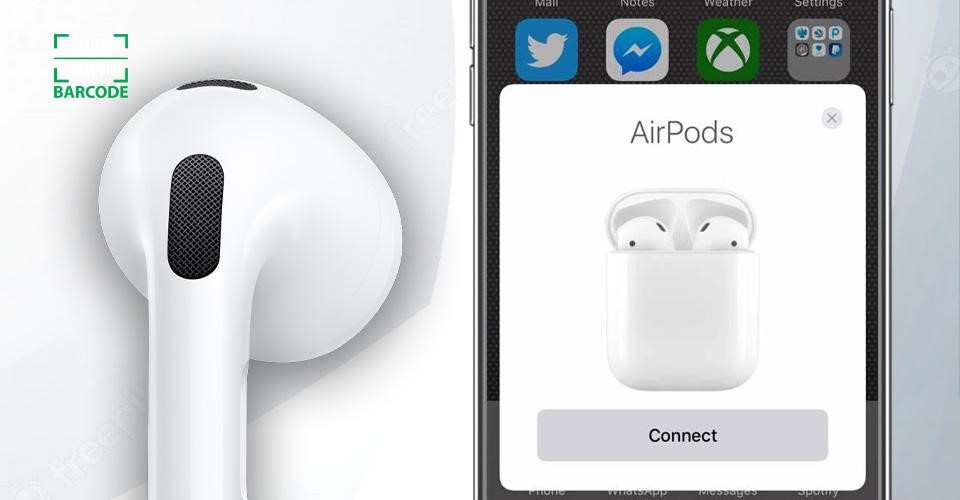 Connectivity of Apple Airpods 3
A new skin-detect sensor tells the AirPods 3 whether the buds are in your ear or on a table or inside your pocket. 
If they're not in your ear, music will be paused, presumably saving you some battery life. 
If you have an Apple device running iOS 15, you'll be able to use the third-generation AirPods with Spatial Audio and dynamic head tracking in Group FaceTime calls, as well as integration with the Find My network. 
You'll also have access to the Announce Notifications feature, which allows Siri to read you time-sensitive updates from apps like Messages, Reminders, and Calendar - a useful feature if you want to stay on top of your notifications without being glued to your phone.
Apple AirPods 3rd generation: Microphone
Here we will review Apple AirPods 3rd generation in terms of microphone. 
In fact, there isn't anything special, as it is with wireless headphones of any kind, so some perspective is needed. 
The Apple AirPods (3rd generation) microphone offers adequate noise cancellation and sufficient quality for calls and other uses, which is approximately what you would anticipate from the device.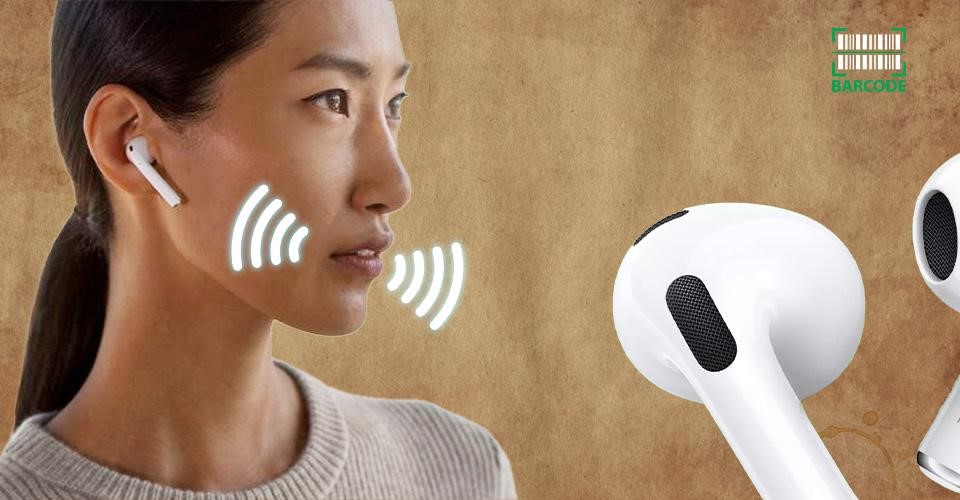 Microphone quality of Airpods 3
You won't be using these for any professional voiceover work anytime soon, but that's okay because that's not what Apple's earbuds are for. The overall quality for wireless earbuds is excellent.
Also read: Bose QuietComfort earbuds 2 vs Beats fit pro
How Is The AirPods 3rd Generation Different From The AirPods Pro And Previous AirPods?
To summarize, the Apple AirPods (3rd generation) combine some of the AirPods line's most cutting-edge features - such as spatial audio with head tracking, an IPX4 construction, and automatic device switching - with its most despised feature: an open-type fit. 
The original two generations of AirPods had straight beanpole stems, but Apple's third version clearly takes design cues from the first generation of AirPods Pro. 
The first-generation AirPods Pro sounds better than the third-generation AirPods, and because of the way the second-generation AirPods fit, you'll probably hear more bass from it in comparison to the AirPods (3rd generation).
The third version AirPods also have the longest battery life.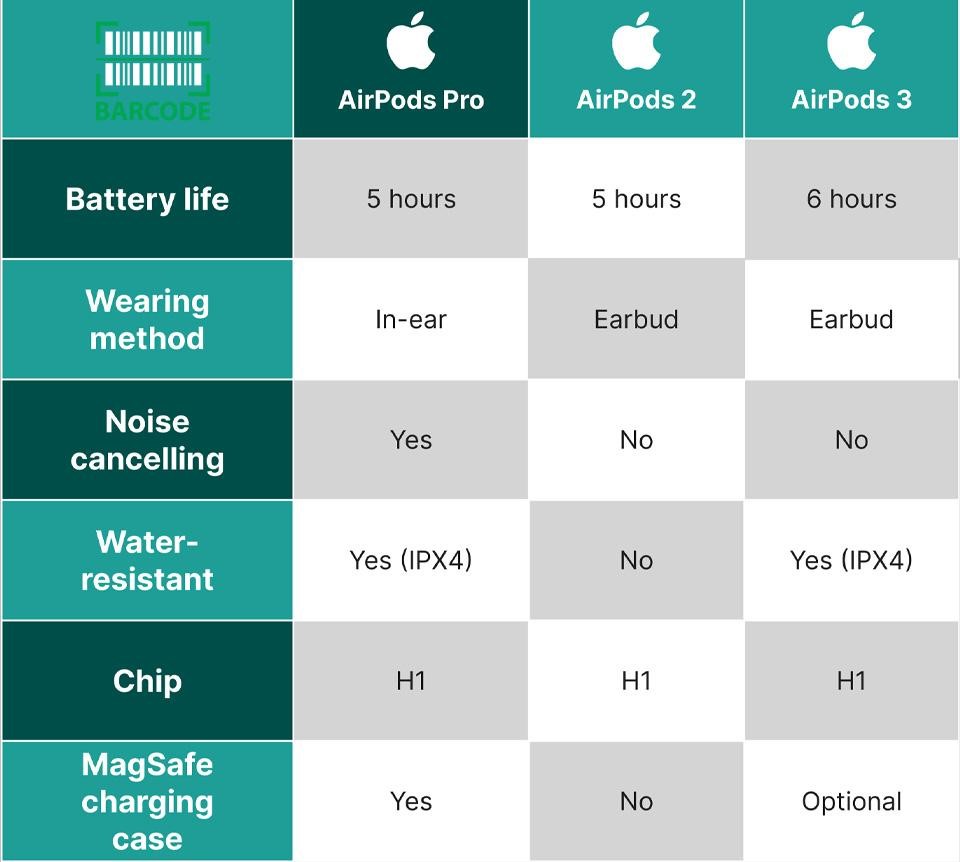 AirPods 3 vs AirPods 2 vs AirPods Pro
Should I Buy The Apple AirPods 3rd Generation?
If you are wondering whether to buy an Airpod or not, you should buy it if:
Spatial audio is what you want
It's definitely worth trying with music and movies because these AirPods - the least expensive ones that allow spatial audio - support it. 
The AirPods 3 are the ideal earbuds for using with an iPhone because they have features like Audio Sharing, Announce Notifications, and connectivity with the Find My network. 
You desire wireless charging
The AirPods (3rd generation) is MagSafe compliant and has wireless charging as a standard feature.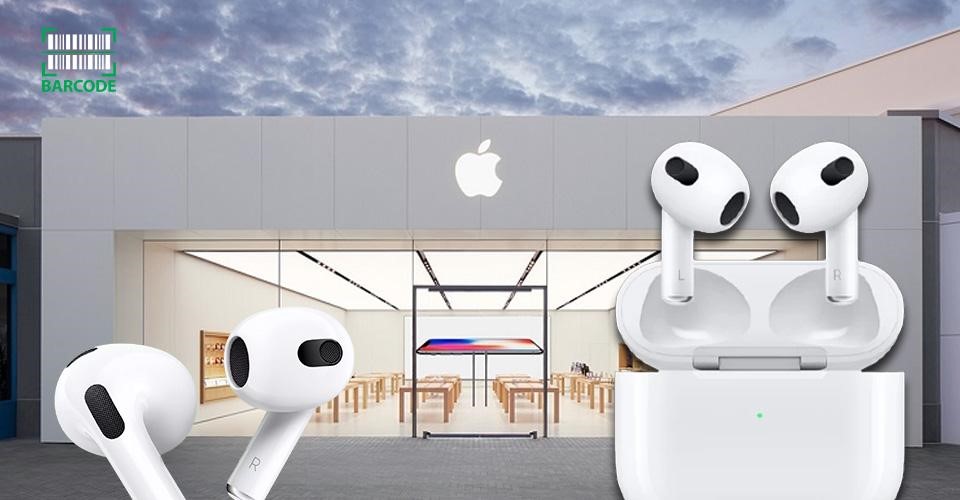 Should I buy the Apple AirPods 3rd generation?
And you shouldn't buy it if:
You require active noise cancellation 
If the lack of active noise cancellation (ANC) in the AirPods 3 is a deal-breaker for you, you might want to consider the AirPods Pro instead. 
You need high-definition audio support
With the AirPods 3, you won't be able to listen to high-resolution audio because they only support the SBC and AAC codecs. 
You already have an AirPods Pro 
Even though we prefer the AirPods 3, the AirPods Pro still offers the best specifications among Apple's true wireless earbuds.
Frequently Asked Questions (FAQs)
1. How do you pair AirPods to an Apple Watch?
Tap Settings > Bluetooth on your Apple Watch. Find nearby Bluetooth devices with your Apple Watch. Choose a Bluetooth accessory. If prompted, provide a passkey or PIN.
2. How do you pair AirPods to the Apple TV?
Before you begin, ensure your Apple TV is running the most recent version of tvOS.
On Apple TV, use the Siri Remote to navigate to the TV Control Center, then Settings.

Scroll down and click on Remotes and Devices > Bluetooth.

When the status light starts to flash white, press and hold the setup button on the back of your AirPods case for roughly five seconds.

Select your AirPods from the list of Other Devices.
3. Are AirPod 3 louder than AirPods?
Yes! Treble notes sound about twice as loud through the AirPods (3rd generation) as they do through the AirPods (2nd generation).
Conclusion
There are enough significant new features to justify upgrading to the AirPods 3, especially if yours are not brand new. The longer battery life, cooler design, and, most importantly, compatibility with spatial audio make these a significant step forward.
Therefore, we hope that our Apple AirPods 3rd generation review and comparisons can help you make the best choice!