Chivas Brothers initially created 100 Pipers Scotch Whisky - EAN 8901522000023, later sold to Seagrams in 1949. 
This product was called whisky 100 Pipers in honor of the "100 Pipers who led Bonnie Prince Charlie, Scotland's mythical hero, into battle."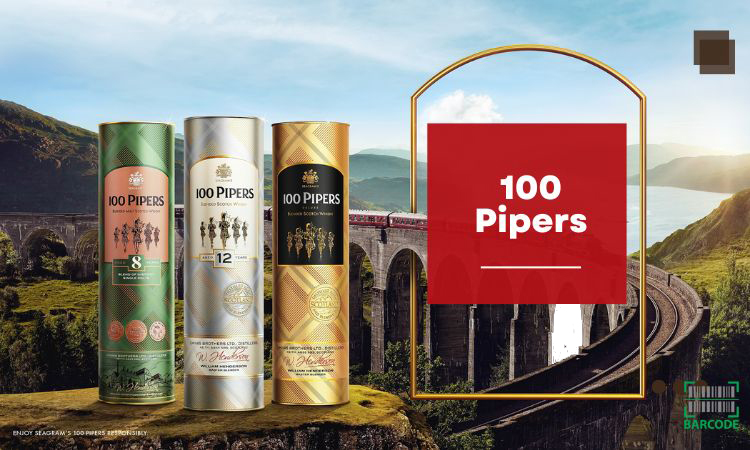 100 Pipers History
Jimmy Lang and Alan Baillie, master blenders at Chivas Brothers, developed the blend in 1965 and it was initially distributed in the US. 
The Scottish flag was taken off the label and the word "Seagram's" was inserted four years later (and still is today). 
In 1992, 100 Pipers became the first Seagram-owned Scotch whiskey in Korea, and a year later, it was introduced in Thailand.
Sales of the brand peaked in 2005 at 3.4 million cases, making it the fifth-largest standard Scotch in the world after surpassing 2.7 million cases in Thailand. 
Allt-a-Bhainne, the Speyside distillery that Seagram established in 1975, served as the brand's spiritual home at this time. 
In India, where it is also domestically bottled, 100 Pipers' sales were 300,000 cases in 2011.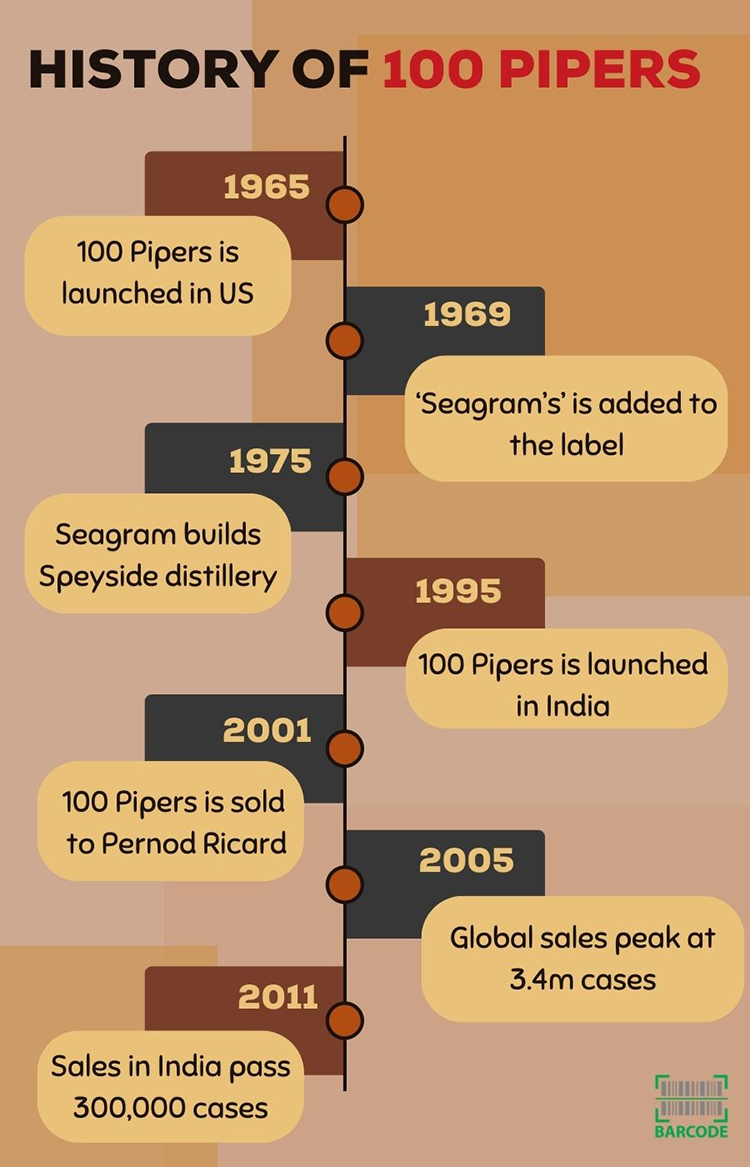 100 Pipers Ingredients
Scotch Whisky (cereal and malt distillates with water)
Nutritional Information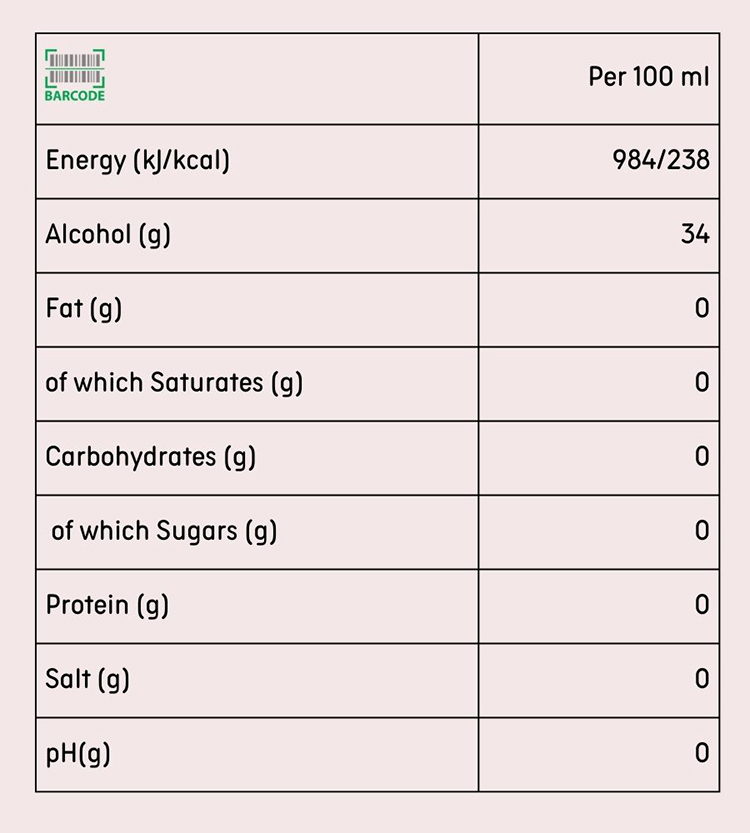 Also read: 
Flavor
100 Pipers whisky is a delicate blend with notes of spice, soft smoke, and dried fruit. 
Additionally, it has a medium-intensity woody and fruity scent with a hint of peaty oaky, and vanilla fragrance with gentle honey.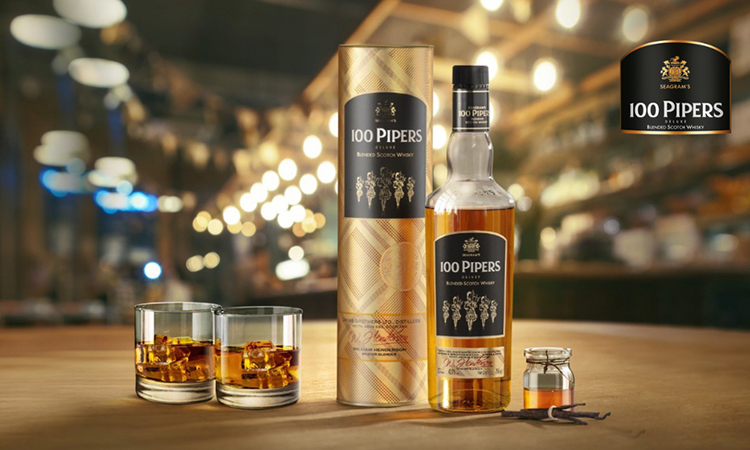 Matthew Sheinberg, a specializer in whiskies once wrote:
"Many raw, gritty aromas, as well as a hint of lemon curd, are present in the nose. 
Additionally, there is a slightly repulsive musty smell in there. With a lot of vanilla flavor, the whisky is medium-to-full bodied. 
With some lingering traces of raw cereal and a slightly sweet flavor, the alcohol is somewhat sharp at first. 
Simple and straightforward. One gets what one pays for."
How to drink whiskey properly? There are many ways to taste whiskey. 
You can enjoy snacks to serve with whisky or combining Scotch with a mixer is a great way to ease into the world of whisky without sacrificing flavor.
It also allows you to try whisky with unexpected flavors. 
You can watch this video for more details:
100 Pipers Price
100 Pipers whisky is a symbol of excellence, tradition, and quality.
The delectable combination of 100 Pipers Whisky is praised for how well it complements one another.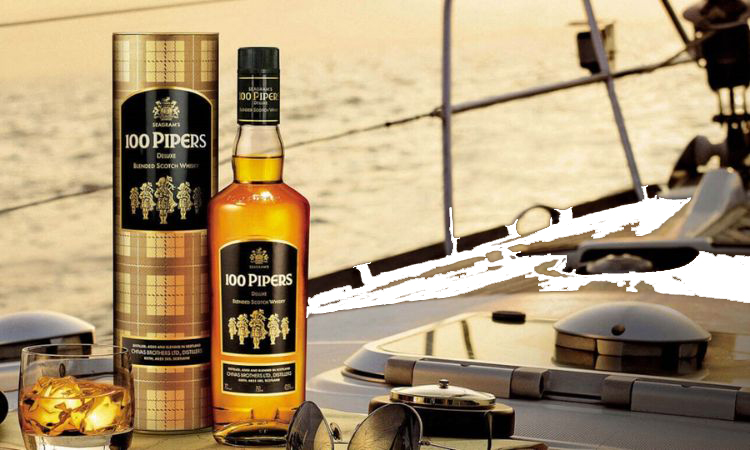 The price of 100 Pipers in each volume size (60ml, 180ml, 375ml, 750ml, and 1000ml) is covered below.
100 Pipers Whisky Price in Delhi
| | |
| --- | --- |
| 100 Pipers Price 60ml | ₹130 |
| 100 Pipers Price 180ml | ₹320 |
| 100 Pipers Price 375ml | ₹650 |
| 100 Pipers Price 750ml | ₹1200 |
| 100 Pipers Price 1000ml | ₹1600 |
100 Pipers Whisky Price in UP
| | |
| --- | --- |
| 100 Pipers Price 60ml | ₹150 |
| 100 Pipers Price 180ml | ₹450 |
| 100 Pipers Price 375ml | ₹800 |
| 100 Pipers Price 750ml | ₹1400 |
| 100 Pipers Price 1000ml | ₹1700 |
100 Pipers Whisky Price in Hyderabad
| | |
| --- | --- |
| 100 Pipers Price 60ml | ₹170 |
| 100 Pipers Price 180ml | ₹540 |
| 100 Pipers Price 375ml | ₹1080 |
| 100 Pipers Price 750ml | ₹2100 |
| 100 Pipers Price 1000ml | ₹2600 |