When Were Bar Codes Invented? A Short History of Barcodes
Nov 14, 2022 - Views: 3532 Share
If you work in manufacturing or retail, you must be familiar with barcodes.
Some people might find it difficult to remember, but barcode and product barcode scanner were formerly thought of as cutting-edge technology.
To help you understand more, we make this detailed post about barcodes and its history.
Let's check it out!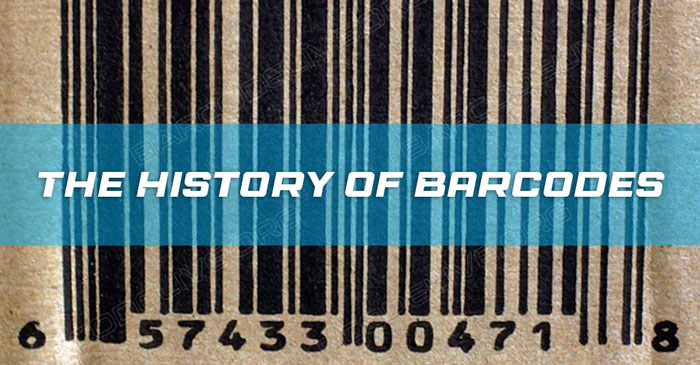 A brief barcode history
What Is A Barcode?
The barcode is a common sight in modern culture, whether it be at a grocery shop, a retail location, a warehouse, on a newspaper, on mail, or even as a symbol of the end of the world.
The simplest definition of a barcode is an optically machine-readable representation of alphanumeric, numeric, or alphanumeric data expressed by a series of bars and spaces. 
So, What does barcoding mean in stocks? It's a combination between numeric and alphanumeric data that is used in inventory management system.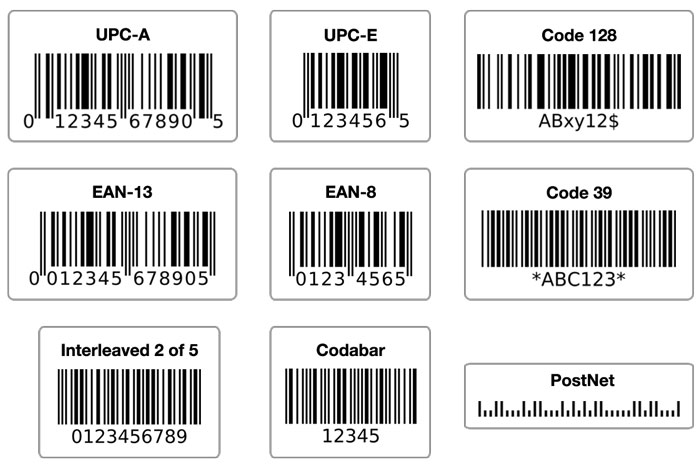 What is a barcode?
Data was initially represented by barcodes as the widths (bars) and spacings of parallel lines. 
One of the most popular symbologies still in use today are these kinds of barcodes, sometimes known as linear barcodes or 1D barcodes.
The data is now represented by many patterns, colors, and shapes thanks to later discoveries. 
These can represent a lot more data than previously developed linear barcodes, which are frequently referred to as 2d barcodes (or array barcodes). 
Common barcode sizes are 1.469 inches wide by 1.02 inches high, but you can change the size as needed as long as you keep within the minimum and maximum acceptable barcode sizes.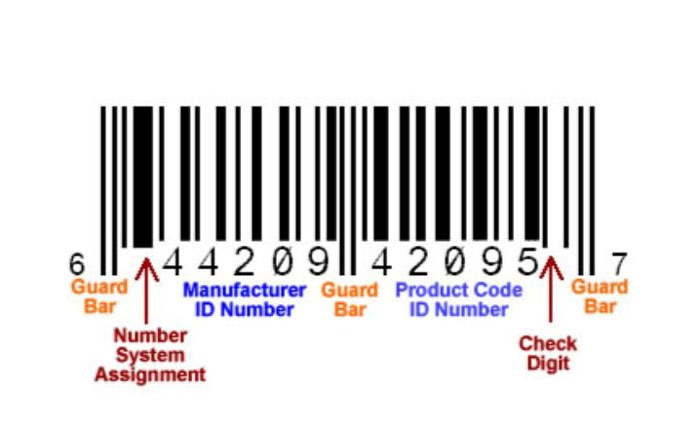 Barcode
Several symbologies can conceal or encrypt data, making it possible for only authorized devices to receive data transfers that require the right decoding information or keys.
When Were Barcodes Invented?
While it may appear like barcodes have been around for a long time, they didn't take off until the 1970s. 
Let's find out more about history of the barcode in 3 stages!
Early history
In 1948, the owner of a local food chain approached the Drexel Institute of Technology in Philadelphia to inquire about research into a system of automatically scanning product information during checkout. 
Bernard Silver, a graduate student at Drexel Institute, collaborated with fellow graduate student Norman Joseph Woodland to create a solution.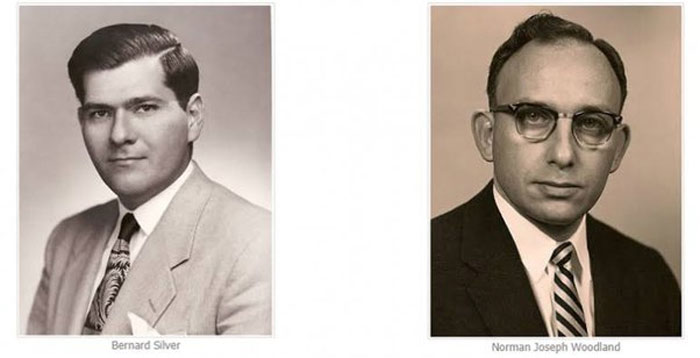 Silver and Woodland created the first bar code
Woodland was the first to suggest employing UV light-sensitive ink. 
A workable prototype was developed, but it was rejected because it was too unstable and expensive.
After that, Woodland and Silver succeeded in developing a functional prototype on October 20, 1949, defining their discovery as "item classification... using the method of recognizing patterns." 
On October 7, 1952, they were given a patent (US Patent #2,612,994) for their "Classifying Apparatus and Method".
Efforts to create a functional system accelerated in the 1960s.
First commercial use
Barcoding was first utilized commercially in 1966, but for the system to be accepted by the industry as a whole, some type of industry standard was required. 
Logicon Inc. created the Universal Grocery Products Identification Code in 1970. 
The American company Monarch Marking (1970) was the first to create barcode equipment for retail commerce (using UGPIC).
Also, the British company Plessey Telecommunications (1970) was the first to produce barcode equipment for industrial use (1970).
Wonder when were bar codes first used? - The first barcode scanned was at a Kroger supermarket in Cincinnati in 1972. 
During the same time period, a group within the grocery sector was formed to select a standard code to be used in the industry.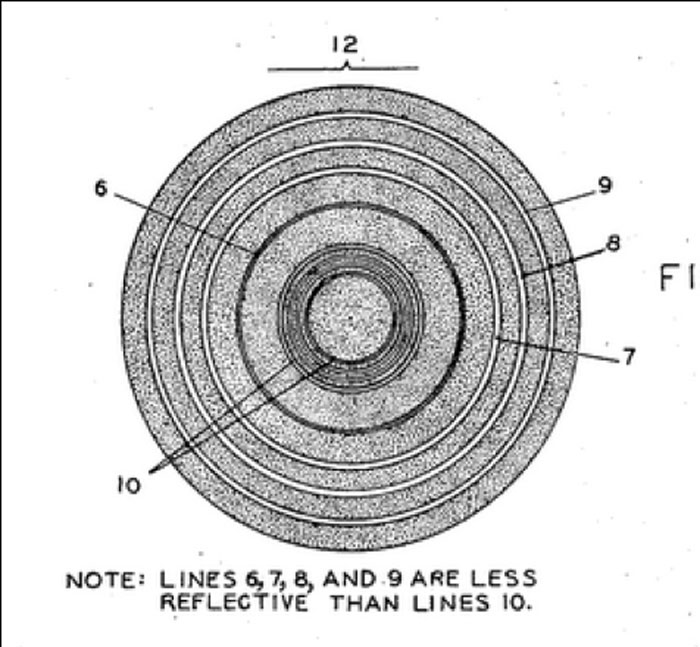 A bull's-eye code
Based on the UGPIC work and comparable to today's UPC code, IBM presented a design. 
The committee chose the UPC symbol (based on an IBM proposal) as the industry standard on April 3, 1973. 
Since then, the system's success has fueled the development of new coding systems. 
George J. Laurer is credited with inventing the U.P.C. (Uniform Product Code).
First UPC scanner
The first UPC barcode scanner was installed in June 1974 at a Marsh's supermarket in Troy, Ohio. 
The first bar code products was Wrigley's gum. It's the first time Universal Product Code has checked out a product.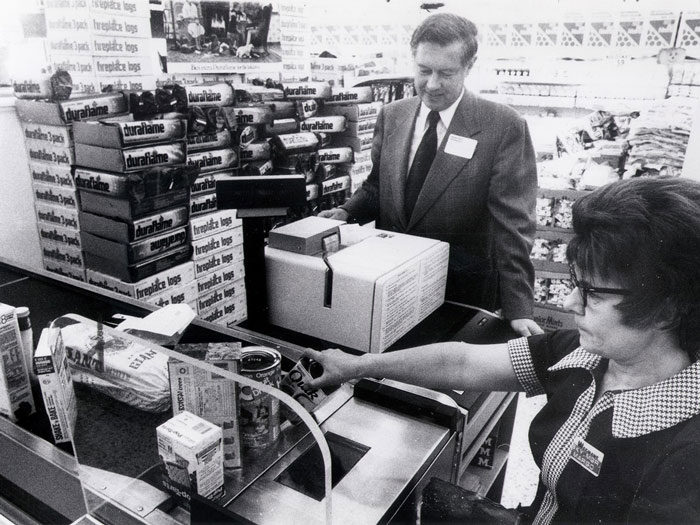 First UPC item barcode scanner
Some readers may remember when grocery workers were required to place price labels on practically every item in the store. 
Retail cashiers had to read price tags by eye and manually enter the price.
Not only was the method time-consuming, but it also left the store manager unsure of how much of each of thousands of distinct products had been sold and how much remained in stock.
Nonetheless, the supermarket barcode took a long time to develop. 
It was a concept in need of a viable technology as well as an applicable application.
Now, look at this info to review the barcode history: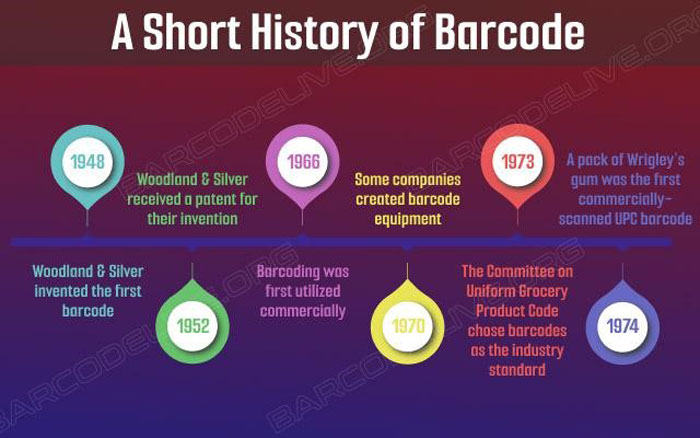 Bar code history
What Is The Technology of The Barcode?
A linear barcode is a type of binary coding (1s and 0s). The lines and gaps have different widths and are printed in various combinations. 
To scan a barcode, the printing must be correct and the contrast between the bars and gaps must be appropriate. 
Scanners use a variety of methods to "read" codes. Lasers and cameras are the most prevalent.
Scanners can be fixed-position equipment, such as most supermarket checkout scanners, or hand-held ones, which are frequently used for inventory taking. 
There should be a difference made between the code, including a data structure, and the symbol, which is the machine-readable representation of the code.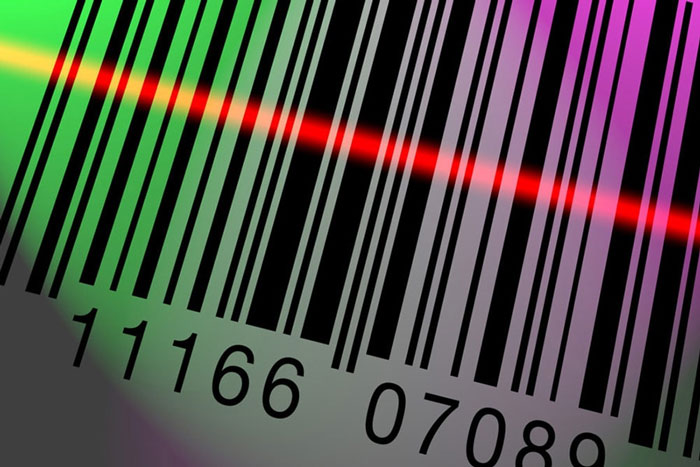 What is the technology of the barcode?
The code is a text that can be translated into a variety of languages, including English, French, and Japanese.
Despite its poor start, the bar code has become a remarkable success, a workhorse in a wide range of applications. 
Code 39 developed by Dr. David Allais, one of the earliest effective barcodes, is widely employed in logistical and defense applications. 
Although less complex than some of the newer bar codes, Code 39 is still in use today. 
Code 128 and Interleaved 2 of 5 are two more codes that have achieved success in niche markets.
What Is The Universal Product Code?
The most well-known and widely used application of bar codes has been on consumer goods. 
The Universal Product Code, or U.P.C., is unusual in that it was created by the user community.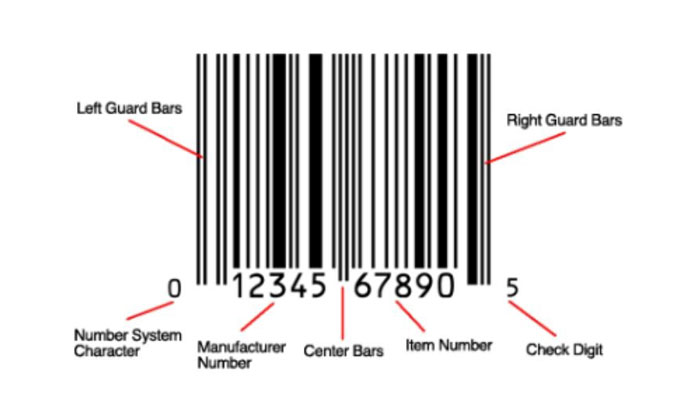 What is the universal product code?
The U.P.C. is a reaction to a commercial necessity discovered in the early 1970s by the US supermarket sector.
Six industry associations, representing both product manufacturers and supermarkets, formed an industry-wide committee of industry leaders. 
It's in the belief that automating the grocery checkout process could reduce labor costs, improve inventory control, speed up the process, and improve customer service.
On April 1, 1973, they announced the Universal Product Code and the U.P.C. bar code symbol after a two-year endeavor. 
In June 1974, the U.P.C. made its first commercial appearance on a package of Wrigley's gum sold in Marsh's Supermarket in Troy, Ohio.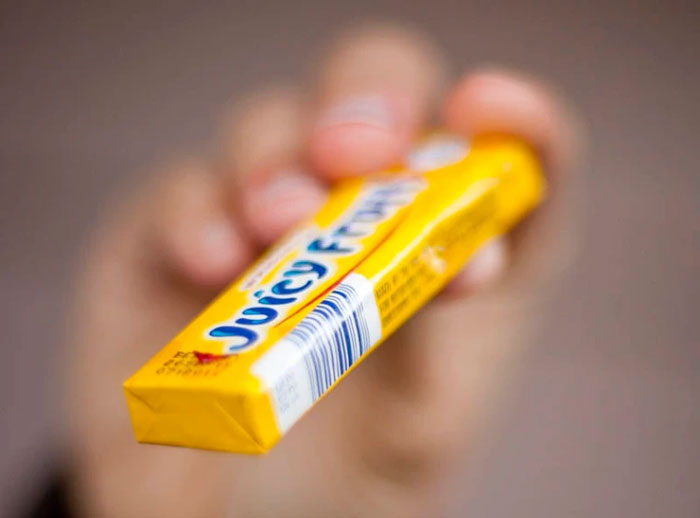 U.P.C. made its first commercial appearance on Wrigley's gum
Economic analyses undertaken for the grocery industry committee predicted that scanning would save the sector more than $40 million by the mid-1970s. 
Those figures were not met in that time range, and some forecast the end of barcode scan. 
The barcode's use necessitated the adoption of costly scanners by a critical mass of stores, while manufacturers simultaneously adopted barcode labels.
Neither wanted to be the first to relocate, and the results were unimpressive for the first few years, with Business Week praising "The Supermarket Scanner That Failed."
How Is The Barcode Now?
Bar codes are now widespread. Rental vehicle firms use barcodes on the car bumper to maintain track of their fleet. 
Airlines track passenger luggage included barcodes to reduce the possibility of loss.
Researchers have implanted small bar tags on individual bees to track the insects' mating behavior.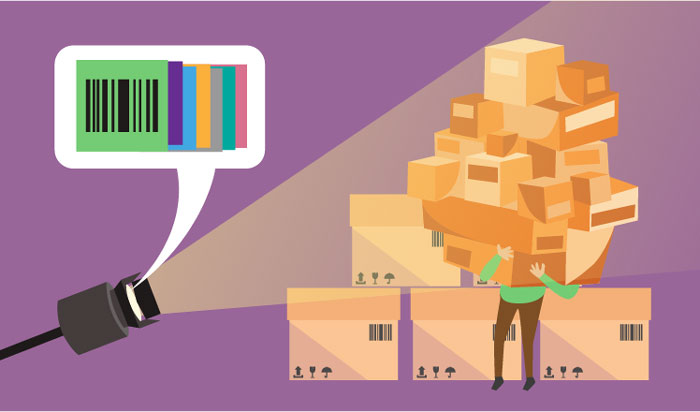 How is the barcode now?
NASA uses bar codes to manage the thousands of thermal tiles that must be changed after each space shuttle voyage, and a bar-code inventory system is used to track nuclear waste transit. 
Barcoding in inventory management is also applied and developed dramatically.
Humans have barcodes! 
Barcodes are widely used in fashion, as well.
High school girls in Tokyo were obsessed with temporary barcode tattoos in the late 1990s.
Some type of barcodes that are commonly used nowadays include:
U.P.C

Code 39

Code 128

GS1-128

MICR string

Codabar

EAN-13 - EAN-8

ITF-14
Frequently Asked Questions (FAQs)
1. Who holds the patent for the barcode?
The barcode was conceived by Norman Joseph Woodland and Bernard Silver and patented in the United States in 1952. 
The idea was based on Morse code, which was expanded to thin and thick bars. 
However, it took over twenty years for this technology to become economically viable.
2. What was the initial item to use barcodes?
It's Wrigley's chewing gum.
In June 1974, the U.P.C. made its debut in a commercial sense on a box of Wrigley's gum sold in Troy, Ohio's Marsh's Supermarket.
3. How many types of barcodes are there?
Linear barcodes and two-dimensional matrix barcodes are the two types of barcodes.
Linear barcodes are made up of different width lines and gaps that form distinct patterns. An UPC barcode is an example of linear barcodes.

Matrix barcodes are two-dimensional data representations.
Conclusion
Barcode scan is now simple. A barcode can be created and printed for a very low cost. Barcodes decrease the likelihood of human mistakes and assist users in making informed decisions.
We hope that our post will help you understand more about "When were bar codes invented" as well as the importance of barcodes now and then!