UPC vs EAN: How Are They Different? [Detailed Comparison]
Nov 18, 2022 - Views: 1202 Share
Are you confused about the kinds of barcodes that would be best for your specific application?
Is UPC vs EAN puzzling to you because they resemble one another so much?
Don't worry as we have created a thorough comparison of these two barcode types to assist you in differentiating between them. Let's find out!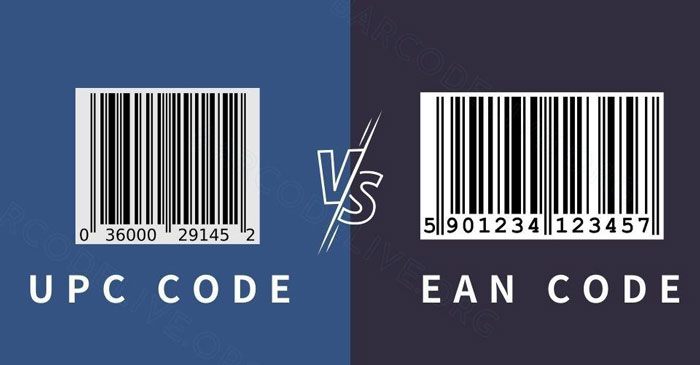 What is the difference between UPC and EAN?
Why Is There Confusion Between UPC vs EAN Code?
The application of the UPC code EAN, as well as their distinction, appears to be quite ambiguous.
The numbers themselves have always been 13 characters in length, as have the symbols for UPC A vs EAN 13.
In essence, the EAN13 and UPC symbols are interchangeable. The number of spaces and bars is the same for each.
Because of this, the Uniform Code Council (UCC) decided to refer to the UPC as a 10-character symbol as well as only printing 11 of its characters in a human-readable format.
The manufacturer and item's 10 distinctive characters were printed beneath the bars. Halfway up the left side, a character with the "system number" was printed.
Additionally, they decided to store the number's first 10 digits in their files.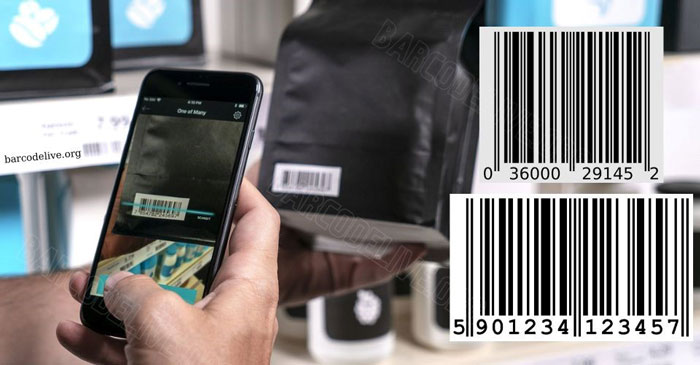 UPC or EAN
After the UPC codes had been used for a while, Europe realized its value but also that a 13th digit was required to distinguish between the numerous countries.
The UPC 13 digits were popular when the EAN bar code was accepted in Europe since the left half of every odd character's parity pattern was given the value "0."
Also, Europeans were wise enough to refer to the EAN sign as "EAN 13" from the beginning and to print all 13 characters.
Despite that, the UCC persisted in its illusion by making the absurd claim that "0" had no meaning and can therefore be disregarded.
However, the project SUNRISE was initiated by the UCC in 1997.
By January 2005, all Canadian and U.S. businesses had to be capable of scanning and process EAN13 code at the point of sale in addition to UPC symbols under the terms of this initiative.
The UCC has now changed the UPC name to GS1 US and assumed ownership of both EAN and UPC numbers.
What Are The Differences Between UPC vs EAN Code?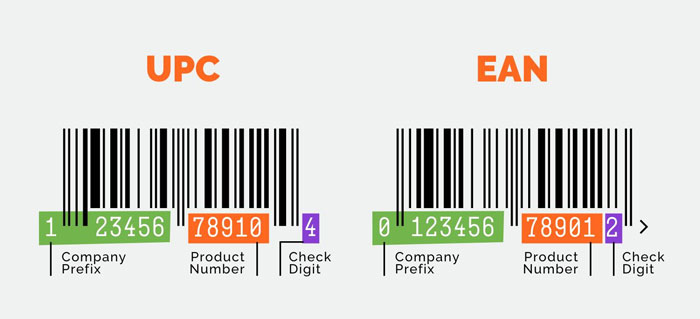 EAN vs UPC code
What are the difference between EAN and UPC?
The "Universal Product Code" is known as "UPC-A" and EAN number stands for "European Article Number".
You can notice that the EAN and UPC barcodes are identical if you look at the picture above. The bars' width and the distances between them are the same precise width.
The positioning of the numerals below is the only significant difference between these two.
They solely serve as a backup in the event that the barcode cannot be read properly and manual entry of the data into the register or POS is required (point of sale system).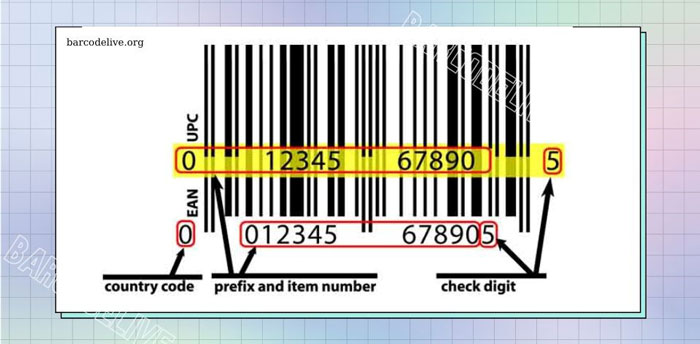 EAN UPC codes difference
Because GS1 at the time didn't respect the significance of Canada and the USA indicating a country code, it does not appear beneath the barcode in a UPC.
As the bulk of goods sold in both nations come from importers, wholesalers, or producers in the Canada or USA, GS1 believed they could omit the leading zero in the numbers that are visible to humans.
Below is a brief comparison of these two type of barcodes. Let's have a look!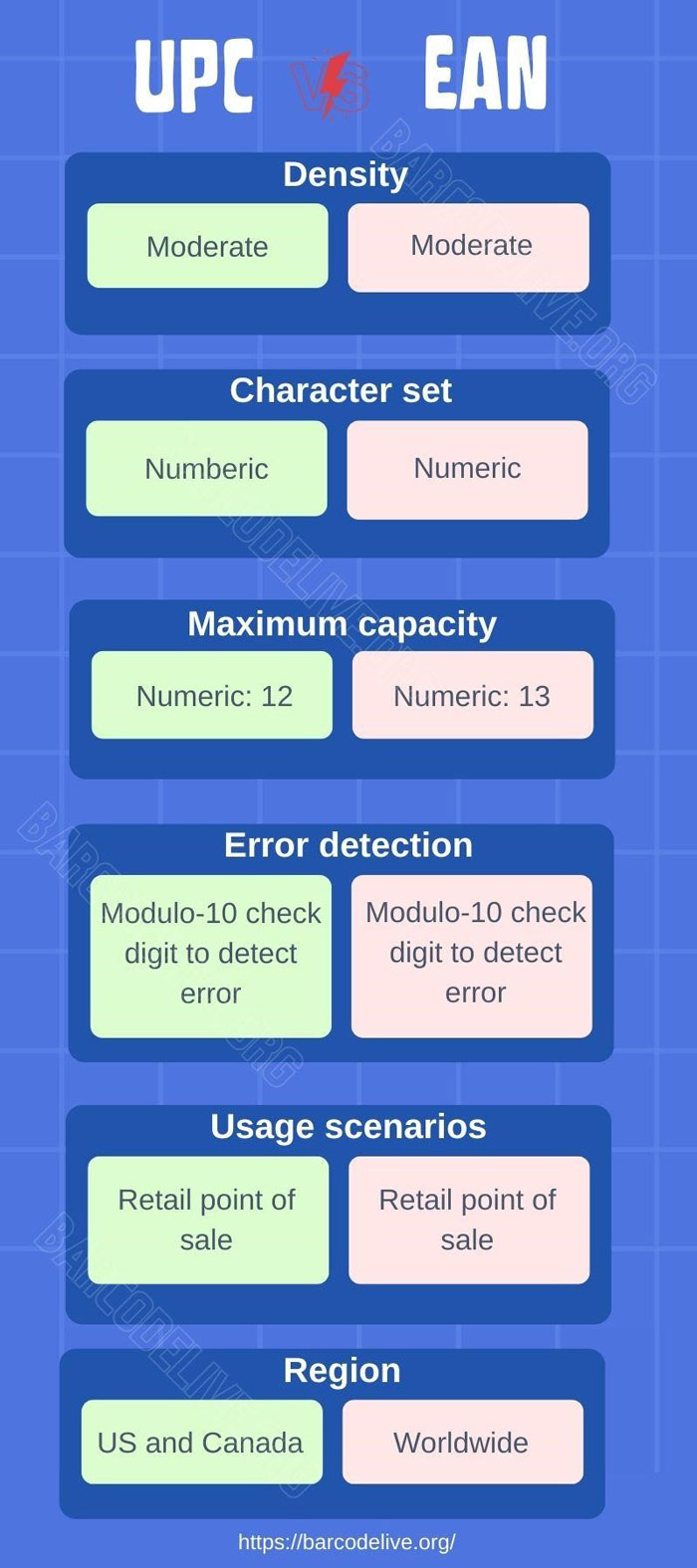 EAN UPC code comparison
If you are interested in other kinds of barcodes, you can check our previous post on what is a data matrix code for more information!
What Information Are In EAN And UPC Codes?
A "unique" barcode image is produced by EAN and UPC codes. Every barcode image's lines are only a font that a barcode scanner can decipher.
It doesn't have any details on you, your business, or your items.
As you give your product information and the barcode to stores or merchants, all of this information is linked to your UPC or EAN.
Additionally, you can utilize the barcode together with the associated product details for online listings.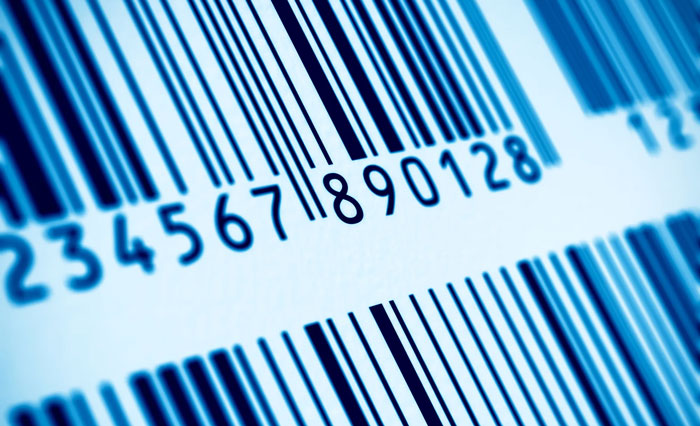 UPC/EAN code can store a lot of information
UPC EAN code numbers will be required for each distinctive product.
As long as they are only utilized for a product, you are allowed an unlimited number of barcode scans.
When there is only one product, all of the product details are the same.
For a barcode to belong to one product, the item must be the same from quantity to color.
You will also need a new barcode for the item if there are improvements to it that require you to modify any of the information about the product.
Where Should You Use UPC or EAN?
All retail scanning devices in the USA have supported both the UPC-A and EAN-13 standards since 2005.
Nowadays, the majority of retail establishments in the world can read data from UPC and EAN number.
The EAN barcodes cannot be decoded by some older scanning devices in the US and Canada.
Thus, if you are in the retail industry and only do business in Canada and the US, we advise using UPC barcodes since tracking UPC is also quite easy.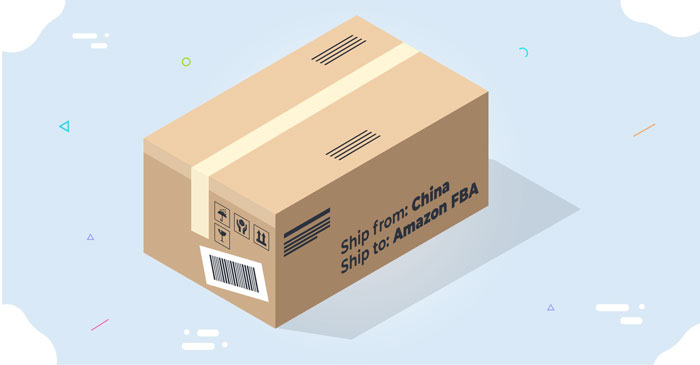 UPC codes are more widely used than EAN codes
Frequently Asked Questions (FAQs)
1. Does Amazon use UPC or EAN?
As Amazon mandates that all new product detail pages get a distinctive product identifier once they are established, you need to have a UPC for your Amazon product.
2. Can you convert UPC to EAN?
A UPC barcode can be converted to an EAN, but not the other way around.
The reason is that both the United States and Canada's country code is zero. Unlike UPCs, EANs have a country code and are 13 digits long.
3. Can you use EAN in the USA?
EAN is a globally accepted standard for barcodes, with the exception of the USA and Canada. In these two countries, UPC codes are commonly used.
4. Can a UPC scanner scan EAN?
The majority of stores today can read data from UPC EAN codes.
Nevertheless, certain older scanning devices in the US and Canada are unable to read EAN barcodes.
5. Do all products need an EAN?
You do not require an EAN code unless you will be selling your product abroad.
If you are sending directly to the customer, many businesses, including eBay and Amazon, do not need you to include an EAN code on the label.
Final Words
Though technically identical, the UPC and EAN barcode symbols and numbers are utilized in two separate regions. If you possess a UPC, you also have access to an EAN number for usage elsewhere in the world. Imagine them like the two halves of a single coin.
We hope you like the information about UPC vs EAN in this post. If you have any questions, write below to let us know!