The 'Aadhaar' Cards and QR codes Are Garlanded on Stray Dogs Outside the Mumbai Airport
Jul 26, 2023 - Views: 290 Share
On Saturday morning, a group of excited people garlanded 20 stray dogs with personalized identification cards that resembled "Aadhaar" cards outside the Mumbai airport. 
The cards, which include QR codes, are said to provide important information on the pets, according to a ToI story.
Their names, contact information for their feeds, immunization records, sterilization status, and medical histories were all provided.
It made it simpler to find owners for lost dogs.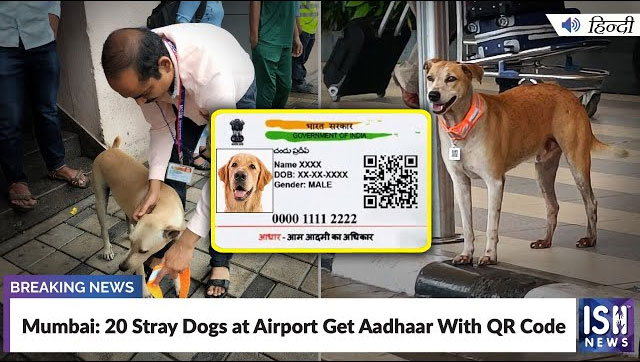 Stray dogs outside Mumbai Airport garlanded with QR codes
The crew, led by Sion-based engineer Akshay Ridlan, worked feverishly throughout the night to affix the QR code tags and vaccinate the dogs. 
By building a comprehensive database of stray animals in the city, the "pawfriend.in" initiative hopes to improve stray animal management and treatment. 
As a result of the partnership, BMC was also able to immunize the canines in front of Terminal 1 at Sahar's Chhatrapati Shivaji Maharaj International Airport.
Sonia Shelar, a Bandra resident who feeds about 300 stray dogs every day, was crucial in bringing the canines near to the crew for shots and identification tags. 
Airport authorities, BMC veterinarians, and dog-catchers from Yoda were all part in the attempt.
The director of BMC's veterinary health services, Dr. Kalim Pathan, stated that all canines that were apprehended had undergone sterilization as well as routine health examinations and vaccines. 
The success of the QR code tagging pilot project will decide the next stages in this effort.
Read more: BBMP Launches QR Code Readers As a Single Point of Contact