Is Stock Barcoding Good or Bad? A 4-Step Installation Guide
Mar 28, 2023 - Views: 732 Share
Are you wondering whether stock barcoding good or bad?
Virtually almost every e-commerce retailer begins with a manual stock-picking procedure. Thanks to the development of barcode inventory systems in today's world, many organizations have switched to digital picking.
So, in this post, we provide you with a guideline on setting up this barcode inventory system as well as the benefits of stock barcoding that you need to know!
Let's find out!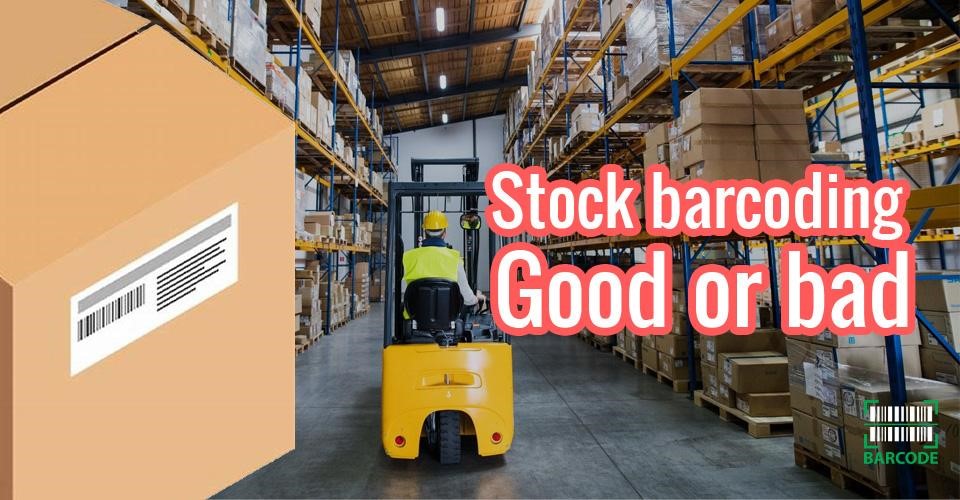 Is stock barcoding good or bad?
Understanding Stock Control
Stock control, also known as inventory control, entails maintaining the appropriate number of stock to allow firms to meet customers' expectations while avoiding delays and keeping stock expenses to a minimum.
Each firm that sells real goods needs stock or inventory. 
Stock control ensures that the firm always has adequate inventory for its consumers by balancing the costs of acquiring and holding stock. 
The method appears to be easier said than done. Many factors outside of the business's control might be implicated, further complicating stock control.
Nowadays, many small enterprises turn to barcode inventory systems and digital picking.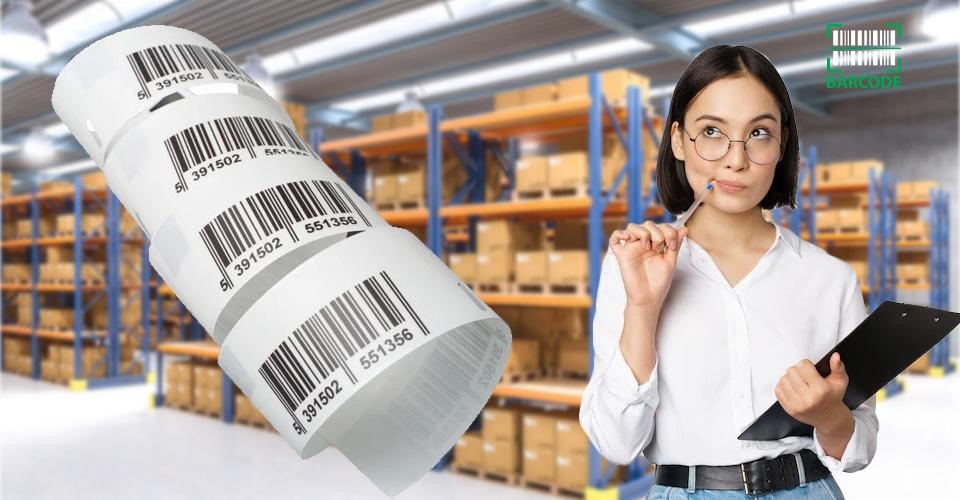 Understanding barcoding stocks
So, what does barcoding mean in stocks? A barcode inventory system is one in which goods are given unique barcodes. When a product is sold, the barcode is scanned, and data is related to a central database.
While choosing a product, the warehouse worker scans the barcode. The scanner then informs the worker if they have selected the correct item. 
It also logs the action in your inventory management system, which aids in keeping proper stock levels, keeping a real-time inventory track, and enhancing picking speed and accuracy.
How Does a Barcode Inventory System Work?
Barcodes connect the data obtained while picking to your inventory monitoring system. 
The picker is informed that they have chosen the right item when the barcode is scanned, and your inventory management system is also informed that the right item has been chosen.
On your live inventory tracking, update the updated figure. 
It not only makes your pickers' lives simpler while also minimizing mispicks but also provides an accurate real-time live inventory count.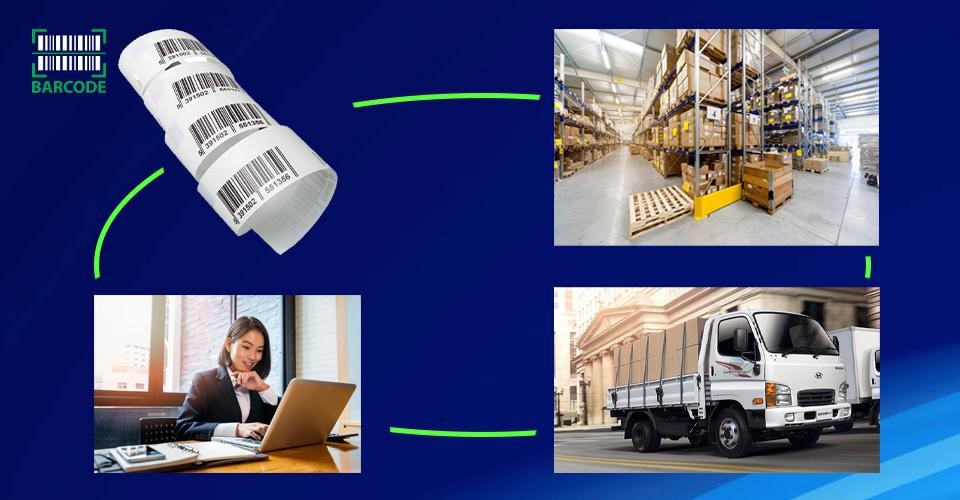 Barcode inventory system
Is Stock Barcoding Good or Bad?
If you are wondering whether your company should use stock barcoding technology or not and is a barcoding stock good, check out its benefits below.
Easy to set up
Barcoding all of your items might take some time.
However, putting up a barcode inventory system is rather simple, especially if you are already utilizing SKU numbers.
Fewer mispicks
If you rely on your pickers to always select the correct item, they will make mistakes. Errors result in mispicks and clients receiving the incorrect item.
Fortunately, a barcode inventory system "checks" that the correct item was selected when it is scanned. 
Hence, regardless of how exhausted or how busy they are, it will be simpler to choose the appropriate thing.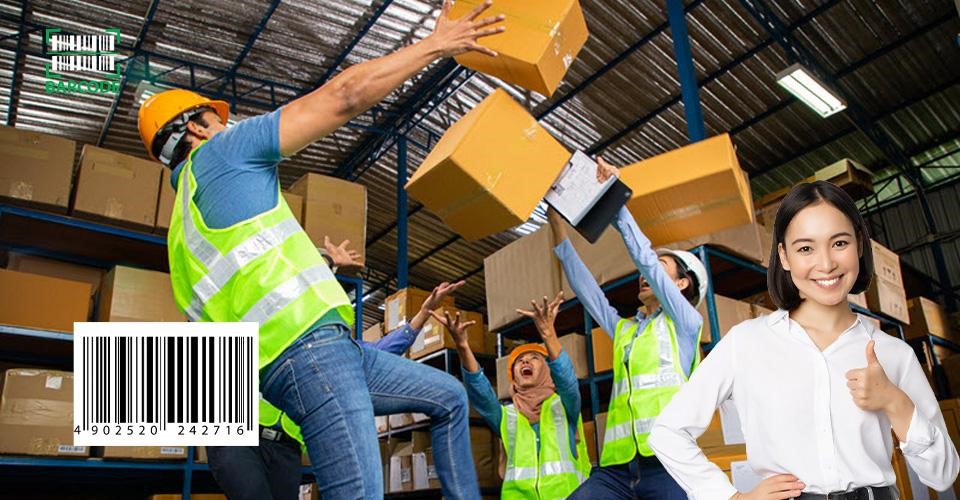 Barcoding stock helps reduce mispicks
Hire fewer pickers
A smaller team may process more orders than they could with a manual method since your picking staff will find utilizing a barcode inventory system to be quicker and easier. 
Thus, fewer employees are needed to do the same amount of labor. 
As a result, you might be able to handle the increased order volume at peak times like Black Friday without having to hire temporary personnel.
Accurate inventory tracking
Each e-commerce firm has to be able to track its inventory at all times. 
It helps provide a full audit trail for all of your inventory in addition to reducing overselling and understocking.
Cost-effective
The cost of installing a barcode inventory system is typically less than the savings realized through fewer mistakes and better inventory management in general.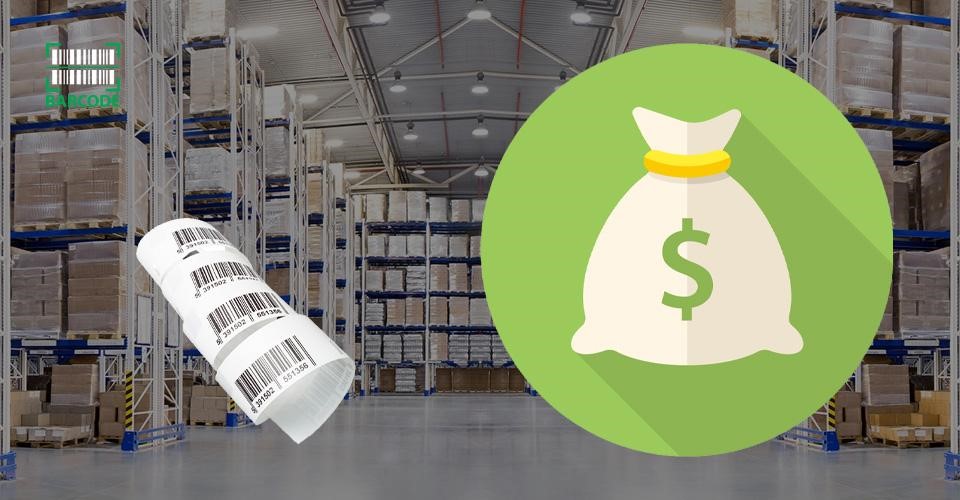 Barcoding stock is cost-effective
Periodic inventory counts
Periodic inventory counts can be carried out using barcode inventory scanners.
So, your picking team uses their scanner to do a rapid partial stocktake whenever there is downtime, which indicates that you frequently have more precise inventory statistics.
Look professional
Imagining yourself shopping in the 1990s, it was typical to receive handwritten confirmations of your order and payment in the form of receipts and little scraps of paper.
You can instantly understand how professional a barcode is in comparison to outdated handwritten labels when you contrast that with today, where a little barcode provides all the essential information.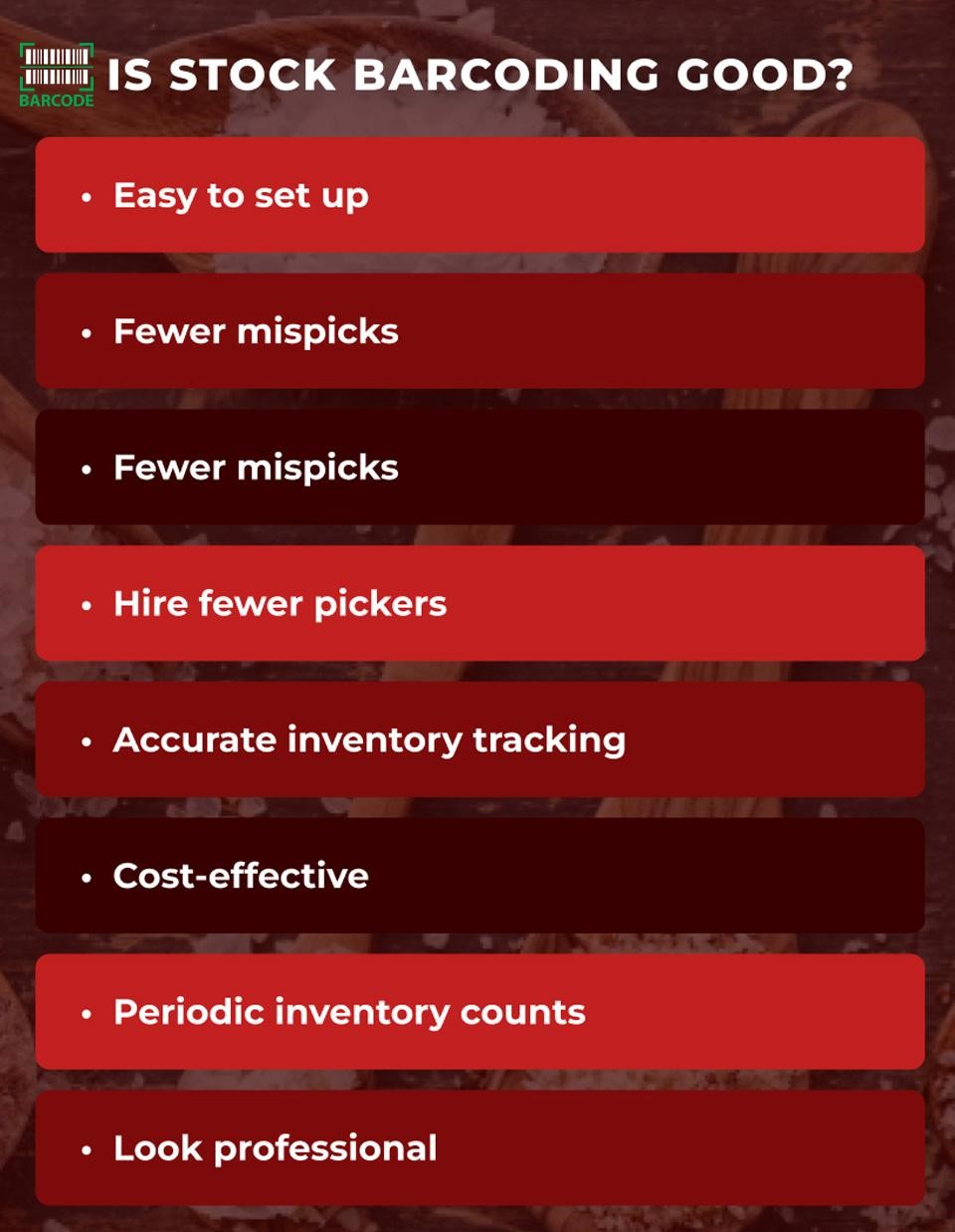 7 benefits of barcoding stock
How to Set Up A Barcode Inventory System?
Setting up a barcode inventory system is surprisingly simple if you follow our guidelines below.
Let's check it out!
Step 1 - Create a product code
The first step is to generate a product code. A 12-digit UPC (Universal Product Code) or SKU number may serve as the foundation for these. 
Even though the former may have advantages, e-commerce companies often start by employing SKU numbers. 
But, if you are not producing the goods yourself, the goods you buy may already be barcoded when they come.
Step 2 - Create a barcode
Making a barcode for each of your product's codes is the next step. To accomplish this, utilize a barcode generator online or barcode software.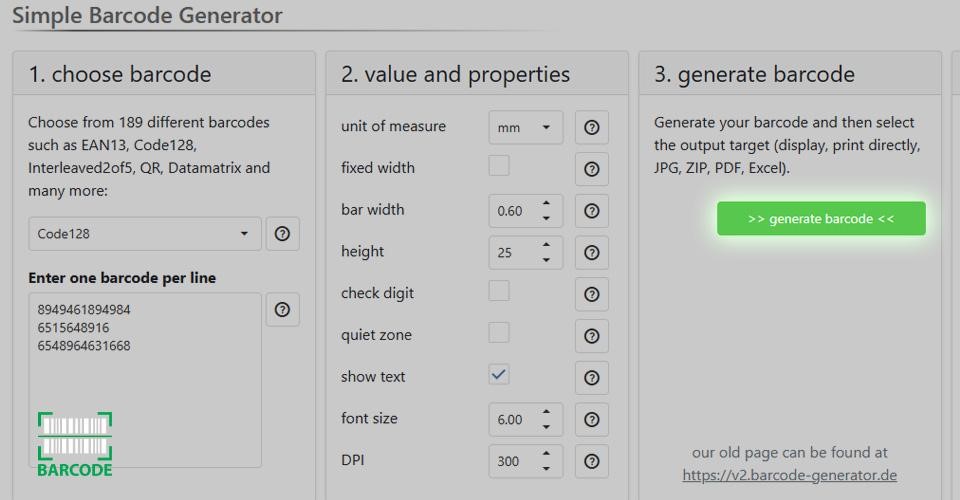 You need to create a barcode
Step 3 - Print a barcode
Now, you'll need an inkjet or laser printer to print your barcode, however, thermal printers work best in this situation.
Step 4 - Put a barcode in the relevant place
After printing the barcode, you insert it into the corresponding bin, shelf, or product. Once a picker has selected an item, they scan the barcode. 
Wherever it is practical, it is advised to put the barcode on the product itself. This eliminates the possibility of human mistakes, when a product may be placed on the incorrect shelf or bin.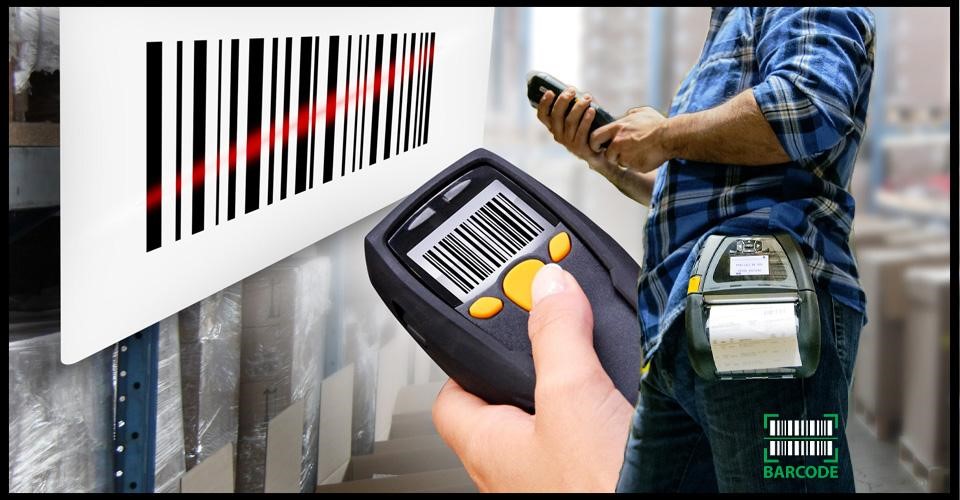 Place the barcode in the relevant place
Also read: How to sell product without inventory?
Who Should Use Barcodes?
Nowadays, barcodes are used extensively in retail throughout most nations on the planet. Is barcoding good for a stock? The answer is yes! But not every store will find them perfect.
Barcoding might not be a good match if you offer a lot of cheap goods with constantly changing product lines.
Yet, establishing a barcoding system may be advantageous for practically all other types of retailers.
You must make sure your items have barcodes if you plan to sell them online through eBay and Amazon.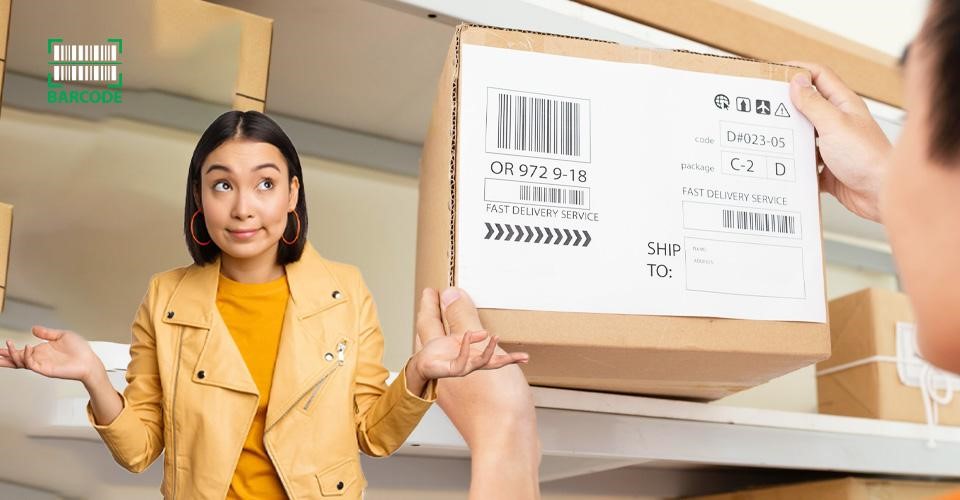 Who should use barcodes?
Frequently Asked Questions (FAQs)
1. What information can a barcode contain?
Product details like price, weight, production date, expiration date, and manufacturer name are frequently stored in barcodes.
The biggest restriction on a barcode is that it must be bigger the more data it stores.
2. What are the different types of barcodes?
There are 2 main types of barcodes: 1D and 2D.
1D barcodes: They are vertical black lines that make them up. The scanner then determines which product it is seeing by examining the area between the lines.

2D barcodes: They are typically square in design and feature a variety of shape-based data storage elements. When you need to store more data than a 1D barcode can, you utilize them.
3. Can a small company benefit from barcode scanning technology?
Barcodes are entirely optional unless you're selling in a retail market, which is defined as "big box retailers" like Tesco.
If your small business sells products, you could think about installing a barcode system.
Conclusion
Retailers use barcodes for a reason - even if they may not be the newest technical fad - because they function well and dependably and offer them many advantages that cannot be disputed.
After reading our post to the end, if you are a retailer, we hope that you will have the answer for whether stock barcoding good or bad. Let's set up a barcode inventory system for your company!