Facebook QR Messenger Quick: 5 EASY Steps To Create It
Dec 08, 2022 - Views: 1638 Share
Creating a Facebook QR messenger quick gives you great benefits when you want complete communication.
It works based on the codes that direct you to be convenient and versatile apps.
How to create it easily and properly?
Keep reading this article for further understanding.
Facebook QR Messenger QR quick
What Is A Facebook QR Messenger Code?
Facebook Messenger QR Code is a great solution for businesses like yours. 
It is better than other code types, such as the Aztec bar code, which is a scannable matrix to store the set of data using 2D technology. 
This solution allows your customers to easily access Facebook Messenger on mobile with one automated scan. 
Facebook Messenger is, of course, the most commonly used app. 
After scanning, automating customers may access Facebook Messenger even from print media with the direction of this QR code to the app. 
Overall, instant communication advantages brand reputation significantly as customer issues are resolved quickly and without negative reviews.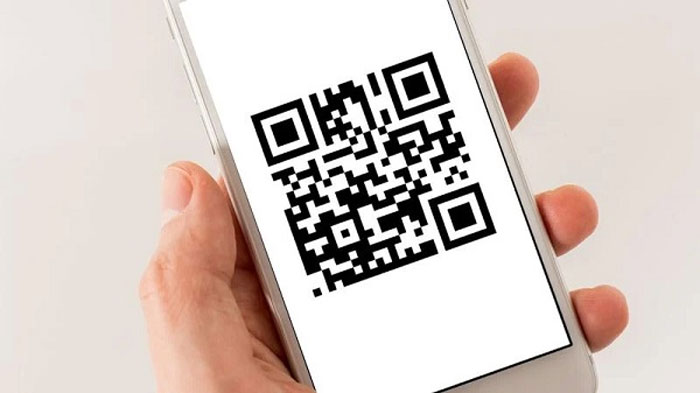 Definition of Facebook QR Messenger code
Does Facebook Messenger Code Still Exist?
Yes, it does. Facebook generated various features for the Facebook Messenger app in 2019. 
With this feature, the Messenger app on Facebook becomes simpler, faster, and smaller to utilize.
Although they deprecated Messenger Code Facebook, they may exist when you create Messenger QR codes on your Facebook account.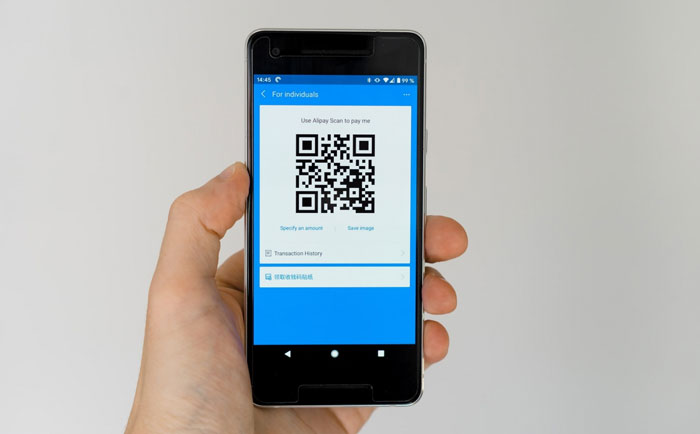 Facebook QR Messenger Code maybe exist
Why Should I Use A Facebook QR Messenger Code?
Facebook has become one of the world's most popular marketing social media platforms. 
This means virtually any business can use Facebook Messenger to communicate conveniently and effectively with customers across borders and time zones. 
And using QR codes to make Facebook Messenger even easier to access benefits both businesses and customers.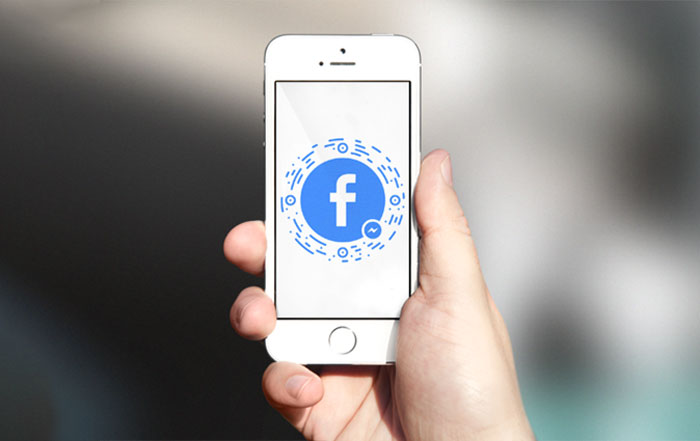 The Facebook QR Messenger code
Conveniently connects print to digital
A big advantage of the QR Messenger code is the ability to combine print and digital. 
If you're looking for something like a flyer, chances are you created a brochure to promote certain links or other digital content. 
Without the QR code, the person reading the brochure would later have to check the link individually. 
This can be frustrating as it often leads to errors and misinformation.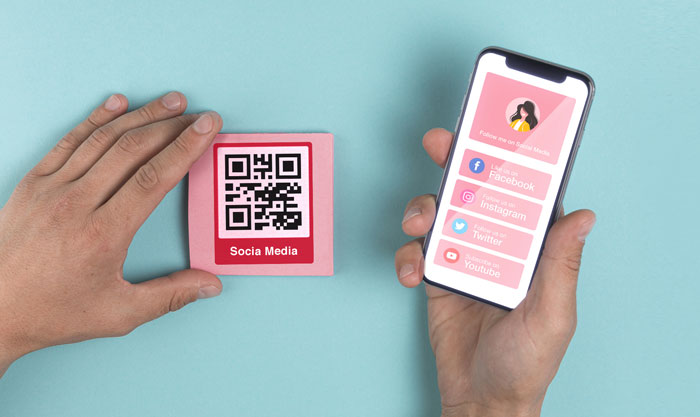 Conveniently connects print to digital
In the case of QR codes, this problem does not arise as the user simply scans their QR code. 
Besides, it will automatically receive all the necessary digital information and links.
Easier communication with customers 
Promoting Facebook Messenger is one of the best ways to improve your customer service process. 
Customers can hear their questions immediately and get a timely response.
Facebook Messenger is a great way for a company to apply the same concept through our Facebook page. 
It is given the usefulness of chatbots on the website for customer service and sales processes.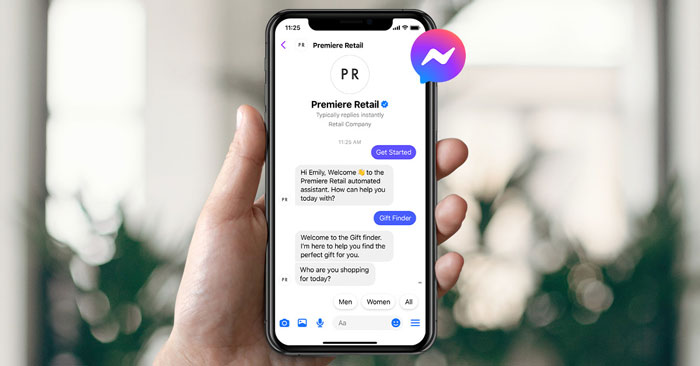 Easily communicate with customers through Facebook Messenger  
Combining this process with Facebook Messenger QR codes makes access even easier. 
Thus, customers are directly connected to the Messenger app after scanning the QR code using a barcode reader. 
Fully customizable to fit your brand
No QR code gets in the way of your graphic design. 
In fact, you can customize it with your brand's colors, frames, and even your logo in the center.
You can also download the QR code image in four different image file formats. 
So you can choose the best format for your photo editing tool. This level of customization allows it to adapt to any medium imaginable.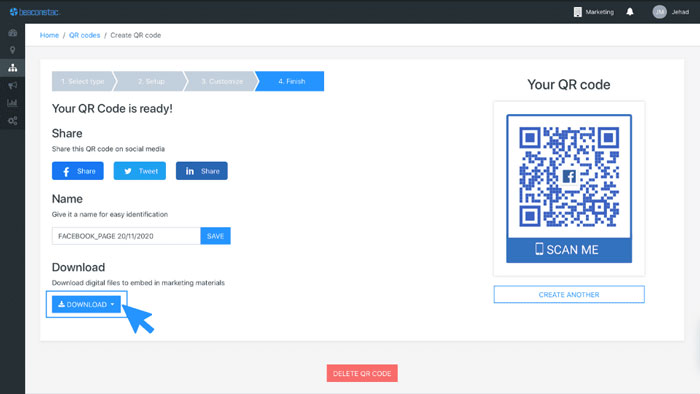 Fully customizable to fit your brand
How Is Facebook QR Messenger Used?
You should understand how Facebook Messenger QR codes provide convenient customer communication for different types of businesses. 
Let's consider some concrete examples.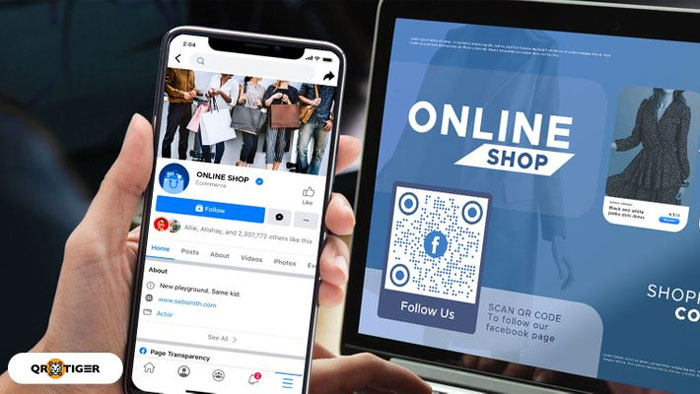 You can use the QR Messenger code for various fields
Finance consultants
A great way to use Facebook Messenger is to book appointments such as discovery calls. 
This is exactly what a financial advisor needs. 
For example, you can use the QR code in Facebook Messenger on business cards and sales brochures. 
This aims to make it easier for potential customers to request a quote or more information. 
Additionally, you can use them in your social media posts, allowing users to go directly to the Messenger link instead of visiting your profile first. 
The URL used to create the QR code is available on all digital platforms, so users can scan their QR code or click the link.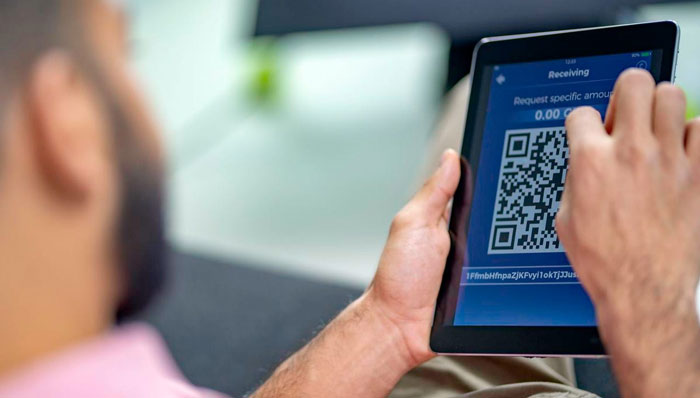 Using Facebook Messenger QR code for finance consultants
Electronics companies
Facebook Messenger is an ideal means of communication for customers with questions about electronic products. 
It also makes sense for businesses because customer service employees can answer questions directly if they have all the information. 
In this case, it is worthwhile to use the QR code of their Facebook Messenger on the product's packaging.
Because when the customer unpacks the item, they can see exactly how they can easily contact the company for help.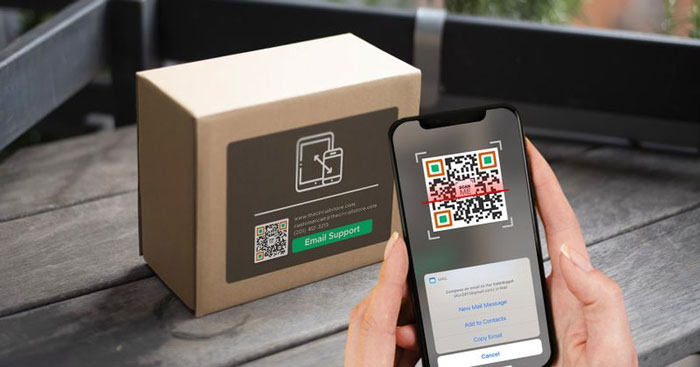 A QR code on products
Fashion retailers
Fashion retailers can also use customer support from Facebook Messenger to notify customers of deliveries and seasonal promotions. 
You may also use the Facebook Messenger QR code on your product packaging and social media ads. 
If someone contacts you via Facebook Messenger, you may also keep in touch about additional items they may be interested in purchasing.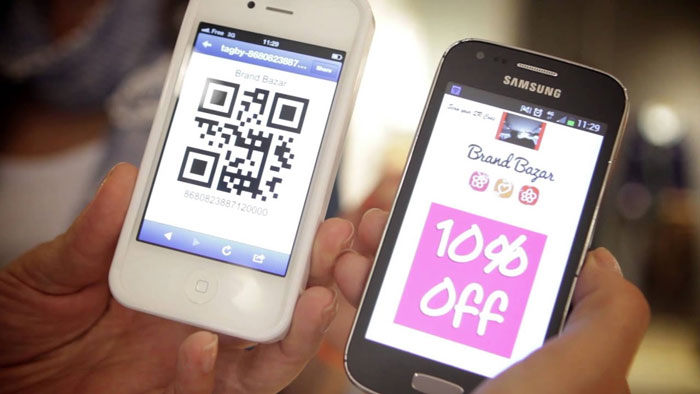 You can apply the QR Messenger code to fashion retailers
Home maintenance & repairs
Facebook Messenger is useful and convenient for businesses providing home repair  and maintenance services. 
It can give customers the choice to ask whether they need a specific repair. 
Or it provides them help in an emergency outside of business hours. 
Facebook Messenger QR codes can be used on business cards, websites, or company cars. 
Transparent and easily accessible customer service is a key reason customers choose a particular brand, especially in today's digital world.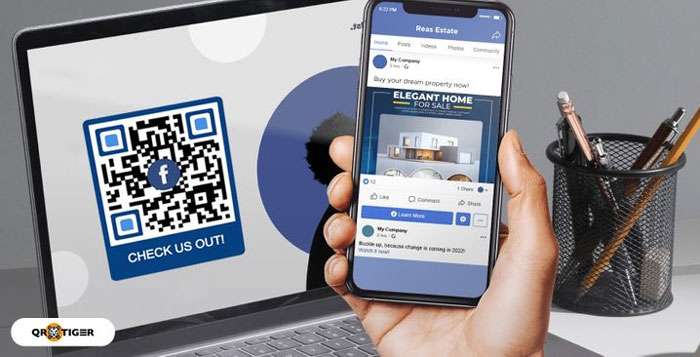 Using Facebook QR code for home maintenance & repairs
How To Create A Facebook QR Messenger Quick?
To create a Facebook Messenger QR code for Facebook QR messenger us quick, follow these steps:
Step 1. Go to QR Code Generator for Facebook Messenger. 

Step 2. If you use this link format m.me/pagename, replace the page name with the name of your Facebook page. An example would be m.me/qrcgcom. 

Step 3. Click this link or scan this QR code to redirect to Facebook Messenger and start chatting automatically. Then, paste this link into the URL field in the generator. A QR code is automatically generated. 

Step 4. Customize your QR code with a call-to-action frame, color, and logo. 

Step 5. Download the QR code now and add it to your favorite printed materials.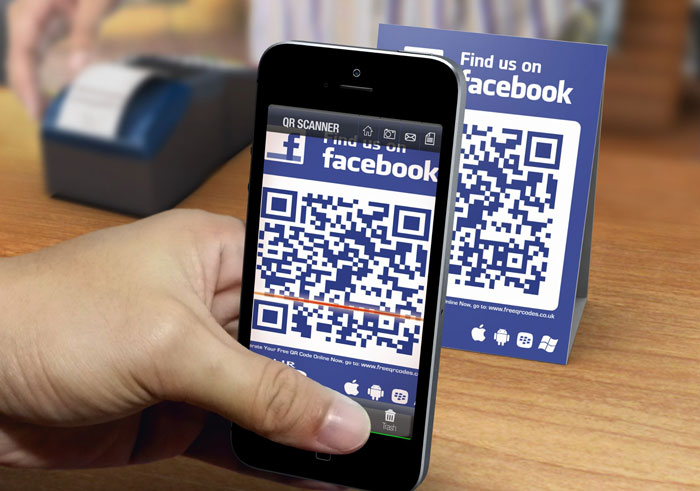 A guide on generating a Facebook QR Messenger code 
After creating a QR messenger code successfully, you should use a  barcode grader to make sure your code is marked correctly. 
What Are Some Tips To Create A QR Messenger Code?
Of course, when struggling to generate QR codes for Facebook Messenger, you need to maximize your profit. 
So below are a few tips to support you doing this.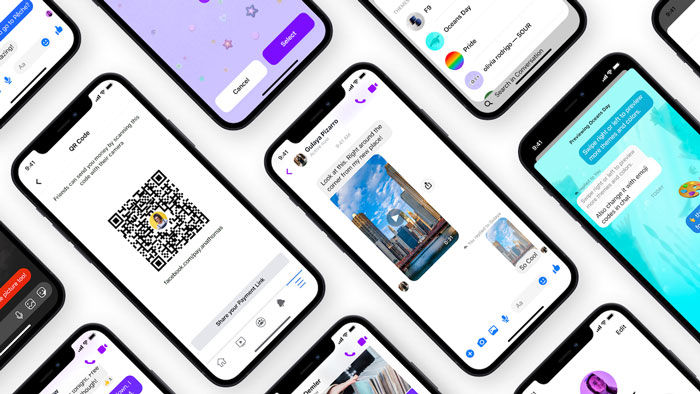 Some tips for creating a Facebook Messenger QR code
Set up Facebook Messenger chat templates
Setting up a chat template in Facebook Messenger is always a good idea. 
This will allow you to maintain a fast response rate to your customers even after hours.
In addition, you can also direct users to information that answers frequently asked questions. 
You can use tools like Mobile Monkey to set this up and update the template as your customer's needs change.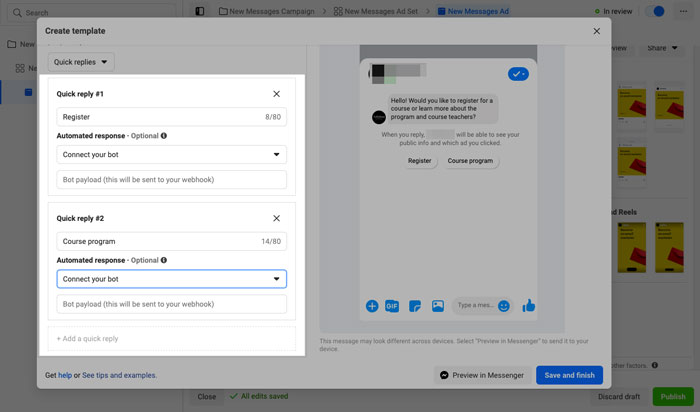 Set up Facebook Messenger chat templates
Consider your QR Code size
QR codes can be used in many different media types, from large billboards to small print business cards. 
There is no limit to the QR code size as long as the quality is good enough to scan remotely. 
Yet, the QR code may be too small to scan, so don't make it smaller than 2 x 2 cm (approximately 0.8 x 0.8 inch).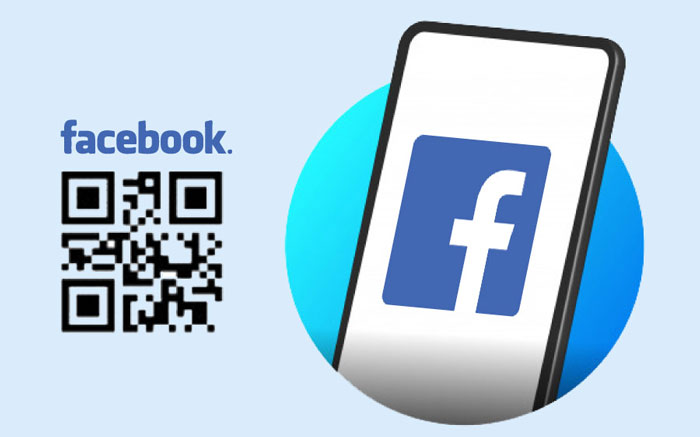 Consider your QR code size
Customize your QR Code
Customizing the QR code is always recommended for two main reasons. First, adding it to your graphic design makes it look better, and second, it's an opportunity to boost your marketing further. 
The QR code you design should always reflect your brand colors and have borders and a good call to action (CTA).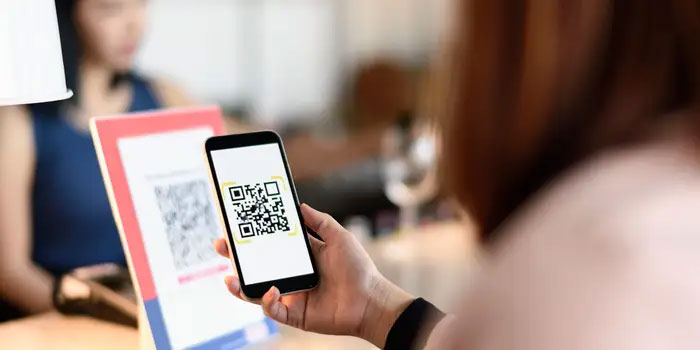 Customize your QR code
Use a logo
Adding a logo is essential to assure users that the QR code is safe and genuine to scan. 
This is especially valuable in public places as it restricts the risk of QR code fraud and related security issues. 
Plus, it doesn't hurt to add more branding.
That's all about creating Facebook QR messenger quick. You can watch this video for an overall picture of this topic:
Frequently Asked Questions (FAQs)
1. How to scan a Facebook QR Messenger code?
As with any QR code type, the QR code may always be scanned using third-party apps. 
Instead, newer smartphones may also scan the QR code directly through the camera. 
You can refer to the iOS and Android guides for supporting how this operates.
2. Can I use a Facebook QR Messenger code to get likes?
This option is not available for Facebook Messenger QR Codes. 
Yet, you may get Facebook likes using a QR code that displays your profile on a mobile-friendly viewing page. 
Users may like your page directly without visiting your page. 
There is also a choice to add another link. 
It can be a landing page encouraging purchases or other related actions.
3. How do I find my Facebook pay QR Code?
To access the payment link and the QR code, open Messenger settings and select Facebook Pay. 
From there, you may share your payment link or allow your friends to scan your QR codes to transfer or get money.
Some Ending Words
The above is the ultimate guide to creating Facebook Messenger quickly with QR Codes. It is the perfect solution for you if you want to automatically and easily access Facebook Messenger on your mobile with a simple scan.
Besides, Facebook Messenger with QR codes will allow your customers to access the app via the scanning process. Thus, it is also a great option for your business. To sum up, knowing how to create a Facebook QR messenger quick will help you make instant communication benefits for a better brand reputation without negative reviews.