Barcode Generator EAN-13: Top 3 Best Free Tools For You
Mar 27, 2023 - Views: 892 Share
The barcode generator EAN-13 is a versatile tool for generating product barcode systems.
It supports users in creating a complete barcode with the necessary components and information.
Discover the top 3 free barcode generators in this post!
Barcode generator Ean-13
What is the EAN-13 Barcode?
The EAN-13 barcode is the standard EAN (European Article Number) version and an omnidirectional, 13-digit, 1D numeric barcode.
Also, it uses a single-digit checksum as its error detection mechanism. 
The EAN-13 barcode system is more popular worldwide than any other barcode as it can encode GTIN-13 and is used in retail stores to identify individual items.
Further, it can be used for goods sold to consumers. Look at this EAN-13 barcode example.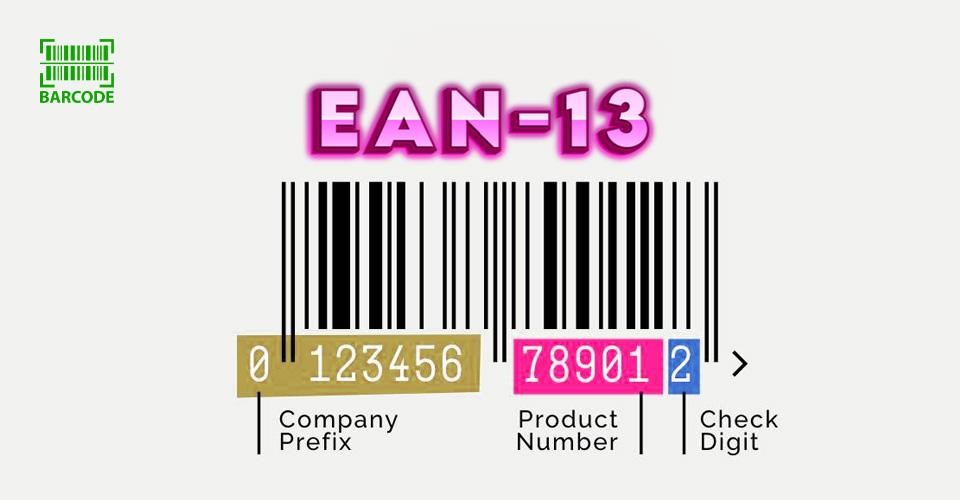 EAN-13 barcode
How to Recognize an EAN 13 Barcode?
EAN 13 barcodes are easy to recognize. It always starts and ends with 2 thin bars in a 'start' and 'stop' pattern. Besides, there are two thin bars in the middle of the symbol. 
When printed in human-readable text, the first digit is placed to the left of the code and the ">" character, known as the Light Margin Indicator or LMI, may be on the right code's side. 
Both characteristics are characteristic of the so-called "quiet zone." This space should be freed from other graphic elements.
A "module" is the thinnest barcode symbol bar. 
The SC size selected determines the height and width of the module, from which all other dimensions are derived.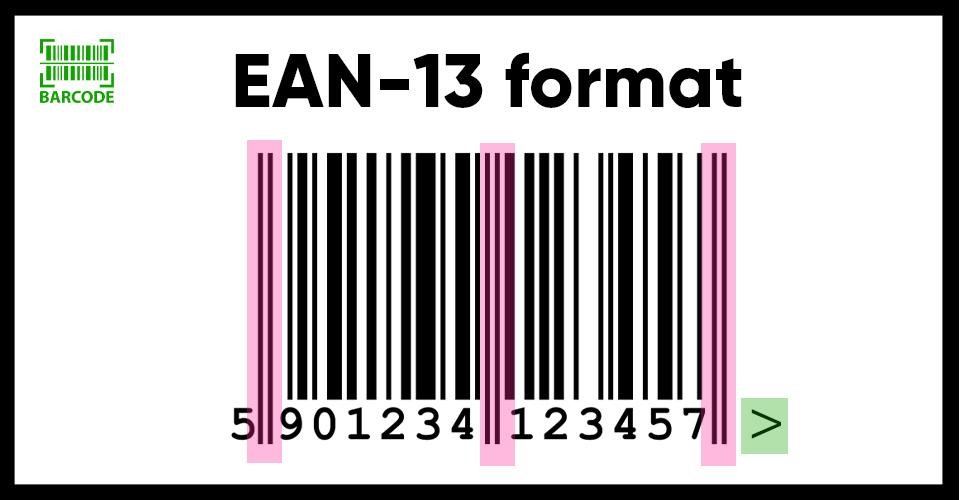 EAN-13 format
What are the Pros and Cons of the EAN-13 Barcode?
Below are some benefits and drawbacks of the EAN-13 barcode you should consider. 
Pros
EAN-13 may be read by any barcode reader, making it widely recognized and convenient for daily common retail transactions. 
Additionally, the verification number contributes to accuracy when entering codes manually. 
Mathematically combine numbers in a specific method to get an accurate single-digit result. If this result doesn't match the check digit, it helps detect the incorrectly entered codes. 
You can read EAN-13 upside down and in the correct orientation as an efficient barcode for bulk scanning in supermarkets.
In stores, you may be used for retail products, including wine bottles and transactional items such as wine cases. 
This barcode is recognizable worldwide through the GS1 standard.  
Cons
Character limitations of EAN-13 barcodes affect possible uses. 
It's fine for general supermarket utilization but may not identify more complex products.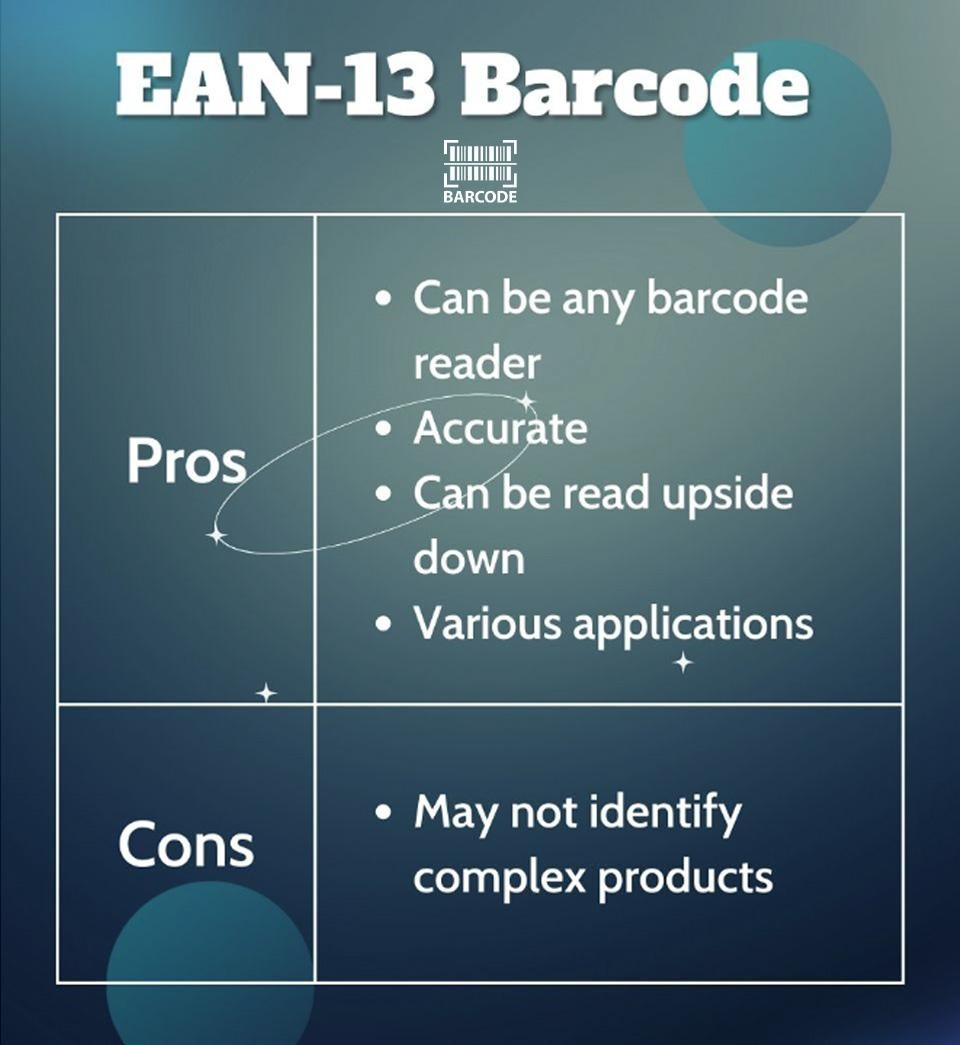 Pros and cons of EAN-13 barcode
Best Barcode Generator EAN-13
You can choose the best barcode generator for the EAN-13 barcode based on its outstanding features, versatility, and accuracy. 
Let's consider three typical generators for generating EAN-13 barcodes to pick the best one for your products.  
Aspose EAN Barcode Generator
This free online tool allows you to generate barcodes in various supported raster and vector formats, including JPEG, PNG, BMP, TIFF, GIF, SVG, and EMF. 
It also supports the following barcode symbologies: 1D POS: EAN-8, GS1 DataBar, UPC-A, UPC-E, EAN-13, Codabar, ITF-14 2D Symbology. 
How to create a barcode for a product using this tool. Follow the simple steps below: 
Step 1. Enter the code text.

Step 2. Select the barcode size and type. 

Step 3. Generate a barcode.

Step 4. Download the resulting image.
Aside from using Aspose to create an EAN barcode, you also use it for QR codes if you don't know how to make a scannable QR code.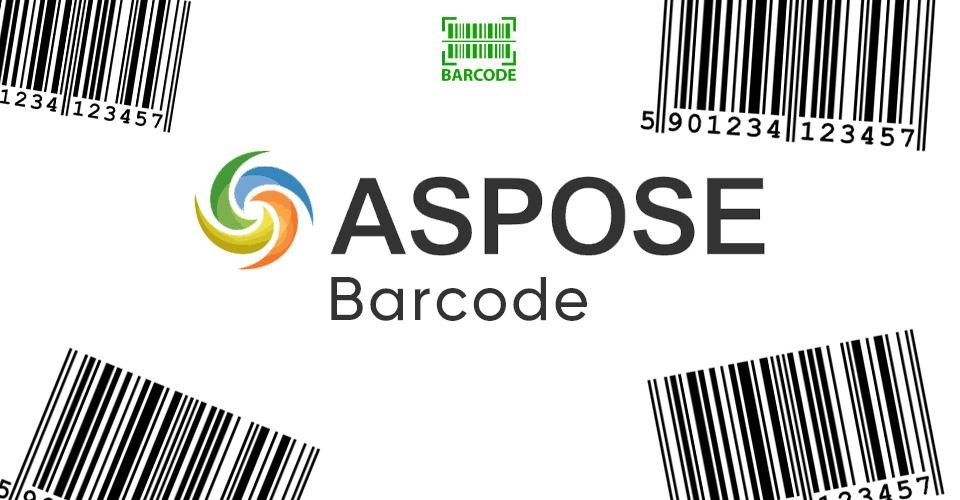 Aspose EAN Barcode Generator 
Labeljoy
This tool allows you to encode the EAN barcode (or European Article Number) or GTIN (Global Trade Item Number) for the packaging or product.
How to generate EAN 13 barcodes with Labeljoy? Here is some useful information you need to keep in mind. 
An EAN 13 barcode consists of 13 digits. Smaller products have a more compact 8-digit version called EAN 8. Thus, this tool also works as an EAN-8 barcode generator.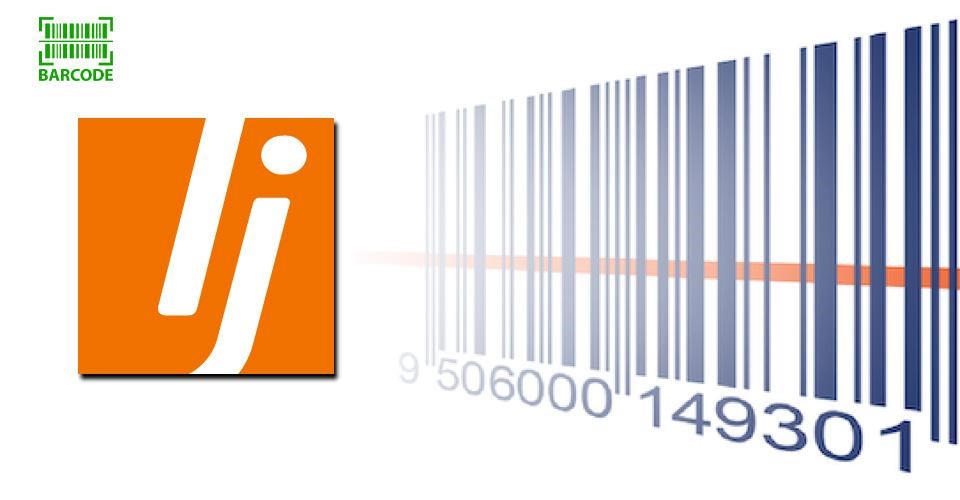 You can generate EAN code using Labeljoy
This barcode generator requires you to enter 12 digits to generate a barcode. 
Enter a 12-digit number in the text box and click OK. The 13th digit called the check digit, is calculated by this tool automatically. 
Furthermore, EAN-13 barcodes generated with Labeljoy can encode an additional 2 or 5 digits. 
Enter additional numbers in the text box on the right.
Besides, if the EAN-13 barcode font or any value is found that does not match the above rules, the barcode will not be displayed.
GeneratePlus
This generator allows you to generate EAN numbers for different items. 
This tool works as a scientific generator, such as hexadecimal number generators and prime numbers. 
One of the typical features of GeneratePlus is non-technical generators, including ISBN numbers and address generators. 
It is easy and fast to generate the expected barcode with clear results at a glance. 
Besides, this tool also comes with the secure transmission, maximum data protection, and no server-side results storage. 
Follow these easy steps to create the barcode for the item you want: 
Step 1. Choose the EAN version in settings. 

Step 2. Pressing the generate button. This step will generate an EAN barcode based on the UUID version of choice. Note that this tool can function as an EAN-8, EAN-13, or EAN-128 barcode generator. 

Step 3. Use the corresponding copy button to copy EAN to the clipboard.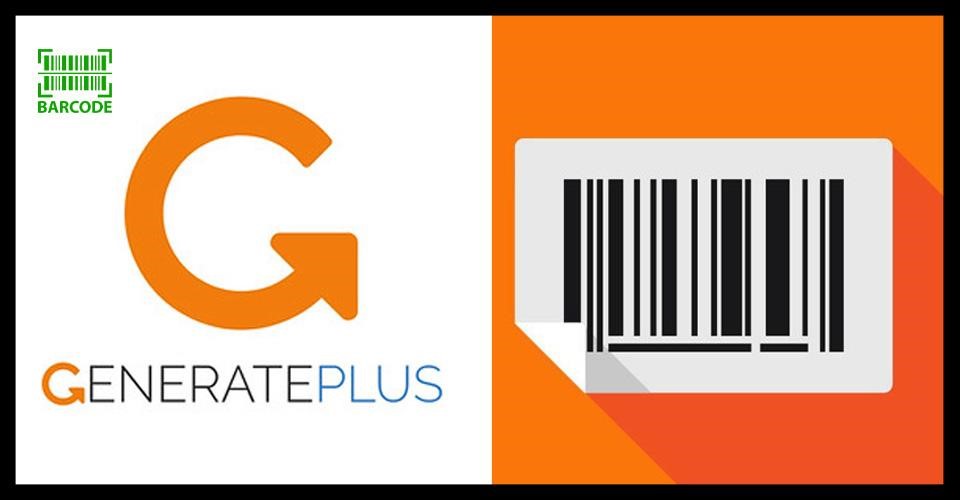 GeneratePlus for EAN-13 barcode
Frequently Asked Questions (FAQs)
1. Can I use EAN-13 in the US?
Yes, you can use EAN-13 barcodes in the US. This is because they are compatible with most US scanning systems.
Also, it indicates that imported products marked with an EAN-13 code do not need to be remarked with a different barcode for retail sales in the United States.
2. Does Walmart accept EAN barcodes?
Yes, Walmart accepts EAN as a unique product identifier for each listing published on the platform.
3. What barcode is accepted by Amazon?
It is GS1. The barcode required for an item on Amazon is the same barcode required to list an item on another retailer's store or website.
Retailers often check the GS1 database to ensure the authenticity of barcodes before allowing them to sell on their websites.
Conclusion
We've covered useful information about the EAN-13 barcode generator. This is a versatile and beneficial tool to support the users in generating the barcode system for their products. It helps users save time with good results and high accuracy.
Also, you can easily pick the best barcode generator EAN-13, from the 3 top common tools recommended in this article, including Aspose, GeneratePlus, and Labeljoy.