4 Best Barcode Camera Scanner 2023 [Detailed Review]
Jan 22, 2023 - Views: 1270 Share
Do you know that you can now utilize a laptop's camera as a barcode camera scanner without charge? 
It will come in handy when you are new to the business, need to minimize the operation cost or there are many products in your shop that you couldn't remember. 
This post will provide you with a step-to-step guide on how to change a webcam to a barcode reader, and the websites or software help you to do so.
Now let's dive in!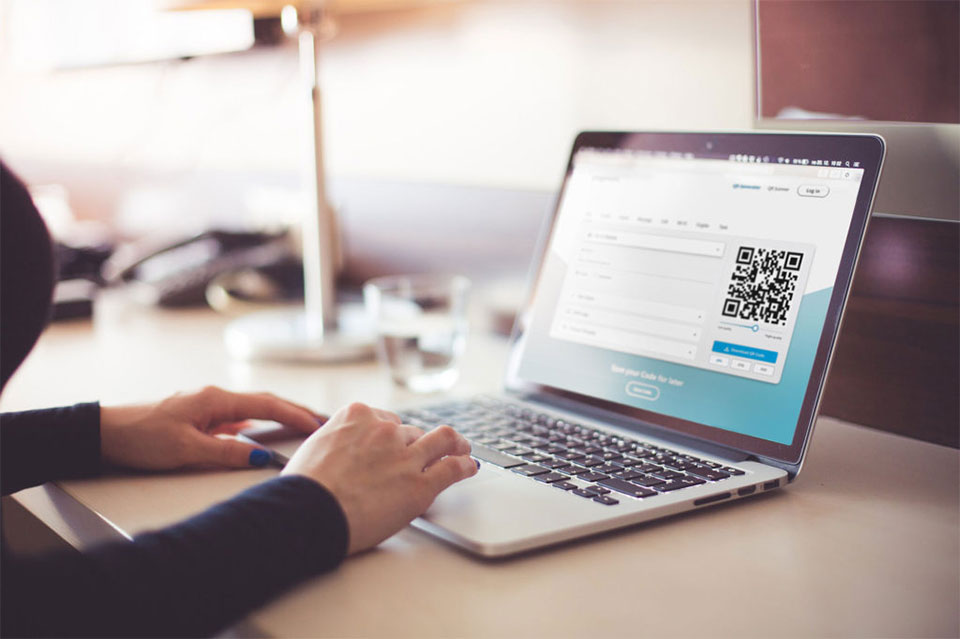 What are the best websites for barcode scanner camera
What Is A Webcam Barcode Scanner?
By utilizing the webcam on your PC, this product scanner gives you the chance to encode several barcode formats.
It is without a doubt too pricey to set up the laser gun framework used to identify items in nearby stores. 
Therefore, it is suggested to obtain a free barcode scanner with webcam and utilize it as a barcode scanner if you want to save money. 
What a fun method to cut costs in your brand-new company!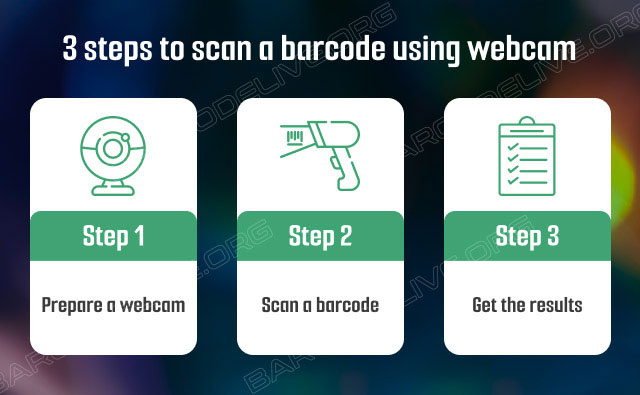 A barcode scanner with camera
How Does A Webcam Barcode Scanner Work?
Before getting into the main part of choosing the best webcam barcode scanner (or bcs scanner), we should understand clearly what it is and how it works.
Now you might wonder who invented barcode scanner. 
It is George Laurer - a full-time engineer at IBM who first developed the Universal Product Code (UPC), or barcode. Barcode is the small lines and spaces that are affixed to a specific product. 
When a scanner runs through this barcode, all basic information about that product like name, brand, and origin appears on the screen.
No matter what type of device: PC, MAC, Net PC, or the webcam you are using, you can make use of its webcam to use for scanning the barcode because the software is the decisive factor.
The guidance to use the bar code reader with a webcam is very easy, follow these steps and you can do it in minutes.

How to scan a barcode with a webcam?
Step 1: Webcam preparation
The first and foremost step is to make sure you have an appropriate webcam that works well on your computer. 
You can check if your devices recognized the webcam or if the driver is fully installed or not. 

Prepare webcam
Step 2: Try to scan a barcode
Once the webcam is set up, choose a product and bring the barcode near the webcam. Normally, the barcode is placed on the back of the product. 
The ideal distance from the barcode to the webcam is usually 5-8cm. If you move further, the image will not be sharp and blurred, as the result, that barcode cannot be read.
There are some webcams that have 'manual focus mode' allowing you to adjust the focus point of the image if it's too close.
If your webcam works, it should read the barcode well and display all the information about the products on the screen.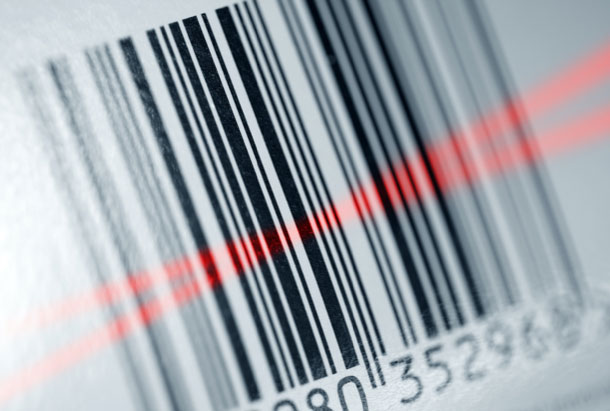 Barcode reading
Best Website Or Software To Scan Barcode Using webcam
Below are 4 free barcode reader software or websites to scan product code using a webcam. 
bcWebCam
You may use your webcam to scan and decode barcodes online with the help of the free program called bcWebCam. 
The program is totally original and available for free download.  
This program has a barcode data collection and helps you to read it online, and you don't need the assistance of additional hardware or an external device. 
You can use it for both personal or professional needs like in business. After reading the barcode, the application automatically copies the number into the target field.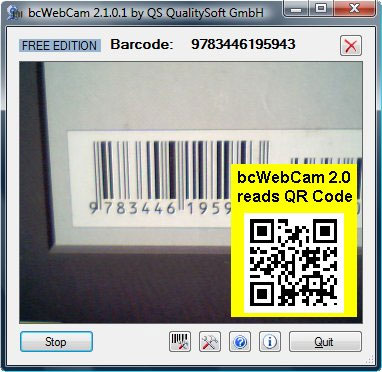 BcWebcam - online barcode scanner
This application can read EAN 13, EAN 8 and even QR code. 
Zbar Barcode Reader
ZBar Barcode Reader is free software that gives you access to efficient and powerful barcode reading tools. 
The software package is freely available, so you are free to save it on your computer and use it for as many purposes as possible. 
This cutting-edge free barcode decoder can scan barcodes from several sources. Numerous other barcodes, including EAN and QR codes, are also supported.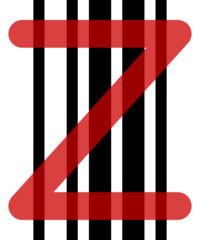 Zbar Barcode Reader- User-friendly software
Users who have some basic computer expertise can utilize the application effectively thanks to its user-friendly interface. 
You can use this free software whenever you want by downloading the free version, saving it to your hard drive, and using it. 
The free barcode scanner app can be used for small business purposes or to enter various items.
The application is cross-platform and may be used on Windows, Linux, Unix, and even your iPhone. 
As a result, you can use this freeware in whatever you like. The application is quick and presents the results right away. 
You can utilize this free software for automated document processing systems, retail, and inventory tracking.
Online Barcode Reader
A free barcode scanner online called Online Barcode Reader enables you to scan barcode online without having to register or sign up. 
Online barcode scanner acts as a tracking scanner.
Simply open your browser and search for its website barcode scanner and you can use it for personal purposes. 
Since this is a web-based tool, an internet connection is required to use this freebie.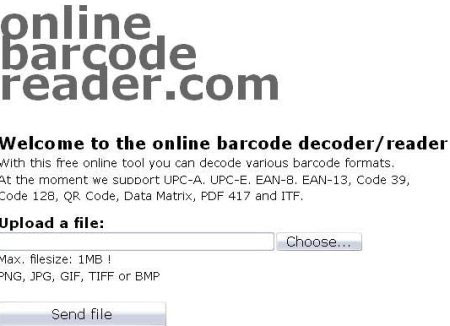 Online barcode reader - A barcode scanner website
This barcode scanner free software is simple to use and can read several types of barcodes. EAN 8, EAN 13, UPC-A, UPC-E and QR code can be decoded by this website. 
What's more, it can read your product's information by uploading images.
Free Barcode Scanner Reader Software
It is straightforward and manageable to use this free bar scanner software. Simply upload the barcode image from your disk to your application. 
Instantaneously and quickly, you receive the reading results. You can use this barcode image scanner for both personal and professional purposes.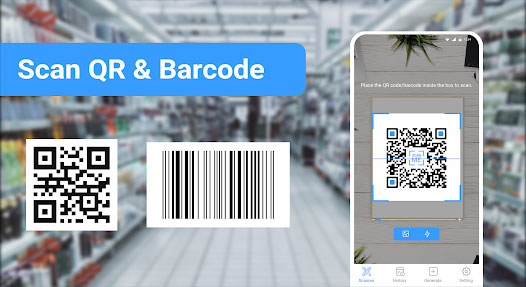 Free Barcode Scanner Reader Software
The application allows scanning a wide range of widely used linear barcodes, including Code 39, 128 and EAN 8 and 13. 
Additionally, it can read 2D barcode like the widely used QR code and PDF417.
This QR code scanner online free is available for free download on the website. Simple and modest in size, the exe file is. Thus, it won't take up much space on your computer.
#Tips: How to choose the best software/website for you?
All of the four camera barcode scanner listed above have proved to be very effective. 
But based on the purpose, the number of items in your store, or the code format, you could choose the suitable webcam barcode scanning for yourself.
Frequently Asked Questions (FAQs)
Can you scan a barcode on a computer screen?
There are 2 main types of scanners and each type have different results to computer screen
#1: Laser Scanner
Due to their effectiveness and affordability, laser barcode scanners have become very popular over the years; nevertheless, these scanners are unable to read barcodes from LCD screens or other displays.
This means that a normal laser barcode scanner cannot read a barcode shown on a flat-screen TV or a smartphone.
#2: 2D Barcode Scanner
Both 1D and 2D barcodes can be read by 2D barcode scanners.
This indicates that these scanners can read barcodes from physical labels as well as LCD panels and displays.
How to use cameras to read barcodes?
# For iPhone users:
All you need to scan QR code online on an iPhone is launch the Camera app and point your device at the barcode.
Tap the pop-up banner or the yellow QR code icon in the bottom-right corner after making sure the QR code is inside the box on your screen.
# For Android users:
if your phone is running Android 8 or later, open the camera app on your phone, point it at the QR code, then press the pop-up message to scan product barcode.
Alternatively, you can scan QR code online with the Google Lens app if you are unable to view the pop-up banner.
Your phone might not be compatible with the app if it is running Android 7 or an earlier version of the operating system, but it may already have the Google Lens function installed.
To do so, press the Home button on your device's bottom (or the line at the bottom of your screen) until Google Assistant appears to find out.
Say "open Google Lens" after tapping the Google Lens symbol or after choosing the microphone icon.
Can a barcode be scanned from a picture?
The short answer is yes, provided that your barcode reader has a 2D (two-dimensional) imager as its scan engine.>
Conclusion
To sum up, this post has shown you the 4 best software/websites to scan barcode to find item. Have you picked the best barcode camera scanner for yourself? We hope after following these steps, you are able to set up your own webcam for your shop without any hassle.
Sources:
https://www.barcodecreatorsoftware.com/webcam-barcode-scanner/
https://www.ilovefreesoftware.com/28/featured/4-free-software-or-websites-to-scan-barcode-using-webcam.html
https://www.asp.com.au/can-barcode-scanner-read-barcode-off-lcd-screen/
https://www.hellotech.com/guide/for/how-to-scan-qr-code-iphone-android