Free Online Barcode Generator: Create A Barcode in 2 Easy Ways
Nov 10, 2022 - Views: 684 Share
Using a free online barcode generator to automate a company's operations is quickly becoming a common solution for many companies.
Barcodes are utilized in almost every industry and department, from tracking inventory to paying for items to obtaining important documents.
So, using a well-designed barcode generator tool, you may generate and print barcodes that can then be easily scanned to register, track, or collect specific data.
Learn how to generate a barcode freely with an ultimate guide in this article.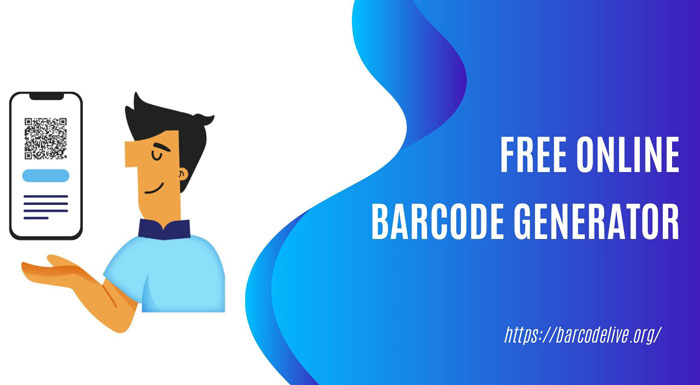 What is a free barcode label generator?
What Is A Barcode?
An item's identification data is shown visually in a barcode. It is formed up of bars, which are parallel black lines. 
Optical scanners have the ability to read the width of each bar and the distance between them. 
If you have set up a barcode system, you can quickly add items' information by scanning them.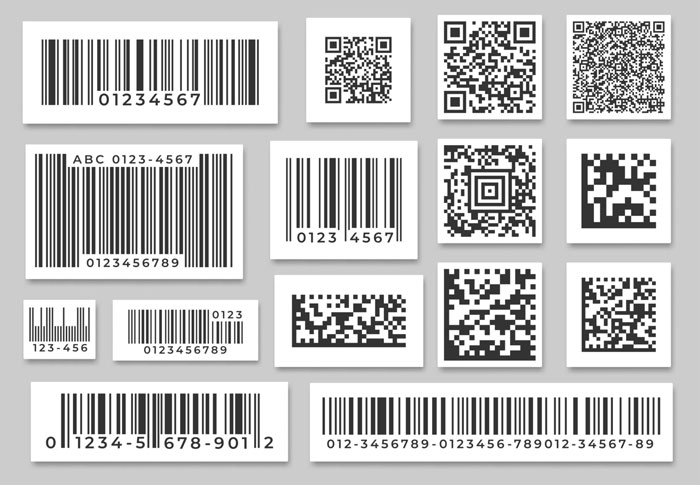 The definition of a barcode
Barcodes are now present on a variety of goods, including rental cars, hospital bands, checked bags, and clothing purchased from retail stores or supermarkets. 
They each represent a thing or a person and encode significant information.
What Are The Benefits Of Using Barcodes?
The following are the principal advantages that businesses may gain from barcodes:
When an employee scans a barcode, the enterprise resource planning (ERP) or business management system of the business instantly updates inventory and sales figures. 
Thus, a corporation may immediately determine important indicators like the value of inventory on hand, inventory turn, or sales per week by item as it always has access to the most recent data.
There is far less potential for error when barcodes are used to automate the human entry of product information upon receiving. 
Associates only need to swipe the barcode across the scanner, whether it is at a retail store or a warehouse. 
Barcode mistakes are incredibly uncommon.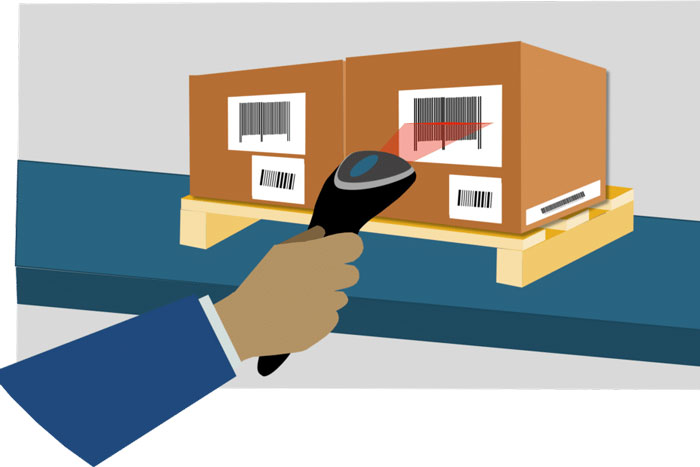 Using a barcode improves accuracy
Don't require much training
Barcodes and scanners generally don't require much instruction, so new staff can quickly become productive at the checkout counter. 
Additionally, barcodes significantly lessen the requirement for institutional knowledge and memory. 
For instance, a grocery shop employee can be effective without being familiar with the codes for well-liked items.
Barcodes enhance inventory control and cut back on irrational product spending. 
By evaluating inventory positions or demand trends, employees may always locate the most recent information, allowing for smarter purchasing and discounting decisions. 
Long-term profitability is increased as a result of the decrease in inventory carrying costs and excess stock.
Barcodes are incredibly valuable since they require a much smaller initial investment than systems that deliver equivalent advantages. 
For a modest cost, businesses can produce a limited number of barcodes for internal usage, and as their demands expand, the cost of the enabling technology stays affordable.
What Are Types Of Barcodes?
There are numerous barcode types that are coded in various ways and for various purposes.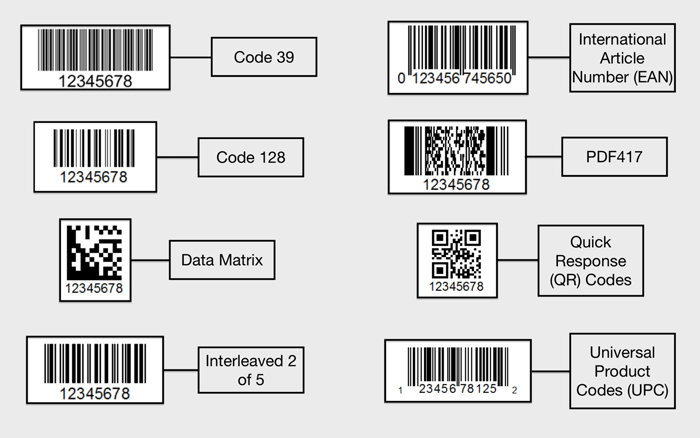 Many barcode types are available
Have a look at some of them:
Codabar: an old symbology developed in 1972 that is commonly used in library databases.

Code 11: is commonly used in telecommunications.

Code 39: a partial alpha-numeric barcode that is widely used around the world.

Code 93: a compact barcode equivalent to Code 39 that can be used for a variety of purposes.

Code 128: a high-density barcode that may encode all 128 ASCII characters; it is very dependable and is commonly used in the shipping and packaging industries.

Data Matrix: a two-dimensional barcode with rectangular symbols that are used for a variety of purposes, particularly in the food industry.

EAN-13: the European Article Numbering international retail product code; it is most likely the most well-known barcode in the world.

EAN-8: a shorter and less common variant of EAN-13 that is used for smaller products.

PDF417: an excellent choice for encoding large amounts of data.

QR Code: the most common two-dimensional barcode, widely scanned with smartphones.

UPC-A: a product code similar to EAN that is used for retail products in North America.

UPC-E: a shortened version of UPC-A designed for smaller products in North America.
What Is A Barcode Generator?
You now have some understanding of barcodes. So, what exactly is a barcode generator?
It is an intelligent tool that generates a barcode label for an item automatically.
A barcode generator may be utilized in almost any business process, but inventory is the most common.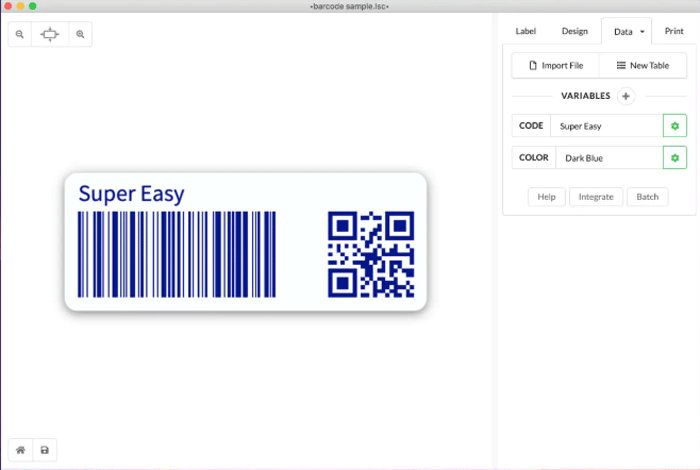 An example of a barcode generator
Based on where your business is located and what they will be utilized for, barcode generators will typically generate a variety of barcode labels.
When your barcode generator app has generated your barcodes, you may attach them to items or goods for accurate tracking and real-time metric updates.
The Importance Of Barcode Generator
Using a barcode generator can provide you and your business with numerous advantages, including the following:
First, by incorporating a barcode tool, you eliminate the risk of error from manual data management and replace it with a totally automated process, ensuring that you always have the most precise data.
Second, the barcode generator can be used to automate various stages of a process, from tracking to analysis. 
Therefore, you can save hours that you can then devote to other important tasks in your business.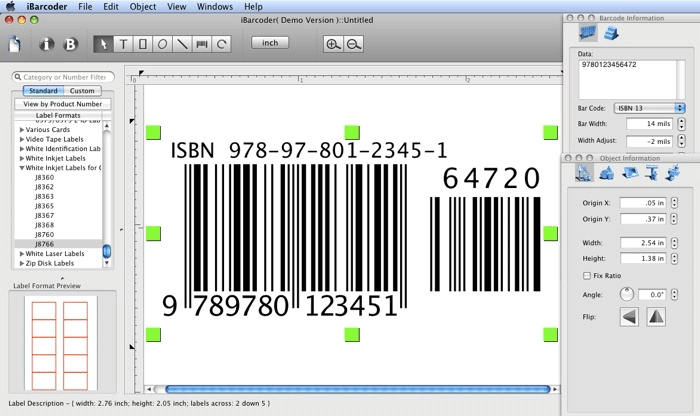 Using a barcode generator brings a lot of benefits
Last but not least, you can utilize an online barcode maker to generate various types of barcodes, such as constant value and sequential, and then use them for your intended purpose. 
For particular tasks, you can utilize a combination of these distinct barcodes.
How To Generate Barcodes With A Free Online Barcode Generator?
There are 2 ways to create a barcode freely, including using a barcode label maker online site and using Excel.
Method 1: Use a free barcode generator website
By choosing a barcode symbology and entering barcode information, the barcode generator enables you to produce a barcode visual.
For a graphic with your barcode, select the "Generate Barcode" button. Then, right-click the barcode to copy or save it, and finally paste or insert it into your document.
So simple, right?
Below are the top 5 online barcode tools that you can try:
Morovia

Handifox

Great Barcode Generator

EZOfficeInventory

Labeljoy 
Method 2: Use Excel
Another way to create a barcode freely is to use your Excel. Follow the simple process below to complete this procedure. 
Download a barcode font
First, you must download the barcode font. The most common font (the font used in this tutorial) is Code 39. 
You may download font versions from various places, such as ID Automation, Dafont, Free Barcode Font, and Square Gear. 
After downloading the fonts, follow Microsoft's instructions to install the Office fonts to work with your Excel version.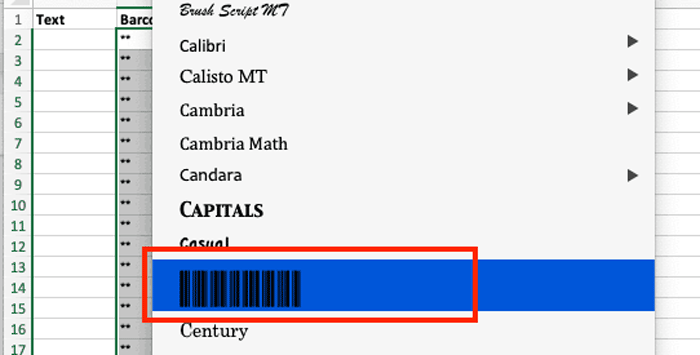 Download barcode fonts
Here are some tips for installing fonts:
You may have to restart and quit Excel to see the fonts in the font list.

Not all fonts can work properly on operating systems and Excel versions. If one doesn't work, remove it and try another.
Create a barcode
After installing the font, you can easily make a barcode free in Excel. Please follow the steps below.
Step 1. Create two columns in an empty table
Give titles to the text and barcode columns. Put alphanumeric data in the text column, barcodes' basis. The barcode is displayed in the barcode column.
Note: Add columns to create a table-like layout if you want to apply a description for each item in the barcode. 
Step 2. Format the cells in the text column
Select the text column and right-click. Click to choose "Format Cells", click Number, and then click Text. 
This prevents larger numbers from appearing in exponential notation and preserves leading zeros. 
Step 3. Enter this formula: ="*"&A2&"*" in the first blank in the barcode column lines
For this step, let's assume the cell in the text column is A2. If not, adjust the formula accordingly. 
If no text exists in the first column, two asterisks will appear in the second column. 
Step 4. Change the font of the barcode column
From the Font menu, choose the barcode font you downloaded and installed. 
We recommend using the same font for the header as the table's rest, but that's entirely up to you. 
Step 5. Enter alphanumeric data in the text column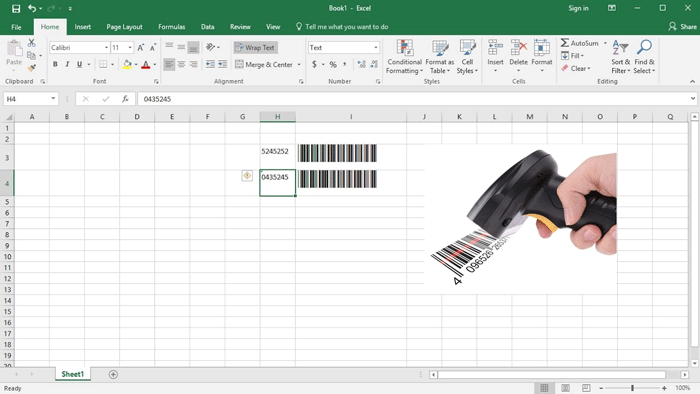 Create barcodes free in Excel
Code 39 font is 1-9, A-Z (font is case sensitive), hyphen (-), dollar sign ($), percent sign (%), period (.), and forward slash (/) can be encoded, plus (+) and space. 
The font can also encode asterisks (*), which are used as sequence start and end indicators. 
So, the formula in step 3 also adds asterisks before and after the text input. Barcode rows are automatically filled with barcodes.
Frequently Asked Questions (FAQs)
1. What do I do after creating a barcode?
You can start printing and labeling your products when you've determined your barcode. 
Scan the barcodes into your POS system and associate them with products in the inventory management system. 
If your POS does have a barcode generation app, you could indeed complete the entire process from there.
2. How do I choose the right barcode?
Here are five questions to ask yourself when selecting a barcode:
1. Will my product be scanned at retail points of sale? 
⇒ EAN and  UPC barcodes are ideal for point-of-sale (PoS) scanning.
2. What character sets must be supported? What about alphanumeric characters?
⇒ Consider QR Code, Code39, and Code128 
3. How much space is there on my product packaging?
⇒ The form factors of EAN8, Code 128, UPC-E, and Data Matrix are all small.
4. On what material will the barcode be printed?
⇒ ITF is an excellent choice for printing barcodes on corrugated cardboard.
5. Which barcode type can store the most information?
⇒ PDF417 codes are excellent for storing massive amounts of data.
3. Does my barcode also contain my country code?
Barcode prefixes do not identify the country of origin of a particular product.
Instead, they simply provide a number capacity for the GS1 to assign barcode prefixes to various countries.
Bottom line
We've covered everything you need to know about the barcode label generator with a detailed guide. In general, you can create barcodes using a free online barcode generator website or use Excel.