The Basics of Barcode Symbologies: 4 Common Barcode Types
Nov 15, 2022 - Views: 1274 Share
There are numerous varieties of barcodes, which are referred to as barcode symbologies.
They differ depending on the amount and type of encoded data (e.g., numeric only or alphanumeric).
Indeed, there is numerous symbology barcode available, some of which are better suited to specific sorts of applications than others.
Furthermore, certain industries have standards in place to control asset labeling and physical inventory to ensure industry-wide consistency and make it easier to transfer assets and data to other organizations.
So let's get started on this post and find out some interesting things!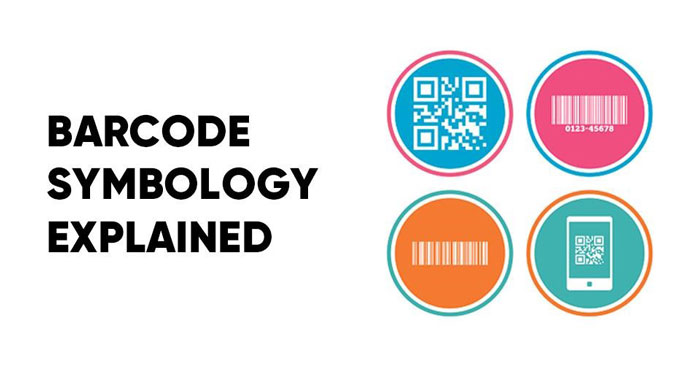 What is barcode symbology?
What Is Barcode Symbology?
Most of us are acquainted with barcode labels, which can be found on almost everything we buy. 
However, we take the technology and intricacies of these barcodes for granted. 
The barcodes technology that allows barcodes to function as they do is known as symbology. So, what is barcode symbology exactly?
In general, barcode symbology is the method of encoding data with dots, spaced lines, or squares. 
Once those barcode symbols are scanned by a barcode scanner, they are decoded, recorded, and analyzed to extract data for various applications.
When inspecting a barcode, you may find that some appear different from others.
In fact, there are two types of bar code symbology: discrete and continuous.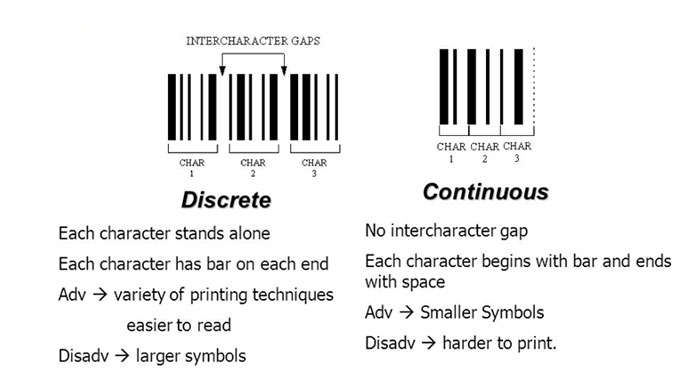 Discrete vs continuous bar code symbology
Discrete barcode symbology
The discrete type of symbology merely means that each character on the barcode may be decoded independently without relying on the other characters on the same barcode.
In other words, the scanner or equivalent gadget decodes each individual character.
Continuous barcode symbology
On the other hand, continuous barcode symbology requires that every character on a single barcode be read together.
The barcode is invalid if they are separated.
These barcodes are utilized for more vital items like human identification (driver's licenses, etc.).
Size of Barcodes
The width and lengths of the many bars shown on the barcode are another feature of barcode symbology. 
The phrase two-width symbology applies to barcodes with only two possible bar sizes, either narrow or wide. 
They may be any width combination (but only narrow and wide). 
Barcode sizes
Yet, multiple-width symbology provides for three alternative bar widths as opposed to simply two (1x, 2x, 3x). 
This enables a more challenging encoding and decoding procedure, as well as greater precision and accuracy when tagging and tracking inventories.
Understanding Common Types Of Barcode Symbologies
Barcodes are commonly classified into two barcode symbology types: 1-D and 2-D barcodes, each of which comprises a variety of code types. 
However, there are some other barcode symbology types as well.
So, let's find out what they are!
1-D Linear Barcodes
The most common type of barcodes is a 1-D (one-dimensional) barcode symbology or linear barcode. 
The information in the code is structured horizontally in bar and space widths and read by a scanner from left to right. 
Some 1D barcode symbologies simply hold numerical data, whereas others may encode extra characters. 
The height of the code varies according to the amount of space available on a product and the capacity of a barcode scanner to read a small or large barcode.
Code 39
Barcode symbology code 39 is also known as code 3 of 9 since each character in the barcode is made up of three wide and six narrow bars, making 3 of 9 wide. 
This is a 1D barcode type with 43 characters that include uppercase letters (A through Z), numeric digits (0 through 9), and a few special characters (-,., /, +,%, and space). 
For both start and stop delimiters, an additional character (denoted '*') is utilized.
A barcode symbology 3 of 9 
Code 128 
Barcode 128 symbology is a high-density linear one and the best 1-D barcode symbology available. 
It is employed for a numeric-only or alphanumeric barcode. 
Its requirements comprise 108 symbols: 103 data symbols, 3 start symbols, and 2 stop symbols. 
Each barcode symbol is made up of three black bars and three white spaces of varying widths. 
This code has three distinct bar widths to aid in coding density, making it easy to distinguish this symbology from code 39 barcode symbology.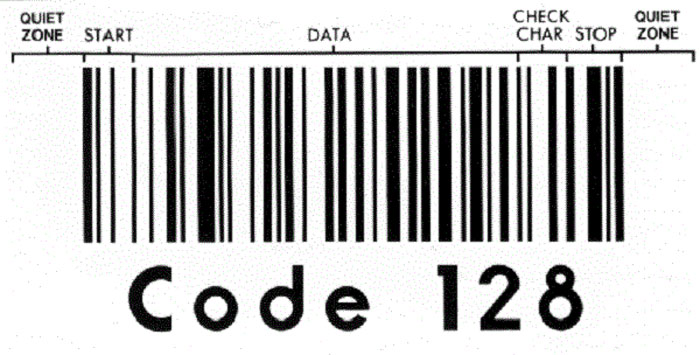 A barcode symbology 128
EAN-13 
EAN-13 is the most universally acknowledged barcode in Europe, and it is employed for basic product identification in supermarkets and other retail outlets.
EAN-13 barcodes, as the term suggests, contain a total of 13 digits, as compared to UPC-A codes, which contain 12. 
The first two numbers are the GS1 Prefix, which identifies the nation of origin of the goods. 
Following that is a five-digit business number, which identifies the brand, followed by a five-digit item number, which identifies the product itself.
After that comes a check number to guarantee the code's accuracy. 
Lastly, there is a > symbol, which indicates a "quiet zone" and marks the end of the barcode.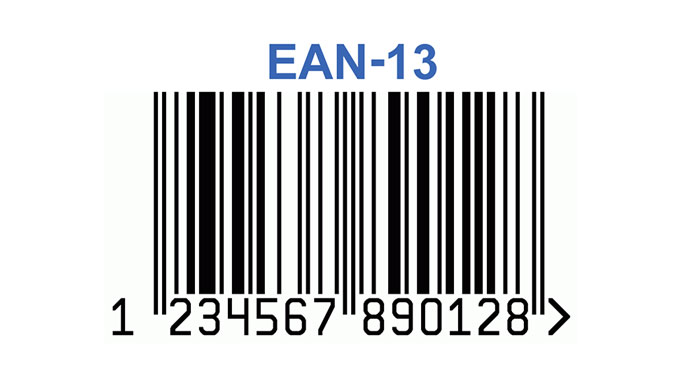 A EAN-13 barcode
Interleaved 2 of 5
It is a useful code because it intersperses the date (the I in the name) with some data in the bars and some in the gaps.
However, it is also the least secure barcode symbology and is susceptible to partial reads or substitution errors.
This code is only appropriate for numerical data.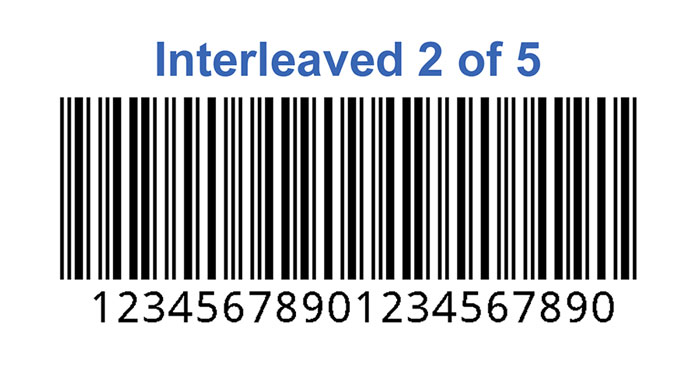 An Interleaved 2 of 5 barcode symbology
We don't see it very much anymore; the pharmaceutical sector utilized it for serial numbers, and the packaging industry employed it as a case coding alternative.
2-D Matrix Codes
Since the early 1990s, 2D barcode symbologies have been employed as a more complex alternative to 1-D barcodes with additional data options.
Far more information can indeed be encoded than with a 1-D barcode by storing information both vertically and horizontally to create a rectangle or square. 
The 2D barcode symbology is noted for its high readability and durability to poor printing; they hold redundant data, thus the code remains readable even if one or more cells are destroyed. 
The barcode symbology examples below show some of the most common 2-D codes.
Data Matrix
A 2D barcode symbology Data Matrix encodes up to 2,335 characters of alphanumeric data. 
It is made up of black and white "cells" or modules organized in a square or rectangular arrangement.
It has the most redundancy and is the most probable to be legible when the conditions are difficult or the code contains flaws.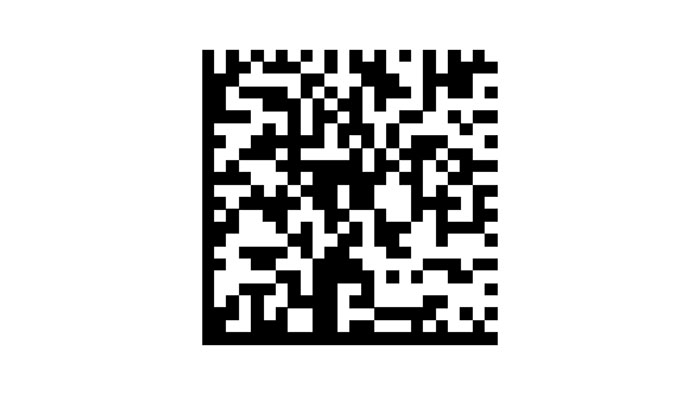 A Data Matrix code
Many standards, including pharmaceutical and military, call for Data Matrix because of its capacity to encode huge amounts of data into a short code that may be easily read using a barcode scanner symbology.
QR Code 
One of the most misunderstood barcodes is the QR (Quick Response) code, a barcode 2D symbology that can encode all character types in a relatively little space.
The codes, which are made up of little squares with black-and-white patterns, can be seen in various places, including product packaging and newspaper and magazine advertisements.
Aside from the UPC, this is most likely the most visible and used barcode by the general population.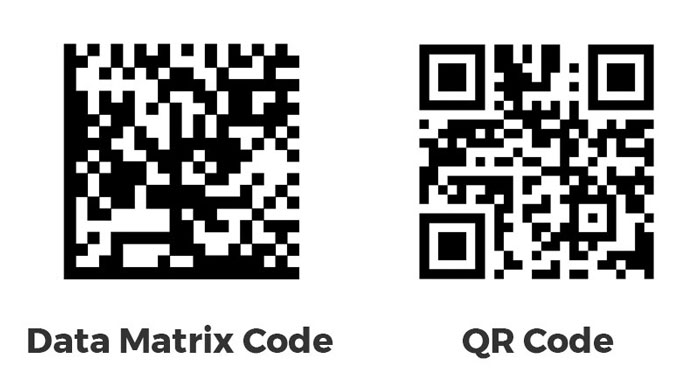 Data Matrix Code vs QR Code symbology
Direct Part Marking 
It is a method of marking a barcode directly on an item rather than printing the barcode on a label.
A DPM barcode can be done in a variety of techniques, including simple laser printing, engraving or dot peening, chemical etching, or abrasive blasting.
Nevertheless, because printing on components often does not permit the classic black markings on white background, DPMs typically have a low contrast regardless of the printing method.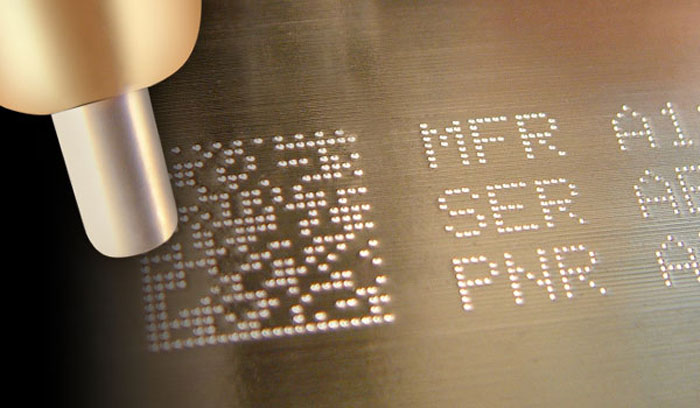 Direct Part Marking
Postal Codes
The postal code symbology is midway between a 2-D and a 1-D linear barcode. 
Postal codes largely employ the height of the bars to encode data rather than the widths of the black bars and white spaces. 
Most postal codes are merely numbers, however, some are now including letters as well.
POSTNET
Unlike conventional barcodes, which encode text using variable width bars and spaces, POSTNET barcodes are encoded depending on the height of the bars. 
They employ a two-out-of-five barcode, which implies that each digit is encoded as five bars, with two of them being full height. 
POSTNET barcodes might be 5 digits, 6 digits, 7 digits, or 9 digits in length.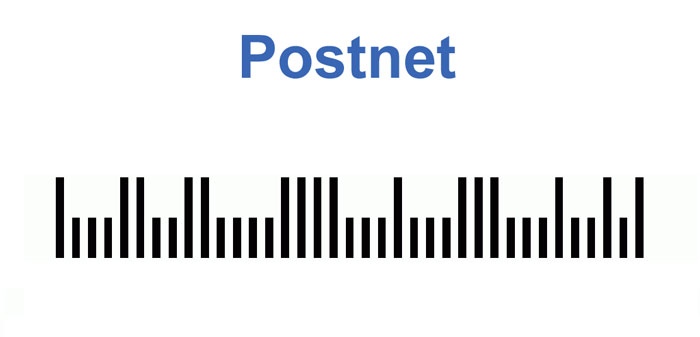 A POSTNET barcode
Intelligent Mail
Intelligent Mail, like POSTNET, is encoded depending on bar height instead of bar and space width, as most other bar codes are. 
Yet, Intelligent Mail's encoding considers the distance between the bars as well. The bar code comprises 65 bars and may encode up to 31 digits of data.
In general, Intelligent Mail is more precise and effective than POSTNET and is in the process of completely replacing it.

An Intelligent Mail barcode
Stacked Linear Barcodes
One or two types of 2-D barcodes are used in the stacked linear symbology barcode. 
These are made up of numerous linear barcodes placed on top of one another, enabling for more information to be encoded. 
Nevertheless, in order to fully decode the data, a barcode scanner must be able to read the code both vertically and horizontally at the same time. 
The stacking of the codes makes barcodes more adaptable, allowing them to encode more information in less area than most other barcodes.
PDF417 
PDF is an abbreviation for Portable Data File, a hybrid bar code that employs both 1-D and 2-D code elements. 
You can also consider it a 2-D barcode symbology.
Looking at the code, you will notice normal 1-D bars on both sides and single square elements of a 2-D barcode.
This code seems to be difficult to read since it is large and contains a lot of data.
Thus, your barcode identifiers might struggle to obtain all of the code in the reading window and swiftly decode and send all of the data.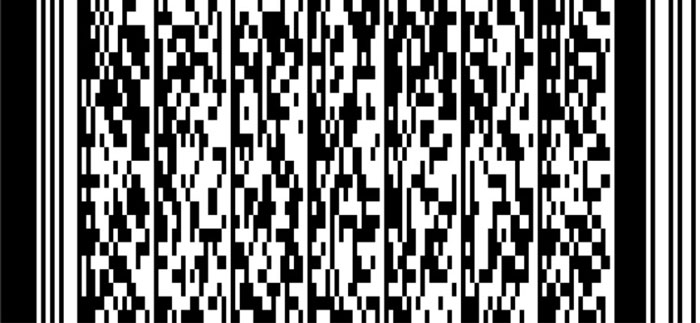 A PDF417 barcode
GS1 DataBar Stacked
A GS1 DataBar is a high-density barcode that is meant to contain more information in a smaller space than a standard UPC barcode symbology. 
A single GS1 DataBar can store up to 14 digits. 
A GS1 DataBar Stacked is made up of two GS1 barcodes stacked on top of each other to fit more consecutive information into a tiny, square space. 
This kind of stacking code is the most common barcode symbology used in supermarkets to insert additional information on smaller products, such as fruit.
A GS1 DataBar Stacked barcode
Where Are Different Symbologies Used?
So we have gone through different type of barcodes symbology.
However, before deciding which one you should choose, it is necessary to pay attention to their applications.
Despite that, we will just discuss the most popularly used types of bar codes, which are 1-D and 2-D barcodes.
So, have a look at the info below: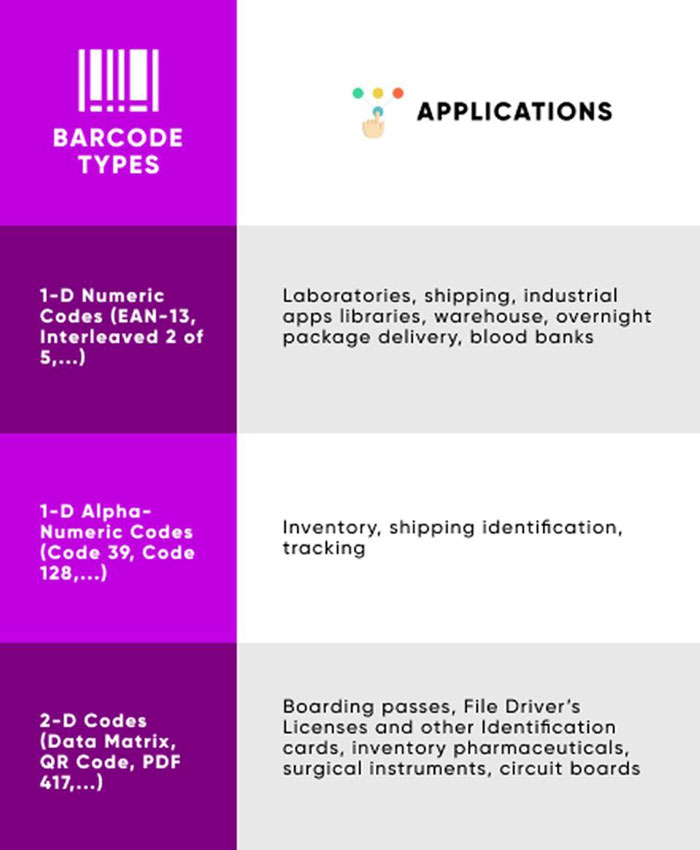 Barcode types and applications
Frequently Asked Questions (FAQs)
1. What is Code 128 barcode used for?
Code 128 is a high-density linear barcode symbology, which is utilized for barcodes that are only alphanumeric or numeric. 
It may encode all 128 ASCII characters as well as the Latin-1 characters described in ISO/IEC 8859-1 using an extension symbol (FNC4).
GS1-128 is a subset of barcode symbology code 128 that is widely used in the shipping and packaging industries around the world as a goods identification code at the container and pallet levels in the supply chain.
2. What is the difference between EAN 8 and EAN 13?
You can easily find both barcodes on any consumer product, such as food, DVDs, clothing, and so on, that is scanned at a POS (Point-of-Sale).
Whereas EAN-13 (13 digits) is the most common form factor, EAN-8 (eight digits) barcodes can be found on products with limited space, such as little chewing gum packages.
3. What is a 10-digit barcode called?
It is often used for pharmaceuticals and other pharmaceutical items. 
Also, this symbol barcode is the NDC (National Drug Code) number that identifies the producer, the product (together with information such as strength, dose, and formula), and the size and other package features.
Conclusion
With various factors engaged in the creation and implementation of industry-wide standards, maintaining compliance is a significant problem for enterprises from all sectors of the global economy. In many circumstances, barcodes and asset-tracking systems assist businesses in adhering to stringent industry reporting and monitoring rules.
As a result, selecting a good type of barcode labels from among the numerous forms of barcode symbologies is critical. We hope you will use the information provided as a guide to making a wise choice.